Both the Bengals and Dolphins come into a Thursday night game at Paul Brown Stadium (8:25-Cincinnati's Channel 12 and NFL Network) gasping after an adversity-filled Sunday. The team that catches its wind gets to go into October 2-2.
The Bengals.com Media Roundtable unanimously gives the nod to the Bengals in their first game of the season against a team that didn't win 10 games last season.
Dan Hoard, the Bengal meticulous play-by-plan man who treats homework like a hobby, has yet to miss the postseason as the club's voice and believes this veteran group realizes slipping to 1-3 closes  some doors.
Armando Salguero, a Miami Herald columnist who has been around the Dolphins since 1990, believes the Bengals' mix of veteran coaches and players who have been entrenched in the system as opposed to first-year head coach Adam Gase's new staff carries the night.
Mike Garafolo, on site this week with NFL Network, sees a big night for Bengals quarterback Andy Dalton against a Miami defense  that has allowed a passer rating of 94.8 while giving up 4.3 yards per rush on the ground.
Let's go around The Table:
The Dolphins won their first game Sunday but it felt like a loss because they recognize the Cleveland Browns weren't playing with a backup quarterback, not a starting quarterback, but a third string quarterback. And their fourth-string quarterback when Terrelle Pryor was the QB at times. And for all intents and purposes the Browns   should have won the game. They missed three field goals, including the potential game winner as time ran out. There was none of a win-is-is-a-win for the Dolphins. It was more like, we've got major problems.
Defensively they have issues. They have trouble stopping the run. Cody Kessler, a rookie QB, made them look bad. They haven't really played a top flight quarterback who has been healthy the entire game all season. They opened the season against Russell Wilson, but he played on one leg the entire second half. In New England they wound up facing the third string quarterback most of the game and they still lost.
I think Andy Dalton is a starting quarterback in the NFL. I think he's been to the playoffs and I think he's won a lot of games. And he's healthy. That's a totally different situation than Miami has faced all year.
Now, defensive tackle Ndamukong Suh is playing great. If you believe in the profootball focus.com metrics, he's the third-rated defensive tackle in the league. But he plays defensive tackle and he's one guy. Teams can do things to erase him. That's why they're ranked 31st in the league against the run.
Defensive end Cameron Wake is a situational pass rusher. They want him to play anywhere from 25 to 40 snaps a game and the reason is because they think he's still a dynamic pass rusher. And he is. But they don't want him getting tied up with the run and they want to take it easy on him because he's 34 and coming off a ruptured Achilles. If you buy into big names, the Dolphins have big-time pass rushers. If you buy into production, they don't. Mario Williams is a pass-rush name. Cameron Wake is a pass-rush name. Whatever you think of Andre Branch, he's been a solid pass rusher in the NFL. Yet the results aren't there yet. Wake is a difference maker. The other guys have not been.
The offense also has issues. They start slow. Quarterback Ryan Tannehill's second half passer rating is 114 and his second half is something like 58. They were down 24-0 and 31-3 to New England. Just a slow starting team on offense.
Wider receiver Jarvis Landry leads the NFL in catches and targets. He's the heartbeat of the offense. When the chips are down, look for Jarvis Landry. The Patriots were smart and decided that Landry would not hurt them and that was that.
That's the time the Kenny Stills and DeVante Parkers of the world need to step up. And they have, but not consistently.
You can't be sure who Ryan Tannehill is yet. If you look at his statistics, they say he's an 88 to 92 passer rating guy and that's good for 12, 13, 14 in the NFL. He's thrown twice as many touchdowns as interceptions the last few years and that's good. He throws for a lot of yards and he is again this year. But when you look beyond the stats, they're 1-2. Last year they were 6-10. He's never had a winning season and has never been the guy to put the team on his shoulders and lead the charge to a winning season.  Quarterbacks are judged by winning. I didn't say that. Clyde Christensen, the offensive coordinator, said it.
The running game showed up against the Browns, but they're banged up on the offensive line. Their backup center, Anthony Steen (ankle), says he'll play, but saying it and being active are two different things. The problem is if you make him active and he tweaks it in the second quarter, now the guy that takes over can't play guard if something else happens.
THE EDGE: Bengals, 28-21. The Bengals are a more veteran team that's been together longer. They've been in the system longer and that matters on a short week. And they're home.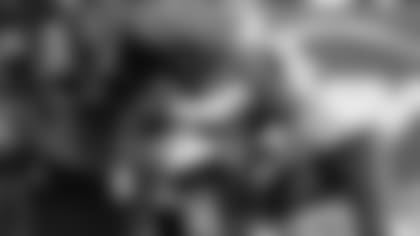 Can A.J. Green make life miserable for old friend Vance Joseph?
I don't know if there are any moral victories in the NFL and I don't know if there's the opposite when you win but feel like you lost. That was the Dolphins Sunday. I heard Adam Gase was as upset as you could possibly be in the NFL after a victory.  You could see the look on his face after the missed field goal gave them extra life.
It's a new coach but there are enough veterans on that team that feel like they should be clicking a lot better right now. When you don't feel great like that and you come in on a short week it's really tough to turn that around, so I don't imagine they're going to come in here and blow anybody away.
Tannehill is up and down. You watch and he'll make some good throws and then he'll make some horrendous decisions. He's got targets. It's not like he doesn't have people to throw to.  These guys are open. For me, he's like Kirk Cousins, but Cousins actually turned it around on Sunday. You just don't see the consistency from Tannehill. I'm sure it's frustrating for Gase. He's worked with so many different kinds of quarterbacks and managed their personalities and games and got the most out of those guys. Peyton, Tebow, Cutler. He hasn't been able to do it with Tannehill just yet.
Suh has played well in spurts. They just need the other parts to come together. I feel like they could have found a way to keep pass rusher Olivier Vernon on a tag somehow and that would have helped a lot more.
The Bengals have to stay balanced. They ran the ball so well against the Broncos. That's going to set up what they want to do in the passing game. I look at the Bengals game on Sunday and they did so much right. They just didn't close it out.
Defensive coordinator Paul Guenther saying we had 76 plays and played well for 70 is just about right. You need that mentality down after down that we turn out our best effort.
THE EDGE: BENGALS, 27-17. I think this receiving corps is going to be able to work against this Dolphins secondary. And they should be able to protect well enough to give Andy Dalton the time to make the throws he needs to make. I think he's going to have a big game. It's a lot easier to turn around on a short week saying we did a lot of good things in a loss than saying we did a lot bad things in a win.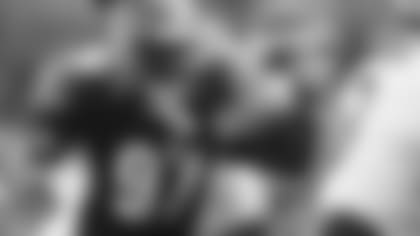 Bengals looking for a vintage Geno game against Dolphins' limping offensive line.
The Bengals defensive line has to dominate. It's one of the reasons they've been to the playoffs each of the last five years. They've been OK in the first three games, but they haven't dominated any of them. This is the night to dominate.
The Dolphins are beat up on the offensive line. Mike Pouncey hasn't played yet at center. His backup who has played great, Steen, is probably going to miss the game. Left tackle Branden Albert got hurt on the last play of overtime against Cleveland. If he plays he won't be 100 percent. Right tackle Ja'wuan James got benched in overtime he was playing so poorly.
This is the week to dominate. Profootballfous.com said Tannehill got pressure on 19 of 40 passing plays last week. He only got sacked once, but pressured on nearly half. It's time for the defensive line to show that they are what we think they are. One of the best units in the NFL.
Tannehill is their leading rusher because they've used four running backs and Arian Foster has barely played and he's out Thursday. But Tannehill is mobile and he's played well in his two games against the Bengals.  His passer ratings have been in the 90s in those two wins. They didn't score a ton of points, but he played pretty well. He didn't make any costly mistakes and I would expect him to be solid, at least, on Thursday night.
The Bengals took a big step in the running game in the last game. Time to take a bigger step this week. The Dolphins are next-to-last in the NFL in stopping the run. Cleveland ran up and down the field on them Sunday. A lot of that was Terrelle Pryor. That was interesting to see how Hue Jackson was using him.
I will make the prediction that this is Bengals running back Jeremy Hill's first 100-yard game since the final game of his rookie year. I think the running game takes another step forward and does it even longer than they did against Denver.
THE EDGE: Bengals, 24-14. They haven't scored more than 23 points yet this year, which has been a disappointment. I think they at least get to 24. I think the defensive line does a great job and keeps the Dolphins' offense down and I also think there's no bigger home-field advantage in the NFL than being home on a Thursday night. I think it was negated a little bit the last few years for the Bengals because they were playing Cleveland. Cleveland didn't have to go very far and they know the Bengals inside and out from playing them twice a year. The Dolphins have a decent distance to travel. You lose sleep in a short week like that. I think the Bengals take advantage and win by 10.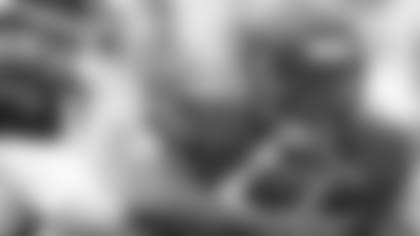 Jeremy Hill got warmed up Sunday with 97 yards. Can he find that elusive 100-yard game Thursday?
Yeah, it's early. But let's face it. The Bengals haven't played a backs-to-the-wall game like this so early since the 3-0 Bills came in here to play the 1-2 Bengals in the first year of the Green-Dalton era in 2011.
Three of the next four games are on the road, including an end-of-October  Friday event at the Tower of  London. The Browns down here for the only PBS game in that stretch, that one will be far from a day at the beach. No one alive on another team knows more about the Bengals than Jackson.
So if October is Hell Month, then September better be 2-2. And the matchup couldn't be better for the Bengals. First of all, you can't get more of an edge in the NFL than a home game on a Thursday night after playing a home game Sunday at 1 p.m. And in a quick turnaround there should also be an advantage with the Bengals veteran coaching staff having the edge over Adam Gase's first-year staff.
The intriguing matchups here are the Bengals have on their coaching staff the Dolphins offensive and defensive coordinators from the previous two seasons, secondary coach Kevin Coyle and quarterbacks coach Bill Lazor. They may not know the systems implemented by Gase, but they know their personnel cold.
But then, new Miami defensive boss Vance Joseph, the former Bengals secondary coach from the previous two seasons, can say the same thing.
Joseph, no doubt is going to dial up the heat on Dalton. His protection and running game have been shaky early.  Out of his 115 throws, profootballfocus.com says he's been pressured on more than a third of them and the results have not been good with both his picks and a 32.5 passer rating coming against said pressure.
You know Joseph is going to take away wide receiver A.J.Green with tight end Tyler Eifert (ankle) doubtful and ask them to beat him with him with wide receivers Brandon LaFell and Tyler Boyd. But the Bengals more than likely respond with running backs Jeremy Hill and Giovani Bernard against the Dolphins' run defense ranked next-to-last against the run. The Broncos' cover two denied Green and the rest long balls on Sunday and until the Bengals run it consistently, you have to believe that's what they're going to see.
It doesn't get any easier for Bengals right tackle Cedric Ogbuehi as he finishes his first month in a run that began Opening Day against Pro Bowler Muhammed Wilkerson in New York, wound through Blitzburgh , and had a stop against Super Bowl MVP Von Miller.  He's getting there, but he's also looking to smooth out inconsistencies.
Now he's got Dolphins defensive end Cameron Wake, at 34 and a situational pass rusher now coming off Achilles' surgery and Williams is 31 with six sacks in his last 18 games. But Wake is a former 15-sack guy who had one on the last play of OT to beat the Bengals with a safety in Miami on a Thursday night three years ago and Williams was once the first pick in the draft who is tied for the third most sacks in the league over the last 11 seasons.
But they have only one sack each and the Bengals would like to keep it that way. The Bengals should be able to get some sacks themselves with Miami looking at possibly playing their third center, their left tackle questionable and their right tackle benched last week in his 26th NFL start.
The Bengals would love to have South Florida native Geno Atkins go off against this interior and play with the havoc he brought in the preseason.  He's also got one sack as he looks to make a run at last year's 11 that led all NFL D-Tackles. With the Dolphins having no running game to speak of with none in their back-by-committee format getting more than a total of 16 carries, the pass rush should be unleashed.
The Bengals need to sharpen their special teams on the national stage. Their cover teams are mired at last (on kicks) and at No. 24 (on punts), and their own punt returns are ranked No. 25. All three have been such strong suits recently that the numbers are glaring. Special teams coordinator Darrin Simmons' effort to oversee a transition on his unit reflects the changes offensive coordinator Ken Zampese is going through at receiver and defensive coordinator Paul Guenther is going through in the nickel package with primarily younger players.
But the Bengals have a lot of advantages in this one, starting with the short turnaround, Dalton's edge over Tannehill, and the Dolphins' banged-up offensive line.