He is the Bengals' answer to Roy Hobbs.
His father, who ended up the higher draft pick, put a football in his crib when he was barely born, watched "Junior" move it around with his legs and then watched him play whatever the coach wanted.
H-Back. Quarterback. Defensive end. And in basketball, he was the shooter his father never was as a hellacious 6-6 wing sniper.
His position coach for the last three weeks, Ricky Hunley, a first-round pick himself, calls him "a natural."
"I think he's found a home," says Hunley of Robert Geathers Jr.'s improbable mid-year switch to linebacker. "When you have smart players, you can make a move like that."
It's being called a permanent move, but is it if it's done out of necessity? Hunley says the coaches have talked about moving Geathers before, yet that doesn't mean the Bengals are moving closer to a 3-4. But with the 265-pound pair of Geathers and Ahmad Brooks, it would be closer to 3-4 dimensions.
"It wouldn't be anything new," Hunley says of the 3-4. "It would be just how much we play it."
Geathers, now a fifth-year player with a defensive end's contract playing strong-side linebacker, is one of those selfless smart guys the Patriots, Ravens and Steelers always seem to have on defense. His versatility and athleticism tempt coaches to put him anywhere, and his instincts and knowledge confirm their desires.
"He has all the ingredients," Hunley says when asked if the Bengals could eventually have a Pro Bowl linebacker. "He's made big strides in the last couple of weeks."
That's how long ago the Bengals linebacker situation made them so desperate in the Monday night rubble of New England that they had to move their best sacker out of defensive end and put him at SAM backer.
With both SAM starters (Rashad Jeanty and Lemar Marshall) on the shelf, Dhani Jones in the system two weeks, and guys on the street like Ed Hartwell and Earl Everett deemed not versatile enough to help, head coach Marvin Lewis went to Geathers during the bye week and told his $14 million left end that he was now a SAM for the indefinite future.
Except on passing downs, which is important to him. "That's one thing we talked about," says Geathers of the conversation with Lewis. "He told me he won't take that away from me, put my hand down and rush on third down. I'll still be able to go after the quarterback."
Gone, it would seem, is the chance for that big sack year. Geathers has been smart enough to endure another switch.
After his rookie year, the team made him the starting right end and moved him to tackle on passing downs. When he had just three sacks, Lewis put him back on the edge on passing downs last season and his 10.5 sacks were the most by a Bengal since the year he was born in 1983.
Now after four games as the starting left end...
Some players would clearly bristle. Any angst is smoothed by the $30 million extension over the offseason, $14 million in the first year.
But while Hunley gives you the standard scouting terms (aggressive, fast, explosive) the one thing that the coaches love about the guy has nothing to do with checkmark qualities.
Professionalism. Focus. Brains.
"He's a football player," Hunley says. "He'll knock the crap out of you. They don't run at him. He's an impact player that way."
Geathers shrugs. After getting over the surprise, he says the challenge of playing a new position and getting the chance to get "something rolling on defense" has sold him.
"I know he was looking for one of those years where he'd make it to the Pro Bowl with 12 or 15 sacks," says Geathers Sr. "I'm sure that when Lewis went to him that he was looking for something to help the whole defense and he's a team player."
Always has been. Senior says it's not the first time Junior has been in this spot.
"He had to make a decision," Senior says of those glory days at Carvers Bay High. "Quarterback or get 25 sacks as a defensive end. At the time, they had a pretty strong offensive system with a good quarterbacks coach and I think he thought he could help the team more by playing defense. He's just not that selfish."
Twenty-three sacks later, 14 as a junior and nine as a senior, he was at Georgia and developed enough that the Bengals drafted him at age 20 in the fourth round in 2004.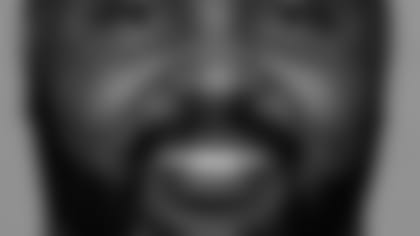 "He understands the basic concepts of four underneath and three deep," Hunley says. "Cover 2. Cover 1. He's got good knowledge of concepts. It's just a matter of getting to the right spot. Now you're just going to make tackles and not looking at the quarterback. It's been a real good adjustment."
The kid, and he still is because he had 17 NFL sacks before turning 24 in August, knows football because he's always been around it in Georgetown, S.C.
When he was a toddler, Senior's back gave out and he retired from the USFL's Boston Breakers. His Uncle Jumpy had 62 sacks in 13 NFL seasons, a forerunner of the athletic 21st-century defensive tackles and a pass rusher so good his moves had names. After Jumpy shredded his Achilles showing Junior some moves in the backyard, the Geathers family is all watching Kwame, a junior at Carvers.
"My baby boy. He's 6-6, 320 pounds and every school wants him," Senior says. "He looks just like the tackle, Willie Anderson. I mean, he looks like his twin. When we went to the hotel in Cincinnati for one of the games last year, a guy there is calling him, 'Willie.' I told him he's only in 10th grade."
The middle brother is built like Jumpy, 6-8, and he's a defensive end at South Carolina. Everybody's a natural in this house. Before Senior went to South Carolina State a generation before, he set high school records for the discus. Then the Bills made him a third-round pick in 1981 and the back went out.
"I was bigger. I was about 6-6, 300. I was more of a defensive tackle," Senior says. "I liked it. But Junior loves it. He studies it. He's always doing it. You've got to play where you're comfortable and he's always hustling around. He likes that."
The Bengals still want the sacks to come. Hunley thinks it's easier to rush the quarterback from a standing five-yard start and he believes Geathers becomes a big blitzing threat. Junior says he just has to get used to it because he's spent so long reading only one key, the tackle's shoulder, and now he has to be aware of so many other things, like pulling guards.
It's not as easy as it looks. Hunley, a first-round pick, couldn't make the switch from inside to outside backer because he could never change his view from how things looked unfolding from the inside. Hunley, so used to looking in the backfield for his keys, would suddenly find blockers already on him on the outside.
"The great blitzers see that it's a step-by-step progression," he says. "I've got to beat you before I get to the next guy. A lot of guys are looking at the quarterback and they never see (the blocker)."
And Hunley is convinced that Geathers can be a great blitzer because he's so powerful. He doesn't even worry about Geathers in pass coverage because his ball skills are so good.
Geathers dropped well enough in a zone that in the final game of his rookie year he picked off Eagles quarterback Jeff Blake and ran it 36 yards for a touchdown. Just this year in the opener he sold out in another zone drop, stretched out, caught a tip, scrambled to his feet, and went 30 yards the other way.
"I can work in space. I'm not afraid to drop in coverage to break on the ball," he says. "I think I'm athletic enough to get in space and make something happen."
Which is a big reason why the Bengals think this can work. But not the biggest.
"He studies it. He works at it," Hunley says. "When you have guys who invest, they tend to get better than guys that just punch the clock."