The 4-7-1 Bengals are looking at Sunday's matchup in Cleveland (1 p.m.-Cincinnati's Channel 12) against the 0-12 Browns through a different Hue.
They face old friend Hue Jackson for the second time in seven weeks in the role of the villain. After drilling the Browns, 31-17, in Jackson's return to Paul Brown Stadium, to stay in the middle of the AFC North race, the Bengals are now down to their last strands of hope against a Browns team emboldened by a bye, a home game in favorable weather for an underdog, and the return of quarterback Robert Griffin III in their desperate bid to avoid an 0-16 season.
The Bengals.com Media Roundtable agrees that the Bengals have too much talent to lose to the Browns on what is supped to be a snowy afternoon of one to three inches. But ever mindful of Jackson's creativity now magnified by an extra week of prep, most also agree that it will be a tractor-pull rather than a coronation in the 47-season state rivalry
The one dissenting voice comes from Tony Grossi of ESPN Cleveland, the estimable Browns reporter since 1984 who has carried more bodies from the Battle of Ohio than anyone in the room. Christening the almost unbelievable travails of the Browns "The Hundred Years War," Grossi sees a Bengals rout on the plains of Paul and Jimmy Brown at the moat of Groza and Graham.
But only after he emerged from a steel cage match with Alex Marvez, talk show host for Sirius NFL Radio and NFL columnist for The Sporting News. Grossi and Marvez go back to the days they monitored how The New World Order toppled the wrestling world. They're still waiting for it to arrive with the Browns and Marvez says it won't happen Sunday because the Bengals' talent overcomes Jackson's Xs and Os in the second half.
The Cincinnati contingent sees it much the same way. Dan Hoard, the velvet voice of the Bengals Radio Network, sees a similar script to the Oct. 23 game at Paul Brown Stadium but closer with the Bengals winning the adjustments to the adjustments.
The Cincinnati Enquirer's Jim Owczarski, a Chicago product, knows bad weather when he sees it. The snow on Cleveland's pseudo grass figures to amplify the roster differences, particularly at quarterback. But it will be as ugly as a Cook County election before the Bengals escape with a one-TD win.
Let's go around The Table: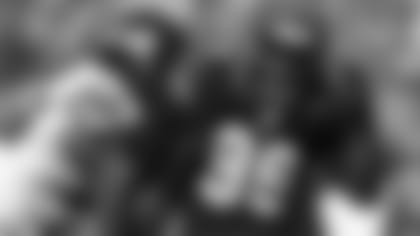 Carlos Dunlap looks to add to his 14 passes defensed, best among all NFL defensive linemen.
If the Browns are going to win a game this season, it depends on Robert Griffin III giving them some play at quarterback they haven't had in 12 games. But he hasn't played since breaking his left shoulder in the first game.
Cody Kessler is the backup, the guy they started in Cincy, and if you look at his numbers they look admirable. More touchdowns than interceptions. A decent passer rating. But he is 0-8 as the starter and Hue has expressed dissatisfaction with his ability to stretch defenses and unclog the lanes with passing. There's a reason they're not winning. No big plays. He does a lot of good things, but Hue wants to stretch the field.
What we saw from RGIII in preseason is he was able to go long. He hooked up with wide receivers Terrelle Pryor and Josh Gordon, when Gordon was here, at least four times. That's one thing Hue wants. But RGIII wasn't making all the throws, not all the other throws, and he wasn't accurate on the slants. But it was the beginning of his comeback. He had only played parts of three pre-season games and one regular-season game. On the play he got hurt on he was running from pressure and he was going out-of-bounds and ran right into a defender, so that's a big question. Does he have the ability to protect himself?  There'll be rust. He's not going to pick up Hue's offense and run with it.
Pryor is having an outstanding year. You've got first-round wide receiver Corey Coleman. You've got tight end Gary Barnidge. They've got better weapons than they've had in this town for a while, but which ever quarterback has been there has been unable to consistently deliver the ball to those guys. Barnidge had nine touchdowns last year and he's got one this year. Pryor is having a great year but it's been a little frustrating for him because he's been open behind defensive backs and they haven't been able to get it to him.
Coleman missed the Bengals the first time. He broke his hand in practice after the second game and missed five games. He shows spark here and there, but he's been inconsistent because he hasn't played. He doesn't have the size of Pryor or A.J. Green, but he's got speed and quickness. The day of the draft Hue Jackson called him one of the most dynamic players in the draft and we've seen some of that but not consistently.
The Browns offensive line is starting its sixth different interior trio and they've got new starting guards. The new right guard this week is Jonathan Cooper, a guy they picked up off waivers from New England after not panning out at No. 7 in the draft for Arizona. After being inactive in five of his seven games, he's playing for injured John Greco. Center Cameron Erving is awful, but they're determined to see it through. They've allowed 45 sacks, the worst in the league, so it's not only him. But it's because of the interior screw-ups.
Hue has admitted the running game has been the biggest disappointment in Hue's offense. Through the first four weeks the Browns were No. 2 in rushing. But when left guard Joel Bitonio went down that number nose-dived, and their backs are healthy. Duke Johnson is their Giovani Bernard and Isaiah Crowell is like their Jeremy Hill. Going into their last game, Crowell had been averaging 2.4 yards a rush in his last seven games.
The defense now has linebacker Jamie Collins after the trade with New England. They're playing him on the outside and he was an inside linebacker in New England. He's a great coverage linebacker and he does rush some. He's been active. He's playing for a new deal and they want to sign him after this year and he probably wants to hit the jackpot someplace else. He's motivated to play, but he hasn't affected any outcomes, that's for sure.
Cornerback Joe Haden didn't play against the Bengals when he missed a couple of games with groin injuries. The other starting corner, Jamar Taylor, is playing pretty well and he's a free agent. Taylor goes into the slot in three wides and they bring in Briean Boddy-Calhoun, a nice rookie free-agent pickup.
But they've got no pass rush. Their sack differential is minus-28. That tells the story there. They've got two rookies who were 1-2 in the nation in sacks in college last year, Emmanuel Ogbah and Carl Nassib. But they're playing out of position, so it's understandable they haven't been tearing it up. They're both 4-3 ends and they don't play a 4-3 here.
Their special teams are horrible. The punter and kicker are pretty decent. They've been solid. You could say that kicker Cody Parkey (13-14 on PATs and 14-18 on field goals after three misses in his first game) is better than Mike Nugent right now. But the rest of special teams doesn't do anything positive. They have no return game and they do a lot of things that are negative. They had a blocked PAT returned for two points against Baltimore. They botched a fake punt in the first game. They don't impact the game positively.
THE EDGE: Bengals, 27-10. I think it's premature to expect Robert Griffin to execute the offense at maximum efficiency after an 11-game layoff. Hue will be the first 0-16 coach to see a second year. Ownership likes him. They think he's doing positive things to try and get it on the right track. The difference between the Jets the other night and the Browns are the Jets are loaded with veterans and the Browns are loaded with rookies. Rookies never quit. They're just not good enough.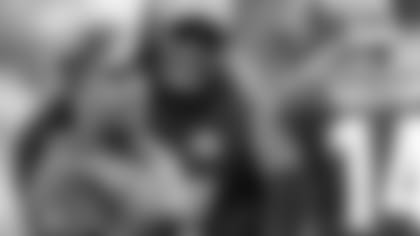 Hue Jackson will be talking to RGIII Sunday and not Andy Dalton.
I don't think this is a trap game because of the background Hue has with the Bengals. Unless the locker room is already gone and already looking toward next season, which they shouldn't be.  There's no reason why the Bengals can't win out and compete for this. It's not like Baltimore and Pittsburgh are that great.
But the curious thing is the element of surprise with RGIII. How different will this offense look and will there be a rotation of quarterbacks? How many different guys are the Bengals going to see and how many different packages can Hue put in over the bye week?
Theoretically, you can practice three or four offenses, but can you execute them well? I think there is desperation in Cleveland not to be winless. As much as the front office doesn't care, Hue Jackson cares. The players care. This is a dangerous team for the Bengals.
I don't think the Bengals pass rush has been great. That's got be a top priority in the draft. Finding a defensive end to go with those other Pro Bowlers up front. The Tyler Eifert injury really hurt and no one in the receiving corps really stepped up to fill the void of Mohamed Sanu and Marvin Jones. As big a fan of the Bengals front office that I am, I really think they left Marvin Lewis a little short of talent this season.
I don't think teams are really worried about their receivers all that much. Andy's playing terrific, but there's not a lot going on around him. The offensive line took a step back for whatever reason. I don't think that's coaching. Offensive line coach Paul Alexander has been doing this for a quarter of a century so I don't think he became bad overnight. Cedric Ogbuehi didn't develop like they thought. I don't know if Russell Bodine is the long-term answer at center
But I don't think they're that far away from getting back to where they were. I think it's inevitable a team takes a step back when a window closes.  And a window closed for the Bengals when they lost last year even though a lot of those guys are still around. I don't know how this roster looks next year. There are still a lot of veterans and there is still a lot of good young talent. I just don't think some of the personnel stepped up the way they thought it would and they didn't fill the holes maybe the way they were expecting and you end up with a team fighting to finish above .500.
Kicker Mike Nugent has been a major disappointment and it's a shame because I know how important it is for him to kick in Ohio.  Maybe another Bengals team would have been good enough to survive a lot of misses. But this team wasn't. Too many points. It changed the complexion of games and forced different things and this team was not good enough for that.
THE EDGE: Bengals, 23-21. I think the Bengals trail at half time. I think they rally to win this game. I think the Browns are going to be well-prepared and they're going to be hungry. Having the bye week the way they did in Week 13, you figure these guys can re-group for a four-game season. I'm sure that's how Hue is pitching it to his team. They'll come out really fired up, but ultimately the Bengals outclass them and find a way to win.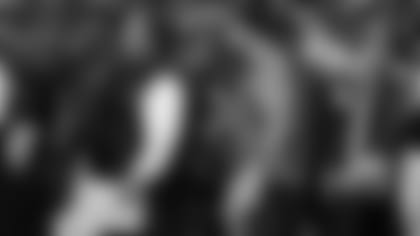 Defensive coordinator Paul Guenther's guys are giving up 18.5 points per game since Hue Jackson challenged them with a funky zone read. What's he got Sunday?
The Browns will win a game this year. They'll beat the Chargers at home in the next to last game of the season. I don't see them beating the Bengals, but I do think it's going to be close. Uncomfortably close for Bengals fans.
Can I give you my stat of the week going into this game? The Browns scoring in the second quarter: 84 points. In the third quarter: 16 points. To quote Vin Scully, some people use stats like a drunk uses a lamp post. For support instead of illumination.  Let's go for some illumination. Why would a team drop off that much?
In all fairness my partner Dave Lapham came up with this theory, so it's not mine. Because Hue Jackson is so good, he is scheming for ways to get the Browns points in the first half. Then teams go into the locker room at halftime and coaches tell these guys, 'This is what they're doing. It's not that complicated. You just have to read this key and that key.' And suddenly their scoring plummets in the third quarter.
That's what's going to happen on Sunday. Hue is going to come up with something; I don't know what it is. The Bengals don't know what it is. But he'll find a way to get the Browns a couple of scores in the first half. That's what happened in game one. It should have been 14-10, Cincinnati, at halftime, but the Hail Mary makes it 21-10.  He'll find something that keeps the Browns in it for a half and then the Bengals are going to have to make the proper adjustments to pull it out and I think they will.
The Browns defense is getting better. If you look at their game by game, they went through a stretch where they gave up 30 points or more in six of seven games, including the Bengals game. They've given up less than 30 in the last three games and it's coming down to the lower 20s and I think linebacker Jamie Collins is the biggest reason for that. He's played every snap since they got him in a trade from New England. He'll be their best defensive guy that they have, but nose tackle Danny Shelton is good. Cornerback Joe Haden is good. Rookie defensive end Emmanuel Ogbah is good and getting better. Collins is really good. So they've got some guys on defense and the Bengals are not going to put up close to 600 yards like they did the last time the teams played, especially if there's one to three inches of snow on the ground.
The Bengals right tackle play was a little better last week. I think Eric Winston stabilized things. As Paul Alexander said, Jake Fisher was solid in the second half after being a little jittery in the first half. We don't know which guy is getting the bulk of the snaps there Sunday, but I imagine they'll get at least decent play there.
THE EDGE: Bengals, 23-21. In the end the better team wins, but a desperate Browns team with two weeks for Hue Jackson to cook up something makes it interesting.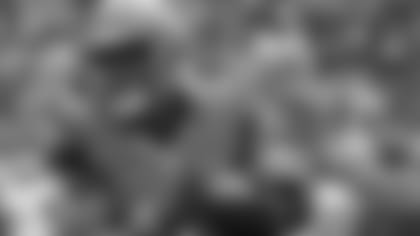 Wide receiver Cody Core had his first two NFL catches last Sunday.
It's been a long time for the Browns. We thought it was hard covering a team that hadn't won a game since October. The Browns are coming up on a calendar year.
I'm curious to see this one. The final score on Oct.  23, 31-17, was a good margin. But the Browns held the lead early, the Bengals kicker struggled, Kevin Hogan ran for over 100 yards. Marvin Lewis said it on Wednesday. I think the Browns are going to play pretty tough.
I think you have to give the defense more than a week to say they've got it totally figured out. It's a good trend the first three weeks after the bye. But the fatal flaw, literally, in my opinion was the opening drive, which they finally got corrected against the Eagles. And, lo and behold, team football follows and they have a big win.
Well, if Cleveland goes down and scores on its first drive then ... But if they continue that part, three and out and get off the field, and team ball, then I would say,  yes, the defense is back.
I think their win over the Eagles and the manner in which they won was big. The defense got over the last hurdle. You had the offense protecting Andy Dalton. No sacks. Third-down conversions. Chunk plays. Aside from a couple of second-half fumbles and Jeremy Hill kind of slogging through the run game, it was their best effort all year and I think that will carry through this week for sure. We'll see about Pittsburgh. I don't think they're mailing it in. If they had lost against Philadelphia, it's a different story.
Injury might dictate snap counts, but I think we'll see the same thing we did a little in Baltimore. Safety Clayton Fejedelem and linebacker Nick Vigil will play some. I think we'll see it again because it worked. Cornerback Darqueze Dennard played a little more. Offensively, Cody Core, in my opinion, deserves a little bit more work at wide receiver at this point.
Now that Eric Winston is officially the starter on the depth chart at right tackle, I think that's a symbolic move and an important one with Ced as the backup left tackle. I am curious to see if he gets work in every third or fourth series or if it's Jake Fisher. Fisher dinged a knee so it will be interesting to see his availability. In their minds they are still playing for something with the veteran starting.
THE EDGE: Bengals, 17-10. I think the weather is going to play a factor. Not just the wind, but the snow and the grass. I think it's going to be ugly. It's going to be closer than Bengals fans want to think. But they win because it's the better roster of 46. They've got the better quarterback.  It's not sexy, but I think the snow and the wind and the mud and the issues the Bengals have had running the ball are going to come up. Jeremy Hill did have his best game of the year against the Browns, but there are a lot of competing elements.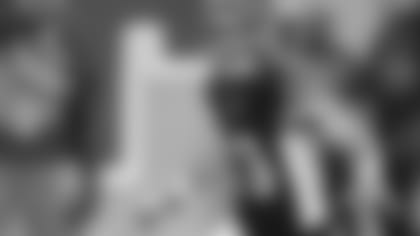 Rex Burkhead does so much on special teams, but he'll get a few carries in the snow Sunday.
A lot of mind games going on in this one with the two Jedi Masters, Lewis and Jackson.
There's no way the Bengals can underestimate the Browns because it was less than 50 days ago Hue confounded them for much of the afternoon with "The Colonel," Kevin Hogan. Hogan, an undrafted rookie quarterback who just wandered off the practice squad, used some kind of Jackson zone read contraption to rush for 104 yards.
Now Jackson has had two weeks to put the ball in the hands of RGIII, the anti-Colonel as a Heisman Trophy winner and No. 2 pick in the draft, and the Bengals are rightfully concerned what Jackson has up his sleeve and have spent the week talking about it.
Plus, he has some key players that weren't available back in Cincinnati, such as first-round pick Corey Coleman at wide receiver, Pro Bowler Joe Haden at cornerback and the former Patriot Jamie Collins at linebacker.
That should make it closer, but that's about it. Lewis' 19-8 edge over the Browns is defined by the quarterback. He's started four against Cleveland in 14 seasons: Jon Kitna, Carson Palmer, Ryan Fitzpatrick, Andy Dalton. Meanwhile, RGIII is the 17th different starting QB Lewis has faced and that just doesn't work.
 Plus, this one is complicated by Griffin's 11-week layoff in a new system against a Bengals defense that just seems to be hitting its stride. Remember, they held Cleveland to 17 points a week after allowing 35 in New England and since then are giving up 18.5 points per game.
The Browns have weapons on offense. More than they did in Cincy. But it's also hard to see them giving up more than 18.5 points to a rusty quarterback, a transplanted quarterback playing wide receiver, a talented rookie that has missed some snaps at the other receiver spot, and an offensive line that's allowed 45 snaps. And as he proved back in October, Jackson is worth about seven to 10 points.
It's going to come down to what it's always come down to this season. Can the Bengals score enough? Any time they don't have A.J. Green or Giovani Bernard, that's a valid question. And the Browns have two Pro Bowl defenders they didn't have last time in Haden and Collins.
But Haden's groin injury has reduced him, Collins is playing outside instead of the inside spot he played in New England, and the Bengals' Achilles heel of pass protection shouldn't be broached by a pass rush that has just 17 sacks.
But the weather doesn't sound like it's going to let Jeremy Hill roam like he did back in October. Hill says he doesn't pay attention to the snow forecast and doesn't get into the whole big back AFC North thing. Still, the 230-pound Hill and the Browns' 225-pound Crowell fit the image of a snow-swept field battered by the Lake winds that Paul Brown had in mind when he traded for Syracuse's 225-pound Ernie Davis 55 years ago.
(And it sounds like that's the kind of day it's going to be.)
Hill and Crowell are almost a mirror of each other and their inconsistent running games. Each have a TD run in excess of 70 yards and both average at least four yards per carry. But take away Hill's 74-yarder and it's 3.6 yards per carry. Going into the last game against the Giants, Crowell averaged 2.4 yards per in his last seven games.  
If you can't throw it, Hill and Rex Burkhead are going to have to run it and so this could come down to what it did on an 80-degree day in Cincy in October. How quickly can the Bengals defense adjust to Jackson's running game? And might they have to adjust to a couple of different quarterbacks, not just RGIII? The last game started with Hogan being used as a change of pace QB running the zone read and no doubt that's the way this one is going to start.
The other stat that defines this series besides 17 Browns QBs is 18 Bengals 100-yard rushers since Cleveland came back into the league in 1999. A total of six different rushers have reached the century mark in 35 games against Cleveland.
With the call for snow and the Browns ranked next-to-last against the rush, that looks to be the stat that's going to play out. Even if they're running in mud.