Recently while grabbing a bite to eat at his neighborhood Wendy's, Bengals defensive coordinator Paul Guenther took a photo of a sign that said that the restaurant was "looking for closers."
He showed it to his defensive lineman and told them that he's looking for closers too. Not late night fast food workers in his case, but pass rushers that can end a drive or help put away a game.
He might have found one in Chris Smith.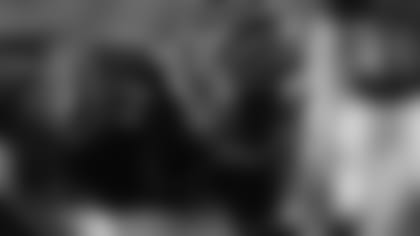 The 6'1", 266 pound defensive end has been the Bengals' highest-graded player in each of their first two preseason games according to ProFootballFocus.com. In Saturday's loss to Kansas City, Smith had one sack and five quarterback hits in 22 defensive snaps.
"He's been getting after that quarterback," said defensive end Carlos Dunlap. "Obviously, he's a great natural pass rusher and that's what we're looking for – guys who can close the game and get after the quarterback."
"He's got a little bit of (Elvis) Dumervil in him in the sense that he's not tall but he's very long-armed and he plays with a lot of leverage," said offensive tackle Eric Winston. "He probably doesn't have the strength of Dumervil, but I think he has more moves and he's crafty with what he does. I've been impressed with him.
"More than anything, he understands the art of rushing the passer. It's about setting guys up and understand tendencies and leverage."
"I try to use my speed and power at the same time," said Smith. "One of my old teammates Sen'Derrick Marks would always say that it's a chess game. I didn't figure out a move until my second year.
"They traded for me to rush the passer so I just did what I do best. And I try to do it each and every day in practice."
The Bengals obtained Smith a few weeks before this year's draft in a trade with Jacksonville for a conditional 2018 draft pick (expected to be a 7th rounder). The 25-year-old did not get much playing time in three years with the Jaguars, but caught Guenther's eye when the two teams met in week three of the preseason last year.
"I was watching tape of him in a game and I was like, 'Man, who is this guy?'" said Guenther. "And I was walking in from practice the week we were playing Jacksonville and I said (to Andrew Whitworth), 'Did you watch that kid they have at defensive end?' And he was like, 'Yeah. He's got a spin move, he's got an up-and-under, he's got speed to power, have you been studying him? That kid's really good.' So I told (Director of Player Personnel) Duke (Tobin) and he said that he may be on the bubble for them and I said, 'This is a guy that we want to pick up.'"
"He worked against us in that preseason game so we got to see him live and take a look at him physically," said Tobin. "Then we went back to the opinions we had of him in college and we felt like it might be a fit here."
Smith only had 4.5 sacks in his three seasons in Jacksonville while appearing in 19 of 48 possible games.
"Last year when we played Jacksonville we thought that he was one of their best pass rushers," said Winston. "For whatever reason it didn't happen for him over there, but you've seen that with a lot of guys in this league. It doesn't happen for them in one place, then they go somewhere else and all of the sudden they're a stud. I know when we got him, I was like, 'Man, that's a pretty good get.' Because like I said, in that preseason game we thought he had a lot of potential and he never got a really good chance there."
The obvious question is why didn't Smith get more playing time with the Jaguars?
"I have no clue but I play with the cards that I'm dealt," he said. "I didn't have an attitude or go out there with my head down. I'm just blessed to be doing what I love to do. It's not a job when you're doing what you love to do. People always ask me about that and I tell them, 'I can't get mad at Jacksonville. They drafted me and gave me the opportunity to be in the league.' I still have great relationships there."
"Once you've been somewhere else, you end up with a different perspective when you come to a new team," said head coach Marvin Lewis. "He understands the competitive part of it. He's working his tail off to make the football team and that's good."
Tobin says that he does not recall hearing about Whitworth's recommendation before swinging the trade with Jacksonville, but even if it had nothing to do with the deal, Smith plans to bring it up the next time that he sees the three-time Pro Bowl offensive tackle.
"I'm going to say, 'Thank you!'" said Smith. "Coming from a Pro Bowler and a guy that's been doing it for a long time – that's a great feeling. He kind of put the word in for me with Coach Guenther and I'm just happy to be a Bengal."
"I do remember Whit saying that he was impressed and I think we all were," said Winston. "Chris has definitely done everything he can for this team so far and I would think that it's going to continue into the regular season."
And that's when we'll know if Guenther has a new closer.
After the team meeting broke, the guys had a minute to check out the Solar Eclipse from Paul Brown Stadium.