Stacy Andrews, 18 years old and not yet introduced to football when Willie Anderson last missed a game, starts in his place Sunday in Kansas City at right tackle. And left tackle Levi Jones, from doghouse to dean in the wince of an eye, says it's no time to look back for a unit grappling for an identity.
"It's definitely going to hurt us with pretty much our main leader on the team out," Jones said after Wednesday's practice. "It's a big game for our offensive line to step up, to play well and define ourselves."
The timing for defining isn't as good as it was the last time Anderson missed a game, the finale of the miserable '90s in Jacksonville.
Jay Fielder was the winning quarterback back on Jan. 2, 2000. Jimmy Smith had more catches than Jeff Blake had completions. Michael Basnight out-rushed Fred Taylor and after it was over Corey Dillon vowed not to wear his Bengals helmet in the Pro Bowl because he felt the coaching staff doubted he was hurt.
No one doubts Anderson is hurting, One hundred seventy-eight games into a career known as much for character as talent. He very well could end this decade on the all-2000s team.
And the Bengals need him.
This is the fourth different starting lineup in the season's fifth game for an offensive line that has the sixth-worst running game in the NFL and faces on Sunday one of the league's better tandem of pass rushing defensive ends in Jared Allen and his 3.5 sacks on the right and Tamba Hali and his two sacks on the left.
Not only that, running back Rudi Johnson (hamstring) didn't practice Wednesday and hasn't since the Seattle game 17 days ago. Anderson "Our whole offensive line has to play a good, physical ballgame, which we're capable of doing," Anderson said. "One guy doesn't stop the show. We're all ready to play in any given moment. (Offensive line coach) Paul (Alexander) will coach those guys up. With me being out, it shouldn't stop this offense from doing what it's capable of doing."
That's why Anderson isn't playing this week, and maybe for the next two or three. He won't say because he doesn't really know. All he knows is he couldn't play at the level he's accustomed.
"You guys know I haven't been myself," Anderson told the media. "I haven't been up to my usual status. I was able to play (on his foot) for a year or two, and then other things came up."
He won't say what the other things are, but he hurt his knee on the offense's final play in Seattle Sept. 23 and then could play only three snaps against New England last week. That came after torturous spring camps and a training camp in which his foot problem stemming from an injury in pregame last Dec. 10 before the Oakland game never healed.
How hurt must Anderson be?
He had some pain in his foot when he shut out one of the game's most prolific sackers, Julius Peppers, a year ago. He then believes he ripped a ligament moments before going against one of the AFC's best, the Raiders' Derrick Burgess, and he blanked him, too before playing out the season shooting cortisone into his foot.
When he showed up six weeks ago in a boot before the third preseason game ...
"Being in a boot for two weeks and trying to come back," Anderson said. "I wanted to come back. I wasn't pushed. It just didn't work out having that small amount of time to be football ready."
Anderson is hesitant to talk about his future. Not because he's 32 and ready to hang it up. But because he's excited about a full offseason of rehab, and he doesn't want to talk about the offseason during a regular season he believes can be salvaged with a playoff run.
"No-oo," Anderson almost exhaled when asked if his career is at a crossroads. "A full offseason of knowing what the injury is and how to treat it and approach it, it will make it better next season."
Now Jones, a No. 1 draft pick in 2002, is the most senior Bengal on the line, and is faced with its most arduous task on Sunday as he tries to handle the 6-6, 270-pound Allen and his career numbers of 31 sacks and 11 forced fumbles.
Jones looks at him and sees the familiar figure of former Bengals Pro Bowl nose tackle Tim Krumrie, now the Chiefs defensive line coach. But he says the only thing in common with the Bengals own right end Justin Smith is his intensity. Jones "(Allen) is 100 percent 100 percent of the time," Jones said. "He's a pass rusher and a run defender that gives his all every play. He's a Tim Krumrie guy. A high motor. (Allen and Smith) do different things, but he plays as hard as he can every snap."
Jones is uncomfortable with "The Dean" tag. After all, Anderson is making the trip and Jones says, "We all have to have leadership. Not one guy has to step up, we all have to step up."
The NFL is like the Cincinnati weather and talk radio. If you don't like it, wait 15 minutes. Here was Jones, spending the last month openly questioning his role and his coach scolding him for speaking out. Now the Bengals are relying on his experience and athleticism that before his knee injury last year put him on the verge of the Pro Bowl.
He has apparently convinced the powers that be what he thought in the preseason: That he is healthy, and he played like it against New England. But he knows his own situation and the injuries to Anderson and center Eric Ghiaciuc have cut into the stability of the offensive line that made it the bedrock of the team in the playoff run two years ago.
"We're always trying to get back to it," Jones said. "Just define our offensive line, period. Point blank. No matter what five guys are in there.
"With all the shuffles (on the line), I think we've done a good job. We could do better and could get better and there's always things to be done. But considering the circumstances, we've done a good job."
Indeed, even though backups Scott Kooistra (at right tackle) and Alex Stepanovich (at center) have played more than Anderson and Eric Ghiaciuc, the Bengals are sixth in the NFL in allowing sacks per pass.
But the running game has been mired in muck. Of the team's 94 rushes, more than a third (35) have been for a yard or less. That's why the Bengals average just 3.5 yards per carry and it may be why they have opted to go with the massive 6-7, 340-pound Andrews at right tackle instead of Kooistra.
The downside is that Andrews is taking just the bye week and this week to switch sides after spending all spring and summer at left guard. The upside is that he was trained as a right tackle in the Anderson mold and three of his six NFL starts have come on the right side at guard.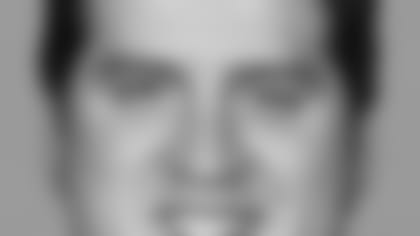 GhiaciucYet the biggest move for the running game is probably the return of Ghiaciuc after a three-game absence. Stepanovich offered gutty veteran performances in the middle, but facing such behemoths as Ted Washington and Vince Wilfork while also trying to get people lined up was a heck of a chore for a center new to the system.
"Some of the blowout plays on the running game get you off track and off sync, which we had against Seattle," said head coach Marvin Lewis. "Last week we were much better at that, and Eric coming back helps us with that. Alex did a tough job with some people with a lot of different looks there for a bit. But Eric coming back will bring us continuity. That's the one thing he really worked extremely hard at, and played excellent football."
Running the ball consistently is the only way the Bengals are going to get defenses out of these deep Cover 2 zones without Chris Henry.
"There's more than one weakness to two-high zones. But running the football is where it starts," said quarterback Carson Palmer. "The easiest and fastest way to get them out of playing Cover 2 is gashing the ball down the middle of the field.
"It's something we've been working extremely hard on, and hopefully this week we'll get a chance to watch Kenny (Watson) get up in there and get up to the average we expect him to be, which is plus-4 yards. And get a chance to kind of get them out of that Cover 2 and the two-high zone looks."
Sunday is Palmer's 50th NFL start and the first one without Anderson. In fact, Anderson's 116 consecutive game streak spanned five starting quarterbacks: Palmer, Jon Kitna, Gus Frerotte, Scott Mitchell and Akili Smith.
"Willie is basically banged up at the beginning of every week and somehow finds a way to suck it up and play week-in and week-out," Palmer said. "So I don't know that you can ever count Willie out."
Told that Lewis had counted him out, Palmer smiled.
"I'm always the last to figure things out here," he said. "I learn a lot from you guys during the week."
Now we find out how much Andrews has learned under Anderson.