Updated 8-12-08, 12:55 a.m.
GREEN BAY, Wis. - It took the Bengals first offense into the second quarter to get into gear, but when it finally meshed it produced tight end Ben Utecht's first touchdown as a Bengal and Chris Perry's first rushing touchdown in three years as the Bengals withstood a late Packers rally a hold on for 20-17 win in Monday night's preseason opener at Lambeau Field against the Packers.
After the Packers closed to 20-17 on an 11-yard touchdown pass from third-string quarterback Mike Flynn to Kregg Lumpkin with 3:02 remaining, Green Bay got the ball back on its own 10-yard line with 1:54 left. But four plays later Lumpkin coughed up the ball and Bengals safety Corey Lynch recovered to seal the win for Cincinnati.
"All in all it was a good start," Bengals head coach Marvin Lewis said. "The things I was pleased with were penalties (only two) and we took care of the football. Those were the things we wanted to work on. Running the ball efficiently, we have to keep working on that. We'll go back to camp and keep working on it."
It was Lewis' first win in a preseason road opener and the club's second in the last 10 road preseason openers.
The last time the Bengals did it, they went 2-14 in 2002.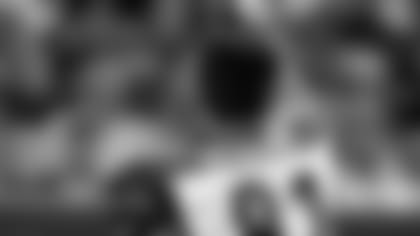 Ben Utecht celebrates his 14-yard second-quarter touchdown reception. (Getty Images)
Bengals grab first-half lead
Kicker Shayne Graham ended the first half efficiently, kicking a 43-yard field goal for a 17-10 lead with 52 seconds left and then driving the kickoff for a touchback as ESPN documented happy sideline talk with Carson Palmer and Chad Johnson.
"We did some good things as the half went along," Lewis said. "Defensively we got a couple of turnovers. We won that battle, and that's always key. But while we made some plays, we have to tackle better. Our tackling really left something to be desired.
"Offensively, we got off to a slow start, but we picked up the pace as the half went on. ... I was disappointed in the way we kicked off and punted the ball. We can do a lot better than that. Our guys have had a great camp, but in the first half tonight, we weren't putting the ball where we want it."
The Mike Zimmer era got underway competently and on script. WILL linebacker Keith Rivers, the club's first-round pick, shrugged off his holdout with a team-high seven unassisted tackles.
"I felt a little spastic on some open-field tackles, but I'll get to work with Coach (FitzGerald) on that," Rivers said. "I just want to look at the film to see what I have to do to get better."
Both clubs struggled offensively with their backup people in the second half that featured a scoreless third quarter. But the Bengals' discipline paid off.
While they committed just one penalty in the season's first 50 minutes, the Bengals parlayed a Green Bay bad punt, complete with a holding penalty and a personal foul call on defensive tackle Alfred Malone when he hit Bengals quarterback Jeff Rowe in the head, into Graham's 32-yard field goal with 10:45 left in the game.
Utecht's score came on a 14-yard pass from Palmer that cut Green Bay's lead to 10-7 with 11:02 left in the first half.
It came on a second-and-one following running back Kenny Watson's nine-yard run up the middle and featured Utecht lining up on the line in a double tight-end set and simply going five yards over the middle and then running it in the rest of the way.
"It was the perfect defense for that route," Utecht said. "When you catch them in the right play where the MIKE backer is dropping back in a zone and you're on the same page as the quarterback, you really can't defense it. Carson saw it and made a great throw."
Palmer finished the night with a 100.7 passer rating on 5-of-9 passing for 33 yards in his four series of work. The first time he threw to wide receiver Chad Johnson was on that drive 18:31 into the game, and it was a 10-yard completion to the right side on a quick pivot even though Palmer got blown up as he threw it.
Perry, a coltish 11 carries for 42 encouraging yards, bailed out a Bengals offense that had tried to run the ball just three times on three three-and-outs.
Perry got the Bengals their first first down of the game 10 seconds into the second quarter on a 14-yard run up the middle to set up the passes to Johnson and Utecht.
"They knew if they wanted to come out of the game, they better get some first downs," Lewis said of his first-team offense that played into the second quarter.
Then the defense produced its second turnover of the game on middle linebacker Corey Mays' interception of Brian Brohm's first pass as a Packer at the Green Bay 25.
"It was pretty good for the first time," Zimmer said of his defense. "We missed some tackles but I thought the guys were fast. We've got a good film to teach us."
Bengals backup quarterback Ryan Fitzpatrick, a crisp 81.8 passer rating himself, hooked up with wide receiver Marcus Maxwell on a third-and-11 in which Maxwell made a nice catch and pivot against safety Nick Collins.
Perry then scored on a six-yard run on which he followed pulling left guard Andrew Whitworth and exploded out of attempted tackles by cornerback Jarrett Bush and linebacker Brandon Chillar at the goal line.
Perry seemed to show a little extra emotion after he walked to the sidelines following his score.
"The (Packers) had stopped me before and they were talking about what they had done so I really wanted to get in," he said. "Now I just want to take another step and get through Detroit (next preseason opponent). I feel good but I'm not going to get too excited about the preseason."
In his most extended work as a Bengal, Fitzpatrick had a solid first half with 5-of-8 passing for 53 yards that produced 10 points. He wheeled the Bengals 45 yards in 10 plays to get Graham's field goal. Fitzpatrick finished his night 6-of-9 for 59 yards.
On the other side of the ball, the Zimmer-led defense began with a three-and-out and a Dexter Jackson interception off a tipped Aaron Rodgers pass at the Green Bay 20 on the next possession.
But it didn't take long for the defense to make the highlights. Try 30 seconds left in the first quarter. On the third missed tackle of the drive, Packers wide receiver James Jones emerged from a head-on hit by safety Marvin White without his helmet at about the 15-yard line and the headless wonder ran away with a 30-yard touchdown catch and a 10-0 lead for Green Bay.
SAM backer Darryl Blackstock missed a tackle in the flat on the previous snap and left end Frostee Rucker aided the drive with an offsides penalty.
The Packers took a 3-0 lead in the opening quarter with a 37-yard field goal by Mason Crosby with 4:23 left that was set up on Rodgers' 30-yard pass to Ruvell Martin. Cornerback David Jones had Martin covered down the sideline, but turned around too late to make a play on the ball.
Jackson also sacked Rodgers in the first drive on second down and on the next play White's stick helped Packers wide receiver Donald Driver drop the ball when it looked like he was going to convert a third-and-17 over the middle.
Rivers made his NFL debut on the third series, when Rucker replaced Robert Geathers at left end after he had a sack in the second series. Rivers and the other WILL backer, Brandon Johnson, led the Bengals with four tackles each in the first half and White added three.
Zimmer, the new Bengals defensive coordinator won't be happy with all the missed tackles in the first half, the 5.2 yards per rush, and the two passes of 30 yards. But the defense did display some aggressiveness with the two sacks, two turnovers, and Brandon Johnson's tackle for a loss. Safety Kyries Hebert added a sack in the third quarter.
In the third quarter, backup center Dan Santucci injured his ankle and didn't return.
PREGAME NOTES: Antonio Chatman, the former Packer, came back to his old stomping grounds to start Monday night's preseason opener in place of injured wide receiver T.J. Houshmandzadeh.
Kenny Watson, who started five games in Rudi Johnson's place last season and responded with two 100-yard games, got the nod again as Johnson rests a hamstring injury.
Jon Fanene, who figures to be in a rotation with Frostee Rucker, got the start at right end, while Darryl Blackstock started at SAM backer.
The injured list looked like the one at training camp the past week:
Houshmandzadeh and Rudi Johnson, as well as safety Herana-Daze Jones and cornerback Ethan Kilmer, were out with what appeared to be nagging muscle pulls. Right end Antwan Odom (foot) and safety Chinedum Ndukwe (knee) are in a boot and on crutches, respectively. SAM linebacker Rashad Jeanty appears to have some kind of lower leg issue and rookie linebacker Dan Howell is also in a boot.
Fullback Jeremi Johnson is still sidelined with weight issues.
Chad Johnson won't get the test he was looking for Monday because Packers cornerbacks Al Harris and Charles Woodson were scratches, as was pass rusher supreme Kabeer Gbaja-Biamila. The Bengals defense also wasn't going to get as good of a test with running back Ryan Grant out.
Other starters out for the Pack were the guts of the defensive line (tackles Ryan Pickett and Johnny Jolly) as well as wide receiver Greg Jennings and center Scott Wells.
The Bengals, wearing their road whites, were introduced as a unit on offense on a rare 76-degree night in the Upper Midwest with a three-mile-per-hour wind.
Head coach Marvin Lewis sent out for his captains the two from last year, Carson Palmer and John Thornton, as well as Reggie Kelly, Dexter Jackson and Brad St. Louis.
The Pack won the toss and took the ball, putting the spotlight right away on Mike Zimmer. In his first game as Bengals defensive coordinator, Zimmer set up shop on the sideline.
SLANTS AND SCREENS When one of the Bengals' buses turned into storied Lambeau Field Monday night, the guy with a Brett Favre Jets jersey came out of a house and into one of the yards over looking the Packers' palace.
That yard was next to the one that had the sign reading, "Tailgating: $150. Packers tickets: $300. Watching Aaron Rodgers: Refundable." Look for the Bengals first defense to play the first quarter and two of the bigger names won't be out there in Odom and Keith Rivers (holdout), but Rivers figures to get in there at some point.
Ndukwe also figured to get a lot of snaps with the first team, but it looks like the earliest he'll be back is for the Aug. 28 preseason finale in Indianapolis. But if he's ready then, he'd probably rest the 10 more days for the Sept. 7 opener. PUP is not an option for Ndukwe because he practiced during training camp and indications are he'll be back if not for the opener, soon into the regular season. It looks like Chris Perry, returning to the field for the first time in 624 days since he dislocated his ankle in Cleveland in 2006, is going to work with the backups but he figures to mix with the first group in certain packages.