The Bengals went to the waiver wire Sunday to pick up Detroit guard Frank Davis and Saints defensive tackle Orien Harris and then cut veteran defensive tackle Michael Myers as well as placing center Dan Santucci on season-ending injured reserve with a high ankle sprain.
The 6-3, 300-pound Harris took adantage of injuries to Hollas Thomas, Brian Young and Sedrick Ellis and led the Saints with 20 tackles this preseason with one sack and a tackle for a loss against the Bengals last week.
He came into the NFL as a fourth-rounder of Pittsburgh in 2006 and played in two games for Cleveland after being signed off the Steelers practice squad. Last season, he was on Buffalo's practice squad before being signed to the Saints roster, where he was inactive for two games.
But he did impress the Saints coaches.
"He's been one of those guys that's been durable," Saints coach Sean Payton told the media after the loss to Houston. "He's been steady. He's a try-hard guy that gives a lot of effort on each play. Even today, he made some plays in practice. So he's caught the attention of a lot of us, the guys on defense and myself included. He comes to work every day, and he showed that last week in the game."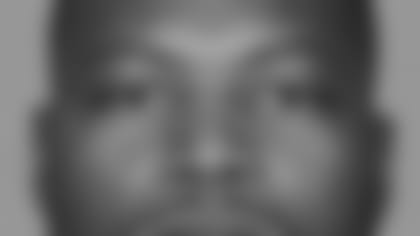 Myers made his mark in his one season in Cincinnati, but he won't get to reenact next week in Baltimore his clinching end-zone interception off a tipped pass in last year's opener against the Ravens.
The 6-3, 325-pound Davis, a native of Panama, played in 11 games with three starts in 2006 after making the Lions roster as a rookie free agent out of South Florida. He was on IR last year after hurting his knee in preseason but came back to play in all four preseason games with two starts at left guard.
This is what former Lions head coach Rod Marinelli said two years ago when Davis surprisingly made the club:
"That's what amazes us, and caught us off guard too is how quickly he's picked this thing up. But when you are really hungry to want something, you find a way to do it. If there's something you really want, and really want—some guys kind of want it—this guy, you can tell. He came out every day, has not missed a practice, not missed a snap, works and is out there getting better.
"You don't find a big man like that who can move. His feet, his balance, you've seen him run. He can run and he can hit. If we would have tried to get him on the practice squad there's no way he'd be there - he's on someone else's roster."
The Bengals signed five to the practice squad. Dan Howell, rookie linebacker from Washington; James Johnson, rookie running back from Kansas State, guard Nate Livings, first-year player from Louisiana State; and rookie wide receivers Maurice Purify (Nebraska) and Mario Urrutia ( Louisville).
The Bengals now have six players on the practice squad, including Carl-Johan Bjork of Sweden, a designated International Practice Squad player. The Bengals are permitted to have as many as nine players on the practice squad, including Bjork.
The Bengals hope they can exend some contracts with some extra salary cap money they got in the vetting of veterans Willie Anderson, Rudi Johnson and Deltha O'Neal. With Davis, cornerback Simeon Castille and DeDe Dorsey making the roster instead of those three, the net savings is in the $8 million range.