Geno Atkins (left) and Carlos Dunlap relaxed during the week at the Pro Bowl, but turned it on in the fourth quarter Sunday.
First of all, nobody got hurt.
Second of all, Andy Dalton 's postseason turned out to be a lot like his regular season Sunday night when the Bengals quarterback overcame three sacks to engineer 10 points and snap a 7-7 tie while helping the AFC to a 20-13 victory over the NFC in the first Pro Bowl ever in Orlando, Fla.
Then he watched teammate Geno Atkins, who led all NFL defensive tackles with 9.5 sacks last season, and Denver outside linebacker Von Miler close the deal for the $61,000 winner's paycheck with a furious fourth-quarter pass rush that held Washington quarterback Kirk Cousins to two field goals and an interception on the game's final three drives.
It capped a surprisingly intense, feisty game that came to a head on the game's last drive and the NFC in the red zone driving for the win when Seattle tight end Jimmy Graham objected to Buffalo linebacker Lorenzo Alexander's hit over the middle. Moments later Graham let Cousins' pass go through his hands and Alexander picked it off to seal it.
"I thought it was going to come down to the two-point conversion," said Dalton after his third Pro Bowl and first win since his rookie year. "I was definitely rooting for Geno and those guys to get after it and I was happy to see that interception."
Bengals left end Carlos Dunlap was also part of the contingent putting that $61,000 heat on Cousins on the drives that yielded field goals.
"First time I've seen a defensive Pro Bowl,' said Dunlap, the eight-sack man playing in his second Pro Bowl. "I feel like the guys played hard. Geno should have been MVP with 1.5 sacks."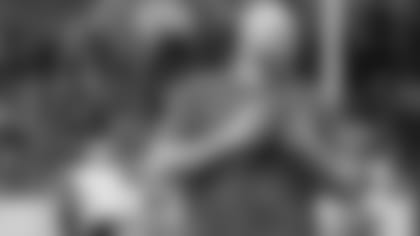 It was all fun and games during the week, but Andrew Whitworth thought it was the most competitive Pro Bowl of the three he's played in.
Instead the defensive MVP went to Alexander while Dalton helped Chiefs tight end Travis Kelce get offensive MVP. But finally the fans were rewarded with a game that was actually competitive enough that shoulder pads cracked and guys were going at least semi-all out instead of checking out.
When the dust cleared, Bengals left tackle Andrew Whitworth confirmed that his third Pro Bowl was his most competitive.
"That's what Joe and I were talking about after the game," said Whitworth of Browns left tackle Joe Thomas. "That was by far the most I've seen everybody with as high of intensity as that. I think at some point guys just got tired of hearing how nobody tried hard and I just feel like they felt like they wanted to put on a good game and they did."
Whitworth said it's been headed that way since his first Pro Bowl after the 2012 season and the return to the AFC-NFC format after a three-year hiatus, "No question helped it out."
Dalton, who played all of the second quarter and the first drive of the third, may have turned the 7-7 game for good on the first play after the first half's two-minute warning. Facing a third-and-13 from the NFC 41, he zipped a rope to Bills wide receiver T.Y. Hilton working the right sideline for 16 yards.
"Big conversion for us because that got us down there and gave us a chance late," Dalton said.
Then two plays later from the 23 with 1:40 left in the half, a Cincinnati Bengal hooked up with a Cincinnati Bearcat when Dalton stepped back from pressure and lofted a gem to the wide open Kelce. Kelce, in his fourth season out of the University of Cincinnati, came across the middle and broke free on the right sideline.
"He ran a good route. He was one-on- one and had the leverage," Dalton said.
On his way to finishing 10 of 12 for 100 yards, Dalton not only survived the sacks, he fought through his first Pro Bowl interception, his fumble recovered by a teammate, and a tipped pass.  On the opening drive of the second half, he made sure the AFC stayed on the field for 7:31 to get a field goal that made it 17-7.
He literally got a hand from Broncos wide receiver Demaryius Thomas after Thomas made a one-handed catch for 22 yards.  Dalton then converted third-and-six on an eight-yard underneath pass to fullback Kyle Juszczyk. And after a sack he lost eight more, but made sure he got 12 back on third-and-13 on a pass to Juszczyk to set up Justin Tucker's 38-yard field goal. It was a good enough night that Dalton raised his career Pro Bowl passer rating to 96.4.
But like Dunlap said, the night belonged to the defense. Dalton wasn't the only one who took a beating. Chargers quarterback Philip Rivers could lead the AFC to just three points after Dalton left when he got sacked four times.
And guys like Dunlap and Atkins made life miserable for Cousins down the stretch   At one point Atkins lined up at left end and Dunlap was in the three technique. Dunlap said they tried it on their own, and it did get pressure.
"We were just mixing it up to have fun," Dunlap said, "because they kept sliding the line a lot."
 Atkins waited until the fourth quarter to get the AFC's first sack to hold one drive to a field goal and then teamed with Miller for a sack to stop the next drive for a field goal for the AFC's only sacks of the night.
Whitworth rotated with Thomas and Tennessee left tackle Taylor Lewan and took most of his snaps at right tackle, a spot he only plays in Pro Bowls. On Sunday, while Thomas played in his 10th straight Pro Bowl, Whitworth deferred to Lewan's debut.
"I thought it felt pretty good," Whitworth said. "Like I've said I thought (Lewan) had a great year and I wanted him to play over there as much as possible."
Andy Dalton, Geno Atkins, Carlos Dunlap and Andrew Whitworth participate in 2017 Pro Bowl in Orlando FL.