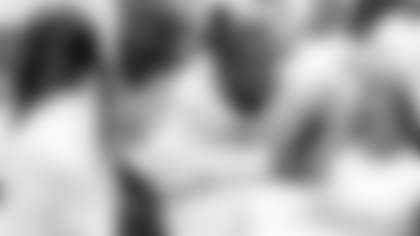 Johnson (left), Houshmandzadeh (center) and Smith helped brighten the day for 35 children from Cincinnati Public Schools.
"Who Dey" see smiling at them when local kids lined up to receive their new eyeglasses? Bengals running back Rudi Johnson, wide receiver T.J. Houshmandzadeh, and defensive tackle Shaun Smith, that's who!
The three Bengals appeared at the LensCrafters store in Kenwood to help with the 13th annual Hometown Day, Give the Gift of Sight Foundation's largest single day of service. Give the Gift of Sight, sponsored by Luxottica Group and Give the Gift of Sight Foundation, is a family of charitable vision care programs serving people around the world who cannot afford or access eye care.
Luxottica Retail stores and associates like LensCrafters provided free vision care outreach to local people in need. In Greater Cincinnati/Northern Kentucky alone, 900 less fortunate local elementary school students received new eyeglasses at LensCrafters stores throughout the area.
"I rely on good eyesight to do my job well," Johnson said. "I couldn't play football without it. By getting involved in the Gift of Sight program, I can share my blessings of good eyesight with others who may not be as fortunate. Besides, it is so much fun to see kids smiles when they get their new glasses and can see clearly!"
One in every four school children has an undiagnosed vision problem that can lead to difficulty in learning, and many of these kids may not get the vision care and eyeglasses they need without programs like the Gift of Sight.
"I always feel it is important to give back to the local community, and Gift of Sight is one of my favorite charities," Johnson said. "It's so much fun to get in touch with the kids out there who can use a little lift."
For more information, including how to support Gift of Sight, visit www.givethegiftofsight.org or call (513) 765-6000, 8 a.m. - 5 p.m. EST.