It looks like cornerback Dre Kirkpatrick, who made this acrobatic pick on the goal line last Sunday, can go this Sunday.
There are no leftovers for the Bengals defense. It has a lot on its plate Thanksgiving Sunday (1 p.m.-Cincinnati's Channel 12) in Baltimore, where they not only have to help out an offense without A.J. Green and Giovani Bernard but they have to reign in some returning old friends on the Ravens let-it fly-zone offense.
Quarterback Joe Flacco (ACL) and wide receiver Steve Smith Sr., (Achilles), who missed much of last season, are back. So is tight end Dennis Pitta. All three missed last year's season-finale in Cincinnati and former Steeler speed wide receiver Mike Wallace hooked on during the offseason and has added four touchdowns on 15 yards per catch. Plus, it looks like Pro Bowl right guard Marshal Yanda is healthy this week.
And they're getting healthy on defense, too, where Bengals pass rush nemesis Elvis Dumervil (foot) looks to be back after missing five games.  And you can add all-time Ravens sack leader Terrell Suggs to the list with six sacks after he missed all but the 2015 opener with a torn Achilles.
So the Ravens are back, but they're only 5-5 because they're tied with the Bengals for 25th in NFL scoring with 19.9 points per game. They haven't beaten Cincinnati in five straight games and they've picked off Flacco more then he's scored on them in his 15 starts against them.
But with the addition of Terrance West at running back this is the most formidable they've been on offense in a while. And the Bengals see another speedy wide out for the first time in 2015 first-round pick Breshad Perriman.
"The speed that they have now offensively is really an uptick. And then Steve Smith continues to play at a high level," said head coach Marvin Lewis. "They're doing a good job with Terrance West as a runner. Their offensive skill guys are a little different than we've seen the last couple of times we've played, other than Steve Smith. They're doing a good job and fitting together now with what they are offensively."
 Some old friends they know all too well. Ravens wide receiver Steve Smith Sr., has been taunting the Bengals since he popped two punt returns against them in 2002 while adding a touchdown catch for the Panthers. In three games against the Bengals as a Raven, Smith has two 100-yard games and before he tore his Achilles' he put up 13 catches for 186 yards against them in a performance obscured by Green's 227 yards.
"It's mostly his heart. The guy has great heart," said Bengals cornerback Dre Kirkpatrick. "You look on film, you can tell he's lost a lot of speed, a lot of quickness, but he's still got that fire and that drive.
"The speed don't really pop off on film, and his quickness. But I feel like what's keeping him around is his heart. The guy plays on edge every play. You can tell his heart is truly in the game."
It will be recalled Smith could have done more damage against them two years ago when his long touchdown in the last minute that would have beat them was called back because he pushed off on safety George Iloka.
"He joined the right division for his style," Iloka said. "It fits perfectly. He a physical guy like a lot of guys we faced this year."
At age 37 Smith is coming his 1,000 career catch, 44 of them coming this year and three for touchdowns. The average per may be down (11.7 yards), but not the intensity. He gets separation from savvy.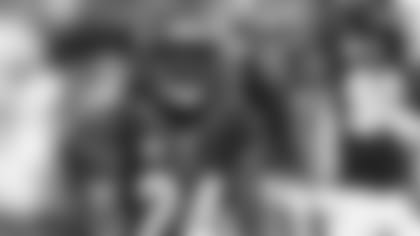 The Bengals' Adam Jones (above) and the Ravens' Steve Smith are fiery competitors in the Mutual Admiration Society.
"I could watch a guy, a particular guy, I'll watch him as the season goes, and if we have a playoff game, hopefully, God willing, we have a playoff game, and I will watch all of his pass plays for the year, good and bad, and I'll just zone in," Smith told a conference call with Cincinnati media this week. "Sometimes it may be 231 plays. I ain't have nothin but time. This is what I get paid for. This is my job, this is my craft. So I'll watch him."
Bengals special teams coach Darrin Simmons has been watching Smith for 16 seasons, ever since Smith came into the NFL in 2001. As the Panthers assistant special teams coach, Simmons touched the fire for two years.
"The toughest, most competitive person I've ever been around my entire life," said Simmons, recalling how the Panthers drafted him in the third round even though he broke his neck at Utah his senior year. "He was no different than coming back from the Achilles. He wanted to prove it to himself first, but everybody else that he could come back. That he could play at a high level. He's always trying to prove people wrong. The doubters. He's  always used that as fuel."
He may be old, but he's strong and that's what the Bengals are going to have to guard against Sunday.
"The one thing people don't know is how strong he is," Simmons said. "He has unbelievable lower body strength.  You see his legs , you see his  calves. He's a big guy in a little guy's body and that's how he plays."
Kirkpatrick got a taste of that last year. While he's concerned about Wallace's speed, he's got high regard for the strength of Smith's hands.
"Take away the deep ball, he's not effective," Kirkpatrick said of Wallace. "He's not going to be one of those guys to go across the middle 100 times and take that lick like Smith would. If we keep him contained, keep him within arm's reach -- as they say -- because I don't feel like he's that strong as a receiver, I don't feel like he has the strong hands but he has good hands.  But he doesn't have the big hands where you see him winning the ball through guys and make the unbelievable catches. At the end of the day, his speed will kill you."
During the havoc he wrought on the Bengals last season, Smith was caught on tape trashing the secondary by number. They're all back, but Smith says, "Last year was last year," and the Bengals aren't taking the bait, either. Smith says even though the Bengals have lost slot cornerback Leon Hall and safety Reggie Nelson, their secondary is playing the same style.
"They're playing the same schemes that they always played," said Smith and he has high regard for cornerback Adam Jones. "I like Adam. I've been knowing him for a long time. It's pretty cool to see how, he's always been known for a speed guy, and now as he's gotten older he's transcended his game. He's been able to be an older guy, more of a technician and really has good technique. It's been really cool to see him evolve and play hard and just do the things he's been doing. I always have a good interaction with Adam. We go at it, we're physical, but there's always a respect."
Bengals defensive coordinator Paul Guenther has the respect of Flacco. They've played golf occasionally during summer vacations on the Jersey Shore the past few years, but Guenther been no caddy. He's 3-0 against Flacco while holding him to a 71.7 passer rating on three touchdowns and four interceptions at 6.2 yards per throw. He's struggled against the Bengals literally since his first day in the league.
Flacco made his debut in the 2008 opener, the first game Mike Zimmer coordinated the Bengals defense with Guenther as his right-hand man. Flacco is 7-8 against Cincinnati with that passing rating right there at 71.9 on 15 touchdowns and 19 picks on 6.2 yards per throw.
Compare that to his career numbers of an 84.1 passer rating on 6.9 yards per throw with a winning percentage of .606.
"Everyone knows Flacco, even before Wallace was there, always had a strong arm," Iloka said. "It's a challenge. With deep balls come opportunities as well. If they throw the ball deep we have to either knock it down or try to make them pay."
"He has the arm to do it and the receivers to do it," Iloka said. "You obviously want to keep the ball in front of you."