Running back Giovani Bernard's endless dance card of moves has provided the Bengals offense with plenty of electricity since he arrived five years ago. But there's one place he's electrified where they really have no idea who he is.
Bernard figures the good people in the ancestral corner of his Haitian hometown of Tabarre know him only as "The Electricity Guy," because two years ago he brought the generators and solar panels that lit up his late mom's school.
One time he brought some footballs and all the kids did was kick them. They shrugged when he handed out some football cards. The No. 25 Bernard shirts were nice, though he thinks they may have appreciated the material more than the name.
But now he's also "The Water Guy." Or "Guy a Dlo," in creole, a language in which he's adept enough to translate in the Tabarre supply stores and at his grandmother's feasts.
"I never knew he spoke fluent creole," says LaMorris Crawford, who thought he knew all about Bernard since he started as the Bengals' chaplain the year Bernard was drafted in 2013.
"Who is this dude? Gio what?" Crawford marveled. "He understands it. He gets it. We had a translator, but Gio understands."
Bernard and Crawford get it so well that they led a contingent from their weekly Bengals' couples Bible study to Tabarre during an off-season mission bringing water to the school he named after his mom and the surrounding community.
"Le jardin vert de Josette." Josette's green garden. A garden needs water to be green and her son brought plenty to a desert where running water is a luxury and a generator is a bolt of lightning.
The RunGio Foundation had the help of Renewable Hope, a small Indiana-based Christian organization run by Crawford's brother-in-law Tim Petty that has installed water purification systems in other impoverished countries such as Guyana, Nicaragua and the Dominican Republic. After all the digging and lifting and hammering and piping, when they finally opened the valve for the neighborhood Bernard stood spellbound as six or seven people carrying buckets and pushing wheelbarrows full of buckets formed a sudden line.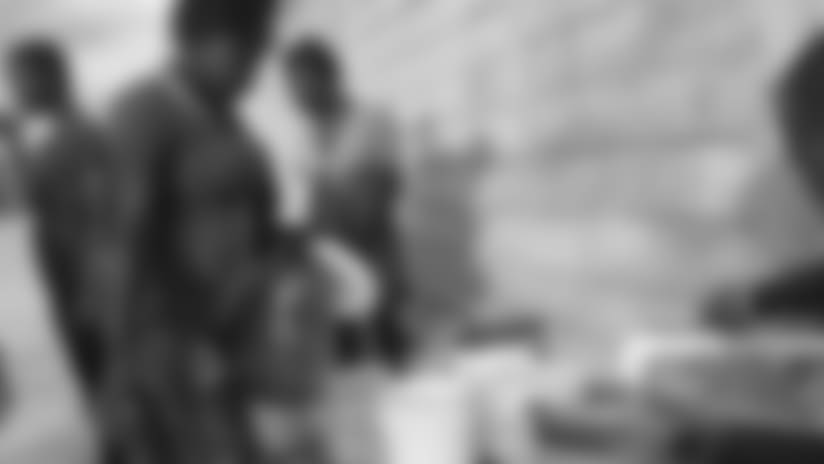 "But when you're giving such an essential, thing in life, water, and you see how quickly these people need it and want it, it's insane."
"That hit me hard to see how quickly they reacted to seeing clean water," Bernard says. "I had to take a step back real quick to be able to see something like that happen. You can do stuff over here like a toy drive. You can do this, you can do that. But when you're giving such an essential, thing in life, water, and you see how quickly these people need it and want it, it's insane. It's really cool to be able to do that. And to have the people there with me to experience that was pretty cool."
Crawford brought his wife Megan, as well her brother Tim and father Stan Petty. Bernard brought his fiancé Cloe and while teammate Nick Vigil wanted to go only girlfriend Savannah was able to make it because he had to stay back in Cincinnati to rehab his ankle.
LaMorris Crawford, 38, was enough for ten couples on his second visit to Haiti and first in 10 years since a week-long mission included a stint teaching English and math. If there's anyone who knows how to beat poverty and hopelessness, he proved his grace and grit getting out of the south side of Chicago.
He never knew his father, his mother was killed when he was ten months old and even though his grandmother raised him he was in a gang and selling crack in junior high. Basketball and Jesus saved him. He was so good in one the gang told him to focus on his game and he played all four years. The other was so good that it transformed his life.
"It's a place where broken people long for hope and if you go there with the heart to want to help you will never be the same," Crawford says of Haiti but it could have been the south side. "Poverty doesn't discriminate on U.S. soil or abroad. I think poverty is a mindset. Poverty does occur when basic needs are not met. The heroes in my neighborhood were drug dealers. I didn't have Gios in my neighborhood."
When Crawford heard the water's gush he saw life flow through the eyes of their hosts. "A surreal moment," he says.
"What changes me is when I see a professional athlete like Gio use his platform to help others," Crawford says. "There are the negative headlines that get the attention and then there is this."
They got some help on the ground when they arrived and that included from Mami Grand. Josette's mom. Princillia Vernet. Bernard's grandmother. Mami Grand. You can see how he got his infectious-life-is-going-to-be-good smile from his mom's side. When she served dinner to the crew from Cincy, they could see where Bernard gets his third-down energy.
As always. Mami Grand made Giovani Bernard welcome.
"She was fun, outgoing. Inviting," LaMorris Crawford says. "Their demeanor was more similar. She cooked for us and loved on us."
Her welcome and a Haitian custom meal melted the language barrier. There was goat, chicken, rice, and planteens.
"She's very lively," Bernard says. "She pretty much raised me when I'd spend my summers in Haiti."
She's also the link to Josette, the mother he lost to thyroid cancer at age seven and part of a great American story of love and loss and redemption.
Bernard's father, Yvens, now 58, arrives in Florida from a different part of Haiti after spending three tense days in a small boat packed with about 20 people. He meets Josette when he gets over here and both are working at IBM. He builds a dry cleaning business not once, but twice. First when he meets Josette and then after he loses Josette, when he also loses everything but his kids. After he beats poverty a second time, he's able to sell the business and contemplate retirement.
The day the youngest of their two sons is drafted by the NFL, Yvens is running Regal Cleaners in the Fort Lauderdale, Fla., area, taking it over from the former owner with no down payment and holding it down with just himself and a cousin of Giovani's.
"I start at three in the morning and I finish at 10 p.m.," Yvens says the day after the draft. "Before, I was working to eat. Making $250 a week. So I know what it's like. If I can work, I'm going to work."
He nearly misses Gio getting picked at No. 37.
"He almost didn't make it back in time before I got picked," Bernard says that day five years ago of his draft get-together. "He had to leave work. He's always working."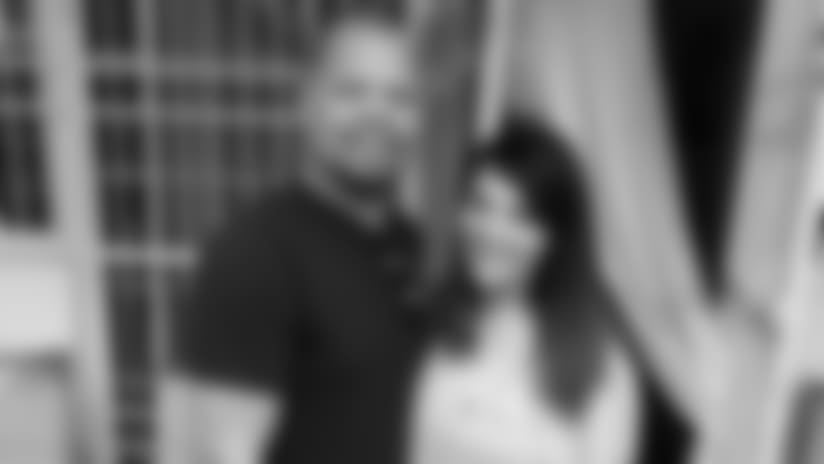 Bengals chaplain LaMorris Crawford and wife Megan served as the trip's spiritual advisers.
That's the single-mindedness Giovani Bernard is bringing to the school in the garden. The next trip is reserved for a playground. With the school growing from 20 to 60 students to who knows what, the goal is three buildings, a courtyard, and that playground. They've got one more building to go. But getting things done in Haiti?
"You want to do so much," Bernard says, "but at the same time you can only do so much."
The goal is a "safe haven."
"A safe spot where they can escape to a YMCA type of place," he says. "For older kids to get away from their problems at home. I want it to be a community focal point (where) anyone can go there and seek help or whatever it may be."
Bengals running back Giovani Bernard?
The kids aren't so sure about that guy. But he's got a position that goes beyond the Pro Bowl or even president. It's more like royalty.
"They just know that when I come I try to make a difference," Giovani Bernard says. "The water guy and the electricity guy."
Guy a Dlo. Elektrik Guy a.
"I'll take that title," he says.