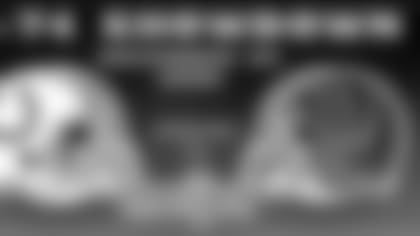 ](http://www.meijer.com/)Posted: 5:35 a.m.
The Colts are unbeaten this season with foes choosing to give them the ground instead of the air. But don't look for the Bengals to concede the running game Sunday if defensive coordinator Chuck Bresnahan is pulling out his game plans filed under "James, Edgerrin," and "Manning, Peyton."
As defensive coordinator for the Raiders at the beginning of the decade, Bresnahan crafted strategy in which Oakland won two wholly different games in back-to-back seasons in Indianapolis. In both games the common denominator was James didn't go stark raving mad running the ball and that mindset has taken hold in the Bengals huddle.
"The key is slowing down Edgerrin James," said cornerback Deltha O'Neal before Thursday's practice. "We've been up and down with the running game. We just have to have a complete game where we don't play for just a half, or start out slow. If we can slow down (the run), we'll be all right."
There are other factors, for sure in stopping what O'Neal calls Manning's reincarnation of the Rams' Greatest Show on Turf.
The crowd noise at Paul Brown Stadium in the effort to hinder Colts quarterback Peyton Manning's line-of-scrimmage resourcefulness. The physical play of the Bengals secondary that must upset the Colts precision that fuels the NFL's most devastating passing game. The Bengals' resolve to weather a storm they know is coming at some point against the NFL's No. 1 scoring team racking up 29 points per game.
But it is James and his quietest of MVP seasons that the Bengals feel they must subdue in order to hand the Colts their first loss of this season. Bresnahan's Raiders won a passing derby in 2000, 38-31, in what he calls "The Shootout at the O.K. Corral," with James digging out 116 yards on 26 carries. Then the Raiders came back in 2001 to win a grind job, 23-18, when James carried just 19 times for 91 yards.
It's a new era, of course. Now with defenses literally running backward to protect against Manning's Hall of Fame arm this season, James is continuing his silent march to Canton in flirting with a 400-carry year. He has carried at least 21 times in every game and has bettered 116 yards four times on the way to 1,027 yards.
James has reached the 1,000-yard mark on 223 carries in a brisk first nine games. When the Bengals last went to the playoffs, James Brooks was their leading rusher for the entire season with 1,004 yards on 195 carries on what was considered a running team.
"Peyton is going to be Peyton," Bresnahan said. "But if you let Peyton be Peyton and let Edgerrin run the ball, you're in trouble. Long day. You have to shut down the run first. Make Peyton beat you, and you have to beat Peyton at his best."
The one thing those Raider victories proved is how vital the running game is against the Colts. With a good enough effort on the ground, time of possession isn't as much of a factor.
The Raiders won time of possession once, 31-28, and lost it once, 31-28, but in each game their offense was committed to the run. They got just 101 yards once, but pounded it 30 times. They had 152 yards on 38 carries in the other win, numbers teams haven't approached this season on the Colts. In fact, only one team has rushed the ball more than 30 times against them and that was in last month's 38-20 win in Houston.
9/10/00: Raiders 38 at Colts 31; Manning 33-for-48, 367 yards, 3 TDs, 2 INTs; James 18 carries for 91 yards, 1 TD; Harrison 10 catches for 141 yards, 1 TD.
10/14/01: Raiders 23 at Colts 18; Manning 26-for-41, 241 yards, 2 TDs, 2 INTs; James 26-116; Harrison 8-60 yards, 2 TDs.
Sounds nice and sane, but teams aren't fingering James because they so fear the record 49 touchdown passes Manning threw last season. Manning hasn't thrown more than 37 passes in a game this season after a year he threw at least that in half the regular-season games. The Colts coaches have been shocked at times to watch defenses completely ignore Manning's play-action fakes and at other times to see secondaries turn around and run backward even though James is carrying the ball.
But listen to Bresnahan. He is a disciple of Bill Belichick, the man who has held the key to Manning (until a few Monday nights ago) with his make-them-do-what-they-don't-want-to-do game plans.
Bengals cornerback Tory James played in both those Oakland victories for Bresnahan and remembers the basics.
"Everything starts with (James)," Tory James said. "We give him 150 yards, we're in trouble. We have to focus on stopping him and go from there. 150 won't get it done. We don't want to let them go over the top (in the passing game). We want to stop their explosive plays. We know they're going to make their plays, but we have to give them no yards after the catch.
"We have to be physical with their receivers. All their stuff is timing."
Edgerrin is a daunting enough task for a Bengals defense ranked 24th against the run. Never mind that Manning still has a Hall of Fame wide receiver on one side in Marvin Harrison, the AFC receiving leader on the other side in Reggie Wayne, and a guy in the slot, Brandon Stokley, on pace to catch 55 balls and 611 yards.
"It's kind of like 'The Greatest Show on Turf,' in St. Louis when they had all those receivers," said O'Neal, bringing his NFL-leading six interceptions into the act. "Here's Round II of that. Reggie is excellent. Every year he gets better and better. Eventually he'll be their go-to-guy."
If that isn't enough to make defenses burst, it all begins with Manning orchestrating the madness at the line of scrimmage with his audibles and checks. Manning sees what the defense isn't doing, and goes from there.
"He runs the show. He says, 'No, I'm not calling that, I'm running it,' " O'Neal said. "It's like backyard football. 'You run this route, you'll be wide open.' It's phenomenal to watch a guy like that. I like watching him when I'm not playing against him."
Defensive tackle John Thornton says that's why Manning is the best in the game at the moment. "Not because of the numbers, but how he controls the game."
O'Neal and the Bengals are urging fans bring their best lungs to the 16th straight sellout. "Make it as loud as Paul Brown's ever been," O'Neal said. "Get one or two (delay-of-game) five-yard penalties," as they look to at least slow down what Manning is trying to do.
The one thing they can't do, Bresnahan says, is guess along with Manning at the line. For one thing, like O'Neal says, Manning tries to fake out defenses with "dummy calls." So when Manning sets up at the line and adjusts to the defense, the defense probably isn't going to try and adjust back.
But then, a big part of every team's defense is a pre-snap disguise, which free safety Kevin Kaesviharn says the Bengals may have to disguise a little longer in what is "definitely a chess match."
"You've got to do what you do and not worry about him," said Bresnahan, who knows he can confuse 10 other guys if not the maestro. "Because you may affect a receiver, you may affect a back, may affect a line call by your disguise. It always just isn't for the quarterback. He's one of the best, no question about it. He gets that coordinated, but there are 10 other guys that have to do things on their own."
But if the Bengals have trouble stopping the run, they have also been superb at pulling off Bresnahan's major principles he established during the offseason. Hold down the long pass plays to the minimum. Since allowing a 68-yard touchdown pass in the second quarter of the opener, the Bengals haven't allowed a pass longer than 28 yards, and that's going to be a huge factor Sunday. The Colts trio all has at least one catch that long this season.
In the two Raider wins, Oakland got burned only once on a long scoring play and it was Harrison's 50-yarder late in the shootout when the Raiders had a two-touchdown lead. In the grind game, Harrison had two touchdown catches, but they were both from inside the 10.
"They're going to make plays. They're going to put points on the board. You've got to limit them," Bresnahan said. "You have got to limit the explosive plays and make them earn it. Don't give them anything easy."
Bresnahan isn't concerned that Manning just doesn't take sacks (six in 276 throws) and the Bengals just don't get them (14 in 296 attempts) and that the Colts proved last year that blitzing them just isn't an option. But he does think his much-maligned defense has come up with that elusive identity.
"When you say, 'Cincinnati,' people say, 'Turnovers,' and we're not going to change. We're going to work to get into position," Bresnahan said. "We're still going to pressure. I'd rather have a pressure into a turnover than a sack any day."
"Maybe we get something off a hurry," he said. "You can't let him sit in the pocket and be comfortable. You have to get him moving around."
But it all gets back to the run, doesn't it? There won't be any surprises. True to his nickname, James is going to run to "the edge" instead of between the tackles and try to cut it back upfield. Thornton is amazed because he says while the Colts run only about eight plays, they run them so well and Manning is so good in play-action, they all look the same.
"Don't let them run the ball. Can't do it," Thornton said. "You drop people in the passing game and then Edgerrin is just going to run it and chew up the clock, and the defense is going to get tired out. You have to do what you do in every game and make them pass."
For O'Neal, it's simply a series of survival.
"You have to survive to the next down," he said. "If you survive, you're good."