The only three punt return TDs Kevin Huber have allowed have come at the hands and feet of the Steelers' Antonio Brown.
They are the current arch-villains of Bengaldom and 6-0 Cincinnati is preparing to get both barrels of quarterback Ben Roethlisberger and wide receiver Antonio Brown when they play the 4-3 Steelers in Pittsburgh Sunday (1 p.m.-Cincinnati's Channel 12) as they try to grab the AFC North by the scruff of the neck for the rest of the way.
At some point Pittsburgh running back Le'Veon Bell is going make the Wanted poster, but he's done in the Bengals only once in his career.
Since the Green-Dalton Bengals were formed in 2011, Roethlisberger is 6-2 against them with a 92 passer rating fashioned out of his infuriating style of pin-balling off would-be sackers and finding the most improbable receiver for the most impossible completion. Meanwhile, Brown has scorched them for six touchdowns; three on his only punt return TDs of his NFL life.
Brown's 741 yards are the most he's caught against any team and the 15.1 average is the second most against any team he's played more than three times. And not only did Brown cost the Bengals the division title last season, he also swiped Cincinnati's second overall special teams title in the last three years with his 71-yard punt return that opened the scoring in the AFC North title game in the regular-season finale at Heinz Field.
"(Brown) and Big Ben communicate very well. They're always looking to extend the play," said Bengals cornerback Dre Kirkpatrick. "Ben does a great job of pointing direction and giving baby signals with his eyes. Antonio does a great job of reading those things and they rarely make mental errors."
Kirkpatrick found out first hand in the last 2:50 of last year's North title game. Kirkpatrick had acquitted himself well. Until then, Brown had just six catches for 63 yards. But then Roethlisberger beat Kirkpatrick's good coverage down the sideline by muscling it directly over their heads for a 63-yard TD pass that finished the scoring at 27-17.
 "We know those guys like to get the ball down the field. We know they like to extend the vertical plays,' Kirkpatrick said. "Big Ben does a great job moving around in the pocket. We know he's hurt. We don't know how much he's going to be able to be on his feet and moving around and getting in and out of the pocket, but we've got to look for those throws. Those are some of the things that show up on field."
Everyone, including Steelers head coach Mike Tomlin, is expecting Roethlisberger to play Sunday for the first time since he hurt his knee in third game of the season against the Rams. 
"The Ben I know, I have no doubt in my mind he'll be out there,' said Bengals linebacker Chris Carter, a former Steeler who does know Roethlisberger. "I've seen him come back from some nasty injuries and play at a very high level."
Roethlisberger has not only thrown his most touchdowns against the Bengals (29), he's also thrown his most interceptions (21) against them and the two Green-Dalton Bengals wins over the Steelers have come at the hands of safety Reggie Nelson.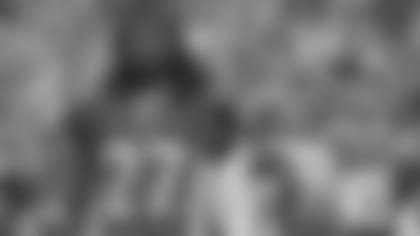 Cornerback Dre Kirkpatrick had Ben Roethlisberger and Antonio Brown in his sights until the final 2:50 of the regular season last year.
Nelson's interception with 14 seconds left in the wild next-to-last-game of the 2012 season set up the Bengals for the field goal that put them into the post-season and knocked out the Steelers. Then in the second game of the next season at Paul Brown Stadium in a Monday night game, Nelson picked off Roethlisberger in the end zone with 4:55 left to preserve a 20-10 lead that turned into a 20-10 victory. Nelson also picked Roethlisberger for the third time in five games in last year's finale.
"As a secondary, we just know we can't give up the big play," said Nelson, who saw the Steelers complete eight balls of at least 20 yards in last year's two losses. "We know he's anxious to get back on the field and produce for his team. Big Ben is a very competitive guy and we're going to come in there and he's going to give us everything he's got. They've got some very good athletes over there. The Steelers stick with themselves. We already know we're in for a dogfight."
The Bengals special teams are going to be in their own dogfight before they even meet the Steelers. They'll hear it all from special teams coordinator Darrin Simmons this week and he'll make them practice it all after Brown burned them one more time in the season's last game for his third punt return TD against them in the last four Heinz games.
They are the only return touchdowns against Bengals punter Kevin Huber in his seven NFL seasons and when Brown knocked off the first one in 2011, it was the first one against the Bengals in 53 games.
To make it worse, when Huber got off a bad liner down the middle of the field in the 2013 Heinz game he not only paid with a return, but a season-ending broken jaw.
"I get it. He's damn good," Simmons said. "But we play damn good guys every week. For whatever reason he's been more successful against us than others. Got to give him a lot of credit, he's a hell of a player . . . It's one of those deals he's had our number there. We've got to get that figured out and get it fixed because obviously field position has been a big part of controlling the game." 
Last year really hurt. After leading the NFL for much of the season in a compilation of the league rankings in the 10 major special teams categories, the Bengals lost the special teams top 10 crown by a point to the Falcons, 96-97.
The Bengals came into the finale ranked second in allowing punt return average and they were second in net punt average, helping their rankings add up to 84, of all things, Brown's jersey number. That will happen when the longest return they allowed was 11 yards. But after they gave up Brown's punt return TD, they finished 10th in punt return average against and sixth in net punt average against.
"The plays that he's made against us we had guys overplay, we had guys out of position trying to do something for somebody else instead of just doing their own job," Simmons said. "He's gotten very adept when somebody does get out of position. He somehow finds that. It just so happens it's been against us. He's been hot against us, no other way to put it. "
Gunner Darqueze Dennard couldn't wrap up Brown last season and when he spun out of Dennard's grasp Brown totally reversed field. And there was no one on the other side.
"We just have to try to limit the amount of space this guy has when he catches the ball till we have the first penetrators in," Simmons said. "We have to do a better job staying sound in our field lanes. The play he made against us a year ago we have him tackled and he gets out of the tackle and reverses his field. We had some people overplaying the play, got caught over-squeezing and he reverses field we are out of position. Guys have to trust everybody around them. We can't over-analyze or over do things. We just have to be sound and do our job. "
Dennard is going to be back out there and why not? He helped cool off the league's hottest punt returner when Seattle's Tyler Lockett came into PBS two weeks ago and they held him to eight yards on two returns.  Huber has pumped 12 inside the 20 with just two touchbacks and the Bengals are ninth in the league defending net punt average.
Rookie cornerback Josh Shaw has been helping Dennard shut things down and they're tied for third with the most teams tackles on the Bengals with three. But Simmons is going to want more. Dennard was a rookie when he let Brown get away.
"I'd like to see more production out of (Shaw) in terms of tackles," Simmons said. "I think Kevin has done a good job the last couple weeks of ball placement, putting the ball where we need it and we've also done a good job with our offense because we've had such an advantage because of field position. We've also had a lot of plus-50 punts. We haven't had to cover a bunch of minus-50 punts where we are backed up. The last couple plays these guys made we were backed up."
And that's huge.  Brown's returns were snapped from the Bengals 17 last year, the Bengals 29 in 2013 and the Bengals 8 in 2011.  What's nice is that Huber has just 23 punts, third fewest in the AFC.
"He's got confidence. He's got confidence right now. He's got us a couple times," Simmons said of Brown. "Certainly have to approach him different. We have to do a better job than we've done against him historically."
He could have been talking about Big Ben, too, the other guy on Bengaldom's Wanted posted.
"You have to pretty much keep your eyes on your man. Don't try to do anybody else's job. Stay with the guy that you're assigned to," said Kirkpatrick of what his day out on the trail is going to be like. "If you do that, you can not necessarily stop it, but you can pretty much disrupt a lot of things that they want to do and that they're used to doing."