Adam Jones got his hands on the ball one time Sunday and made it count.
CLEVELAND - Give this to the Bengals after they started their most decisive month of this season with Sunday's utterly necessary and total domination of the Browns. They are an intriguing team with a unique brew of youth and age. The kind of team you can sink your teeth into as they ripped the Browns, 31-7, to get back to 1-3 on the first day of October.
Especially on defense, where the Bengals already came in seventh in the league in yards allowed before they skewed the Browns' analytics on a paltry 215 yards, a mere 45 coming on the ground at 2.6 yards per misery. They didn't allow the touchdown until after the two-minute warning as defensive coordinator Paul Guenther's continues to follow through on his desire for a rotating depth chart.
The blowout had something to do with how the snaps were distributed, but 16 defenders worked at least 20 snaps as the defense evolves into faster, more aggressive group.
"We're playing a lot of guys. It speaks to the talent we have on this team," said middle linebacker Kevin Minter, an off-season addition who should know such things as play-off participant in Arizona. "Some of the most talent I've ever been a part of.  But our record isn't showing it. It's about time we nipped that in the bud."
They're also trying a rotation on certain parts of offense, where Andre Smith made his first NFL start at left tackle after 73 at right tackle and running back Jeremy Hill continues to get about a third of the carries while rookie running back Joe Mixon took the bulk of carries Sunday with 17.
"We've got a lot of guys in here with a lot of talent. A lot," said cornerback Adam Jones. "Offense. Defense. Whatever it is. At the end of the day we didn't end up in the right column after three games. But there's a lot of positives offense and defense. I think we're in a great position."
Just look at the defense, where veterans like Minter are mentoring coveted young players like pass rusher Carl Lawson. And that includes riding him, which happened after Lawson chipped his two front teeth taking down rookie quarterback DeShone Kizer in a bizarre fourth quarter play.
It seems Lawson hasn't been wearing a mouthpiece, much to Minter's chagrin.
"You're going to listen now aren't you?" Minter asked Lawson, shaking his head like a peeved parent as they packed up their lockers. "I've been telling you since training camp. What's it feel like, Carl?"
Actually, Lawson was feeling pretty good. He had a good rush against left tackle Joe Thomas and would have had yet another sack if the refs didn't rule Kizer's arm was going forward, so it was an incomplete pass, and that goes with the 1.5 sacks Lawson lost last week via press box charters and penalty flags.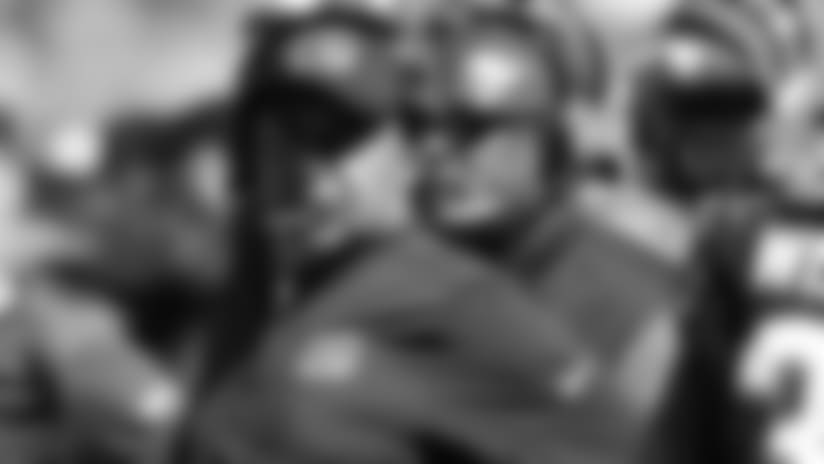 Marvin Lewis got the most out of his rotations Sunday.
"I probably would have been a little more upset if it wasn't a play like that," Lawson said. "It was a good rush. I just sacrificed my teeth for it. If it was for a sack or a forced fumble… This was pretty good. A good rush against a Hall of Famer … But it was a freak accident, mouthpiece or no mouthpiece."
With Lawson getting better and better 40 snaps with his first 2.5 NFL sacks on Sunday, he worked 62 percent of the plays. Fellow rookies up front like Ryan Glasgow played 24 snaps and Jordan Willis played 21. But it was two veteran staples in the back seven, Jones and linebacker Vincent Rey, who only played 15 snaps each. Second-year man Nick Vigil played what used to be Rey's ironman role with 98 percent of the snaps, while second-year cornerback William Jackson played 47 snaps.
"I'm just trying to be a team player," said Jones, a day after the team's oldest player turned 34 as he adjusts to the role of elder statesman.  "Obviously we've got a lot of things going on. We rotate everybody. I've never been on an NFL team with a lot of rotation. You get two series, you get two series. You get a punt return, you get a punt return. I'm just trying to keep my head on straight.  Enjoy the process and see how it plays out."
But everyone made the most of their snaps Sunday. Jones got one punt return and one of the NFL's most prolific active return men reeled off a 40-yarder for his longest  return in three years and rustled a lethargic 0-0 game when he set up the game's first touchdown.
"Any time you get to the 40 or 50, you need just one first down to get at least a field goal. That's the way I look at it," Jones said. "Every time I get it, regardless what anybody says, I think can score on that bleeper any time."
Head coach Marvin Lewis, who is a veteran's guy, is hoping Jones can pass on that confidence and approach to the next generation.  To guys like Jackson. Jackson didn't have a great day. He was called for two penalties, one on third and long and the other on fourth down in the end zone that allowed the Browns to break the shutout. But Lewis seems ready to take the good and bad of development.
"He's got to learn that and play the way he's coached to play a little bit better. We'll get a chance for that," Lewis said.
But the kids contributed. Second-year safety Clayton Fedjelem (24 snaps) rotated with George Iloka and Shawn Williams and came up with his first NFL interception on a dropped pass in the red zone.
Vigil came up with the Bengals' only sack on a delayed blitz off the edge and made a huge play early in the game when a sack and strip of Bengals quarterback Andy Dalton put the Browns at the Bengals 30. On second-and-five, Vigil dropped running back Isaiah Crowell for a five-yard loss and forced a 48-yard field goal that rookie Zane Gonzalez missed.
Joe Mixon had 17 more carries for just 29 yards Sunday.
"Nick Vigil gets my game ball," said linebacker Vontaze Burfict.
Turning to Rey, the special teams ace, Burfict asked, "What else is Nick on? Kickoff? Special teams make you a little tired, so for him to come in on defense and still step up and make plays, he gets the game ball."
Burfict was typical in one of his returns. Despite not practicing for three weeks, he played 80 percent of the snaps in his first game of the season.
"We had a good urgency today. We've got to keep it going," Burfict said. "We weren't going to let them run on us today. We wanted to get Kizer to beat us … We did a good job against the run and that lets us play a cautious defense on third down so they don't throw it over our heads … we did a good job of film study and alerting plays with the formations coming in."
The one thing the vets give the kids is the passion. Jones riffed on a birthday. "Not many people are doing this at 34," Jones said.
"Getting the win was the most important thing," Jones said. "Just win the game … It's a game we wake up to play, like Pittsburgh. "I'm not saying we don't wake up every game, but it's the Battle of Ohio. People don't think it is big, until you're losing and your house gets toilet tissued."
That won't happen Monday. How the rotations work out for this intriguing team will take a little longer to find out.
Cincinnati Bengals take on the Cleveland Browns in week 4 of the regular season.