Linebacker Hardy Nickerson is one of two undrafted free agents that made the 53 Saturday.
On a Cut Down Day the Bengals anointed their old new kicker new again Saturday when they cut fifth-round draft pick Jake Elliott, injuries, suspensions and teeming depth at wide receiver forged a few oddities you don't usually see on a Bengals roster.
_The Bengals kept two undrafted rookies in linebacker Hardy Nickerson and H-Back Cethan Carter, one of five tight ends.
_They kept seven wide receivers after they drafted two in the first four rounds this year (John Ross and Josh Malone), the two they drafted last year (Tyler Boyd and Cody Core) were among the most improved players on the club, and defending AFC kick return champion Alex Erickson finished with the fourth most receiving yards in the NFL this preseason.
-They kept just three running backs and eight defensive linemen while keeping a spot for a No. 3 quarterback with a broken throwing hand and thumb.
They also cut a president in the NFL Players Association's Eric Winston and a prince in 10-year defensive lineman Wallace Gilberry, one of last Thursday night's captains whose 67 Bengals games include five post-season runs.
And they got a head start on the 2019 draft when they traded cornerback Bene Benwickere to Dallas for a conditional sixth-round pick.
But when the dust cleared the Bengals did as they vowed in the grim back-to-back weekends in Dallas and Foxboro last season after Ezekiel Elliott and James White ate them alive and the offense couldn't respond. They got younger and faster, even when suspended veterans Adam Jones and Vontaze Burfict are back in place for the Oct. 1 game in Cleveland. They wanted more pass rushers (Carl Lawson, Jordan Willis, Chris Smith) and more vertical threats to complement wide receiver A.J. Green (Ross, Malone) for quarterback Andy Dalton.
"I think it came out very well. I think obviously some injuries shaped some things there toward the last couple weeks," said head coach Marvin Lewis. "But I do think we addressed the things that coming into the offseason we felt were pertinent and important that we got done as we entered into the 2017 season. You've got to feel good about it. Most importantly, the guys that we've tapped have gone out there and performed. We can sit back and think about it, but they've got to go out and do it and obviously they've evidenced that to everybody."
When they hit the button Saturday, the average NFL experience on the Bengals roster was 3.8 years, their youngest since the 2011 Green-Dalton Re-Boot. When Jones (Sept. 11) and Burfict (Sept. 25) return, it figures to hover at 4.1, older than '11 but much younger than last year's 4.55 and 2015's 4.79. As of now, the average age is 24.8 years. Jones and Burfict may get the needle to 25, but much younger than last season's 26.3 and even the 25.8 of 2015.
Yet if the Bengals look young on the roster, they don't feel older. Unlike 2011 when they started three rookies, they won't start any rookies on Opening Day a week from Sunday against the Ravens at Paul Brown Stadium. That is, if, as expected, second-rounder Joe Mixon starts out behind Jeremy Hill at running back.
There is some flux over the next 24 hours with the Bengals able to claim players on the waiver wire and the expected move of quarterback Jeff Driskel (broken throwing hand and thumb) to injured reserve with the option to return. But Lewis said Saturday, they feel good about this roster for the opener.
They ended up keeping three talented running backs, but only three when veteran Cedric Peerman last week and first year man Tra Carson Saturday went on season-ending injured reserve.  Also going on injured reserve Saturday was rookie tight end Mason Schreck, a seventh-rounder. With backup C.J. Uzomah (ankle) out a few more weeks and starter Tyler Eifert dealing with knee tendinitis, they opted to keep Carter, the 6-3, 245-pounder out of Nebraska.
Nickerson probably made it because of the Burfict suspension, but his son-of-a-coach knowledge of the game has impressed the coaches the moment he arrived.
Randy Bullock making it would have been a surprise in April, but not Saturday.
"Hardy's done a tremendous job since the day he walked in here in running the defense and understanding the defense. He's very calm on the field," Lewis said. "Listening to Paul (Guenther) speak with him during the games through the communicator, he's able to relate things to him like you're talking to a very veteran player. He's been very sudden in his play and has really played very, very well. "(Carter is)a physical player. He's got a bright future ahead of hm. He continued to grow and develop and he has a great chance to really turn into a fine, fine NFL tight end."
When they kept just eight D-linemen they not only said good-bye to Gilberry but two highly-drafted players that never quite panned out the way they hoped in 2014 third-rounder Will Clarke and 2015 fourth-rounder Marcus Hardison. But they're banking on this year's third-rounder, Willis, breaking the spell after he had a sack in every pre-season game.
Also squeezing out the draft picks up front is fourth-year man Chris Smith, traded from Jacksonville back in April. While Lawson, a fourth-rounder, is listed as a linebacker, he and Smith are destined to get work as pass rushers in the first nickel defense.
There has to be another shoe to drop with Driskel, the injured No. 3 quarterback. All signs indicate they'll put him on injured reserve Sunday and hope he can return starting in week eight. That frees up a spot and they'll probably use it on a DB or a linebacker so he can help out on special teams in the opener. Carson and Schreck are done for the year and can't come back.
The decision to go with veteran Randy Bullock would have been a surprise in the days after the Bengals drafted Elliott. But not Saturday. The thinking is that Bullock, whose Christmas Eve walk-off miss in Houston probably inspired the kicking competition, had to knock out Elliott. Between practice (where Bullock outkicked Elliott by 15 percentage points) and pre-season games (where Bullock missed only one and Elliott two not counting last Thursday's night's 60-yard bid), he did.
"There's a lot of data, a lot more data than you're aware of. So we have to go by that or else there's no reason to keep track of everything we do. Obviously if it was anything close, Jake would have won the job," Lewis said. "Every kick has been charted. We felt like Randy has won the competition."
Lewis wouldn't rule out putting Elliott on the practice squad if he goes unclaimed.
Andy Dalton (7), Andy Dalton (3), Jeff Driskel (2) WIDE RECEIVERS (7)
Brandon LaFell (8), A.J. Green (7), Tyler Boyd (2), Alex Erickson (2), Cody Core  (2),  John Ross (R), Josh Malone (R). RUNNING BACKS(3)
Giovani Bernard (5), Jeremy Hill (4),   Joe Mixon (R) TIGHT ENDS (5)
Tyler Eifert (5), Ryan Hewitt (4), Tyler Kroft (3), C.J. Uzomah (3), Cethan Carter (R) OFFENSIVE LINE (9)
RG-T Andre Smith (9), LG Clint Boling (7), C Russell Bodine (4), R-LT Jake Fisher (3), LT Cedric Ogbuehi (3), C-G T.J. Johnson (2), G Christian Westerman (2), C-G-T Trey Hopkins (2), G Alex Redmond (1).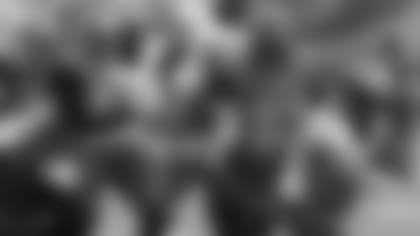 Pat Sims (92): 10-year nose tackle still anchored as Opening Day starter. DEFNSIVE LINE (8)
NT Pat Sims (10), DE Michael Johnson (9), DE Carlos Dunlap (8), DT Geno Atkins (8),  DE Chris Smith (4), NT Andrew Billings (2), DE Jordan Willis (R), DT Ryan Glasgow (R). LINEBACKERS (6)
Vincent Rey (7),  Kevin Minter (5), Nick Vigil (2), Carl Lawson (R), Jordan Evans (R), Hardy Nickerson (R). SECONDARY (9)
CB Dre Kirkpatrick (6), S George Iloka (6), S Shawn Williams (5), CB Darqueze Dennard (4), CB-S Josh Shaw (3), S Derron Smith (3), CB William Jackson (2), S Clayton Fejedelem (2), CB KeiVarae Russell (2). SPECIALISTS (3)
P Kevin Huber (9), LS Clark Harris (9), K Randy Bullock (6).