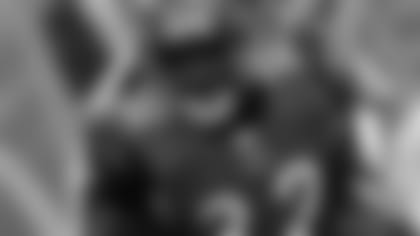 Rudi Johnson had a big day with 117 yards rushing and two scores. (Bengals photo)
It wasn't pretty, but it was historic and effective.
Despite four turnovers, the Bengals remained in the playoff picture with a 27-10 victory Sunday over Oakland at Paul Brown Stadium when 65,882 watched them log two 100-yard receivers and a 100-yard rusher for the first time in team history.
It was also Cincinnati's eighth victory, securing its fourth straight non-losing season under head coach Marvin Lewis for the first time in a generation. With three games left the Bengals surged a game past Wild Card contenders Kansas City, the New York Jets and Denver as all fell to 7-6 while the Bengals went into next Monday night's game in Indianapolis 8-5.
Yes, if the postseason were today, the Bengals would be the first Wild Card team over Jacksonville because of a better conference record and would travel to New England for the Wild Card game the weekend of Jan. 6-7.
"We had to create our excitement and emotion today a little bit," said head coach Marvin Lewis. "It was not our best football game of the season, but we did a lot of good things."
But if Lewis was as mild as Sunday's 50-degree temperatures in the postgame session, he was as brutally cold during the frigid practices held in last week's deep freeze. He stopped practice a couple of times Friday and gathered his players around him to bark reminders not to be sloppy.
**Bengals (8-5 overall, 6-3 in AFC, 4-3 at home, 4-2 on road) Dec. 18 at Indianapolis (10-3 overall, 7-2 in AFC, 6-0 at home) Dec. 24 at Denver (7-6 overall, 7-4 in AFC, 4-2 at home) Dec. 31 Pittsburgh (6-7 overall, 4-6 in AFC, 1-5 on road) FOES: 23-16**
Denver (7-6 overall, 7-4 in AFC, 3-3 at home, 4-3 on road) Dec. 17 at Arizona (4-9, 3-4 at home) Dec. 24 Cincinnati (8-5, 6-3 in AFC, 4-2 on road) Dec. 31 San Francisco (5-8, 1-5 on road)
Jets (7-6 overall, 5-5 in AFC, 3-3 at home, 4-2 on road) Dec. 17 at Minnesota (6-7, 4-3 at home) Dec. 25 at Miami (6-7, 3-6 in AFC, 4-3 at home) Dec. 31 Raiders (2-11, 1-9 in AFC, 0-7 on road)
Jacksonville (8-5 overall, 5-4 in AFC, 6-1 at home, 2-4 on road Dec. 17 at Tennessee (6-7, 3-6 in AFC, 3-3 at home) Dec. 24 New England (9-4, 5-4 in AFC, 5-1 on road) Dec. 31 at Kansas City (7-6, 3-6 in AFC, 5-2 at home)
Kansas City (7-6 overall, 4-5 in AFC, 5-2 at home, 2-4 on road) Dec. 17 at San Diego (11-2 overall, 9-2 in AFC, 6-0 at home. Dec. 23 at Oakland (2-11 overall, 1-9 in AFC, 2-4 at home) Dec. 31 Jacksonville (8-5 overall, 5-4 in AFC, 2-4 on road)
"He stopped practice not to focus us. It was 10 degrees outside. Who else is practicing in 10-degree weather?" wide receiver T.J. Houshmandzadeh asked. "So he wanted us all to huddle up so we could get some body heat. He got on us, but we knew it was cold. He was probably cold, so he wanted to get in the middle of us and bring him some heat."
Right tackle Willie Anderson, after cooling off one of the NFL's hottest sackers in Raiders defensive end Derrick Burgess by shutting him out, begged to differ.
"Yeah, he warmed us up with some words," Anderson said of Lewis. "It was just little things. He wanted to keep reminding us that we weren't going to walk all over these guys."
It might not have been pretty, but it was dominant on both sides. The Bengals didn't punt in a game for the first time since Sept. 17, 1989 and they won for just the fourth time in 23 games under Lewis when they had minus turnover differential. And the first time in five games this year. For just the third time in their history the Bengals didn't alow a rushing first down, and they have a franchise defensive record in allowing just 17 points in the last three games.
In an effort to rid the 2-10 Raiders of visions of an upset, the Bengals broke to a 14-0 lead in the game's first 12 minutes behind running back Rudi Johnson's 55 yards on his first 11 carries and then began to ease away when Johnson's second touchdown of the day gave them a 21-3 lead with 5:31 left in the third quarter.
Since the second-half debacle against the Chargers Nov. 12, the Bengals have won four straight, tying their best skein under Lewis in a stretch the defense has alowed just four touchdowns.
Johnson finished with 117 yards on a season-high 30 carries. Houshmandzadeh took over in the third quarter and muscled his way to his third 100-yard day of the season and eighth of his career with a 20-yard touchdown catch that knocked over cornerback Fabian Washington in the middle of the field that gave the Bengals a 27-3 lead with 59 seconds left in the third quarter.
Houshmandzadeh, who had 118 yards, also beat Washington on a comeback route on the sideline for a 16-yard gain earlier in the drive, as well as picking up a 21-yarder over the middle.
The Bengals also got a 100-yard day from wide receiver Chad Johnson (101 on five catches). That gave Chad the club record with 21 career 100-yard receiving days (eclipsing Isaac Curtis) and put Rudi into a second-place tie with James Brooks with 17 100-yard rushing games.
Rudi's number was 17. The Bengals jacked their record to 17-0 when he carries at least 25 times.
"Their offense is loaded. What are you going to do?" asked Raiders cornerback Nnamdi Asomugha. " Are you going to call man to stop the run? If you call man, then they are going to start throwing all over the place. They've got Carson Palmer, Rudi Johnson and three wideouts. That right side of the offensive line just has some beasts."

It was that right side, anchored by Anderson and right guard Bobbie Williams, that helped blank Raiders Pro Bowl defensive tackle Warren Sapp on the stat sheet.
The right side was also one of the reasons the running game is now flexing its muscles down the stretch. It was Johnson's most carries in 364 days, when he had 30 against the Browns last Dec. 11, and his most yards since Week 2 this season.
"When he's running like he was today, and he's getting holes like he did today, we're tough to beat," said quarterback Carson Palmer. "When they have to worry about Rudi Johnson in the backfield, then we can go with some play-action and get guys to jump and bite on some certain things. That's when Chad, T.J., and Chris Henry beat you."
Defensive tackle John Thornton, a half hour after the game, already noted that the Jaguars on Sunday piled up more than 350 yards rushing on the Colts, next Monday night's foe.
"That's what we're going to have to do," Thornton said. "Run the ball and keep the Colts offense off the field."
In deference to the Bengals big-play wide receivers, the Raiders didn't play as much man-to-man as they've shown, but they played enough so that each had a catch of at least 23 yards. Rudi Johnson's six-yard touchdown run capped a seven minute-plus drive that took the stuffing out of any upset specials, provided some statistical milestones and served notice that the Bengals feel they have to establish him for the stretch.
Johnson reached the 1,000-yard mark for the third straight season (Corey Dillon is the only other Bengal to do it) on his first carry of the second half and when he rode tight end Tony Stewart's block of Burgess for the score, it gave him his 10th touchdown of the season and three straight seasons of double-digit touchdowns.
It all came courtesy of Palmer's 36-yard throw to Houshmandzadeh over the middle on third-and-five working against 5-8 cornerback Tyrone Poole. It put Palmer over the 10,000-yard passing mark for his career and gave Houshmandzadeh his 24th third-down catch of the season, a category in which he shared the AFC lead at the beginning of the day.
The Bengals could have had it much more in hand against the team with the NFL's worst turnover differential, but they suddenly became sloppy with the ball. Palmer stil had a 90 passer rating (20-of-28, 297 yards) despite throwing three interceptions for the first time in 32 games, since the 58-48 win over Cleveland Nov. 28, 2004.
The Bengals broke the cardinal rule of avoiding an upset by failing to finish off Oakland in the first half and took only a 14-3 lead into halftime.
With 27 seconds left in the half the Bengals saluted their first double-digit sacker since Alfred Williams 14 years ago when defensive end Robert Geathers came up with his second sack of the day and 10.5 on the season when he chased down Raiders quarterback Aaron Brooks from the back side to force Sebastian Janikowski's 33-yard field goal.
Geathers, the third-year end from Georgia, had a big postgame smile. His uncle, Jumpy Geathers, who had 62 sacks in 13 NFL seasons, told him he had never more than nine in a season.
"He said once I got to 10, no one could call me 'Jumpy' anymore," Geathers said.
The Bengals had a chance to up it to 21-0 midway through the second quarter when Johnson did the rare Rudi and fumbled away the ball at the Raiders 20. It was Johnson's first lost fumble in 278 touches this season after he lost just one last year in 360 touches.
Then the real rarity happened. On the next series Palmer threw his second interception in a half with 5:22 left when wide receiver Chad Johnson appeared to break his route over the middle. But Palmer said no, it was his fault, and Asomugha got his second pick of the day with a spectacular leaping one-handed grab. It was the Bengals' third turnover, their most in a game since they had three in Baltimore Nov. 5.
After Palmer hit wide receiver Chris Henry for an eight-yard touchdown pass for a 7-0 lead, he gave it to Johnson six times on the next drive for 36 yards that included a nine-yard touchdown run through a monstrous hole engineered by Williams and Anderson.
On that drive, the Bengals overcame a drop by wide receiver Chad Johnson with defensive holding calls on Sapp and defensive end Tyler Brayton.
Chad Johnson did make a terrific 42-yard catch in the half (he had 68 yards at the half) when he muscled his body between the ball and Asomugha for his seventh catch of at least 41 yards in the last five games.
After Brooks (just 199 yards on 39 attempts) threw behind open Randy Moss working against cornerback Tory James on third down, Janikowski drilled the left upright from 51 yards away.
The Bengals began the game with the Raiders trading turnovers with the most mistake-prone offense in the NFL before they took a 7-0 lead midway through the first quarter.
One snap after Palmer threw his first interception since Nov. 19, cornerback Johnathan Joseph forced a fumble against Raiders wide receiver Alvis Whitted at the Cincinnati 39 and hopped on it himself.
Palmer got picked trying to hit Henry on 1-on-1 coverage on the sideline with Asomugha. But Asomugha read the route with a diving grab in front of Henry.
Henry got his revenge after Joseph's fumble. Following a holding call on left tackle Andrew Whitworth that wiped out one first down, the 6-4 Henry converted a third-and-15 on a leaping catch in a zone in front of Poole in the red zone, and then converted the next third down – a third-and-five – for an eight-yard touchdown pass on a crossing pattern out of a four wide receiver set with 8:34 left in the first quarter.
It was Henry's seventh score of the season, tying him with receivers Chad Johnson and Houshmandzadeh and Palmer's NFL-best 23rd touchdown pass. Houshmandzadeh later jacked it to eight and Palmer to 24.
Bengals linebacker Landon Johnson was helped off the field after that first touchdown with an unknown injury, but returned for the next series.
The Bengals finished their third straight first half without allowing a touchdown, aided by middle linebacker Brian Simmons' tip and grab for his second interception of the season at the Bengals 13.
The Raiders hogged the ball for virtually the last five minutes of the half. Brooks converted a fourth-and-four pass to Whitted for five, but the Raiders didn't have Moss for that drive because he was on the sideline with an ankle injury and missed the last three quarters.
PREGAME NOTES: Pro Bowl cornerback Deltha O'Neal, arrested for driving while intoxicated less than 48 hours before Sunday's game with the Raiders, went on the inactive list 90 minutes before kickoff.
Center Eric Ghiaciuc, hampered with a knee injury, got the start against the Raiders' third-ranked defense in the NFL.
Whether it was disciplinary reasons or not, head coach Marvin Lewis chose to stick with the defense that has fueled the Bengals three-game winning streak. With the emergence of Caleb Miller and the return to health of Brian Simmons at middle linebacker, rookie Ahmad Brooks joined O'Neal on the inactive list.
After the game, Lewis wouldn't say he disciplined O'Neal with the move.
"He wasn't on the injury report but that doesn't mean in my eyes he's ready to go," Lewis said. "I can only activate 45 guys. We'll discuss it at another point. Bu not today. We're talking about the Oakland Raiders and that's it."
Also down were wide receiver Kelley Washington, center Rich Braham, and left tackle Levi Jones, as well as linebacker A.J. Nicholson and defensive end Jonathan Fanene.
Even before O'Neal became the eighth Bengal arrested this past year early Saturday morning at a traffic checkpoint in Cincinnati's eastern suburbs he had been taking heat from Lewis.
O'Neal was expected to play for the first time this week since injuring his shoulder Nov. 12 after giving up a 46-yard touchdown pass during San Diego's 42-point second half. He returned to practice and didn't appear on the injury report.
But asked earlier this week about his lineup when O'Neal returned, Lewis made a reference to Wally Pipp, the Yankee who became famous for losing his job to Lou Gehrig. And on Sunday rookie Johnathan Joseph made his fourth straight start at left cornerback in place of O'Neal.
The other starting cornerback, Tory James, has also struggled at times. Moments after he came up with a huge fourth-down pass deflection against the Ravens last week, James gave up the Bengals' only touchdown in the past two weeks on wide receiver Derrick Mason's 36-yard touchdown catch with 61 seconds left in Cincinnati's 13-7 victory.
Since O'Neal's injury and injured strong safety Dexter Jackson's return two games ago, Lewis has had success deploying three safeties on passing downs with backup Kevin Kaesviharn working in tandem with Jackson and free safety Madieu Williams.
In the last three games, the Bengals have allowed three touchdowns with Kaesviharn getting three interceptions, Jackson 22 tackles, James two interceptions, and Joseph six passes defensed.
Last year, O'Neal and James combined for 15 of the Bengals' NFL-high 31 interceptions. This year, Kaesviharn and free safety Madieu Williams have combined for nine of the club's 16 picks, which are tied for fourth most in the NFL with New England.
Earlier this season, wide receiver Chris Henry was in the car when middle linebacker Odell Thurman was arrested for DUI and Lewis chose to deactivate him for next game against the Patriots.
It was Henry's arrest for possession of marijuana last Dec. 15 that began this staggering list of off-field incidents.
The Associated Press reported that O'Neal had a blood-alcohol level of 0.10 - above Ohio's legal limit of 0.08 - early Saturday morning. O'Neal was alone in his car and arrested at the scene, the AP said, and he is to appear in Clermont County Municipal Court on Dec. 12.
The Bengals don't comment on unresolved legal cases. According to NFL policy, a player won't be sanctioned until the case is resolved and first-time DUI usually brings a fine and no suspension.
O'Neal, 29, became the first Bengal to record double-digit interceptions last season when his 10 earned him his second Pro Bowl berth and first with the Bengals.
2006 interceptions: Kaesviharn 6, Williams 3, James 3, S Ethan Kilmer 1, O'Neal 1, MLB Brian Simmons 1, ROLB Landon Johnson 1.
2005 interceptions: O'Neal 10, James 5, MLB Odell Thurman 5, Ratliff 3, Kaesviharn 3, Simmons 2, SS Ifeanyi Ohalete 1, Williams 1, DT John Thornton 1.
The Bengals are apparently going to see how far they can go with Ghiaciuc, injured 10 days ago in the 13-7 win over the Ravens with a sprained knee. If he can't last against a front line that includes Warren Sapp's seven sacks that leads NFL defensive tackles, they're probably going to do what they did against Baltimore and replace him with Ben Wilkerson.
Wilkerson, a first-year player, hadn't played in a regular-season pro game until the last three snaps of the Cleveland victory and the second half against the Ravens. Wilkerson snapped that game's big play early in the third quarter, a 40-yard touchdown pass off a flea-flicker, but the Bengals managed just 41 yards the rest of the way not counting sacks and kneel downs.
The Bengals tried to extend their unbeaten record in orange jerseys with their white pants to 3-0. They are 3-0 in orange and black. The game captains entrusted with the streak were Rudi and Jeremi Johnson, Tony Stewart, Brian Simmons and Justin Smith.
In a pregame ceremony, the Pro Football Writers of America presented the Pete Rozelle Award to the Bengals for having the NFL's best public relations department last season. Mark Curnutte of The Cincinnati Enquirer, the PFWA second vice president, made the presentation to Jack Brennan, P.J. Combs and Inky Moore.