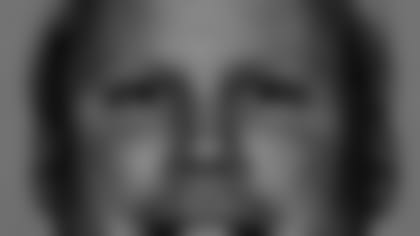 MOBILE, Ala. - Even before the Bengals identify college prospects that can help their defense, there is the more pressing matter of giving the defense an identity.
As Bengals defensive coordinator Chuck Bresnahan braced himself against a chilly wind at Wednesday's arctic Senior Bowl workouts, he admitted all things are on the table for change in 2007.
From making free safety Madieu Williams a cornerback, to switching from a 4-3 to a 3-4, to isolating what area they need with what everyone is assuming is a defensive first-round pick at No. 18, Bresnahan stressed that it's too early to lock into any direction.
But even before plugging in all those parts, he first knows the defense has to come up with what he calls a "go-to call" in adverse situations in trying to shape the identity that head coach Marvin Lewis flogs himself for not finding.
"They have to believe, 'Here's our base coverage, here's our base pressure,' and go right through it," Bresnahan said. "We're getting closer than the impression as far as establishing that identity. But I think that's an identity as an entire team as well. Not just one side of the ball."
Bresnahan spoke with Geoff Hobson of Bengals.com after the North team worked out Wednesday morning.
**GH: Marvin talked about how his biggest disappointment with the defense is that it needs to establish an identity.
CB:**
I don't know if it's so much an identity. We had so many mixes and matches of starting lineups throughout the year. Whether it be the DBs, whether it be the linebackers changing. At middle linebacker you've got Ahmad Brooks playing one week, then Caleb Miller playing the next week, you've got Brian Simmons playing the next week. So those are things we have to try and get to a point where we limit that rotation and let guys settle into a position.
But we do have to establish a true identity on defense. If you ask anybody on the defense, 'What's your go-to call if you get into a tough situation?' they have to believe, 'Here's our base coverage, here's our base pressure,' and go right through it.
We have to evaluate ourselves scheme-wise and what we're doing and make a commitment this offseason to get in a package you can go out and just perfect during the offseason.
We're getting closer than the impression as far as establishing that identity. But I think that's an identity as an entire team as well. Not just one side of the ball. That's going to be important for us in this offseason as well."
**GH: Do you think there are too many competing philosophies between your stuff and Marvin's stuff? Is it a jumble of ideas rather than a cohesive plan?
CB:**
I don't think so. When you break this season down, it wasn't that we played badly. When you give up 20 big plays (of more than 20 yards), that skews all your statistics. When you give up those big one-play touchdowns that we gave up? You don't have a good standing on first down. But when you go back at the end of the year and watch your first-down plays, you play 85 percent of your first-down plays unbelievable. And then you had seven big plays. You can't do that in this league.
We have to improve in every area of the game. Our preparation, evaluating our scheme, evaluating our personnel. The biggest thing we have to do is some how, some way reach the level of consistency you need to be successful in this league. We ride a roller coaster throughout the game, throughout the season. There were games this season we played very well and then all of a sudden it's like we go to sleep. I don't think we're that far away.
GH: Do you see major changes? CB:
There is always going to be change, but as far as drastic things, I don't think there's a sense of panic. We have to step up and take ownership. From players to coaches, and we just have to worry about doing our job and only worrying about things you can control. Once we mature to that level, we'll be a better team.
**GH: Is it a matter of scheme, personnel, or what?
CB:**
It's a little bit of everything. We have to play better on the edge. We have to play better at the linebacker positions as far as alignments and assignments. We have to do a better job simplifying and getting our guys to play fast and not playing a thinking man's game. It's a game of fast reaction.
GH: Is it too complicated because it looks like guys are playing slowly because they don't know what they're doing? CB:
I wouldn't say that, that guys don't know what they're doing. It's a question of being too analytical. This year's game plans were much simpler than anything we had last year. We have to play faster more consistently.
**GH: What are you looking to change? There always seems to be this annual debate about getting out of a 4-3 and going to a 3-4.
CB:**
It's too premature until you go through free agency and the draft. You have to wait to see what you have. You always have ways to move around things whether you're a 4-3 or a 3-4. That comes down the road in another two, three weeks, whatever it is. We have to evaluate our personnel, look at it from a free agency standpoint, health-wise, and make that decision when the timing is right. **GH: The big guy there is right end Justin Smith. If he re-signs, it's a 4-3. But no matter what, you could replace Tory James with free safety Madieu Williams. You guys think he can make the move the corner, don't you?
CB:**
He's proven it. He's a guy that can play corner. That's an option you have to look at and weigh, and again that's based on where we are in free agency. You've got Tory's situation. You've got Deltha's (O'Neal) situation.
GH: Deltha has two years left on his deal and Tory is up. Do you think they'll be back? CB:
That's premature on that, too. That has to do with the power upstairs.
GH: Deltha kind of ended it rough. CB:
Correct. Deltha has to get healthy and Deltha has to get back to the way he played two years ago. He's got a challenge ahead of him, and you have to keep the pressure on them through competition.
GH: Are linebacker and corner the biggest needs? CB:
I think every position. I hate to isolate on one right now. I think we have to address the corner situation and big plays we gave up. But that's not to side-step improving at the linebacker position. Making sure we're solid at the defensive line. We've got some things there. You have Sam (defensive tackle Adams), who has worry about his health and getting on the field with more consistency. We've got to worry about Justin's situation. There are lot of areas we have to look at.
That's why I say it's premature, it's just a little premature to make definitive comments.
GH: Madieu gives you flexibility in the draft. Now you can take a safety and give him Tory's job. CB:
You let him compete for it, you don't give anybody anything. You always want to have the ability to take the best person, best player in the draft at that time, and that is part of the process down here. Madieu could go out there and play with no problems at all.
**GH: After looking pretty good in a midseason stretch, Caleb (Miller) hardly played at all late in the year.
CB:**
He had some good games. He had some games where he made plays out of position. We're looking to get guys in one position so they can focus and go. But with the injuries we had and playing with four linebackers in a game, guys have to know multiple positions and that limited some of the things that (Miller) did.
He's a good player. He has athletic ability. He needs to make a total commitment to football. He's got things he needs to get cleared up in his life and get focused and he knows that. He'll be the first one to tell you that.
GH: What about Brooks? CB:
Brooks is going to be a good football player and I'll leave it at that. He needs to mature. He needs to learn how to study the game and prepare as a pro.
GH: Is that why he didn't play at the end of the season? CB:
No, we couldn't get him dressed. He wasn't a factor on special teams. That's part of the problem too. If you can't dress because of special teams, our hands are tied.