Shaquem Griffin had a huge career at Central Florida.
MOBILE, Ala. - Bengals linebackers coach Jim Haslett has spent the season trying to get a handle on his own players. So as he got settled at this week's Senior Bowl practices it had slipped his mind that Central Florida linebacker Shaquem Griffin has only his right hand.
Just as well. When Griffin met the press during one of his countless availabilities this week, he quietly slid what's left of his other hand into the right sleeve of his warmup jacket and kept his arms in front of him. You wouldn't have known and if you did you wouldn't have cared. And you'll forget when you're watching Saturday (2:30 p.m.-NFL Network) while Griffin plays for the South against the North.
The man in front of him kept asking about the tree he climbed as a kid. How? Griffin's smile is a 40-yard dash.
"You find a good strong limb to kind of grab on," Griffin said. "You not only have to use your arm and feet, but have to use your leg and have some strength in there. It got pretty crazy up there. I obviously fell a few times before I got up there."
He climbed it before his twin did, but Shaquill Griffin made the NFL a year before he did when Seattle took Shaquill in the third round last year to play cornerback. Shaquem is still climbing and guys like Haslett have not counted him out this week.
 The first practice did nothing to jog Haslett's memory about the one-handed linebacker. The fact only briefly flickered at Tuesday's weigh-in but by the end of Tuesday's practice he had to be reminded again.
"It didn't hinder his play whatsoever," said Haslett as he scanned his notes. "I couldn't tell. The most impressive thing to me yesterday was he was getting off blocks, how he used his arms and body to get off blocks. You can tell he's a fighter. He was fighting to get off blocks. He did a nice job. He was right there playing the SAM (linebacker) right on the line of scrimmage."
Griffin had to have his left hand amputated 19 years ago when he was four because of a condition caused by a complication before birth with the amniotic membrane wrapped around his left wrist. Mark Duffner has been coaching NFL linebackers for those 19 years and had similar notes.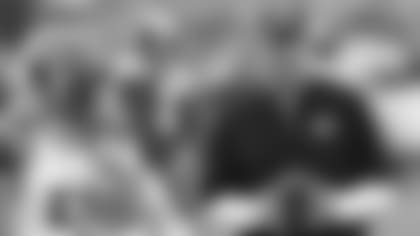 Jim Haslett liked his first look at Shaquem Griffin.
"I liked what I saw. I liked his movement," said Duffner, the former Bengals defensive coordinator now coaching the Tampa Bay backers. "I liked his effort, his finish. The things we're always looking for he's got."
This week's Bowl mystery surrounds the NFL's failure to invite Griffin to next month's NFL scouting combine. Yet. For a league so consumed by its image that it vets invites to that job fair in Indianapolis, it's an odd development. Griffin is what the late Pete Brown used to call "a story," when the Bengals personnel man broke down the draft board and uncovered prospects that had more than heights and weights. And this guy is one of the best stories in years, so don't be surprised if he ends up packing a bag to Indy once the powers-that-be digest all their Senior Bowl links.
Did you see the kid in the Peach Bowl New Year's Day? UCF finished as the only unbeaten team in the country when they shocked Auburn and he was a big reason with12 tackles, including 3 1/2 for loss to go with 1 1/2 sacks while playing all 90 snaps and having enough gas at the end to seal with a QB pressure. 
Duke Tobin, the Bengals director of player personnel, took note Wednesday that the South coaches worked him some at safety. At 6-0, 220-pounds, Griffin isn't as easy to put into an NFL box as his 5-11, 194-pound brother. That's awfully small for an NFL backer, but is it really in this day of the pass?
"The guy is a tremendous competitor and excellent athlete," Tobin said. "Obviously he's a tough guy. It's going to be interesting to see where he'd be able to play."
For the Bengals, it would be off the ball at WILL backer in their version of the 4-3. Certainly in nickel. They're also looking for play-making safeties. What everyone seems to agree on is he'll be a special teams menace.
He checks all the Bengals surface boxes. They're looking for linebackers, although they're probably looking for bigger, middle-backer types in the 240-pound range.   But he's got the Duke Tobin- Marvin Lewis list of traits. Production. Experience. Speed. Character. Leadership.
"If a guy can show passion," Griffin said, "that means he not only helps himself, but it helps the guys he's playing with."
When UCF went to a 3-4 defense, Griffin went from being buried on the depth chart at safety to outside linebacker and the American Conference Defensive Player of the Year. He dropped, he rushed, he tackled.
"If you've got the O-line guessing about what you're going to do, that means you've won before you started," Griffin said about emulating the game of Denver linebacker Von Miller.
Don't ask about his production one-handed. Ask about it with no hands, which is how he played a game his junior year when he had to play with a soft cast on his right hand. The Knights lost, but he had 14 tackles, 2.5 sacks, an interception when the ball bounced off one of his lineman, and he recovered a fumble.
"Why a guy who has the kind of college career he had doesn't get invited to the combine, I don't understand," Haslett said. "He was Player of the Year in the conference. He's played good down here. I'd like to see him at the combine."
So would Duffner. Although, like Haslett, he needs to watch more game tape to see where he fits.
"I would think so," said Duffner when asked about a combine invite. "It's not a sympathy thing. This guy can legitimately play. He's been a tremendous leader in their program. Gosh, it's amazing how people who have some level of a handicap can turn what they do on to the highest level. Based on his production as a collegian, he's certainly a strong candidate (to play in the league) … But just looking at what he did for a good program that was undefeated, by the way, and he's got to have a lot of strengths and qualities people want on their ball club."
And their combine. Someone noted for him that at last year's combine, his brother put up some monster numbers with an 11-foot broad jump, a 38-inch vertical leap, and a 4.38 40-yard dash.
Shaquem, a state long jump champion who finished fifth in the country in the triple jump growing up in St. Petersburg, Fla., smiled and said, "What my brother did was cute."
No doubt the figures would be comparable. But he's just grateful he's here.
"They had to watch film. They had to understand what kind of player I was. They had to compare me to a lot of great players around the country," Griffin said. "I'm glad I was able to slip into a spot here."
He's had some back and forth with Alabama and Auburn fans. He has no problem saying UCF should be national champs because they are the nation's only undefeated team.
"Playing against Auburn, I'm pretty sure they're still thinking about UCF when they go to sleep at night," said Griffin, who is just trying to get the scouts to do the same thing about the linebacker who holds his heart in his hand.