The specter of the Bengals playing without A.J. Green in Sunday's Wild Card Game in Indianapolis (1 p.m.-Cincinnati's Channel 12) didn't have much of an impact with the Bengals.com Media Roundtable.
The scribes are looking at the overall matchup pitting the Bengals' rising running attack against the Colts' penchant for turning it over and have concluded Cincinnati has more of the elements needed to win a play-off game even without Green, their four-time Pro Bowl wide receiver classified as doubtful with a concussion.
Mike Chappell of The IndyChannel.com, who has covered the Colts since they got off the buses from Baltimore 30 years ago, emerged as the only dissenting vote when he tapped history and went with Indy because the Colts are at home against a team that has never won a road playoff game.
But the majority is going with Cincinnati despite the track record, led by Coley Harvey, ESPN's Bengals reporter. He believes the club learned from last year's Wild Card flameout when they passed the ball 51 times and will stick with a running game that paved the way for a 5-2 finish.
Jarrett Bell of USA Today is bully on the AFC North, one of the many reasons he likes the battle-tested Bengals in this one. He thinks the Bengals overcome the loss of Green with heavy doses of running back Jeremy Hill, which also keeps Colts quarterback Andrew Luck off the field, and he doesn't believe the mistake-prone Colts can scrape together four quarters of consistency.
Pete Prisco of CBS Sports.com is sick of the Andy Dalton haters and points to how badly his teammates have also played in the three previous Wild Card games. He thinks Jeremy Hill helps keep Dalton clean in the passing game and that the Colts are going to have a tough time blocking Bengals' leading sacker Carlos Dunlap with a little-used right tackle.
Let's go around The Table. As always, visitors first:
The Colts aren't much different than they were back in October when they played the Bengals the last time. You still don't know what you're going to get on defense.  They've been good against mediocre teams and bad against good teams. It's hard to tell. They'll give up 522 yards to Ben Roethlisberger passing, be good for a few games, and then give up 244 yards rushing against the Patriots. When they're bad, they're bad. Overall they've played well enough to win and, by and large, they've stopped the run. But there have been some games that make you shake your head.
Running back Trent Richardson had his best game of the year against the Bengals, but he hurt his hamstring that day and hasn't been a factor since. And wide receiver Reggie Wayne hurt his left triceps that day and really hasn't been the same. Plus, he strained his groin last week against Tennessee. They'll have a different right side of the offensive line, but other than that they're pretty much the same.
The Colts are saying they want to run the ball, but they haven't been able to do it all year and now that Ahmad Bradshaw is not playing I think they'll rely on Luck even more. They've had ball security issues with him all year. He cut down on his interceptions last year, but this year he's got 16 and he's got seven in the last two playoff games. They're not good enough to turn it over. They had 15 turnovers in the last five games before last week. They didn't have a turnover in the last game, which is a good sign that they've got the turnover bug out of them.
The big thing the Colts have going for them is the production they get from their tight ends. Elias came up with a stat that the Colts are the first team ever to get at least eight TDs from two tight ends with Dwayne Allen and Coby Fleener and that really helps Luck when things get tough.
I compare A.J. Green to the Colts' T.Y. Hilton. If the Colts don't have Hilton (and he's fine), the field shrinks. They can't take their shots down the field and it really impacts them.  The question is if A.J. plays, would they move their Pro Bowl cornerback, Vontae Davis, to go with Green all the time? They don't usually do that, but that's a possibility.
Davis is having a great year. He hasn't allowed a touchdown all season. The other corner, Greg Toler, is aggressive and is up there in the league in penalties and he's allowed eight TDs. But he's a solid corner.   
Their heath is pretty good, except on the offensive line, which is suspect. They'll start their 11th different line this season with Joe Reitz at right tackle and Lance Louis at right guard. That's a weak spot. Reitz is OK, but he's missed the last three games with an ankle injury and has played tackle in only one game this year.
THE EDGE: Colts, 27-21. They're at home and they won't turn the ball over like they have. I'm banking on Cincinnati being 0-8 on the road in the playoffs. This will be a different game than the last one. The Colts aren't that good and the Bengals aren't that bad. The Bengals couldn't have played worse. More punts than first downs. That's not going to happen again. I just think the Colts find a way to win. They play just good enough defense and make some plays in the passing game.
Turnovers and the running game are going to be huge.
The Colts have 31 turnovers, tied for 30th in the league and Bengals defensive coordinator Paul Guenther actually said this week that is on their radar.
Since Week Nine Hill is the leading rusher in the league so the decision to make him the featured back has paid off. The running game is even more important now that A.J. is doubtful and I think they survive that because offensive coordinator Hue Jackson saw what happened last year against San Diego and you can't throw it 51 times in the playoffs. I think they know they could have won the game if they had been more, as Jackson says, stubborn with the running game.
The other big element is getting to Andrew Luck. Obviously the Bengals pass rush hasn't been all that great in recent weeks, particularly last week against Pittsburgh. There are reasons. The players and Guenther have said the Steelers were in those max-protect sets and that made it difficult to get back there, but if the Colts do that they have to find a way to get to him.
Absolutely the Bengals are a different team than the one that played there in October. It's basically the difference in personnel. They were missing their three top linebackers and while they don't get Burfict back in this game, they have Rey Maualuga and Emmanuel Lamur. Maualuga is key keeping the Colts one dimensional because he's such a force in the run defense.
Plus, they have Hill.  Last time they rushed it just 12 times for 32 yards and went away from the run.  And Hill ran it just four times. I think they'll be more stubborn with the run this week.
It was a little easier for the Colts to run the ball the last time on them. The Bengals didn't have Maualuga or defensive tackle Brandon Thompson and defensive tackle Geno Atkins wasn't playing the run like he is now. You have to imagine they'll stick with Luck passing the ball and it's all on the corners and safeties and the linebackers covering the tight ends to make sure those guys don't get off.
THE EDGE: Bengals, 23-17. I'm going on the opposite side of history. I picked them last year, too, against the Chargers. But I have a little better feeling about this matchup than some of the other matchups they could have had. It's going to be a fairly close game, but the key is they can't turn it over. If they do, it could be 23-17 the other way. But I think the running game gets it done and they might even have a defensive touchdown because Luck is going to put it in the air and they almost had one last time, but Bengals cornerback Leon Hall just got a little overeager.
Even though A.J. could be out and it's a huge loss for their chances, I just think their formula has to go through Jeremy Hill and they're better equipped than they have been in the past to run that style of offense. We've seen it during the second half of the season. I kind of like Cincinnati being able to match up with the Colts.  I know their rankings on defense aren't very appealing and you don't have Vontaze Burfict, that's huge, but they're a lot healthier than when they went to Indianapolis a couple  of months ago.
Here's the other thing I like. There has got to be something said for coming out of the AFC North.  Baltimore, Pittsburgh, Cincinnati, they beat each other up. It's almost like this division race has yet to be settled. Whoever goes deepest really has the bragging rights. So you have to try and figure out who is the most dangerous, the most consistent of those three teams. I'm still incomplete on that one. The fact Cincinnati has transferred its identity in the second half of the season is a good thing for them right now. At least for this first matchup. They don't have A.J. Green. The Steelers don't have Le'Veon Bell.  That's a tough break, but everybody has some kind of issue. Even Indianapolis is down two offensive linemen. Advantage Cincinnati.
Andy Dalton's record in the playoffs is what it is. Sometimes you don't know what you're going to get from him. That's why it's good they've been able to protect him by running the ball and, by extension, that helps them stopping Andrew Luck. Here's the thing about Luck and the Colts that makes me think Cincinnati has a better than average chance to win. Turnovers have been such a big issue for the Colts. They don't have running back Ahmad Bradshaw and I'm not sure they can really run the ball enough, or if they want to, and Luck has had a lot of pressure on h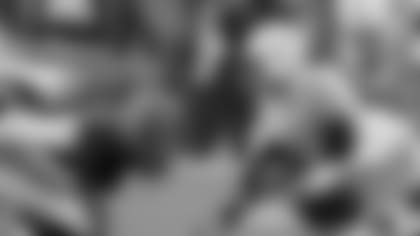 I was there for that game in October and I went to see the Colts the next day and the one thing I wrote about them is that even though they won the game 27-0, it should have been 50-0. They blew a lot chances. The theme I wrote about was their inconsistency was a reason to pause with them. The good teams don't blow chances and don't have a lot of turnovers. In several games since then they've shown that. They survived the game in Cleveland, but it was the same thing. They kept shooting themselves in the foot. We saw the same thing in the playoffs last year against Kansas City even though they won the game.
The inconsistency for the Bengals comes from the game versus another game. You get the Denver game and weigh it against the Indianapolis game against the New England game. Jekyll and Hyde. But with Indianapolis, inconsistency has come within games. I think in the playoffs that's really tough because the competition is so much better and the flow of the game tends to be a lot tighter. What they did against Kansas City with major swings in games, you can't do it. That's a pattern and it's obviously linked to the turnovers, lack of a running game and a dominating defense.
THE EDGE: Bengals, 27-23. I think they have to score some points. They probably can't get into the 30s with the Colts. But I think they can run the ball and control the game. The Bengals can't be as bad as they were on third down last time against the Colts. It's the law of averages. If you look at it, they were still in the game even though they went three-and-out on the first eight possessions.
This time there'll more than Jeremy Hill four times. I think the Colts will have problems stopping him. On the other side of the ball, the Colts not having the right tackle is an advantage for the Bengals. I think the (Joe) Reitz kid is going to have problems with Bengals left end Carlos Dunlap and that will help slow down Luck, which you have to do.  I just think there is a big difference between this Bengals team and the one that got shut out, 27-0.
I think Dalton's struggles in the playoffs get overrated when you really break down the games.  The first one he played on the road in Houston and he was a rookie quarterback. The second one he played in Houston against a team that was supposedly better than the Bengals and it was another playoff game on the road. Last year he didn't play well at all against the Chargers at home, but nobody did. The entire team stunk.
Did he pay poorly against the Steelers the other night? I don't think so. If A.J. Green doesn't fumble the ball, they go down and score and there's a different perception of him. I think sometimes he's an easy guy to beat on. I know A.J. may not play, but if does, he has to show up, too. He's struggled in big games some times, too. In the playoff game last year Dalton put it right in his bread basket on a deep ball and he dropped it.
But, there's no question, Dalton has to play well. He can't turn it over. That's the bottom line. Don't give them the ball.
THE EDGE: Bengals, 24-20. I get the Bengals are a better running team, but they still have to take their shots. The thing is, they have to control the flow of the game. If they do that they have a chance to win. In fact, I think they will win. The ability to run the ball is key. Jeremy Hill  is going to be a big factor and I think that's going to counter what looks to be the loss of A.J. And, I think the Bengals' lack of a pass rush won't show up as much. I think they get some pressure on Luck. They might not get him on the ground, but they'll pressure him.
If you walked into Paul Brown Stadium on Labor Day and declared that the Bengals would be going into the opening round of the 2014 playoffs without A.J. Green, Marvin Jones, Tyler Eifert, and Vontaze Burfict, you probably would have gone straight to a tail gate bash and never come back.
But that was before rookie running back Jeremy Hill emerged as the NFL's leading rusher over the last half of the season, offensive coordinator Hue Jackson talked himself into being stubborn with the running game, and the Bengals special teams became one of the best in the NFL.
All three elements, along with an inconsistent pass rush, is going to have to carry the day without Green.
Luck is not only the most hit quarterback in the league, but he'll be working behind his 11th different offensive line. After having a field day against Peyton Manning on Dec. 22, the Bengals couldn't get near Ben Roethlisberger six days later.
But they should be on target Sunday. Dunlap, their leading sacker, goes up against a guy that has made one start at tackle this season, and Atkins is matched up against a career backup. And they'll have to be on point because if Luck is able to pat the ball in the pocket, it will be a long day.
Hilton gave the Bengals fits the last time they played (107 yards) and they'll have to give cornerback Leon Hall help this time. Against a fleet of backup linebackers, Allen and Fleener hurt them at tight end with a combined 116 yards and Allen caught a 32-yard touchdown pass working against WILL backer Vincent Rey.
But with Rey more settled back there and the regulars back in the lineup, tight ends haven't been as torrid against the Bengals. Since they held the Saints' Jimmy Graham to three catches for 29 yards on Nov. 16, they've kept everyone in check. The last two weeks, they stood up against Pittsburgh's Heath Miller and Denver's Julius Thomas.
Miller did have a big 20-yarder last Sunday night, but they threw at him seven times and he caught just three for 41 yards. He had a one-yard TD back on Dec. 7, but that was his only catch. Manning went to Thomas six times, but only got two completions for 33 yards, although one was a 26-yarder. Still, nobody went crazy like the Patriots and Panthers did against them earlier in the year and that's what they need Sunday.
The Bengals haven't curled up without Green this season. They won a huge game without him when they beat Baltimore at home, he had no catches in the win over Denver that qualified them for the playoffs, and they rolled up 423 yards against Jacksonville when he played half the snaps.
So it is doable, although he didn't pay against the Colts and Indy put them through the worst offensive performance of the Marvin Era. That was because Indy jammed the box and the Bengals receivers couldn't get free against the corners when they didn't keep trying to run it and finished with just 12 rushes.
Here's a prediction. The Bengals will have 12 rushes in the first quarter Sunday. In the games foes pound the ball, the Colts struggled to win. They're 2-4 when teams run it at least 30 times. And in the two games they won, they barely did, hanging on against Cleveland, 25-24, and Houston, 17-10.
The Bengals, meanwhile, have run it an average of 34 times since New Orleans. And with or without Green, they are 8-0-1 this season when they run it at least 30 times.
Special teams has to bounce back and be as big of a factor as they were against Denver. Cornerback Adam Jones, the NFL's leading kick returner, is probably neutralized under a closed roof against Pro Bowl punter Pat McAfee, leading the NFL in touchbacks. McAfee will try to fend him off with his high punts, but it only takes one to turn a game.
When the Bengals flirt with the playoff formula of no turnovers, no huge mistakes on special teams, a defense that doesn't allow quick-strike TDs, and a stubborn running game, they win.