The Bengals' hopes to reestablish whatever identity they had literally got blown away in the Paul Brown Stadium whirlpool of gusts reaching nearly 40 miles per hour Sunday in a home opener that unleashed a torrent of boos and wind as the Titans eased to a 24-7 victory.
"I'm at a loss for words the way these first two games have gone," said wide receiver T.J. Houshmandzadeh after his offense continued its curious plummet with a measly 215-yard effort that featured no passes longer than 13 yards to a wide receiver.
Staring at an 0-2 record for the first time since 2003 and next Sunday's road game against the Super Bowl champion Giants, Bengaldom has to be wondering where the first victory comes from.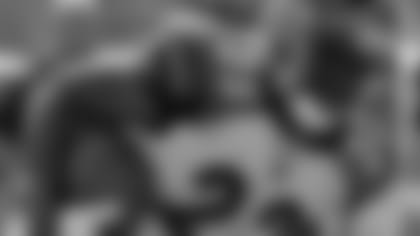 Chris Perry scored his first professional rushing touchdown on a 13-yard jaunt in the second quarter. (AP photo)
They also have to be wondering where the points will be coming from. With eight quarters in the books, the Bengals have just one touchdown and none passing. And they had two 12-men-on-the-field penalties to mirror the messiness of this team's September performance.
"We have to play smarter," said Bengals head coach Marvin Lewis. "We have to grind smarter, we have to play smarter. I told them, whether it be our quarterback, whether it be our wide receivers, whether it be our back (Chris Perry) who fumbled the ball twice early in the game, whether it be our cornerbacks who have coverage and haven't covered and allowing them to catch the ball right at the very end after we've got the quarterback scrambling ... we have to go back and grind harder, coach harder and play harder."
It was a tough day to judge the passing game, but the numbers will. A week after quarterback Carson Palmer uncorked his lowest passer rating of 35.3, he did it again with his second lowest on a 41.3 that included two interceptions.
"By no means are we out of the playoffs," Palmer said. "We have a definite uphill battle ahead of us, but who better to get your mindset back than against the defending world champions at home and getting a win."
It was also the third straight loss in which the Bengals got beat by a backup quarterback. Kerry Collins, who started for the Giants for several seasons in the wind tunnel called The Meadowlands, said the conditions Sunday were the windiest he's ever seen.
But the Titans protected him with intermediate passes and he offered up a 14-of-21 day for 128 yards good enough for a 98.9 passer rating in his 150th NFL start and first ever against the Bengals.
"It was borderline impossible to throw the ball where I really wanted to throw it," Collins said.
The Bengals had to win it on the ground and while Perry showed flashes with his first rushing touchdown in five NFL seasons, he could finish with just 64 yards on his 21 carries.
And after wide receiver Antonio Chatman returned a punt to the Tennessee 31 for a 34-yarder, Palmer gave the ball right back when Houshmandzadeh had cornerback Cortland Finnegan beat down the sideline but the ball was underthrown at the 5 for an interception.
Then on the next series Palmer threw a ball that tight end Reggie Kelly couldn't pull down and he tipped it to safety Michael Griffin for another pick. It gave Palmer no touchdowns and three interceptions for what has become an unbelievable season of offensive futility.
The passing game continues to go nowhere. Houshmandzadeh had three catches for just 26 yards and the other Pro Bowl wide receiver, Chad Ocho Cinco, had four catches for 37 yards.
With the Bengals' Kyle Larson punting from the back line of his own end zone early in the fourth quarter, Titans linebacker Keith Bulluck roared up the middle untouched and not only blocked the punt, but fell on it for the touchdown that made it 24-7 with 14:05 left.
"I should have one-stepped it," Larson said, "and I two-stepped it."
The Bengals, set to go with swirling wind in the fourth quarter, couldn't get any points going into the wind in the third quarter despite a short field courtesy of safety Kyries Hebert's recovery of punter Craig Hentrich's fumble off the snap and paid the price by falling behind Tennessee, 17-7 with 4:44 left in the third.
Hentrich had the last say in the third when he drilled a 70-yard punt to the Bengals 2 with 36 seconds left in the quarter, the fifth punt at least that long ever against the Bengals.
Earlier, Palmer converted a fourth-and-three by hooking up with Houshmandzadeh for his first catch of the day, a nine-yarder over the middle. But the Bengals' second illegal substitution of the day came on a third-and-four that they couldn't convert when it became third-and-nine and Palmer couldn't find running back Kenny Watson on the sideline.
"Blame it on me," Perry said. "I thought Kenny was 10 yards behind the huddle and when they told me to get out I ran off the field and Kenny moved in. I thought I was off (the field)."
Kicker Shayne Graham could have used the extra five yards. His 37-yarder into the gusts hit the right upright.
"When you aim the ball one place and the wind takes it 20 feet the other way," Graham said, "those are the worst conditions I've ever been in."
Tennessee's Rob Bironas almost hit the upright, but his 34-yarder snuck inside the left post a few minutes later to make it 17-7 with 4:49 left in the third and capped Collins' flawless drive of 5-for-5 for 48 yards.
Perry got stoned on a third-and-two late in the third to continue the third-down woes. After going 2-for-13 last week, the Bengals were 3-for-13 Sunday.
The Titans were simply running out the first half clock after the Bengals had tied the game at seven with 3:16 left.
The two-minute warning had come and gone and Titans coach Jeff Fisher kept calling runs. But running back Chris Johnson, held to seven yards on his first six carries, broke a draw play for 51 yards aided by strong safety Chinedum Ndukwe's missed tackle in the middle of the field as Tennessee swiped the momentum with a 14-7 lead going into the locker room.
"I think everybody, maybe other than the 11 guys on the field, knew they were going to run a draw because they didn't want to give us the ball back," Lewis said of what he called a "bonehead play." "It was going to be a running play because of the timeout situation. They had the lead, they were getting the ball coming out of halftime, so they were probably going to play a little more conservatively.
"Then we missed the tackle, which could have still made it third-and-three or four."
Johnson, who finished with 109 yards on 19 carries, put the ball on the 20. Then with 38 seconds left in the half, Collins threw his first touchdown pass in nearly two years from 11 yards out when wide receiver Justin Gage caught a pass in front of cornerback David Jones and then ran it in from three yards out when Jones missed the tackle.
It was a ridiculous series after the Bengals had tied the score. Ndukwe played pretty well, given that he played all 63 defensive snaps despite returning to practice just last week after injuring his knee about a month ago.
"The linebackers could have done something different, the defensive line could have done something different, but I'm the guy that has to make that play," Ndukwe said.
Perry's first rushing touchdown of his career timed up nicely with the Bengals' first offensive touchdown of the 2008 season.
Facing a fourth-and-one from the Tennessee 13, Perry reversed the fortunes of last week as Titans Pro Bowl defensive tackle Albert Haynesworth ran on to the field specifically for that snap and the season literally on the line. Perry followed big blocks by right tackle Stacy Andrews and tight end Reggie Kelly and he juked past unblocked linebacker Stephen Tulloch.
The drive had been set up by former Titans defensive end Antwan Odom's sack of Collins and Hebert's deflection of the ensuing punt that put the ball on the Bengals 37.
"We had a three-man thing going that we drew up on the sidelines," Hebert said of his work with safety Corey Lynch and DeDe Dorsey on the rush.
With the wind at his back, Palmer took his team the 63 yards in 11 plays and needed a 13-yard completion to wide receiver Chad Ocho Cinco working against cornerback Cortland Finnegan on third-and-six to keep it alive.
Ocho Cinco caught three balls in the drive to set the Bengals all-time record with a catch in 94 straight games.
The Titans scored the first touchdown of the game with the help of a penalty that caught the Bengals with 12 men on the field. It looked like the Bengals offense, touchdown-less in the season's first five quarters, needed at least that many as the crowd greeted each punt with boos.
Working against the swirling wind, Collins led an 11-play drive that ended with running back LenDale White bucking over from the 1 with 11:06 left in the first half. Collins had no problem with the wind and hit wide receiver Brandon Jones for a 19-yard gain in front of cornerback Johnathan Joseph.
The Titans would have been looking at a third-and-goal, but the too many men penalty gave them life.
Which is more than the Bengals offense showed. On their first try with the wind at their back in the second quarter, the first two plays were runs to Perry and resulted in a net loss of three yards. Then Palmer had a shot to go deep but overthrew wide receiver Antonio Chatman as he got dumped in the pocket amid boos.
Lewis said the defense had too many men on the field because of an injury, but also said, " that's no excuse. We were down a sub, and we had to go back another sub. We had a guy on the field that wasn't supposed to be out there, and it was unfortunate."
The Bengals lost a key offensive player on Sunday's first snap when Titans linebacker David Thornton blew up tight end Ben Utecht with a helmet shot to the chest on an incomplete pass.
Utecht was helped off the field and he didn't return for the second half. After the game he said the MRI results of his sternum haven't returned, but he says even if it's cracked or a deep bruise it will come down to pain tolerance when he can return.
The Bengals were forced to punt on that first series after Perry picked up three yards and Palmer got hurried on a blitz and had to throw a dump pass to tight end Reggie Kelly for a loss of one.
Then the boos turned to cheers when the defense turned in a stout three-and-out when Tennessee got the ball at its own 45 and Odom forced Collins into an incompletion when he put him on his back.
Without Utecht, the Bengals' ability to use two tight ends against the stingy Titans run defense became severely impaired. But Perry rustled for a couple of eight-yard runs on the second series and Chatman caught a ball tipped at the line of scrimmage for an eight-yard gain on third-and-two as the Bengals nosed into Tennessee territory.
Yet Palmer's third-and-two pass to Ocho Cinco was underthrown and batted away by safety Chris Hope. Palmer completed five of his first seven passes for 14 yards, but none were to his wide receivers. One drive got blown up when his swing pass to Perry was thrown behind him and resulted in a five-yard loss.
The Cincinnati defense put together another big series when it swarmed Chris Johnson and allowed him just two yards on two runs and forced another punt when a blitz by free safety Marvin White forced Collins to overthrow wide receiver Justin McCariens running open past Joseph.
PREGAME NOTES: With PBS bracing for high wind advisories Sunday afternoon in the Bengals home opener against Tennessee, head coach Marvin Lewis revealed a lineup without backup safety and special teams ace Herana-Daze Jones (hamstring) as well starting safety Dexter Jackson (thumb).
Titans Pro Bowl defensive tackle Albert Hanynesworth (concussion) was active and Vince Young had been designated Tennessee's third quarterback.
Lewis gave Frostee Rucker his second straight start at right end and Chinedum Ndukwe got the start at strong safety in his first action since injuring his knee about a month ago. Also, Lewis replaced Rashad Jeanty in the starting lineup with Darryl Blackstock at SAM linebacker.
Along with Herana-Daze Jones, also inactive for the Bengals was strong safety Dexter Jackson (thumb). A trio of rookies were also inactive for the second straight week in wide receiver Andre Caldwell, and defensive tackles Pat Sims and Jason Shirley. Caldwell and Sims returned from toe injuries two weeks ago. Also out were fullback Reagan Maui'a and guard Frank Davis, signed the week before the opener.
Bengals wide receiver Chad Ocho Cinco appeared on the field wearing his "C. Johnson" jersey.
The National Weather Service in Wilmington, Ohio, said gusts could reach as high as 45 miles per hour coming out of the south as Hurricane Ike took one last deep breath. Winds are expected to average between 15 and 25 miles per hour with showers and a possibility of thunderstorms after 3 p.m.
Bengals.com incorrectly reported that cornerback David Jones was inactive. He was dressed a week after he suffered a concussion in Baltimore. Jones is the third corner ahead of rookie Simeon Castille and the club won't have Herana-Daze Jones, a guy that has played corner at times.
And, Titans backup quarterback Kerry Collins won't be shy about throwing and the Bengals haven't had much success against backups lately. Their last two losses have been to No. 2s in the 49ers' Shaun Hill and the Ravens' Joe Flacco. Their last loss to the Titans in 2004 was to Steve McNair backup Billy Volek.
The Bengals took the field in their all-white ensemble and the commander of the U.S. Pacific Command, Admiral Timothy J. Keating, delivered the game ball. Keating, a Dayton, Ohio, native, has won the Defense Distinguished Service Medal with two Oak Leaf clusters.
With Kyle Larson as the special teams captain, the Bengals won the toss and unlike last week opted to take the ball into the wind. Titans kicker Rob Bironas need the ball held before he kicked it nine yards into the end zone.