Bengals become Giants at finish
Posted: 12/26/04, 7:45 p.m.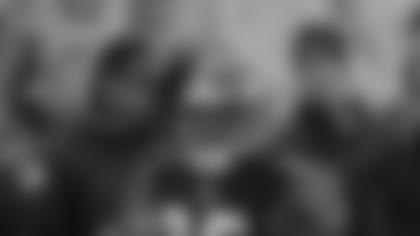 Keiwan Ratliff breaks loose on his 42-yard punt return. (Bengals photo)
With a gleeful crowd of 64,606 throwing snow into the air, Bengals quarterback Jon Kitna hit diving wide receiver Chad Johnson on a four-yard touchdown pass with 44 seconds left to give the Bengals a curious 23-22 victory over the Giants at frosty and frantic Paul Brown Stadium in the season's home finale.
The Bengals then survived Willie Ponder's ensuing 35-yard kick return to midfield when rookie end Robert Geathers tipped rookie quarterback Eli Manning's pass at the line and defensive lineman Carl Powell caught the interception at the Cincinnati 45 as the 7-8 Bengals dealt the 5-10 Giants their eighth straight loss. A win in next week's season finale at Philadelphia would give Cincinnati its first back-to-back non-losing seasons since 1989-90.
A week after dominating the stat sheet in a 16-point loss to Buffalo, the Bengals got outgained by nearly 100 yards and won for just the third time in 16 games under head coach Marvin Lewis with a minus turnover differential.
This is the type of game the Bengals are slowly, but surely, learning to win. It was their fourth victory secured in the fourth quarter this season, their third consecutive victory in which they came from behind to win in the game's last minutes, and their second straight scoring the winning points in the last minute. They also finished 5-3 at home again, making them 10-6 at Paul Brown Stadium under Lewis.
"The one thing you can take to the bank is we might not play smart at times, but we play hard and we keep playing until we can't play anymore and that's when there are four zeroes on the board," said linebacker Brian Simmons after his defense held the Giants to four red-zone field goals.
When rookie cornerback Keiwan Ratliff's 42-yard punt return with 2:06 left in the game put the ball on the Giants 24 and wide receiver T.J. Houshmandzadeh kept the drive alive with a leaping 19-yard catch between cornerback Frank Walker and safety Brent Alexander on fourth-and-10 with 1:28 left at the Giants 5, Kitna's second-down submarine job to Johnson became par for an amazing course.
"One area that we grew in from last year is we would have lost this game," Lewis said. "We would have continued to find a way to lose the game, but today we found a way to win it."
They won it because Kitna, Houshmandzadeh and Johnson wouldn't let them lose it even though the wideouts were double covered on that last drive. Kitna, who finished 20-of-32 for 186 yards, then fired three incompletions from the New York 24. The first two were to running back Rudi Johnson and tight end Matt Schobel underneath the coverage. The third throw went to the sideline as Chad Johnson ran down the field on a play blown by communication.
Then came fourth-and-10. Ballgame. Then came Houshmandzadeh's fifth catch that would give him 64 yards. It was the same route he had been running in double coverage on the previous snaps.
"But this time Kit threw it because he had to. He didn't want to force it earlier," Houshmandzadeh said. "I knew he'd give me a chance. He's always telling me in a situation like that, he'd throw it up and let me make a play. He knows I will."
Houshmandzadeh leaped and grabbed the ball at the top of his jump as Walker and Alexander converged.
After Kitna called a draw play to running back Kenny Watson for a yard, he rolled right, away from Walker's second-down blitz, and rifled a low shot to Johnson in the corner of the end zone to keep it away from the defenders.
"It was the only place he could have thrown it," said Johnson, who needed eight catches to get 46 yards in the face of the withering double teams.
Kitna played like the game. Not pretty, but effective with a one scoring pass, an interception, and no big blunder in the passing game even though the running was stuck in neutral with running back Rudi Johnson managing just 31 yards on 19 carries.
"(The Giants) came out in perfect coverage and were showing blitz on one side, so we were trying to run a reverse to the other side," Kitna said of the touchdown. "Thankfully T.J. came in motion so I could throw a pass right away. But we ended up covering the blitz, so they had to cover Chad one-on-one for a long time and that doesn't happen very often."
Kitna emerged with a 86.2 passer rating playing the kind of game Lewis loves from his quarterback. Big plays, no screwups, and patience.
"We can't invent an open guy. They did a good job covering us," Lewis said. "Credit Jon for not throwing it into the middle of the coverage. I think we learned a lesson; we live to play another day. Obviously we did there at the end knowing that we had four downs."
The crowd that gave the Bengals a season attendance record of 524,248 thought it was looking at a loss. The Bengals, among the league leaders in turnover differential for much of the season, slipped to minus-8 for the last three games when fullback Jeremi Johnson fumbled the ball away in the middle of the fourth quarter and Steve Christie turned it into his fifth field goal of the game on a 28-yarder to give the Giants a 22-17 lead with 5:15 remaining.
Geathers and Powell combined to drop it to minus-7, but another deflected pass four minutes earlier probably won it because defensive tackle John Thornton's tip at the line on Manning's third-down pass prevented wide receiver Amani Toomer from catching a first down and setting up the Ratliff return on the next play.
"I think I would have caught it," Toomer said. "It's pretty amazing that the last two offensive plays were deflections. One keeping us from a first down and the second keeping us from winning the game."
Manning thought he had tight end Jeremy Shockey open before Geathers tipped the last pass. The Bengals had called a zone blitz and Ratliff was one of the guys coming as Powell ended up with the first interception of his life. The ball seemed to hang there that long for him: "I was thinking, 'Don't drop it,' " Powell said.
"Shockey had an end route, a little dig about 12-14 yards," Manning said. "He opened up and was going to be there, but the ball was tipped. There is no one you can blame on that one. Their guy made a great play."
Simmons with a watchful eye
Ratliff fumbled one of his first punt returns Sunday, which was to his left on the sideline, and the Bengals recovered. Special teams coach Darrin Simmons noticed that Giants punter Jeff Feagles had changed up his routine in pre-game and they were expecting the final punt to the right side because of where the ball was on the hash mark.
"It was no different than any return we've had all year," Ratliff said. "You just need the kick and the return to cooperate."
It was probably fitting that on this Sunday the Bengals defensive line had such a big hand in the victory. Their coach, Jay Hayes, a former teammate of Reggie White in the USFL, fought back tears in the locker room as he still grappled with the news of the sudden death of his friend.
Thornton, who grew up in Philadelphia watching White play for the Eagles and carried a picture of him in his wallet when he played at West Virginia, finished with four tackles after returning to the game with a bruised arm.
"Every defensive lineman looks up to Reggie White," Thornton said. "It was tough news. Jay was pretty emotional."
After he had just two catches for eight yards in the first half (and four for 18 yards in the last six quarters), Chad Johnson finally shook loose late in third quarter. Kitna found him on three straight snaps for 19 yards, but it was wide receiver Kelley Washington's fight for a third-and-nine ball with cornerback Will Peterson that produced 13 yards and kept the drive going long enough for Rudi Johnson to buck over from the 1 and give the Bengals a 17-16 lead with 1:21 left in the third quarter.
But on the first snap after taking the lead, the Bengals run defense, like it did much of day, let down when running back Tiki Barber blew up the right side for a 21-yard gain on the way to his eighth 100-yard day of the season with 109 yards on 22 carries.
And, like they did all day, the Bengals got tough in the red zone. Right end Justin Smith sacked Manning on a bull rush on a third-and-12 from the Bengals 14 for his team-leading seventh sack, and the Giants needed Christie's fourth field goal to take the lead at 19-17 on a 41-yarder with 12:38 left in the game.
Defense turns in big plays
The Giants could have put the Bengals away so easily after Jeremi Johnson's fumble. But 225-pound rookie middle linebacker Landon Johnson stuffed 245-pound running back Ron Dayne on second-and-one from the Bengals 5 for no gain, Giants left tackle Luke Petitgout committed a false start to make it third-and-six from the 10, and safety Kevin Kaesviharn batted away Manning's pass to Shockey in the flat and they had to come get Christie again.
The Bengals also forced the Giants into field goals when they had a first down on the Cincinnati 22-, 29-, and 12-yard lines.
"Our mentality at that point," Powell said, "is just keep them to field goals."
For the seventh time this season, the Bengals allowed a score in the final 22 seconds of the half (and fourth time at the halftime gun) when Christie hit a 36-yard field goal to cap a frustrating first half. Manning converted five of six third downs and one fourth down as Barber rolled up 65 yards on 14 carries with New York dominating both lines.
As Kitna got pestered by a surprising Giants pass rush, Manning won the halftime numbers with 13-of-26 passing for 136 yards on the way to finishing 19-of-37 for 201 yards. But for the fourth time in his six starts, Manning had no touchdown passes to go along with his late pick.
Kitna, sacked three times in the half alone after the Bengals had allowed just nine in the last seven games, was hurried into seven-of-12 passing for 61 yards in the first half. But he didn't get sacked in the second half, when the Bengals converted four of seven third-down tries.
How do you figure the NFL? For once, the Bengals put up 1,324-yard rusher Rudi Johnson against a run defense ranked lower than their own. But the Giants' No. 29 run defenders held Johnson to one yard on his first four carries and he didn't get going until the second quarter. He got loose for seven yards following pulling left guard Eric Steinbach, and then ran by a blitzing linebacker up the middle for 11 more.
But the Bengals needed a 42-yard field goal from Shayne Graham when linebacker Reggie Torbor went around the outside of Bengals left tackle Levi Jones for a third-down sack, giving the Bengals a 10-7 lead with 9:46 left in the half.
Even though the Giants came in missing three defensive linemen because of injury, Johnson could go nowhere. He finished the half with just 22 yards on eight carries, and began the second half getting stuffed on third-and-one and fourth-and-one. Of his 22 carries, 12 went for a yard or less, and now he needs 81 yards to break Corey Dillon's single-season rushing record of 1,435.
Not only did the Bengals have trouble containing Barber, but they allowed Manning to hurt them on third and fourth down. In a drive that cornerback Tory James couldn't come up with an end-zone interception, Manning converted a fourth-and-two even though New York came in three-for-18 on fourth downs this season. Manning executed a roll-out pass to wide receiver Ike Hilliard after a run fake for a 20-yard gain, to set up Barber's tying one-yard touchdown run with 12:49 left in the first half, 7-7.
Shockey, who finished six catches for 64 yards, helped Manning convert a third-and-five from the Bengals 49 when Kaesviharn ran with Shockey down the field but Manning laid it over Shockey's inside shoulder for a 27-yard gain on the way to Christie's 31-yard field goal that tied at 10 with 5:22 left in the half.
Then, in the last two minutes of the half, and looking at third-and-four from the 50, Manning took advantage of what looked to be a blown coverage and got a 25-yard reception to wide-open wide receiver David Tyree that led to Christie's 36-yard field goal that gave the Giants a 13-10 lead heading off the field at the end of the half.
The punts turned out to be most exciting exhibits early. Bengals cornerback Reggie Myles had Kyle Larson's 51-yard bomb go off the back of his helmet inside the 5 and it turned into a Giants touchback. Then a few snaps later, New York cornerback Curtis Deloach drew a 15-yard interference penalty when he ran over Ratliff trying to field a punt and the Bengals got the ball on the Giants 46.
Kitna then relied on Chad Johnson and Houshmandzadeh to pick up the Bengals' first score. They supplied the blocks on his scramble on third-and-six for a 15-yard gain. Then he found Houshmandzadeh over the middle for a 17-yard gain on third-and-five, most of the yards coming after Houshmandzadeh got the first down and cornerback Will Allen missed the tackle.
Then Kitna found Chad Johnson matched one-on-one with Walker in the corner of the end zone and lofted it over his shoulder for a five-yard touchdown catch with 5:26 left in the first quarter for a 7-0 Bengals lead.
The biggest news was there was no celebration. Johnson just handed the ball to the official. But he finished the half with just two catches for eight yards, a week after getting just 10 yards for his lowest total in 42 games.
For the second straight week, Kitna started and the Bengals made the injured Carson Palmer the No. 3 quarterback. They made rookie Casey Bramlet the backup just like last week against the Bills, and just like last week Powell started in place of the inactive Duane Clemons at left end. Ratliff also started again in place of Deltha O'Neal at left cornerback, but O'Neal, playing for the first time in three weeks, worked on passing downs.
One of the more intriguing storylines for Sunday was running back Rudi Johnson playing his last home game under contract. Two rookie running backs who could be the answer if things can't get done, Chris Perry and Quincy Wilson, were inactive Sunday. Perry is out for the rest of the year with a sports hernia, which is another term for a deep muscle tear in the abdominal cavity that usually requires surgery. It's not known if Perry is scheduled for a procedure, but the Bengals have said they anticipate him to be ready for minicamps.
Also inactive for the Bengals were defensive tackles Greg Scott and Terrance Martin, safety Rogers Beckett and tackle Alex Sulfsted.
The Giants have lost eight straight for many reasons, and one of hem is injuries. They are without five defensive starters, and also Sunday started Wayne Lucier at right guard instead of Chris Snee. One of their only speed threats, wide receiver Jamaar Taylor, was inactive.
Lewis sent his Pro Bowlers out as game captains: right tackle Willie Anderson, Chad Johnson, and cornerback Tory James.