The Bengals' quest for continuity included last month's extension for cornerback Adam Jones.
The Bengals returned to work Monday after a dizzying paradox of an offseason that was both tortured and serene. But when they got back they thankfully found not much different had gone on at Paul Brown Stadium in the intervening four months.
"That's the Bengal Formula," said safety George Iloka.  "Every offseason, you're going to have pretty much the same amount of guys and maybe bring in a new wrinkle here or there. But since I've been here, we don't change up a lot. They don't overhaul. Which is good."
The players also appreciate the continuity in the weight room, where head strength coach Chip Morton is setting up for his 14th straight season, just like the man that brought him to Cincinnati, head coach Marvin Lewis. On Monday, with the heavy majority of players returning and knowing fully what to expect, Morton had the sense his guys "hit the ground running."
 Iloka is part of one of the bigger changes on the depth chart. He signed a five-year extension worthy of an up-and-comer that has started 44 games and four more in the postseason. Their effort to keep the core of their team together also produced extensions with cornerback Adam Jones and special teams co-captain Vincent Rey.
They no longer have long-time starter Reggie Nelson next to Iloka, but fourth-year player Shawn Williams is coming off a year he played often when both Iloka and Nelson went down.
Indeed, Williams' fourth-quarter pick of Steelers quarterback Ben Roethlisberger back on Nov. 1 when Cincinnati had three safeties on the field might have been the biggest play of the season. Last week, when Nelson signed with Oakland, Iloka said Williams can carry the torch. He's just looking to hook up with new secondary coach Kevin Coyle in a secondary that has groomed former first-round pick Darqueze Dennard to take over for another former first-round pick, Leon Hall, in the slot.
Hall, nine solid years with the club, is unsigned. But like the 24-year-old Williams has proven he deserves a shot, so has the 24-year-old Dennard, a regular for much of last year until a season-ending shoulder injury in the tenth game of the season.
"(Williams) has a lot of playing experience, if you ask me," Iloka said. "For me, it's just about we've got a new DB coach and me and Shawn haven't played that much together side-by-side because we play the same position, but we'll see how that shakes out. It's just about building chemistry with one another and building chemistry with the coach. That's probably the thing I'm looking forward to focusing on the most this offseason."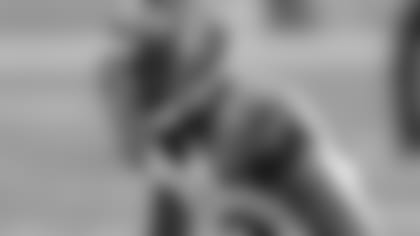 What's new is old again. Darqueze Dennard gets the call in the slot, but in a page out of the "Bengal Formula," he's been there before.
They seem to get that it is a young man's game. Nelson is 32. Hall turns 32 in December. They are both valued and tough competitors. But their mates have been seen it all before when highly-regarded pros and division title contributors like Robert Geathers and BenJarvus Green-Ellis moved on.
"They've been here since I've been here, and been guys that I've looked to for advice and leadership," Iloka said. "It's definitely weird, but that's how it goes for any football player. Since high school, since college, you graduate. People don't graduate in the NFL, but you move on. That time comes and you hate it when it comes, but you just learn to cope with it and deal with it."
Quarterback Andy Dalton is going through the other major change as he adjusts to a wide receiver corps that no longer has No. 2 wide receiver Marvin Jones or No. 3 wide receiver Mohamed Sanu after free agency. But as there is on defense, there is plenty left in the cupboard with Pro Bowlers at wide receiver (A.J. Green) and at tight end (Tyler Eifert) along with a new veteran pickup in former Patriots wide receiver Brandon LaFell.
"Obviously you add pieces in the draft. But for the most part most of the guys have stayed here and played here for a long time," said Dalton with a bouncy mood to match his healed throwing thumb. " I think that's just kind of the way we've done things and I think it's great because you build that camaraderie with the guys. You know how guys play, you know how guys respond. I think it overall makes the team better.
"That's how it's been since I've been here," Dalton said. "We still have A.J. We still have Tyler. It's not like we're hurting completely at these positions because we've got so much talent there. That's the biggest thing."
Even third-year quarterback Andy Dalton figured the Bengals were going to stick with their plan and not trade him after he came off the bench so well for Dalton at the end of the year. McCarron was engulfed by the trade rumors that were heightened in Mobile, Ala., more than anywhere else. He said he took no part in any lobbying.
"Not my job. God has a plan. I'll enjoy whatever comes my way," McCarron said. A big part of Iloka's "Bengal Formula," is Lewis' relentless AFC North mentality, a product of his Pittsburgh blue-collar upbringing and the black-and-blue bruises of the Bengals-Steelers rivalry.    
He didn't have to go far into his tree of T-Shirt themes to pull out a saying for a shot at the Bengals' sixth straight play-off berth and seventh in the last eight years. Lewis has opted for the distant cousin of last year's "Revival." The little brother of "Do Your Job," from 2005.  The grandson of "Keep Shoveling," from 2003.
But it's not about running the football, which is another top priority as they gathered. The idea comes from a message by Jacob Riis, a turn-of-the-20th-centry muckraker and buddy of football patron Teddy Roosevelt.
It seems in between outing the outrages of the Industrial Revolution, Riis offered a bit of poetry about a  stonecutter "hammering away at his rock 100 times  without a crack showing yet. Yet on the 101st blow it will split into two and I know it was not that blow that did it, but all that had gone before."
The Bengals, of course, had the rock split last year with 1:23 to go in the Wild Card Game against the Steelers before it shattered to smithereens. His message in the Monday morning meeting had been more to the media than to the players.
 "That's the end of it. That's what he told us to tell y'all, that was the end of it," Iloka said. "A lot of guys moved on from it like a month or two after the season. So that was more so speaking points for the media, like listen, we're not talking about the past. We're just answering questions about the future."
 So like the depth chart and the weight room, Lewis kept pounding his messages on Monday.
"The usual. Basically focus on the upcoming season and the things we need to work on and improve on to help us this season," Iloka said. "And be conscious of social media, things like that. Don't drink and drive. The usual."
But Iloka wanted to make it clear it wasn't going to be more of the same.
"I don't want it to be (the) usual. We've got to mix it up, " he said. "But back to business, so to say. Back to work."
Which would fit right in with "Keep Shoveling," and "Do Your Job."
Take a look at the 2016 Bengals schedule in pictures.