PLACE: Heinz Field (Grass)
LOCAL RADIO: Dan Hoard (play-by-play) and Dave Lapham (analyst) led by "triple cast," on Cincinnati flagship stations WLW-AM (700), WCKY-AM (ESPN 1530) and WEBN-FM (102.7) on the 25-station Bengals radio network.
NATIONAL RADIO: Westwood One Radio Network Kevin Kugler (play-by-play), James Lofton (analyst), Hub Arkush (sideline reporter)
TV: NBC broadcast team of Al Michaels (play-by-play), Cris Collinsworth (analyst), Michele Tafoya  (sideline reporter) on Channel 5 in Cincinnati, Channel 2 in Dayton, Ohio, and Channel 18 in Lexington, KY.
QUESTIONABLE: Starting CB Terence Newman, starting S Reggie Nelson and third CB Adam Jones (chest) are all fighting the flu. Newman looks doubtful after missing every practice, Nelson was limited Friday after missing Wednesday and Thursday, and Jones missed Friday after working Wednesday and Thursday. Backup CB Chris Lewis-Harris (illness) also didn't work  Thursday and Friday. Starting SAM LB Emmanuel Lamur (hamstring) limited all week and hasn't gone full since he was injured in Cleveland Dec. 14. Backup WR James Wright (knee) limited all week and hasn't gone full since getting injured in Tampa Nov. 30.
PROBABLE: Starting WR A.J. Green (bicep) went full Friday after being limited Thursday. His right arm was rendered useless after Broncos safety T.J. Ward gave him a shot on the fourth snap of Monday's game and Green played just half the game' snaps and had no catches; K Mike Nugent (illness) also has the bug and went limited Friday after missing Thursday. Starting LG Clint Boling was sick and didn't practice Friday. Starting RE Wallace Gilberry (hamstring) went limited the last two days. Backup CB Darqueze Dennard (shin) went full the last two days.
QUESTIONABLE:  Starting SS Troy Polamalu (knee) limited all week and since he never went full go he may not go Sunday. CB Ike Taylor (shoulder/forearm), who lost his starting job against the Bengals, may not go after being limited all week.
» Complete Injury Report
10-5 Steelers lead 10-4-1 Bengals, 55-34, 28-15 in Pittsburgh, 8-5 at Heinz  
»» In what amounts to the AFC North title game, the winner hosts Wild Card Weekend next weekend and the loser travels to Indianapolis Jan. 3 or 4.
»» The Bengals secure a first-round bye if they win and the Broncos lose at home to Oakland. Or if the Bengals tie, the Broncos lose, and the Colts lose or tie.
 »» For the first time in 40 years the Bengals end the season in Pittsburgh. On Dec.14. 1974, they didn't have QB Ken Anderson against the eventual Super Bowl champs and threw just eight passes in a 27-3 loss at Three Rivers Stadium.
»»  The last time the Bengals ended the season against the Steelers, they were 8-7 and needed a win to stay alive for the playoffs against the 7-8 Steelers at Paul Brown Stadium on Dec. 31, 2006 in Bill Cowher's last game as Steelers coach. Shayne Graham missed a 39-yard field goal with eight seconds left that would have given the Bengals a 20-17 victory and a spot in the playoffs. Instead, the Steelers won in OT, 23-17.
»» Bengals P Kevin Huber, who left season's game in Pittsburgh with a broken jaw on Dec. 15, 2013, returns with his first Pro Bowl berth.
»» Bengals Pro Bowl WR A.J. Green needs 49 receiving yards for his fourth straight 1,000-yard season.
»» Two of the NFL's top nine rushers are matched up, the Steelers Le'Veon Bell (No. 2 at 1,341 yards) and the Bengals' Jeremy Hill (No. 9 at 1,024 yards.)
»» Bengals CB Adam Jones comes into the season finale leading the NFL in kick returns (33.2 average over Jacoby Jones' 30.9) and third in punt returns with an 11.9 average behind leader Darren Sproles' 13.3.
CIN: 15th in scoring, 15th in offense (5th rushing, T-22nd     passing); T-9th in scoring defense, 22nd in defense (23rd    rushing, 16th passing), T-14th in turnover margin at even.
PIT: 7th in scoring, 2nd in offense (13th rushing, 2nd             passing); 19th in scoring defense, (20th in defense (6th   rushing, 27th passing), T-14th in turnover margin at even.
CIN: Marvin Lewis 100-94-2 in 12th season, 7-17 vs.  Steelers.
PIT: Mike Tomlin 86-49 in eighth season, 11-4 vs. Bengals and Lewis.
The National Weather Service in Wilmington, Ohio, says showers are likely with a game-time temperature of 41 degrees and north west winds of about five to 10 miles per hour. Showers diminish as game goes on with the temperature dropping to about 34 degrees.
NUMBERS GAME
43-52  -  Bengals record on the road under head coach Marvin Lewis
30-25 - Bengals record in December under Lewis
12-5  - Bengals QB Andy Dalton's record in December
6-2 - Dalton's record on road in December
40 - Dalton's career victories in 63 starts
74 - Starts for Carson Palmer's 40th win
.643 - Dalton's winning percentage, fifth best active among QBs with 50 NFL starts
.669 - Steelers QB Ben Roethlisberger's winning percentage, fourth best among QBs with 50 NFL starts
100 - Career victories for Lewis
37 - Coaches with at least 100 victories
7-0 - Bengals record when rookie RB Jeremy Hill carries at least 13 times
620 - Yards Hill has rushed for in last six games
113 - Carries for Hill in last six games
5.3 - Hill's yards per carry in last six games
630 - Yards Steelers RB Le'Veon Bell has rushed for in last six games
131 - Carries for Bell in last six games
4.8 - Bell's yards per carry in last six games
25 - Points Steelers scored in fourth quarter vs. Bengals on Dec. 7 at PBS
26 - Points Bengals have allowed combined in last three road games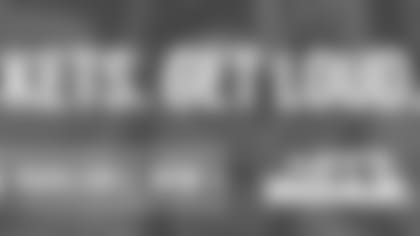 ](http://www.ticketmaster.com/cincinnati-bengals-cincinnati-ohio-01-03-2015/event/16004D88AE88238F?brand=bengals&camefrom=CFCBENGALSBCOMWEBARTICLEPLAYOFFS1_141223)