POSTGAME QUOTES VS. CINCINNATI BENGALS 10/19/14
BENGALS HEAD COACH MARVIN LEWIS & PLAYERS
Head Coach Marvin Lewis
Opening Statement:
"It's a game where we had no opportunities there, I think, in the first half. We do a good job of at least getting ourselves back off the field kind of keeping the scoring down, but we didn't obviously respond very good in the third quarter and I think the things that are disappointing is not being able to, our execution on the third down offensively, to not make the first downs and opportunities there to keep the drives alive. We have a couple plays fundamentally on defense we don't play very well and they make touchdowns and they get scores and they get the lead there in the first half and the drive in the third quarter was even about the same thing. We were just never able to really get back and become an attacking offense at all today and defensively we basically played, you know I think once we lost a couple guys, we ended up playing from our heels a little bit."
How much of the game was it receivers not winning battles or how much of it was protection or was it just all of it?
"It was a combination of everything. You know what I mean when your protection in the first part of the game was actually pretty good from the sideline. Again, I think overall though when you don't score any points, it's a combination of everything. We didn't run the football effectively early on in the football game and that causes it as well."
Was today a day when not having A.J. Green was really obvious?
"I think that's kind of an obvious question. When you don't have one of your better players, it's a difficult thing when you don't score points, but you can't use that as an excuse. We didn't play well enough across the board."
You go from not having A.J. Green last week and getting 500 yards, to this week where you can barely get 100. How is that such a swing?
"I don't know. We did it though."
Anything you can put your finger on?
"Well I didn't think, again we were where we were last week and we're the same way this week."
It was pretty quiet on the sidelines there in the second half, even when you guys were still in it. Is there a guy you look to to do that rallying cry for you guys?
"Well, it's not a rallying cry you need. What you need is execution. You need to go out and execute. You jump up and down and beat your head against the wall is not going to help us make a first down or stop a third down and that's what we need to do. There is no rallying cry. We've got, I thought, good leadership with my guys, but we didn't get it done."
How much is this starting to get worrisome with Vontaze Burfict? It's almost a weekly occurrence.
"Well, he's got, he had a cervical strain. It is what it is."
What about the others? Any updates on their injuries?
"No sir."
How does that affect things you can do defensively when you got so thin there?
"Well, obviously when you're with another rookie, things change a little bit and plan changes and things like that. Obviously it becomes critical, particularly when you have some third downs and things like that, don't play things exactly the way you should and you give up plays. Then everybody starts kind of doubting a little bit and trying to, then if they are at the point of attack, probably won't get it done. We've got a circle of weapons that's the thing. We are who we are. We've got what we've got. We've got to get together and we've got to figure out a way to continue to ride it and go back and be a fundamentally sound attacking football team again and get on it and go. This one's over, we've got to put it behind us. We'll learn a lot from this football game and it will be something that will be something that will help us grow, but today it hurts. We've got to correct it and we've got to learn from it. You pay a price when you don't win. This has got to be something we've got to learn from and move forward from very quickly."
You guys and those guys, just a bad combination of everything?
"Yeah they played well and we didn't execute. I think that's what it comes down to. We got beat in every part of it offensively. We were terrible on third down and so you put all that together and you get a game like we had today."
A team that wins with the kind of frequency you guys do, what's the emotion like when a game like this happens?
"Obviously it is not how we thought it was going to turn out. We felt like we had a good plan coming in but at the end of the day, you have to execute it. I think it goes to show, I think it is a good wake up call for everyone on this team that we are, we have expected to be in every game, we have expected to play a lot better and we did not do that today. We have to do what we can to correct the mistakes and move on from it."
Is this one of those that you kind of tried everything you had in your book but couldn't get anything to end up going?
"That is basically what it came down to. We felt early on we just needed to get a first down and we kept getting stopped. You pile that on and not getting first downs, getting third-and-longs, you are going to get stalled a lot. I think the biggest thing we got to move on from this, yeah, it's a loss, we didn't deserve to win this one the way we played. We have to put it behind us and we have to play better and we have to have a good week this week."
It's been almost a month now since this team last won. Should you guys be concerned at this point?
"No, I think there is so much in front of us. There is no reason to be concerned, the only concern we should be worried about is playing a lot better and doing whatever it takes to win. I think that is the biggest challenge this week. We are going to be playing a good team in Baltimore. Home game, have to be ready to go."
What is your confidence in your team's ability to win and where does that come?
"It comes from the leaders on the team. I think everybody has to understand and it has to be important to everybody. We are definitely going to do whatever it takes to get that point across. This team is too talented and we have so much going for us, we can't waste any opportunities. It will be talked about this week, there will be plenty of room for improvement so we just have to watch the tape and do whatever we can to correct it and move on."
When you are out there it was real late in the first half without a first down, do you start wondering what is it going to take to make this happen?
"At the end of the day, it takes one play, one guy to make a contested catch, breaking a tackle, whatever it is. We weren't able to do that so we have to find ways to do that."
We asked Marvin Lewis this, it was pretty quiet on the sidelines when you were down 10-0. Who is the voice of this team? Who is the rallying guy?
"We got several guys, I feel like I am part of it, we got (Andrew Whitworth) Whit, we got a bunch of guys to get guys going, that was the biggest thing I was saying. Yeah, we were down 10 but we don't need to feel like we are down more than that. We still had chances, shoot, going into the second half we get the ball with the score 10-0. We got to do what we can to get the momentum going however we do it and we just have to keep pushing."
Was there a point today when you had that talk with the guys in the second half?
"Yeah, it was talked about even when the game was 10-0. You can't let the emotions of everything get into it so it was talked about, but saying is one thing, you have to go out and do it."
A little behind schedule, did that take away from you guys offensively?
"Yeah, anytime you're in the longer distances, it makes it tough from being able to do what you want to do and so that's what hurt us and hurt us third downs as well. Getting in third-and-long situations."
How often were you throwing to an open receiver?
"I can't put a percentage on it. We have to make sure guys get open and make sure guys make consistent catches. They did a good job defensively and so we have to do what we can to make plays."
It seemed like they knew what was coming? No separation anywhere.
"I think it comes down to execution and getting guys blocked, breaking tackles and doing whatever you can. We didn't get that done today."
Do you feel like you guys handled the blitz?
"Yeah, we had really good IDs on everything. It felt like we were able to see everything that was coming, but I have to do a better job at getting the ball in my hands and we have to find ways to block guys. They have an extensive blitz package but we were prepared for it."
What's changed about the team when it was 3-0?
"I don't want to say things have changed. A couple of guys got hurt, but we aren't worried about that. Guys have to step up and have to perform, so there's not much change. I think we still have to get that swagger back that we were playing with, not that we lost it, but we have to play with that every week."
Can you characterize the mindset of the team right now?
"We will see. Again it's just one loss and we can't let it affect us. We have too much going for us and too much at stake. There's still a long season left so the guys will be ready to go and the coaches will do a good job at getting guys ready. We will be pressing on how bad of a performance it was and moving on from it so I think we are going to be fine."
Was the noise a factor at all?
"I didn't really feel that the noise was that big of a factor."
Defensive End Carlos Dunlap
On whether he could have imagined the game going the way it went today:
"We're not playing good football right now, so we've got to figure it out and get back to doing what we did the first three games.  We've been off our stuff right now, so we've just got to get back to playing the Bengals defense the Bengals way right now.  We're not looking very good, and we didn't play good enough to win."
On being able to stay in the game at the beginning even though the offense was struggling:
"Yeah, sometimes they'll struggle and sometimes we'll struggle.  Either way you've got to take care of your job, whatever it is.  We've just got to keep holding on to it like how we played in the first half.  We've got to keep fighting like that, and just giving them a chance. Can't give up 27 points."
On the whether the Colts time of possession was wearing on the Bengals defense:
"Absolutely, you can probably say that attributed to it, some of the plays. Either way, we can't give up 27 points."
On how important it is to take control of the locker room:
"Oh you definitely don't want to lose the locker room. Once you lose the locker room, you lose the season. That's not the case around here. Yeah we're disappointed, and some people are embarrassed about how we came out these last two, three weeks but we're still together. It is a long season and it's not how you start, as you can see, or how you are in the middle, it's how you finish. We just need to start by stacking some good practices and stacking some good games on top of each other and start getting some wins in the win column again."
On whether injuries are affecting the team right now:
"Definitely, but that's not an excuse. The Colts have injuries. They lost their leading pass rusher for the season and they have a lot of guys out too. In this league, you have to play with injuries and the next guy has to step up and carry the torch, so to say, and can't have a drop off."
Cornerback Terence Newman
On whether it was surprising how well they were dominated today:
"This is a good football team. The defense played lights out today. I was very surprised though obviously that we weren't able to stop them running or passing. They pretty much limited us on offense. Nothing went our way today. You've got to tip your hat to them. They executed well and they played really well."
On how they can erase doubt this week:
"Everybody can play. They're here for a reason. You have to look at that first and foremost, you're here for a reason. God gave you the talent and coaches see the talent. You have to go out and play with it. You have to trust in yourself. If you lose confidence, it's going to be hard to do what you can do out there. We've just got to get confidence back and go out and just play. Like coach said, 'Play like your hair is on fire.' I don't have any hair, but I've got hair on my chest I guess. I'll play like my hair is on fire."
Wide Receiver Mohamed Sanu
On what happened offensively today:
"We weren't in rhythm at all. We didn't find a way to make plays when we needed to. Everybody, including myself, and we cannot play like that."
On whether the Colts were trying to force them to throw the ball down the field:
"Yeah, they were playing man to man, and press man to man. They would just basically say you guys have to beat us down the field. We had opportunities there, but we just have to capitalize off those opportunities."
On whether he could have imagined this type of scenario going into the game today:
"No, I didn't see this coming at all. I felt like we had a good week of preparation. It wasn't good enough. We didn't come out with any type of energy. We didn't play well and this is what happens when we don't."
On the Colts defense:
"We knew they were a great defense. We knew we had our hands full with them. We just didn't come out prepared the way we should have or played the way we should have."
POSTGAME QUOTES VS. CINCINNATI BENGALS 10/19/14
COLTS HEAD COACH CHUCK PAGANO & PLAYERS
Head Coach Chuck Pagano
Opening Statement:
"Great win. Injury update-wise, I think we had two guys go out. (Jerrell) Freeman went out early, came back, I think he got kneed in the ribs. Trent (Richardson) went out with a hamstring. He played enough in the game. We didn't put him back in. Proud of the guys. Great team win. Kind of let them hang around a little bit. Credit Cincinnati. I've got nothing but respect for Marvin (Lewis) and his entire staff. Their ball club and organization are first class, tough ball club. Hats off again to our defense. Unbelievable job. I don't care, any level, to shut somebody out is extremely difficult in the National Football League. Again, I think they were two-for-whatever on third down. I don't know how many total yards they had, but zero points up on the board, four sacks, I don't know who got them. I don't really care. As long as we keep playing at this level on that side of the football. Get some things cleaned up. From a penalty standpoint, again, turnovers, we've got to take care of the ball. We left a lot of things out there, especially in the first half. We had an opportunity obviously to put more points up on the board. We didn't take advantage of those opportunities. Like everything, some things to clean up. Congrats to Reggie (Wayne) passing another milestone. I thought the runners ran hard. Lot of good things on there. But like always, there will be some things to clean up. Special teams guys did a great job covering those returns."
Is Reggie Wayne okay?
"Yeah, he just fell funny on his elbow. I think he kind of wrenched his elbow a little bit, but he's fine."
When was the last time you've been a part of a performance this dominate?
"I don't know. I can't remember off the top of my head, but they're hard to come by when you have a defensive performance like that. Again, we're just starting to get a glimpse of what we envisioned when we got together a couple years ago, what we wanted to build when we first got here. Looks like that monster is starting to rear its head a little bit. We just have to stay humble, keep working and get better."
Do you like the makeup of this defense? It has been a collective effort this season.
"Absolutely, it's team. That's all we talk about is team, team, team, self-serving and doing whatever you can for the team and whatever you can to get wins. We've got a bunch of selfless guys in that locker room, guys that understand their job, understand their role. They're playing at a high level and to the best of their ability. As a coach, that's all you can ask for."
Does it make it tougher for the opposing offense because the pressure comes from everywhere?
"Oh yeah, when you've got a bunch of guys, you've got to decide, okay, keep six or seven in, send three receivers out, go max protect, which they did a little bit of that. It's not necessarily you know from an offensive standpoint the way we think. We don't necessarily want to do that. Sometimes you have to do that. When you've got a bunch of guys playing at a high level right now, it makes it difficult to try to game plan to take away this guy or that guy. Guys are winning their one-on-ones. The guys that are getting singled, they're winning their match ups. Give the credit to the coaching staff and the players for doing a nice job game planning and executing."
Did you get an explanation on Erik Walden's ejection?
"Yeah, I didn't see what went down. I'm going to have to wait to see the tape. Gene (Steratore) came over and explained to me there was contact with an official. It wasn't meant to be. It's just one of those deals where you've got a couple guys, whatever. He was really just trying to get away from the other player and accidentally I think it happened. Again, I've got to wait and see what happened. That was the reason, contact with an official."
Is the change in the level of play of this defense as dramatic to you as it is to us?
"Again, I think anytime you have success, confidence comes along with that. We've got good players out there who are staying healthy, knock on wood. You got some corners that can play, cover and take guys away. The safety play has been good. They're playing good at all three levels. They're playing together. They're playing as a unit. The communication is great. Like I said, the execution, we just got to keep it going. We can play better. I know we can and we will. They're bound and determined to be. We've always envisioned us to be a top five, if not a top defense in the league. We've just got to keep working."
Did you have confirmation from above on the challenge or from Ahmad Bradshaw?
"Yeah, we got a little bit of both. We always listen to those guys. I've been talked into it by my players before. So we had confirmation from up top once we got the look. We felt like he stretched the ball over the goal line before any part of his body touched. He was on top of another body, so we felt like it was a good one to challenge."
How special is a shutout in the NFL?
"It's worth a game ball again. Everybody on defense got a game ball. That's one where you put the stats on there and put that goose egg on there. It's extremely, extremely difficult. I think they were averaging close to 400 yards a game coming in. They had only given up two sacks. They've got a good offense and a bunch of guys that can play over there. It's special."
Can you talk a little bit about those turnovers in the first half?
"Yeah, you've got to clean it up. You can't have it. We had opportunities. Especially the one down there in the low red zone, fixing to at least have three points, but you turn that one over. Then we get another one moving the ball and ending up shooting yourself in the foot. Credit to Cincinnati, they did a nice job stripping it and taking it away, but you can't have, you can't have penalties and you can't have turnovers. We've got to get it cleaned up."
Running Back Ahmad Bradshaw
Being the multi-threat back you are, would you rather be running the ball or catching it?
"It doesn't matter. Any way to be a part of this team, any way to help my team win and today it showed."
Next up is the Steelers, what do you all have to do to make it six in a row?
"The Steelers are a hard-nosed football team. We just got to come out and punch them in the mouth first and I think it'll be a great game for us."
You've been a part of good offensive teams. Have you ever seen the versatility of this offense, in every phase for the last five weeks, has to be an impressive feel?
"I just think with this offense, it's a lot of different weapons. I think we're figuring that out now and we know everybody on the field when we're out there can make that play."
Defensive Tackle Ricky Jean Francois
Defenses always hope for these type of outings where you don't want a team to score any points. What was it like to go out there and actually get one?
"To be able to shut out the Bengals, one of the best teams in the AFC North, it was something just to be thankful about. In this league, it's hard to get a shut out especially a team like that. I take my hat off to them. Andy Dalton is still a great quarterback, that's still a great team, they got one hell of a defense and a great special teams, but today, the ball just rolled in our court and we ended up taking it 27-0."
How does that even happen? Are you just in the zone as a unit?
"Just get in the zone. Everybody is in the zone, the corner, the safety, the special teams, the offense, everybody was in the zone. Even the coaches were in the zone. So when you get all that at one time in the zone, as you can see, it's hard to beat."
What is it the last five games, the defense has been playing at a level a lot of teams don't see. Specifically, this city hasn't seen in a long time?
"Playing as a family, that's the biggest thing, a lot of people just talk about it, but as you can see, it's a family in this locker room that is playing. Especially the defense, we got certain guys that are not playing with us out there so we're out there playing for them so their energy is inside of us and it makes us play all out, we're leaving everything. Like coach said, we've got to exhaust the mission. We got to go out there and exhaust ourselves. You can't have no energy when you come back in this locker room."
Inside Linebacker Jerrell Freeman
Describe the level this defense is playing at?
"I know Indy is known for their offense all the time. We have a great offense here and I'm blessed to be at a place like this with the offense, but we definitely want everybody to know that we do have a defense and we're going to be up for any challenge."
Would you describe this as being in the zone, all units working together?
"It's just being together, man. We had a couple of hiccups here and there, but just playing together, that's what we're always living by. The plays are going to come to us and when the plays come to you, make them. "
Have you played on a defense that has had a day like this before?
"Back when I was in Division III. We were shutting boys out."
Quarterback Andrew Luck
Is this a game where you'll look back at the things you did wrong early on that let the Bengals hang around?
"Yeah, obviously turnovers kill you. We were very fortunate there were a couple interceptions that were dropped; that could have been catastrophic. The turnovers weren't good, and again that's a good defense. They forced us into some stuff, but thankfully we sort of broke through, got some points on the board. You feel like you don't have to do too much when you're playing with a defense like that. They do and have done a heck of a job all year. Fun to feed off each other in all three phases."
It seemed like you had more time to throw in the second half. Did you change anything pass protection-wise in the locker room at halftime?
"No, no wholesale changes. I think guys, and I don't know if I have an answer for that, maybe it was the tempo or just the rhythm of the game, but I thought the o-line did a heck of a job of really creating time the whole game. Again, that's a formidable pass-rushing unit. Those guys are very, very good, but our guys did a good job."
What is the impact of the running game when Trent Richardson and Ahmad Bradshaw play as well as they did?
"Oh, it's huge. It's a great lift. Again, I think they've been running the ball very well all year and if we can do that and keep a defense on their heels per se, it helps in pass pro, it helps with play action, it helps when you have to go up-tempo and four wides, whatever it is. They've done a heck of a job, and not only running the ball but getting out after pass pro, leaking out, or free releasing and catching the ball and making some moves."
It's only Week 7, but do you think at all about playoff implications after a win like this?
"No, no, I think the big picture perspective is a more the head coach or front office. As players you just focus on the next one, keep the blinders on. We'll enjoy this because it's on to Pittsburgh, another very good AFC team."
To have the defense playing so well in the past few weeks, what does that mean to you?
"It's huge. I've always thought it's the greatest team game in the world because you rely on different phases of the game. I'm just like a fan watching the game. I may as well be a fan when our defense is out there. I'm not sure what the calls are and everything, but they do a heck of a job and they certainly gave us a great lift today. Glad they got that shutout."
Wide Receiver Reggie Wayne
Most complete game for you guys?
"We still got to watch the film to see. If you just look at it blind after just watching the game, it kind of seems that way, but I can assure you there's a lot of corrections that need to be made. Hopefully we go in, correct those mistakes and continue to move forward."
We saw you with a bandage on your arm at the end of the game, what happened? Do you remember the play and how is it now?
"I'm good now. I just kind of fell on it, fell on my arm. Go home, have an adult beverage and see how it feels in the morning."
Is it more of your arm or elbow?
"It's a little bit of everything. See how it feels in the morning."
Five straight wins, how do you describe what this team has going on right now?
"We got something special. We felt like that going into the season that we got a lot of guys back healthy, that we can do something really special and these last five weeks is an indication showing you what we can do. Like I said earlier, I'm sure there's a lot of corrections that need to be made, but hopefully we continue to ride this wave and continue to keep this win streak going."
What's different about this group?
"I don't think it's nothing different, just everybody locking in and not killing themselves, killing ourselves I should say. We still had a couple turnovers that we wish we would have had back, but it goes to just show you how resilient this team is just fighting through adversity and finding a way to strain, continue to go out there and fight and come with a pretty good win against a pretty good team."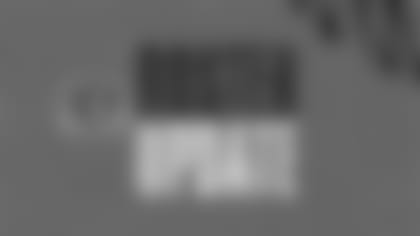 news
Bengals Player Moves - July 25, 2022