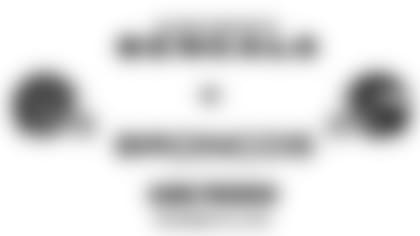 PLACE:  Sports Authority Field at Mile High  (grass)
LOCAL RADIO:  Dan Hoard (play-by-play) and Dave Lapham (analyst) led by "triple cast," Cincinnati flagship stations WLW-AM (700), WCKY-AM (ESPN 1530) and WEBN-FM (102.7) on the 41-station Bengals radio network.
NATIONAL RADIO: Westwood One Radio with Kevin Harlan (play-by-play),  Kurt warner (analyst),  Jim Miller (sideline).
TV:  ESPN broadcast crew of Mike Tirico (play-by-play), Jon Gruden (analyst), Lisa Salters (sideline). Simulcast on Cincinnati's Channel 5.
CIN:  OUT:Starting QB Andy Dalton (thumb); Starting TE Tyler Eifert (concussion).
DOUBTFUL:  Starting safety George Iloka (groin) hasn't practiced since re-aggravating injury vs. Steelers Dec. 13.
PROBABLE: *Starting WLB Vontaze Burfict (knee) went full Saturday after sitting out Thursday. Backup LBS Vincent Rey (hamstring) and Emmanuel Lamur (hamstring) went full Saturday after going limited Thursday; *Backup RT Jake Fisher (concussion) practiced full all this week after missing the game in San Fran. 
OUT: Starting QB Peyton Manning (foot), KR Omar Bolden (hamstring)
QUESTIONABLE:  Starting S Darian Stewart (hamstring), who didn't play last week, went limited Saturday after he didn't practice Wednesday and Thursday.  The Broncos didn't practice Friday. Starting S T.J. Ward, out since Nov. 29 with high ankle sprain, went limited last three days.
The 10-4 Broncos lead the 11-3 Bengals, 19-9; 12-2 in Denver.
»» With a victory the Bengals can clinch the No. 2 seed in the AFC for a play-off bye and a home game for the divisional round.
»» With a victory the Bengals would also win their second AFC North title in three years and third in seven seasons.
»»  It would also be their 12th victory of the season, tying the franchise record set by the 1981 and 1988 AFC champions.
»» The Bengals haven't won in Denver since a 17-16 victory at Mile High Stadium on Nov. 9, 1975. Steve Ramsey outpitched the Bengals' Ken Anderson with 230 yards passing and a TD pass, but led by 56 yards from Ed Williams and 55 yards from Boobie Clark, the Bengals rushed for 162 yards and held Hall of Fame running back Floyd Little to 51 yards on 14 carries.
»»  Broncos head coach Gary Kubiak has never lost to the Bengals in five games, all wins coming as the Texans head coach.
»»  Broncos WR Andre Caldwell, who caught a late TD last month in Denver's win over New England, is also a key figure  in helping the Bengals to the last play-off berth of the Carson Palmer Era and the first play-off berth of the Green-Dalton Era. Caldwell's TD catches in the last 20 seconds beat Pittsburgh and Baltimore in the 2009 AFC North sweep and in 2011 his five-yard TD catch from Andy Dalton were the go-ahead points in the fourth-quarter against Tennessee in what proved to be the decisive victory for the 9-7 Wild Card Bengals over the 9-7 Titans.
»» Bill Kollar, the Broncos defensive line coach, is the Bengals' first-round draft pick in 1974 and draft classmate of Bengals radio analyst Dave Lapham, a third-round pick.
»» Bengals fullback Ryan Hewitt played at Denver's Mullen High School under current Broncos play-by-play announcer Dave Logan.
»» It's also a reunion for one of the Bengals secondary coaches, Vance Joseph, Kubiak's  DBs coach in Houston for three seasons.         Joseph quarterbacked at the University of Colorado, where of his fellow quarterbacks  was Bengals director of player personnel Duke Tobin.
»» Denver is the site of the first Dalton to A.J. Green touchdown pass, a five-yarder that cut the lead to 24-22 with 11:17 left in the Sept. 18, 2011 game. But that's the way it ended.
»»  That game also saw Dalton's first 300-yard game (332) and Green's first 100-yard game (124).
»» The Bengals and Broncos also met on Monday night in Week 16 last season, but it was in Cincinnati. This year's opposing QBs were in the building that night, but didn't play. The Bengals' AJ McCarron was inactive and the Broncos' Brock Osweiler was the only active player that didn't play for Denver.
»» With two interceptions, Pro Bowl safety Reggie Nelson can tie Deltha O'Neal's Bengals record of 10 set in 2005. It would also give him 25 as a Bengal, tying him with Lemar Parrish for fifth place on the team's all-time list.
CIN: T-4th in scoring, 11th in offense (15th rushing, 11th       passing); 1st in scoring defense, 9th in defense (8th      rushing, 18th passing), T-4th in turnover margin at plus-nine.
DEN: 18th in scoring, 32nd 23rd in offense (18th  rushing, 17th passing); 4th in scoring defense, 1st in defense (1st  rushing, 1st passing), T-14th in turnover margin at even.
CIN: Marvin Lewis 111-92-2 in 13th season, 2-5 vs. Broncos.
SFO: Gary Kubiak10-4 in first season, 73-70 in ninth season overall; 5-0 vs. Bengals and Lewis.
PHILIP RIVERS WEATHER UPDATE
The National Weather Service in Wilmington, Ohio is calling for partly cloudy skies and a high of 18 degrees at kickoff. There is no chance of snow and virtually no wind at less than five miles per hour.
.476 - Bengals road percentage under head coach Marvin Lewis
.641 - Bengals road percentage since 2011
50 - Career road victory for Lewis with a win in Denver
4-5 - Lewis' record on Monday night
.636 - Broncos' all-time home winning percentage on Monday night.
8-3 - Bengals road record in December since 2011
17.4 – Points per game allowed by Bengals, No. 1 in NFL
18.5 - Points per game allowed by Broncos, No. 4 in NFL
180 - Second-half points for Bengals this season
139 _ Second-half points for Denver this season
20 – Starting QBs for Bengals since last win in Denver (1975)
18 - Years ago last time NFL quarterback won first two starts on road (Giants' Danny Kanell).
1,206 - Yards for Bengals WR A.J. Green on 77 catches
1,128 - Yards for Broncos WR Demaryius Thomas on 93 catches
57 - Career pass attempts for Bengals QB AJ McCarron
244 - Career pass attempts for Broncos QB Brock Osweiler
301 - Combined career pass attempts for McCarron and Osweiler
386 - Pass attempts this season for Bengals QB Andy Dalton
322 - Pass attempts this season for Broncos QB Peyton Manning
8.7 - McCarron's career yards per attempt
6.5 - Osweiler's career yards per attempt
0.60 - Sacks per his 71 career games for Bengals DT Geno Atkins
0.84 - Sacks per his 70 career games for Broncos OLB Von Miller