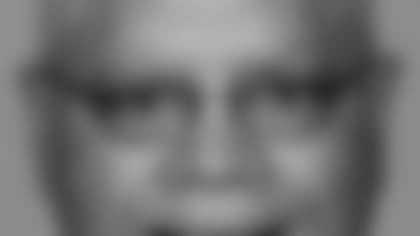 Jim Anderson, the last coach left at Paul Brown Stadium interviewed by Paul Brown, gets ribbed about the streak. But he doesn't mind.
Anderson, one of the great ribbers of all-time himself, will hear, "J.A., if they cut you open, you'd bleed orange and black," and that's just fine with him.
"There's nothing wrong with that," Anderson says. "Nothing wrong with that at all."
Anderson is one of the spines in the loose-leaf White Book that fittingly lists all the NFL assistants and their various moves. They call it "The White Book," but its official name is The NFL Record and Fact Book. Yet for an NFL coach it might as well be one of those dog-eared address books where there is more scratch outs than actual writing.
At the moment, and for many assistants it is just a moment, Anderson leads all assistants with the NFL's most consecutive years of service with one club. With last week's retirement of Steelers running backs coach Dick Hoak, Anderson's 24th year is one ahead of Dolphins secondary coach Mel Phillips and Lions defensive quality control coach Don Clemons.
NFL ASSISTANT COACHES WITH SAME TEAM FOR LAST
10 CONSECUTIVE SEASONS

First Season
Coach
Team
Coaching Position

1984
Jim Anderson
Bengals
Running backs

1985
Don Clemons
Lions
Defensive quality control

1985
Mel Phillips
Dolphins
Secondary

1986
Steve Watterson
Titans
Strength and rehab

1987
Chuck Lester
Bills
Assistant to the head coach/defensive assistant

1989
Fred Biletnikoff
Raiders
Receivers

1989
Darvin Walls
Chiefs
Defensive assistant/quality control

1991
Dante Scarnecchia
Patriots
Assistant head coach/offensive line

1992
Gene Huey
Colts
Running backs

1994
Paul Alexander
Bengals
Assistant head coach/offensive line

1994
John Mitchell
Steelers
Defensive line

1994
Mike Munchak
Titans
Offensive line

1994
Mike Zimmer
Cowboys
Defensive coordinator

1995
Willie Brown
Raiders
Squad development/defensive backs

1995
Juan Castillo
Eagles
Offensive line

1995
Rick Dennison
Broncos
Offensive coordinator

1995
Greg Saporta
Broncos
Assistant strength and conditioning

1995
Sherman Smith
Titans
Assistant head coach/offense

1995
Ted Williams
Eagles
Running backs

1995
Mike Wolf
Eagles
Strength and conditioning

1995
Bobby Turner
Broncos
Running backs

1995
Rich Tuten
Broncos
Strength and conditioning

1995
Richard Williamson
Panthers
Receivers

1996
Monte Kiffin
Buccaneers
Defensive coordinator

1996
Alan Lowry
Titans
Special teams

1997
Louie Cioffi
Bengals
Assistant defensive backs

1997
Joe DeCamillis
Falcons
Special teams coordinator

1997
Joe Juraszek
Cowboys
Strength and conditioning

1997
Wayne Nunnely
Chargers
Defensive line

1997
Chuck Priefer
Lions
Special teams

1997
Mike Solari
Chiefs
Offensive coordinator
Hoak's claim to fame in Cincinnati is he's the guy that coined the nickname Wicky-Wacky for then Bengals head coach Sam Wyche and his quirky Xs and Os. To Anderson, he's simply a good friend with whom he shared a lot of miles and stories.
"The No. 1 thing about Dick is that he's a great teacher," Anderson says. "A class guy. He exemplifies how to go about doing things in a first class way. We saw each other a lot on the road if we were looking at college guys. We would talk mainly about players, what made them good. He played in the league, but I think it also shows that you don't have to have played in the league to be successful."
Hoak played a decade with the Steelers and is fifth on their all-time rushing list. Three of the guys he coached are ahead of him.
Anderson never went beyond his linebacker/defensive end days for old Cal Western (now U.S. International), but he's coached four of the top five Bengals rushers of all-time, 10 Pro Bowl seasons, and 83 100-yard games ranging from the Riverfront Stadium chant of "Brew, Brew," for Larry Kinnebrew to the PBS serenade of "Rudi, Rudi," for Rudi Johnson.
"Attention to detail. It's always been the same," says former Bengals running back Eric Ball, the club's director of player development who helps Anderson with the fullbacks. "Maybe the energy is a little different than when I first met him, but he's still paying attention to every little thing. Later in the week after the game plan has been put together he still gives each guy a sheet of adjustments. He thinks of everything."
PRO BOWL PLAYERS UNDER ANDERSON
Player
Pro Bowls
Season(s)
RB James Brooks
4
1986, 1988-90
RB Corey Dillon
3
1999-2001
But Anderson is the first to tell you the key to surviving four coaching changes – besides being productive – is getting along with just about every personality imaginable.
"It's a people business," Anderson says, and he hit it off with the Bengals right away starting with that 1984 lunch at a hamburger joint in Redwood, Calif.
As a Stanford assistant, Anderson had the lay of the land at the 1984 East-West All-Star Game so it was a natural that he would pick up the new head coach of the Bengals to start his interview process. It turned out that Wyche also had wide receivers coach Bruce Coslet and defensive coordinator Dick LeBeau in tow and the four went looking for burgers. Anderson ended up working for all three.
"When you hear you're going to meet the great Paul Brown, it kind of takes your breath away," says Anderson, then 35. "We met on the practice field and it was an informal, formal talk if you know what I mean. He was easy to talk to. We talked about the game and players.
"The head coach at Stanford, Coach (Paul) Wiggin had been one of his captains in Cleveland, so I think he was just trying to get a feel."
Having a feel for somebody is at the core of Anderson's coaching style at a position that can be a breeding ground for all sorts of combustible personalities. He's much like Hue Jackson, the popular Bengals receivers coach that left Monday to be the offensive coordinator at Atlanta.
100-YARD GAMES UNDER ANDERSON (83)
But one of the things that makes Anderson so popular is that he's not bitter. Jackson, 41, got his shot in an era more minority friendly. Anderson, 58, also an African-American, is a rock on a coaching staff for younger guys ranging from Ball to assistant strength coach Ray Oliver to head coach Marvin Lewis.
"I've known him for 20 years and he's a guy I looked to at that time because there just weren't many black coaches, if any," says Oliver, the Cincinnati native exposed to the Bengals through former strength coach Kim Wood. "He's 'The Mentor.' I ask him about everything in life. And when I don't listen to him, I shake my head because mostly all the time he's right."
Anderson's relationship with the club's all-time rusher, Corey Dillon, has predictably been up-and-down matching Dillon's mercurial moods. But during the week of last season's game against the Patriots, Dillon did one of the things he hates and reached out to a reporter to make his feelings for Anderson known.
"I was young and you don't know when you're young," Dillon said. "I've got to tell you, there were some tough times. He'd tell me left and I'd say right most of the time. But J.A. knows. Whatever he did, he just shot knowledge out of it. ... He taught me it all. I didn't realize it a lot of the time, but the older I get I look back and the dude was dead on."
Dillon also said it's "a crying shame" Anderson hasn't been a head coach. He interviewed for the Stanford head job a few years ago and although he would like the chance, he won't let that define him.
There are more important things. The closest he came to leaving the Bengals came before the 1999 season, when the new coach of the Bears, Dick Jauron, offered him the title of assistant head coach/ running backs.
"I made a decision to stay. A lot of it had to do with the whole idea of being part of an organization," Anderson says. "I didn't want to leave when we were down. If I was going to leave, I wanted to leave when it was on higher ground. That means a lot to me."
Loyalty is just not a sign on the wall at PBS. The owner, Mike Brown, actually respects it as seen through the tenures of his head coaches.
"Loyalty depends on how hard you work. It's been a good place to work," Anderson says. "The grass is not always greener. A lot of people have found that out."
A lot of them are in a loose leaf record book.