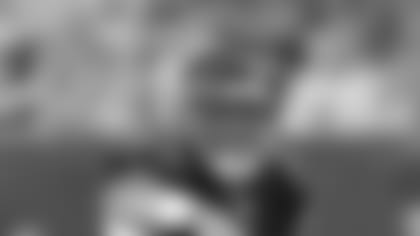 Carson Palmer gets off the pass despite the pressure of Packers defensive tackle Cullen Jenkins. (Bengals photo)
As Monday turned into Tuesday and the Bengals turned from playoff hopefuls to playoff contenders, you didn't have to tell Carson Palmer the last time he drove away from Paul Brown Stadium with the game lights in the rear view mirror that his knee and team were shattered.
"Different story. Completely different story," Palmer said after his seamless 2006 debut defied medicine and football all at once. "To know I'm going to be able to play, that's good."
As usual, Palmer understated it all the way. It took his teammates to put the breathtaking outing into perspective.
Wide receiver T.J. Houshmandzadeh, Palmer's favorite target on Monday with five catches for 96 yards and a touchdown, sees a sweet future.
"If this is an indication of things to come and I would have no reason to think his knee won't bounce back," Houshmandzadeh said, "then this is going to be peaches and cream. Peaches and cream."
After all, Palmer's mates were the ones who were there when Kimo von Oelhoffen dove into his left knee, tearing the anterior cruciate ligament and driving him into reconstructive surgery.
Not unlike the play Monday night in the second quarter. Third-and-12 and here came 290-pound defensive tackle Cullen Jenkins barreling into his legs, grabbing, pulling, throwing him to the ground and there was Palmer still following through on the rebuilt leg for a first-down completion, and looking downfield as he lay on the ground.
And then there was that play on his first extended series. Straight from the pit of the stomach. The 11-yard scramble up a wide-open middle complete with the Ryan Freel hook slide into the Packers 13-yard line.
And there he was scrambling to his feet and taking it into the end zone, convinced no one had touched him before the whistle blew.
"Just when he got up," said Pro Bowl right tackle Willie Anderson when asked if any one play convinced him Palmer is back.
"We saw him get hit. The last time we saw him get hit was January. To see him get up and to see him take off running and then to get up again, that's a competitor. He was laughing. It felt good to see him have fun. The last time we saw him was Jan. (8). In the same damn uniform."
That was the day the knee blew up in the Wild Card loss to the Steelers but now there is a new date on the horizon.
Sept. 10. The regular-season opener in Kansas City. Head coach Marvin Lewis pronounced him a go and how certain is he? Lewis wouldn't say if Palmer would play this Friday night in the preseason finale in Indianapolis, meaning he may have looked sharp enough to bench and give the knee a rest.
But Lewis wasn't going to admit his slice of Bengaldom had been uptight.
"No. Why would there be apprehension? ... The only time he gets hit is during a game," Lewis said. "This is inevitable. There isn't an NFL quarterback that gets touched in practice. So, what's the difference? At some point you're going to be touched on the football field."
Anderson says Palmer's demeanor in the No Huddle offense, which produced, among other scores, a 90-yard touchdown drive, shows he's already got the date circled. Which also happens to be the eight-month anniversary of his surgery.
"It was a tired huddle," Anderson said of the businesslike response to Palmer's heroics. "He's saying it's going to be good for us. He wanted to go faster to get our conditioning up for the next game. It's got to help out. He was thinking about the Kansas City game this game."
When running back Rudi Johnson came over to his locker, Palmer hugged his arm and said, "Good game, man." Johnson said, "Welcome back," and Palmer laughed.
As Palmer peeled off his uniform, he showed no inordinate amount of soreness as he rattled off a two-minute drill of thoughts.
"Everything felt great. The knee feels 100 percent. I'm confident in moving, throwing, getting hit. It's what I expected. The doctors told me it was going to be 100 percent. It feels great."
As for the twist-and-shout job by Jenkins, Palmer said, "Didn't even think twice about it. Not even worrying about it."
Houshmandzadeh took part in another signature moment. Palmer got flushed out of the pocket and with two defenders grabbing for his legs, he saw Houshmandzadeh breaking off his route and running past cornerback Charles Woodson down the side before lofting a 28-yard touch pass off an instructional video.
"We've been doing that all camp. The scramble drill," Houshmandzadeh said. "Man it's just good to be out there with Carson again. I feel good for him.
"It's great for us. It's great for the city. I mean, when he ran on to the field and the way the crowd was cheering. I couldn't hear. They appreciate what he's done."
So do these guys. Left tackle Levi Jones didn't gulp when he saw Palmer scramble and slide. He had this thought:
"He's ba-a-a-a-ck and he's feeling good and we feel great," Jones said. "Carson is the same cool, collected self like he has been since square one."
To show how highly regarded Palmer is by those around him, no one seemed all that floored that he posted a 136.9 passer rating despite spending a quarter of the offseason in a cast and the rest in mind-numbing rehab.
"We've had the luxury of watching him work this whole offseason, so we knew he was ready," Jones said. "It was just a matter of seeing it in different situations. We're extremely excited about this season."
Offensive coordinator Bob Bratkowski admitted he wouldn't have called three touchdowns before the game, but said, " I really felt like he would play well because he's looked good in practice."
Quarterbacks coach Ken Zampese also felt Palmer would produce, but he too wasn't looking for any specific plays to prove it.
"He looked good getting back up off the ground," Zampese said. "That was important."
While the lights were still on in the stadium, there was a sense that the Bengals would be burning bright much of the season now that Palmer is back to run a very potent offense. Things seem settled now.
"I knew he would do his thing. He came out and showed what he could do," said Pro Bowl receiver Chad Johnson, who didn't have a catch Monday. "I'm sure he answered all the critics' questions and all the doubts that everyone had in their minds. We scored 34 in the first half. That is ridiculous. Imagine if we had the first team play the entire game. I need not say anymore."
Anderson saw it coming back at minicamp.
"It was settled the moment we saw him come back in June," Anderson said. "People were saying it was going to be a slow rehab, but when we saw what he was like back at that camp, we knew this team was settled."
But nothing like a little reminder.