Jack lets everyone at Atkinson West Holt Elementary know of his plans.
"Jason Hoskins: Welcome to Who Dey Nation young man, you're an inspiration to us all!!!"
--Bengals Facebook post, May 13, 2013
Like some of his fellow new Bengals, Jack Hoffman has finished up his classes and is enjoying the freedom of summer. And why not? He got high marks for that final assignment on the last day of first grade. Mrs. Kopecky asked her class at Atkinson West Holt Elementary what they wanted to do and to draw an accompanying picture. Like he did a few weeks before in the Nebraska spring game, Jack Hoffman came up with a big finish. "Some day I want to go to a Bengals game because my best friend Rex got drafted for the Bengals."
In the wake of his 69-yard touchdown run in the spring game in Lincoln, an Oval Office visit, and Cincinnati's drafting of best friend Rex Burkhead, Jack got the red-carpet treatment at the College World Series last month in Omaha as the seven-year-old continued his relentless swath against pediatric brain cancer on teamjackfoundation.org. That's where his buddy Rex is modeling a black and orange Team Jack shirt to raise money for the fight, awareness and cause.
"And he drew a picture of Rex scoring a touchdown," says Andy Hoffman, Jack's perpetually-amazed dad. "None of us ever mentioned anything like that, but there it was. It would be tough to get to just a practice and we don't want to be a distraction for Rex. So we're looking at the first home game."
Which means Jack Hoffman makes his Bengals debut Sept. 16 at Paul Brown Stadium in a Monday night ESPN game. And why not? His play has been nominated for the ESPY Moment of the Year.
"Kevin Bergfeld: Jack should lead the Bengals out of the tunnel for their first home game."
How about this for karma?
Jack is scheduled for an MRI Oct. 2 at Children's Hospital in Boston to determine if his punishing 60 weeks of chemotherapy has battered his tumor into remission.  Four days later the Bengals host the New England's Patriots.
In vintage Who Dey fashion, Bengaldom has welcomed Jack like an Anthony Muñoz pancake, an Ickey shuffle, or a touchdown by Adriel Jeremiah Green.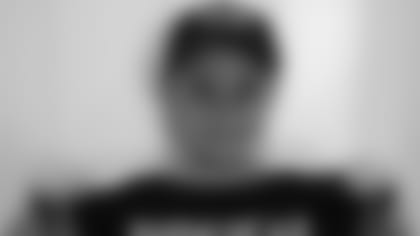 Jack proudly displays his new Bengals jersey.
Shortly after the Bengals took Burkhead in the sixth round, head coach Marvin Lewis penned Jack a note and sent along Burkhead's jersey. No. 22 in Nebraska is now No. 33 in Cincinnati.
"It was a very warm note; very heartfelt," Andy says. "He wrote to Jack, 'If you need anything, let me know.' It was such a warm reach-out from not only the coach, but the fans. We put a picture of Jack with the jersey and put it on teamjackfoundation.org and the Bengals Facebook page shared it and the comments were great. I'm a big believer in God making decisions for us. To me it seems like God wants Rex to be with the organization. It looks like a classy organization with classy fans."
The Facebook numbers: 3,062 Likes, 73 Comments, 192 Shares. Twitter – 128 retweets, 74 Favorites.
"Zachary D Sherer: I'm happy to see jack join the family GO BENGALS"
Jack's best friend is trying mightily to make the team, but for the Hoffmans this is simply an asterisk. Rex Burkhead, they believe, has already done a lot more than that.
"I've told Rex that when they find a cure for childhood cancer, he's going to be a big reason why; I truly believe that," Andy Hoffman says.
Burkhead's fight for a roster spot at running back, promising a classic camp scrum of veterans, rookies and rehabs, is a back story to his buddy Jack's long haul.
Go back to that day two Aprils ago when Jack went blank eating cereal before suffering a grand mal seizure that zapped his brain as his parents had to rush him from tiny Atkinson and its 16-bed hospital to Omaha four hours by road because the fog prevented helicopters from flying. When the fog broke halfway there, they were able to get him into the air and Jack has been fighting ever since.
He picked up Rex along the way. Back in September 2011, the doctors were telling the Hoffmans that a second brain surgery was life-threatening. So before they went back to Boston, the Hoffmans made arrangements for Jack to have lunch with his favorite Husker. Team Jack was born with Burkhead the midwife of it all. Burkhead's friendship with Jack and his commitment to the cause is now as much a part of Cornhusker lore as Tom Osborne's grace, Tommie Frazier's courage, and the tragic plane ride of Brook Berringer.
"Football in Nebraska is almost like air and water; it's a necessity," Andy says. "The way that the players and coaches embraced it shows you how much they respect Rex. The thing about Rex is, he gets it. He understands what we're trying to get out there."
One of the things that Burkhead gets is that the chemotherapy Jack took is five years older than him and he turned 23 last week. In fact, Andy says that over half of childhood cancer chemotherapies are at least 25 years old.
And 30 percent of children diagnosed with pediatric brain cancer die.
And over 50 percent of children that go through brain surgery end up with some kind of long-term side effect, such as walking with a limp or vision problems.
"It's something the nation has to know," Andy says. "It's not about Jack. It's about the disease. About getting money into the hands of the best researchers in the world so we can help find a cure for the leading cancer-causing death in children."
"Jeremy A. Williams: I'm with ya Jack. As a fellow lifelong Nebraska Huskers fan, I can't wait to get my Burkhead jersey as well."
A self-described "small-town lawyer," Andy Hoffman's drive to save his son has steered him to the front of an all-volunteer organization that has somehow wrung out $300,000 through donations, in large part, from the Team Jack T-shirts available on his web site. Coming soon are black and orange wristbands, replicas of the wristband Burkhead wore after he met Jack and then passed on to his teammates. Through the bowl game, scouting combine and rookie minicamp, Burkhead never took it off.
"We had orange and black ones made up for family and friends," Andy says. "There has been so much going on, so much to do; we just haven't had a chance to put it on the site."
It seems like ever since Jack took off on that 69-yard run, the one that earned a presidential summons, the Hoffmans have been off and running. The video is still going viral and it gives Bengaldom a good look at its newest acquisition.
Andy played on the offensive line growing up on a farm in the Nebraska border town of Spencer, population 500, and his brother walked on at Nebraska as a defensive tackle in the mid-'90s. So the family isn't used to having the ball in its hands. But when Jack took the fourth-and-short handoff from quarterback Taylor Martinez out of the shotgun and once Martinez gently steered him to his blockers, he looked like a natural cutting it back to the middle on the final 20 yards.
Here's a kid who wasn't even supposed to make it through his last surgery, or, at the very least had a good chance of having some awful side effect that prevented him from doing the simplest of tasks, never mind taking it to the house. And he was in the last stages of the relentless chemo.
Andy's scouting report on the newest Bengal:
"Jack has never played a down of youth football," he says. "He's got a high engine. He comes from a long line of lineman, but he knew what to do once he got it. I was so scared for him because there have been times his neuropathy has made him trip when he's walking. I told him to just focus on the little things when he's running and you won't trip. I'm so proud of him."
"Andy Hurst: Jack, if you and your parents make it to a game in Cincinnati this year you are invited to come and Tailgate with the Bengal Bomb Squad in Lot 1 Look us up if you make it."
Actually, Jack was in on the Bengals pick before nearly everyone else. As the final day of the draft droned on, he was standing with his parents in the Omaha airport waiting to board the plane to take him to visit President Obama.
"This tells you what kind of people Rex comes from," Andy Hoffman says. "I get a text from his father, Rick, about 30 seconds before. It says, 'Rex talking to the Bengals right now.' I was so excited. I yelled to Jack, 'Watch the TV, Rex is going to get picked. Watch the TV, Rex is going.' Since it was in Nebraska, there was this buzz going around the airport. It wasn't a big deal or anything like that, but it was special."
There was no draft day party or big spread, but it was a sweet moment just the same to cherish and that's how Andy sees Jack's friendship with Burkhead. No photo ops. Just buddies. He remembers one of those innocuous but poignant freeze frames just before the Huskers played Michigan State.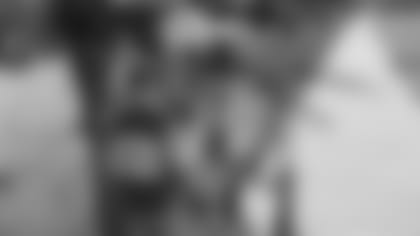 "It was two weeks after Jack's second brain surgery and he got a chance to be on the sidelines before the game," Andy says. "It was about 10 or 15 minutes before this huge Big 10 matchup and Rex basically put his hand on Jack's head and shook his hand."
Andy saw a picture of it somewhere and it since they've been spending a lot of time in Boston lately, it reminded him of the Ted Williams statue outside Fenway Park. Williams, the great Red Sox star whose commitment to sick children is as legendary as his .400 hitting, is holding a bat over his left shoulder while he places his ballcap on the bald head of a cancer-stricken child.
"I think their relationship embodies that statue," Andy says, and that's how the silhouette of Rex greeting Jack just before Michigan State became the Team Jack logo.
"On that plaque it tells about how Ted Williams was an advocate and a champion for kids with cancer. It just gives me chills. That's Rex. He's the embodiment of the character of Ted Williams. That's Rex Burkhead."
"Sean Whitford: Jack is the epitome of courage and is one of my heros for his fighting spirit. So happy to welcome him into Who Dey Nation!"
There is one more thing for the Hoffmans to do on this whirring checklist of life.
"We're switching from Dish Network to DirecTV so we can get NFL Sunday Ticket," Andy says. "So we can watch every (Bengals) game."