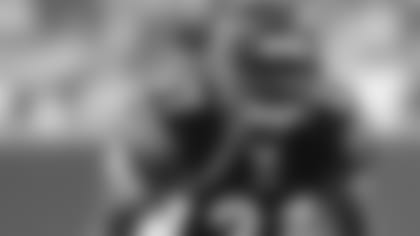 Bauman: Overcoming adversity
One of the most trying calendar years ever endured by a Bengals player quietly ended Friday morning with the brief but poignant announcement that cornerback Rashad Bauman had been named winner of the team's annual Ed Block Courage Award.
Usually the award is given to a player who battles physical problems, but this time the club saluted Bauman's struggle against an injury to his soul. Friday, somehow, was a year and a day since the awful Thanksgiving night Bauman's baby son died suddenly as a stricken group that included some teammates tried to help.
"My heart was hurt; it's hard to play with a broken heart," said a reflective Bauman before Friday's practice after quietly observing the holiday with his wife and their three-month-old baby. "But like I say, my dudes have been there for me. I'm just glad to be a part of it. I'd have to say there was more sadness than joy (on Thanksgiving)."
Bauman returned to a full practice Friday for the first time this week, the same day the Bengals unceremoniously cut safety Reggie Myles. Among a number of things, the move shows the confidence the Bengals have in a healthy Bauman on special teams.
Bauman couldn't play last week against the Colts after a freak walk-through collision the day before the game when he went down under a pile of a couple of players and emerged with a swollen knee. He was coming off a fine game in Baltimore in which he delivered drive-stopping tackles on two separate third-down plays, another milestone of sorts for him.
After partially tearing his Achilles' tendon in an Oct. 13 practice last season, Bauman didn't play again but he slowly worked his way back on this year's roster during a rehab that took up a big chunk of the spring camps.
       "He has been an inspiration to us, just seeing how he handled the loss of his son," said Bengals head trainer Paul Sparling in the press release announcing the award. "He came back, after having had his opportunity to mourn, in my eyes as a stronger, more compassionate, more caring person. He's an example to us all of how you should appreciate life as a gift and cherish every day of it."

The Achilles' injury came just as Bauman began to assert himself in Cincinnati. A third-round draft pick of the Marvin Lewis Redskins defense in 2002, Lewis picked up Bauman off waivers the week the 2004 regular season opened and worked him into the first four games as the nickel corner before he got hurt.
He didn't suit up the first three games this season, but he's played in five games since and looks to again be on the verge of asserting himself after his performance in Baltimore.
But last season's untimely injury and this year's freak injury were merely background noise as Bauman and his wife groped with the shocking loss of their son. Ironically, when the Bengals played a preseason game back in August against his old teammates in Washington, Bauman met them at FedEx Field after his wife gave birth during what is still a healing process.
It wasn't lost on Bauman that people noticed.
"That speaks for itself," Bauman said. "To be able to get through everything with my teammates, my coach, my family. It means they recognize we all go through things every day no matter the struggle. You don't know that everybody can feel your pain or what you're going through, but at the same time they do pay attention."
The Block award honors players who demonstrate commitment to the values of sportsmanship and courage for each of the 32 NFL teams. Bauman is to be honored with the other winners at a postseason banquet in Baltimore.
Bauman looks assured to play Sunday again against the Ravens with Myles gone. Unlike Myles, the Bengals like to use Bauman on defense, where they value the 5-8, 185-pounder's ability to be physical in the slot and the running game. The emergence of rookie wide receiver Tab Perry as a gunner on punt teams and Bauman in other coverage spots also made Myles expendable following his Nov. 17 altercation with defensive lineman Carl Powell.
Myles did have an excellent day in Baltimore in punt coverage three weeks ago, when the Bengals held B.J. Sams to one return. Sams is second in the NFL averaging 11.8 yards per return. Wide receiver Kevin Walter is also a gunner, and he'll have to play well to repeat the performance against Sams.
Lewis wouldn't comment Friday when asked if the fight with Powell, which came in full view of an open locker room media session, was a factor in Myles's release. But it's clear the coach has been frustrated at times dealing with the emotional Myles long before the incident. The most public display came in the second game of the season against Minnesota when Lewis grabbed him on the sidelines after Myles was flagged for a 15-yard penalty on special teams.
Some players said Friday that the Bengals locker room is full of enough veterans that they doubt Lewis cut Myles to send a message.
"It was probably one of those business decisions. In this league, you have to get used to that," said cornerback Keiwan Ratliff. "I don't think that a decision was based on (the fight), or else every guy who got in an altercation would be released and that's not the case."
Myles, who led the team in special teams tackles in 2003 and was second last year, wasn't as prominent this year. He's tied for sixth with seven teams tackles with kicker Shayne Graham. Myles joined the Bengals as a free agent out of Mississippi in 2002, and became one of the few Dick LeBeau special teamers to make Lewis's Bengals. With Friday's move, 14 players who were with the 2002 Bengals in some form are still here.
Another factor in the equation could also be that Myles is unsigned for 2006.