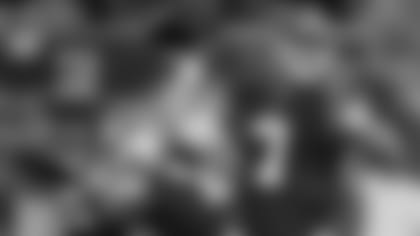 Matt Barkley at work for the 49ers.

Matt Barkley's deal to back up quarterback Andy Dalton seemed to be a foregone conclusion even though Saturday's two-year contract was struck as the first week of free agency wound down.

Bengals offensive coordinator Bill Lazor was the Eagles quarterbacks coach in 2013 when Philadelphia drafted him in the fourth round out of USC and Bengals receivers coach Bob Bicknell had the same job in Philly. When Bengals back-up AJ McCarron surfaced with a tight Achilles' one week last season, Barkley was one of three quarterbacks they brought in to work out before they decided McCarron was good to go.
Now after bouncing around the league the last four years, Barkley loves the idea of being in a system that has similarities with that scheme in Philly.
"Just watching tape last year of what Cincy was doing last year, a lot of it is familiar. A lot of the same things are going around the league," said Barkley, who didn't throw a pass last year sitting for a part of the season in Arizona. "What they're bringing as a staff and how they're putting plays together and creating mismatches, it's going to be a successful offense with all the weapons this team has."
All of Barkley's six NFL starts came with the Bears in 2016 and his one win came against Bicknell's 49ers, a 26-6 victory in which he didn't throw a TD or interception and rung up 97.5 passer rating on 11 of 18 for 192 yards. The next week Packers quarterbacks coach Alex Van Pelt, now the Bengals quarterbacks coach, saw Barkley lose a 30-27 shootout to Aaron Rodgers despite throwing for 343 yards on 30 of 43 passing for two TDs and three interceptions.
"We've seen him from all sides. We've been with him and we've been on the other side of him and he's not only the right fit as a player, he's the right fit as a good person," Lazor said. "When I had him I saw him play in live action at game speed. He can take the beating that an NFL quarterback has to take. Since I've left him I've seen him start and win games. Once guys have a chance to be a starter and they get that experience, their ability to learn and take in information accelerates because they know what it's like at real speed."

Barkley, 27, says he knows Dalton from various NFL QB get togethers and both do work at Dr. Tom House's quarterbacks camp at USC.
"We get along well and our wives are close, too," Barkley said. "It's a good room. It's a good fit."
The Bengals are hopeful that No. 3 QB Jeff Driskell, coming off a broken non-throwing arm, will be ready for training camp. The Barkley signing does open up the draft because theoretically now they don't have to draft the backup.
It's believed Barkley's salary cap hit for 2018 is about $1.4 million. He's played in the same number of NFL games as McCarron with 11 and has three more regular-season starts. His line of 159 completions in 266 attempts  for eight TDs and 18 picks on 7.2 yards per attempt and 59.8 completion percentage compares McCarron's 88 completions on 133 throws for a 64.7 completion percentage and 6.9 yards per pass with six TDs and two interceptions.
Barkley signed a two-year deal with the 49ers last March and was cut after the preseason when San Francisco opted for vet Brian Hoyer and rookie C.J. Beathard.