P.J. Dawson looks for snaps in Vontaze Burfict's absence.
The Bengals appealed Vontaze Burfict's three- game suspension but now that it's been upheld they're making an appeal to find an Opening Day WILL linebacker that replaces him for the first three games of 2016.
But they also need to replace Burfict in the nickel package on passing situations because in the last four games of last year Burfict played at least 86 percent of the snaps and he took every one in the Wild Card loss to Pittsburgh.
If he re-signs in free agency, the obvious leader-in-the-clubhouse is Vincent Rey, the man that replaced him the past two seasons during Burfict's comeback from micro fracture knee surgery.
Before Burfict came off the physically unable to perform list (PUP) last season, Rey started the first six games at WILL and in five of them either led the team or was second in tackles. Highlighted by 13 tackles against Seattle and 15 the next week in Buffalo, Rey, heading into his seventh season, helped the Bengals to a 6-0 start.
Even before the suspension they had deemed Rey a priority to re-sign but that's a question that still remains to be answered.
So after Rey that WILL backer spot is going to be hotly contested among an amalgam of veterans and youngsters and the guy may not even arrive until the draft.
But here is a look at the guys under contract that are going to compete:
P.J. Dawson: 6-0, 240 11 NFL games in first season, 0 starts. Even if they re-sign Rey, Dawson is the guy they're looking to take the big rookie to sophomore year jump and crack the lineup behind Burfict. A third-round pick from TCU in 2015, it's time to go after playing just 34 snaps from scrimmage.
As advertised, Dawson does show a knack for making plays when he plays. Even in a limited number of snaps, profootballfocus.com ranked his production 23rd among every 4-3 outside backer that took a snap last season and they believe he'll get better as he gets adjusted to the regimen of the league.
A.J. Hawk: 6-1, 240, 158 NFL games, 147 starts in ten seasons. Hawk just turned 32 and has one year left on his deal after playing in all 16 games with 11 starts at SAM last year. The kids are going to get a long look, but if Rey doesn't re-sign you've got a vet in Hawk that knows the scheme and can get you lined up. He took 27 percent of the snaps last season and PFF graded him 20 out of 35 4-3 outside backers that took at least 25 percent of the snaps.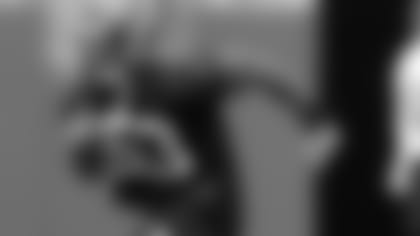 Marquis Flowers missed all last season with a shoulder injury.
Marquis Flowers: 6-3, 250; 16 NFL games, 1 start in two seasons. Flowers, a sixth-round pick in 2014, is another draft pick they need to come on after he missed all last season with a pre-season shoulder injury.
Flowers is one of the guys that got thrown to the wolves as a rookie when they suffered a devastating spate of injuries at backer that at one point claimed all three starters. His 71 snaps were pretty evenly split on run and pass and he showed some interesting athleticism that allowed him to do some things in space and they hope he retains some of that as he comes back from the injury. He played 10 snaps in his one NFL start at SAM.
Jayson DiManche: 6-1, 232; 29 NFL games, 1 start in two seasons. DiManche, a free agent out of Southern Illinois who played his first two seasons in the NFL with the Bengals before they cut him after last preseason, has returned after playing one game with Cleveland last year.
DiManche's lone start came at SAM in the middle of the 2014 cavalcade of backer injuries and he ended up playing 61 snaps that season after 47 as a rookie. But where he made his mark was on special teams, where he led them with 14 tackles as a rookie in 2013.
Trevor Roach: 6-2, 237 1 NFL game, 0 starts in first season: Last season Roach, undrafted out of Nebraska, showed enough on the practice squad that they elevated him to the active roster for the Wild Card Game when starting SAM backer Emmanuel Lamur (knee) went down in the regular-season finale. He took his first 23 NFL snaps all in the kicking game and looked like he belonged with one assisted tackle.
Jeff Luc: 6-0, 263; 0 NFL games in first season. Luc, who just signed with the Bengals, is a University of Cincinnati product that didn't last with the Dolphins in his rookie year.  But he showed enough in the preseason that Kevin Coyle, Miami's former defensive coordinator now the Bengals secondary coach, recommended the Bengals take a look at him. Luc did have 15.5 sacks in two seasons at UC.
And, Emmanuel Lamur: 6-4, 245; 39 NFL games, 15 starts, a free agent. Coming off the knee injury he suffered in the season finale, Lamur had two starts at SAM last season when he averaged 23 snaps per game and PFF ranked him No. 32 among the outside backers. He had 13 starts in '14 at SAM. His athleticism and ability to run with tight ends give them an option on passing downs.