In his debut Thursday night, No. 1 pick Darqueze Dennard looked like he belonged.
With one preseason game in the books, here is a look at the roster with how many players the Bengals traditionally keep at each position. (NFL years of each player in parenthesis):
Jason Campbell (10), Andy Dalton (4), Matt Scott (1), A.J. McCarron (R)
It's hard to remember the last time a first-team Bengals offense came out on its first drive of the preseason and kept the ball nine plays for a score. Certainly not in the Green-Dalton era.
Last year, Dalton was in on the first two penalty-marred drives against the Falcons that ended in punts. In 2012, the first drive of the year against the Jets was a three-and-out. And, of course, there was the rookie year of 2011 when Dalton's first snap was a pass to A.J. Green that got picked.
 But Dalton looked, sharp, didn't he on Thursday, hitting his first three passes? This year his first two passes to Green went for 62 yards, one a 53-yarder with Chiefs great Tamba Hali in his face.  He looks at ease in a new, wider pocket.
With Campbell getting dinged up (throwing arm) Thursday night and after cutting two receivers and a defensive tackle Friday, indications are the Bengals are mulling adding a quarterback. It's believed that Campbell isn't hurt seriously, but he could be out for a few practices and with only Dalton and Scott, they would need somebody else. Scott has become a folk hero by throwing up and then a throwing a touchdown pass in Kansas City. But he'll really vomit if he has to take all those practice snaps without Campbell.
They had planned to go with three QBs. Then McCarron showed up at camp with a recurrence of shoulder tightness, but it looks like he's not coming off PUP anytime soon and that the Bengals think he needs a long rehab. Whether that means starting the season with him on PUP (and not practice the first six weeks of the regular season), putting him on injured reserve for the rest of the year, or putting him on the final 53 remains to be seen.
If they keep only two quarterbacks, as they have ever since Dalton arrived, not only does McCarron get the benefit of extra rest and rehab, but they can go one man extra at another position.
Brandon Tate (6), A.J. Green (4), Dane Sanzenbacher (4), Ryan Whalen (4),  Marvin Jones (3), Mohamed Sanu (3),  Cobi Hamilton (1), Jasper Collins (1), James Wright (R), Colin Lockett (R)
Who are the three behind Green, Jones and Sanu? Tate, Sanzenbacher, and Wright all scored touchdowns Thursday night and Sanzenbacher had a nice night returning three kicks with a 29.3-yard average and had a 52-yarder wiped out on a hold by Wright.
Hamilton gets a lot of love for his work in practice, but he had a quiet opener Thursday. He looked like a bystander when Chiefs cornerback Sean Smith outfought him for a pass that turned into a 36-yard interception return for a touchdown and he had just one target and no catches despite playing 30 snaps. After he caught two balls for 20 yards and a touchdown, Wright, the seventh-rounder, now has two more catches than he had last year at LSU.
Wright and Hamilton both played six snaps on special teams, but didn't make the impact Sanzenbacher did on three returns. Tate let the first punt go over his head, but he atoned with a nine-yard touchdown catch moments later. Tate has been the punt and lick returner for three years, but his fate may be tied to how much they give others work, such as Sanzenbacher on kickoffs and Adam Jones on punts. 
BenJarvus Green-Ellis (7), Cedric Peerman (5), Giovani Bernard (2), Rex Burkhead (2), Jeremy Hill (R), James Wilder (R)
Tough cut. Hill, the second-rounder from LSU, looked as advertised with a strong six yards per effort on six carries. Burkhead pinballed to five carries for 21 yards and BenJarvus Green-Ellis isn't giving up with 19 yards on four carries. Burkhead also looked impressive on teams Thursday night. He's faster than you think.
Orson Charles (3), Ryan Hewitt (R), Nikita Whitlock (R)
Hewitt keeps playing like somebody who is going to end up here as either a fullback and tight end or both. He played both Thursday and had a total of 24 plays. Whitlock, who can play only fullback, is making the transition to offense and has dealt with a foot tweak. He played just six snaps Thursday, a number that would have him on track for the practice squad.
Alex Smith (10), Jermaine Gresham (5), Tyler Eifert (2), Kevin Brock (2).
Charles and Hewitt, classified as H backs, can also play tight end. Gresham (back) has yet to take a snap in practice, which is why Smith has an advantage.  They need to have a smart, willing blocking tight end like Smith if Gresham isn't always healthy.
LT Andrew Whitworth (9), T-G Will Svitek (9), G-C Mike Pollak (7), RT Andre Smith (6), T Marshall Newhouse (5), G Clint Boling (4), G Kevin Zeitler (3), C-G Trevor Robinson (3), G-T Tanner Hawkinson (2), C-G T.J. Johnson (1), G Trey Hopkins (R), C Russell Bodine (R), T Chandler Burden (R), G Dan France (R).
That backup offensive line held up pretty well against the Chiefs' talented first-team rushers. They think Bodine is going to get better, but he held up in his first shot. He had one bad snap and appeared to have trouble with one blitz. But they like how they were still able to run the ball against 350-pound nose man Dontari Poe and the other rookie, Hopkins, responded well at left guard in his start. He ended up playing the most of any Bengal with 56 snaps, or 78 percent of the plays, while Bodine played 46 percent. If you like to bet, Hopkins and Hewitt are the favorites to make this roster as undrafted rookies.
Maybe the most impressive guy was Svitek playing for Smith (concussion) at right tackle. Justin Houston didn't do much at all rushing the passer. Hali had more success against Newhouse at left tackle, but Dalton and Campbell got sacked a total of once.
A guy to watch is Hawkinson. When the last group couldn't figure out how to block Chiefs' No. 1 pick Dee Ford, the pass rusher, Hawkinson came off the bench after playing guard and shut him down at tackle. And that was in the toughest of conditions. Ford was in a groove, playing 75 percent of the snaps, and KC knew the Bengals were passing and Hawkinson was working on him one on one. Who makes the last spot here? Svitek has had a terrific camp and Robinson looks to be bouncing back from last year. With Pollak (knee) out the last week, how solid do they want to be at backup center?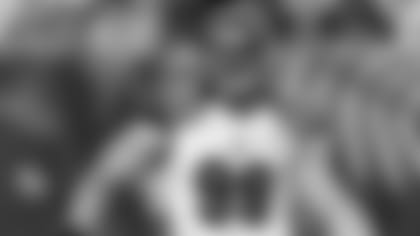 Margus Hunt bulled for a sack Thursday night.
*E-T Robert Geathers (11), DT Domata Peko (9), E-T Wallace Gilberry (7), T Geno Atkins (5), E Carlos Dunlap (5), T Devon Still (4), T Brandon Thompson (4), T Christo Bilukidi (3), T Larry Black (2), E Margus Hunt (2), E Dontay Moch (2),  E Sam Montgomery (2), E Will Clarke (R), T LaKendrick Ross (R), T David King (R).  *
 These guys are good. They'll probably only keep eight active on game day once the season starts, so that means Clarke may start out not dressing out, but he looked active Thursday night in his 22 plays.
Thompson keeps getting better and better. They expect Atkins healthy for the season, but Peko and Thompson are hard to run the ball on. An interesting battle for that fourth tackle spot seems to be shaping up between Still and Bilukidi, although Still's upside is hugely regarded. On Thursday night, Hunt appeared to show he's much better in Year Two. He had a major-league sack against veteran tackle Jeff Linkenbach, something he couldn't have done last year. Moch continues to be one of the most prolific preseason defenders in Bengals history. He came in with 6.5 career sacks in nine preseason games and on Thursday he had added another sack to go with a strip. But as in his last two years here, how can he beat the numbers?
Rey Maualuga (6), Vincent Rey (5), Vontaze Burfict (3), Emmanuel Lamur (3), Jayson DiManche (2), Brandon Joiner (2), Sean Porter (2), JK Schaffer (2),  Marquis Flowers (R), James Davidson (R).
The battle for the spots behind Burfict, Maualuga, Lamur, and Rey has yet to be joined with Schaffer (concussion), Porter (knee), and Davidson (unknown) not playing Thursday. Lamur looked a little rusty in the running game when it came to tackling, but he sure is fast. Flowers is also impressing them with how he can run. They may need to get some healthy bodies here. Rey ended up playing 36 snaps on defense and 17 more on special teams and he's not big enough to wear down early like that.
CB Terence Newman (12), S Danieal Manning (9), CB Leon Hall (8), CB Adam Jones (8), S Reggie Nelson (8), S Taylor Mays (5),  CB R.J. Stanford (4), CB Dre Kirkpatrick (3), S George Iloka (3), CB Chris Lewis-Harris (2), S Shawn Williams (2), CB Onterio McCalebb (1), CB Darqueze Dennard (R), CB Victor Hampton (R), S Isaiah Lewis (R), CB Lavelle Westbrooks (R).
Big battles here you would think for the sixth corner and fourth safety. As can be expected, Stanford is playing like a vet while the seventh-rounder Westbrooks is still trying to get his feet wet. Dennard continues to look like the real deal. In his first series he blitzed off the slot for a sack like he'd been in the league a decade. Kirkpatrick looks more comfortable than he did last year. McCalebb didn't play Thursday after not being listed among the scratches.
At safety, Manning is coming on as a veteran force and joins a fray where Iloka is trying to fend off him and Williams. Nelson is the unquestioned starter and they really like the niche that Mays has developed back there, as well as at nickel linebacker and special teams. Mays has value as the backup nickel backer.
SPECIALISTS: K Mike Nugent (10), LS Clark Harris (6), P Kevin Huber (6), K Quinn Sharp (1)
It looked like Huber put the 43-yard punt to De'Anthony Thomas where he wanted to, on the sideline, but needed more help on the 80-yard TD return. What are the odds his last two punts have gone for TDs? But Huber appeared to be back in form coming back from his broken jaw and put one of his four punts inside the 20. Nugent is responding to Sharp's challenge, hitting all his kicks Thursday that included all three of the new 33-yard extra points.