Richmond's Kyle Lauletta went big time as Senior Bowl MVP.
INDIANAPOLIS - Alex Van Pelt has been here before in Saturday's throwing session at the NFL scouting combines looking for a back-up quarterback.
In fact, Van Pelt, the Bengals' new quarterbacks coach, was in the second group 25 years ago watching Washington State quarterback Drew Bledsoe throw enough rockets to stake his claim as the draft's No. 1 overall pick. Van Pelt went 215 picks later in the last eighth round ever and hung around long enough as a backup to back up Bledsoe in Buffalo during his ninth and last season in the pros.
"This is more of a fundamentals, throwing mechanics observation for me than anything else," said Van Pelt Saturday, in between the two throwing sessions at Lucas Oil Stadium. "It's a good place to start when you go to the tape."
And make no mistake. They are looking for a backup quarterback and not a successor to Andy Dalton Both head coach Marvin Lewis and offensive coordinator Bill Lazor made that clear this week and Lazor went as far to say he's looking to take Dalton out of his comfort zone by changing up the way the coaches teach it.
"Start from day one, clean slate, even if it's something we've done exactly the same way Andy has been doing it," Lazor said. "The first day we're going to teach it as if it's brand new. Start everyone fresh. Some teams do it every offseason. There'll be some things Andy has had success doing that I'm going to keep, but let's teach it fresh to get him out of his comfort zone."
Lazor is crafting the line that at age 30 Dalton has yet to reach his prime as an NFL quarterback and that should be the push this offseason. So barring an epic slide in rounds one or two, you figure the Bengals are going into the last day of the draft seeking a quarterback in the effort to replace backup Andy Dalton.
By then they should already have a veteran in place who figures to have some kind of ties to Lazor with the chief suspect Matt Barkley.  And they should have a better idea of the status of No. 3 Jeff Driskel's broken non-throwing arm.
So maybe they don't draft one, but Bengals director of player personnel Duke Tobin says there should be some good ones through the seven rounds and maybe you can start with the fifth.
That's where the Bengals took Alabama's McCarron in 2014 to back up Dalton and the Packers took UCLA's Brett Hundley in 2016 to back up Aaron Rodgers with Van Pelt as his quarterbacks coach.
"Brett is developing but he' still got some upside there," Van Pelt said.  "He could extend plays, he could throw on the run well, he used his legs, made guys miss, created. He could throw from the pocket and he played a lot of games with a lot of attempts."
That's a good road map for this draft. It figures that Van Pelt, who broke Dan Marino's records at the University of Pittsburgh, is looking for experience. He threw nearly 1,500 passes during four seasons for the Panthers.
"If a guy throws the ball over 1,000 times, he made a lot of decisions. The experience is valuable," Van Pelt said. "I feel better about a guy that started three years than a one-year wonder."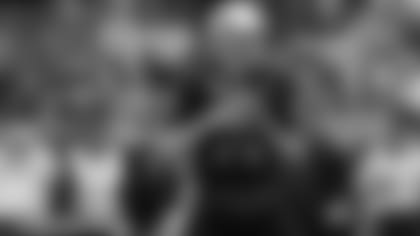 WKU's Mike White has varied experience.
The combine is a microcosm of what Van Pelt is going to do the next six weeks when he visits campuses for more in-depth visits. He's checking out their mechanics, foot work, accuracy, decision making and, maybe even more importantly, their film study.
The Bengals probably had some of the QBs signed up for chunks of their 60 15-minute formal interviews this week, where the coaches have the cutups on hand and put the prospect's video on the screen.
"You treat them like you're coaching a room full of players,' Van Pelt said. "Tell me about your formations, what your read is, your concepts of the route. You get to know how much they're involved in their system."
Unlike pretty much every position at the combine (except kickers and long snappers), QBs can give you a sense of how good of passers they are here. Van Pelt remembers scouting Jimmy Garoppolo here in 2014 and being impressed right away with his arm strength and quick trigger. From the time Garoppolo began his delivery until the ball left his hand, it was big league.
 "You can tell accuracy," Van Pelt said. "Are they accurate or are they spraying it around? He's not throwing it to (familiar receivers), but neither is anybody else."
One guy whose accuracy who showed up on Saturday was Wyoming's Josh Allen, projected a top ten player as one of the four best quarterbacks.   As Allen showed off his rocket arm it drowned out the critics' concern about his 56 percent passing in school.
But, "He was the best of his group," from what Van Pelt could see.
Also in that group were Western Kentucky's Mike White and Richmond's Kyle Lauletta, guys that may hit the Bengals where they need it.  Both pass the experience test with White a starter at both South Florida and WKU. Lauletta, recruited by just two FBS schools when a high school lacrosse injury hobbled him, went 24-12 during a career Patriots head coach Bill Belichick supposedly called him his dream quarterback.
Now the comparisons to Garoppolo, another small school guy at Eastern Illinois, are going through the roof.
"He's obviously an FCS guy. He has quick feet. He's accurate. He's an outstanding leader from the soundbites I've seen," Lauletta said this week in his media availability. "As a QB you have to be a great communicator, and Jimmy is a great communicator. It just seems like he has a mojo to him, a little bit of a swagger to him that is infectious. He's a player I'd love to model my game around."
Van Pelt has no problem with the small-school guys.  
"I don't let that play into how I feel about guys," Van Pelt said. "You take it into consideration, but it's not a weighted factor by any stretch. At the end of the day it comes down to arm strength, mechanics, decision-making required at this position. You have to have arm strength, make good decisions, and you have to be accurate. That's the same everywhere."
This gallery features photos of current Bengals players at past NFL Combines (AP Photos)