Leonard Fournette: his own style.
INDIANAPOLIS - The way it's going, the Bengals aren't going to have to make a call on LSU running back Leonard Fournette because he'll be long gone by No. 9.
The Jags at No. 4? The Jets at No. 6? The Panthers at No. 8?
As Fournette addressed the media Thursday at the NFL scouting combine, he appeared to have all the momentum of one of his bull-strong runs for the Tigers that claimed his ankle and make some wonder how long he'll last in the NFL.
"It's a God (given) ability," Fournette said. "It's something I work on in practice. My motto is 'Never let one man take you down.' That's my whole purpose."
Of course, what the Bengals' purpose is another matter. The stock of running backs around the league seem to bounce wildly from year to year, ranging from diminished  to valued.
Bengals director of player personnel Duke Tobin thinks the cycle is based mainly on talent and not X-and-O trends. If there are backs that deserve first-round grades, such as Fournette and Florida State's Dalvin Cook this year and Ohio State's Zeke Elliott last year, they'll get drafted high. If not, they wait until the second round.
"It's like anything," Tobin said. "If the player is good enough, he warrants the pick no matter what position. There are players in this draft that are good enough and warrant the pick."
But there's no question that taking a back so high runs counter to the culture of the Bengals
In any era. They've only drafted one back higher than No. 9,  the star-crossed Ki-Jana Carter at No. 1 in 1995. They've drafted only three others in the first round, Archie Griffin with the 24th pick in 1976, Charles Alexander with the 12th pick in 1979,  and Chris Perry with the 26th pick in 2004.
Carter (227 carries) and Perry (177) were so banged up they didn't gain 1,000 yards in their careers. Combine the career yards of Griffin (2,808) and Alexander (2,645) and the 5,423 are barely more than 1977 second-rounder Pete Johnson's 5,421 , fourth on the all-time franchise list and less than 2001 fourth-rounder Rudi Johnson's 5,742, third on the list.
If you're looking for a running back pick for the Bengals, try this year's No. 41 in the second round. In any era.
From 1988-90, the Bengals went No. 31 with Ickey Woods, No. 35 with Eric Ball, and No. 38 with Harold Green. The Bengals all-time rushing leader, Corey Dillon, was No. 43 in 1997.
 In the last 14 seasons under head coach Marvin Lewis they've taken a running back in the second round three times and that includes their current backfield of Giovani Bernard (No.  37 in 2013) and Jeremy Hill (No. 55 in 2014).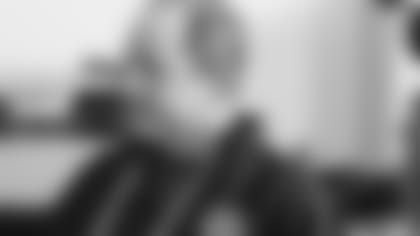 Bengals offensive coordinator Ken Zampese sat down in Indy to talk 2017.
But they are talking a long look at the 6-1 Fournette, who showed up here at 240 pounds but assures his playing weight can be anything from that to 225 pounds and still run what he predicts will be a 4.4 40-yard dash.
 "(Backs) are found all over the place, but there is a reason guys get picked before others. It's not 100 percent, but there are reasons," said Bengals offensive coordinator Ken Zampese during a break Thursday at the combine. "Because a team thinks he can be a starter and tote the ball and withstand punishment and be an explosive player."
When the Bengals drafted the 230-pound Hill, it was seen as a return to the big back days of Pete, Rudi and Corey. Now with Hill struggling, here looms his LSU big-back ancestor. But Zampese isn't too much driven by size.
"Doesn't make any difference to me. Only thing that matters is production of that guy in the offense that you are trying to run," Zampese said. "What you are trying to run goes right into the skills of the players you have in it. If a guy can be productive and be an above-average player, I'll take any kind of guy. Doesn't matter. We are flexible. Whatever guys you put into the system, the system adjusts to them. "
If anything, Zampese is looking for speed and versatility and Fournette has decent enough hands to do what the Bengals want.
"I'd like to have a guy that has a receiver element. Along with being able to tote the ball and be a four-plus a carry type guy that has the breakaway speed," Zampese said. "There's a lot of combinations. Guys that break tackles, there are smaller guys, you'd like to have combinations of that, but you would like to have a guy that can break tackles as well for your sets and be multiple that way. "
A theoretical drafting of Fournette would no doubt alter Hill's role, but everyone in the brain trust has endorsed him and Zampese put in his two cents worth Thursday. He knew Hill fought frustration last season in a year he played through injuries. The kid who racked up more than 1,100 yards as a rookie on 5.1 yards per carry, hasn't broken 3.8 since.
"I can't wait to get him back and work with him again. I know he's in a great frame of mind because we've talked about it," Zampese said. "I'm really excited to see him come back and work and where he's at, mentally, physically the whole bit. I think he can really make big strides … Frustration comes from production. And we didn't have the production we need from that spot over the long haul of the season. So, there's frustration there. I am confident in him coming back in the right frame of mind to do better because he wants to. He's the right kind of kid. I'm looking forward to seeing that.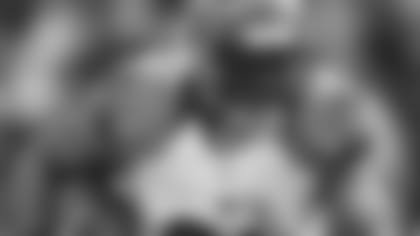 Before Fournette, Jeremy Hill ran LSU's pro style plays.
"He was healthy in '15 and (in) '16 numbers were identical. That's what he's shown," Zampese said. "The first year we had him he was probably fresher because he didn't play until about halfway through the year. I think we had some success with styles of runs that fit him that were the first time we showed those runs. We got some big, big pops that year and got confidence going in a particular style and some things worked out well."
About all Fournette knows about Hill is that he comes around campus and says hello. It gives you a window into Fournette's curious personality. He not only doesn't watch his fellow big back on old LSU tape, he's never watched anybody.
"It's a brotherhood at LSU. Just like Jeremy and Joseph Addai, any former RB who played at LSU. They always come back, talk to us, give us their number,
any advice we need, just call them," Fournette said. "I don't watch anybody play. I like watching the game. I don't analyze nobody. Everybody has a different running style. Everybody is different."
And that goes all the way back to growing up in New Orleans.
"As a kid, that's just who I was. I didn't watch anybody," he said.
That probably includes BenJarvus Green-Ellis, a New Orleans native who was the last Bengals back to have more than 250 carries in a season in 2013. Fournette would  get a lot more than that. And if that means reigning in his take-them-all-on running style to survive the rules and punishment, he's all in.
"You don't want to take all those licks any way. You want to last," Fournette said. "You want to help your body out, run out of bounds sometimes, being smart about things."
We'll see what the Bengals think is the smart move. History would say the back is coming after nine.