---
---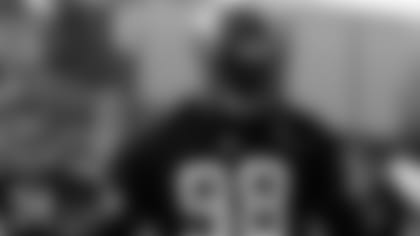 Robinson: Back to end(Bengals photo)
GEORGETOWN, Ky. - Bryan Robinson has seen the future and it's him.
Well, actually Frostee Rucker, the Bengals third-round pick that reminds Robinson of an undrafted free agent out of Fresno State 10 seasons ago.
"One of the things that helped me out to make the club and play so long is that I was a technique guy and he's like a technical guy," Robinson says. "Hands. Footwork. Plays inside and outside. He has a frame where he has room to grow and get bigger if that's what they want him to do. He's one of those guys that will put in 10 or 12 years easily."
It's the morning of Friday's intrasquad scrimmage and Robinson is smiling because the offseason move along the defensive line from left tackle to left end may very well extend his own career that is now at 10 seasons at age 32. When he got the word back in April that the Bengals had signed Pro Bowl tackle Sam Adams and he was returning to end, the position where he had enjoyed his best seasons with the Bears, Robinson immediately sensed the long-term possibilities.
"Hallaleuah, are you serious? They get Sam, that's good, and I can go back out to end. That's even better," says Robinson of his thoughts then and now. "Physically, it's a load off playing end. I'm praying it will add a couple of years if they decide to leave me out there."
Robinson is a keeper anywhere because he's tough, committed and versatile, not to mention a superb presence in the locker room. He missed the last six games of the season because of a dreaded foot injury known as the "Liz Frank." It's not a fracture, but it's a severe sprain in a tender and difficult spot. Yet Robinson never folded his tent and went home.
Even though he was on crutches and a cast for nearly seven weeks, he kept grinding through rehab so he could be around for the playoffs and he ended up starting and taking about 20 snaps in the Wild Card game. It took its toll, and he still has good days and bad days, but he was ready when the bell rang.
"I had a really grueling offseason of rehab to try and get back out here," he says. "We got a couple dogs down. I've got to do what I've got to do. Just try to keep the crew together, because we have some young talent on this team and try to keep it going.
"Everything had to be built back up. The legs, the quads. Not just the foot. The foot was injured, but everything else gets weak."
Robinson made his biggest mark in the league as an end for the Bears, where he started 48 straight games at left end and played three positions in 2002 before ending his run in Chicago starting every game at right end in 2003. No question, he says, his best years were at end. But then came a one-year stint in Miami at tackle for the No. 8 defense in the league in 2004 before he arrived in Cincinnati for another year at tackle in which his addition vastly improved the run defense.
"I'm still trying to get used to being out there," Robinson says. "They have us dropping back in coverage. Moving from tackle going back to end and backing up, you hate to back up. That's another reason I'm trying to get some weight off so I can loosen my hips and get my footwork working and quick feet. Like I said, it's training camp."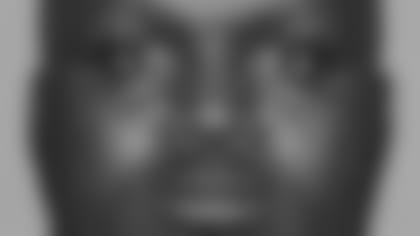 Robinson won't exclusively be an end. He'll go inside on passing downs to make room for pass rushers like David Pollack, Justin Smith and Robert Geathers, which is why he'd like to drop just a few pounds to 290 so he can stay big enough to handle tackle.
He finds the media buzz about switching from a 4-3 defense to a 3-4 quite curious because no one from inside the club has mentioned such a switch even though head coach Marvin Lewis told the media back in April the draft would dictate the decision.
When the Bengals got Rucker in the third round out of USC instead of North Carolina State linebacker Manny Lawson in the first, staying with the 4-3 looked secure. But there is something to be said for versatility in showing the 3-4 out of a 4-3 base, and the Bengals may have that in Rucker if he turns out as good as linemates Robinson and John Thornton say. At 270 pounds, Rucker has shown pop both at tackle and end, although he'd have to beef up a lot more than that to be a 3-4 end.
"I know he's well coached," says Robinson in what is truly a small world.
Rucker's line coach at USC, Jethro Franklin, a former Oilers and Seahawks defensive lineman now at Tampa Bay, coached Robinson at Fresno State.
With Thornton (hip) possibly out of the intrasquad scrimmage and Adams working with the strength coaches, Robinson is going to be holding the fort with the kids like Rucker and fourth-round tackle Domata Peko, another pick Robinson says will be around for a long time.
"I can't wait until (Adams) gets out there," says Robinson, who got a load of Adams' workload Thursday. "He's definitely working his tail off. He's not sitting around eating Krispy Kremes."