Darrin Simmons helped Marvin Lewis turn it around.
Darrin Simmons smiled. The gray hair is creeping up his sideburns like Kevin Huber in the NFL punt rankings. When he arrived with Marvin Lewis in Cincinnati in 2003 he was a few months shy of 30. When they coach their 247th game together Sunday (4:25 p.m.-Cincinnati's Channel 12) in Baltimore he won't be shy about his priorities.
"Really. I'm only focused on beating the Baltimore Ravens," Simmons says after practice one day this week. "That's the only thing I can worry about. All the other stuff is out of my control."
It hasn't been an easy couple of weeks to do the one-game-at-a-time bit for anyone around Paul Brown Stadium. Not since Lewis had to deny reports for the last two weeks that he's reached a decision ending his 15-year run with the Bengals after Sunday's game.
Simmons and defensive coordinator Paul Guenther figure to be the assistants with the best shots at replacing Lewis if A) Lewis leaves and B) they choose to replace him with someone inside, making one of them the sixth Lewis assistant to become a head coach.
"It's all speculation," says Simmons, when asked if he expects to be interviewed. "That's not for me to say."
No one ever hires a special teams coordinator to be head coach, right? At the very least you have to make him coach something else for a year or two to make him legit, right? It remains one of the great mysteries of the NFL today.
You'd think special teams coaches would be first on the list considering the greatest coach in the 21st century, New England's Bill Belichick, cut his teeth on special teams. Or that the one guy that made the leap, Ravens head coach John Harbaugh, is one of the most successful coaches in the game today. The nerdy kicking game guys, Belichick and Harbaugh, lead the world in play-off victories with 11 and 10, respectively.
"There's the stigma that we don't know that much about offense or defense," Simmons says. "But at the same time a special teams coach deals a lot with the entire team and game management and I think that's a lot of what a head coach does."
Maybe the most important thing a head coach has to do is establish a culture and Simmons has been here since the creation of Lewis' textbook transformation that changed the Bengals from the Paul Brown Stadium Spa and Health Club to an AFC North factory.
But not only that, he's watched Lewis, working with Bengals president Mike Brown annually tweaking it.
It began in '03 when Lewis started serving breakfast and using security at training camp. A few years ago they expanded the weight room and installed a full-service cafeteria. In 2012 they opted to keep training camp at PBS instead of taking it off site.
"Everything," Simmons says. "From the weight room to breakfast. It's about quality of life. This job is hard enough day-to-day. It's the kind of thing that attracts free agents. It advances our legitimacy. It's something that Marvin and management have done a great job getting done."
Simmons was a big proponent of staying at home at training camp. The coaches' offices stay intact and video director Travis Brammer doesn't have to move what is now basically a network studio instead of what used to be a few boxes of tapes and VCRs.
"It's the way we practice now," says Simmons alluding to the stream-lined practices of the CBA. "You used to go away because you would tear up your fields. Now training camp is so short and you only practice once a day, it's like the regular season. I think it's been great."
So he's been there done that and his players swear by him. He thinks what has transpired over the past 15 seasons is an object lesson in how stability aids franchises. He never dreamed he'd see his 44th birthday in Cincinnati but he can also see how he got here.
"It's worked out well for both sides," Simmons says. "Both for us and for them. It just goes to show you the continuity to put good people in good positions in both the coaching and ownership levels can work over time. Teams that stick to it and keep working to get better at it, that stands the test of time and not flash in the pans."
And while Lewis changed the team culture, Simmons changed the kicking game. By 2003, the Bengals weren't considered seriously and one of the reasons is because they never seemed to put a premium on special teams. Go back to that 3-13 season of 1994 and the only coach that got fired was special teams' Marv Braden after the three wins came on walk-off field goals.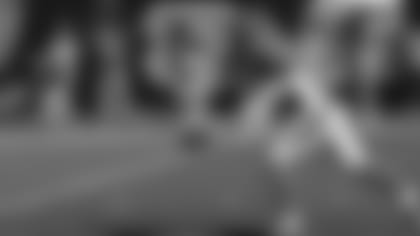 Kevin Huber: Simmons' senior man.
When Rick "Goose," Gosselin of The Dallas Morning News compiled his annual special teams rankings that serves as the league's Bible in the kicking game, the 2002 Bengals had one of the worst seasons in NFL history when they allowed four return touchdowns. It was said they didn't have a traditional special teams playbook that season.
Now look. In the last six seasons Simmons' crew has allowed just four return TDs and in three of the previous five seasons they've had three top ten finishes in the Goose's rankings. And back in April they traded up in the draft for just the fourth time in history when they moved in the sixth round to grab University of Houston safety Brandon Wilson, projected as a special teams maven.  
Simmons, one of the most superstitious people who has lived since the Middle Ages, can't talk about tomorrow because starting at him today is Harbaugh himself and those steel-belted Ravens in the kicking game coached by Jerry Rosburg. They've had three top five Goose rankings in the previous five seasons and they're headed there again leading the league in kick returns and second in punt returns.
"I wish we were talking about the last three games and what we have to do Sunday," says Simmons instead of all these future interviews.
That's because Sunday could cap a terrific stretch for his young patch-work group after a grim opening to the season. Three weeks ago against the Bears they held dangerous Tarik Cohen and his No. 8 punt return team to seven yards on two shots. Two weeks ago the Vikings' Marcus Sherels got loose for 16 yards but they held his No. 5 return team to just 41 yards on five shots.
And last week they held the Lions' No. 1 punt return game to four fair catches with a pair of emerging gunners in Wilson and first-year cornerback Tony McRae. Wilson was on the practice squad two months ago and McRae a month ago. When Lewis opted to go with more DBs with Matthew Stafford in town and use just five receivers, which cost Cody Core an active spot. Since Core is one of his core players and a starting gunner, Simmons had to juggle but that's why he's seen as one of the best in the league.
"We're young and we have to get better," Simmons says.
But not as young as they were two months ago when they were enduring their toughest stretch ever under Simmons. The Steelers pulled off a big pass on a fake punt. They had a field goal blocked, a punt blocked, and a punt run back for a TD. They seemed to get past all that but even last week rookie defensive end Jordan Willis ran into the punter on a play that could have turned the game.
"They've evolved and matured," Huber says. "The future is bright. With the injuries you've got a lot of guys that played more snaps than they usually would have." Huber, the kicking game's senior man with nine years in, is all in for Simmons finally getting an interview in the league.

"I don't see why not," Huber says.  "I think special teams coaches are pretty undervalued as far as game management and all the things they deal with like punt teams and punt return. There are so many different phases. And then on Game Day the head coach comes up and says this guy is up, this guy is down. Change on the fly. "I think Darrin does a great job with that. When that time comes, Darrin has an answer for everything. Cody has been the usual gunner, but he was down and Tony was ready. He was prepared he did a great job and he played fast."

Simmons won't talk about the injuries and the youth and there have been plenty of both. They probably won't make the Goose's top ten but Simmons is building off this last month.

Of his five top tacklers from last season, three went elsewhere and only second team Pro Bowl alternate Clayton Fejedelem is back there, moving from a tie for fifth to first.  Last year he was the only rookie that had more than one tackle on teams. This year three of the top five tacklers are rookies with tight end Cethan Carter third with eight, Wilson as advertised with five in seven games, and linebacker Jordan Evans tied for fifth with Core at four.
"Usually you've got more linebackers than that but we've been hurt," Simmons says. "They've been playing and I haven't been able to use them much. But we've really gotten good production from the tight ends. Our second and third tight ends have been really good. C.J. (Uzomah) is second and Cethan is third. They've really picked it up for us."
Plus, he's quietly getting a solid bounce-back year from Huber, second in the NFL with punts inside the 20.
"He hit a lull in midseason but he's had a good year and he's really done a great job the last couple of games controlling the returns," Simmons says.
That's about all any of them can control Sunday.
"Right now," Simmons says. "It's the Ravens."