Marvin Lewis likes the looks of Vontaze Burfict's California rehab.
PHOENIX, Ariz. - The Bengals continue to be an oasis of stability in the stormy NFL. As evidenced by head coach Marvin Lewis' appearance at the AFC head coach's breakfast Tuesday during the owners' meeting at the Arizona Biltmore.
Behind Lewis' table sat new Bills head coach Rex Ryan predicting no snow in Buffalo next year. Well, maybe he didn't go that far.  But with Rex, you never know, and there was an Obama-like media contingent huddled around the bacon and eggs just to make sure.
Next to Lewis' table sat Baltimore head coach John Harbaugh, enduring more character questions spurred by last week's DUI release of running back Bernard Pierce as the number of recent Ravens' arrests kept pace with starters lost in free agency.
A few orange juices down, Steelers coach Mike Tomlin refused to answer questions about the status of a franchise great, safety Troy Polamalu, as they silently wish he retires into the ring of honor. That came a day after the local media probed him about the loss of Dick LeBeau, the only defensive coordinator the Ben Roethlisberger Steelers have known.
Three slices of bacon away sat Browns head coach Mike Pettine trying to justify a world where his first-round quarterback is about to walk out of a rehab facility into the bright lights of Hard Knocks.
And even though he won his fourth Super Bowl less than two months ago, Patriots head coach Bill Belichick had to take the questions about his disappearing secondary now without cornerbacks Darrelle Revis and Brandon Browner. A reporter wandered over from the Belichick table to ask not so much if Lewis thought the Patriots were a lesser team, but if he'd rather play them now.
"Well I don't play them (this year) so I don't have to worry about that," Lewis said politely. "They play Pittsburgh so I wish they were there." 
So the talk at the Bengals table was purely football.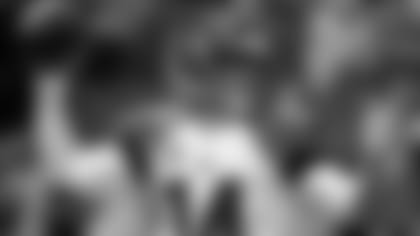 The Bengals continue to stand up for Andy Dalton amid the questions.
The return of Michael Johnson and his impact on the defensive line helping players like good friend Geno Atkins:  "Michael helps with all of those guys."
The heartwarming return of defensive tackle Devon Still and the hope he'll re-capture his Big Ten Defensive Player of the Year form in his fourth season:  "He's never been able to show. He got hurt with the elbow a couple years ago when he was really playing well as a young guy in that rotation. Sometimes you face monumental adversity. You push over it and you are better from the other side….Mike (Brown) was very committed to make sure we did everything we could to keep Leah taken care of." 
 The prospects for Pro Bowl Will linebacker Vontaze Burfict coming off microfracture knee surgery and his rehab siege at home in California: "We have to feel positive about what's going on with him. He's committed to do the work and get after it because he wants to be back out there and playing. ..We've done a good job of keeping eyes on him there. He feels really good about the people he's working with there under the direction of the doctor. That's one of those, it's a situation where he has to really feel great about the people he is working with so we've done a good job of trying to incorporate both us and them together in a joint effort." 
The addition of veteran Packers linebacker A.J. Hawk: "We're really gaining a guy that s been very productive, he's excited. I think he's great for the defensive huddle. I think he's great for the team. His enthusiasm, his ability to learn, to grasp the game plan. I think we have some areas we can help him improve in to help us be better on defense. We can help him and he can help us."
Even Bengals president Mike Brown's pronouncement earlier in the week that he won't discuss an extension for his head coach in the last year of his deal until after the season didn't move the needle. Lewis' response to the question at last month's NFL scouting combine ("It will take care of itself") seems to carry the subject.
There are storm clouds ahead with a dozen starters and regulars heading into their contract years, about the time quarterback Andy Dalton's contract balloons into elite numbers. But Lewis says that doesn't make 2015 make or break.
"I don't think the window is closing," Lewis said. "It's an important season for everyone. We've got a lot of young, ascending players who want to raise their level of play, which will raise the level of our team and that's important."
The one hint of controversy invaded the table at the 36-minute mark of the 66-minute session, according to Cincinnati Enquirer sleuth Paul Dehner Jr. And, of course, it involved Dalton, the one subject that inflames the national media and raises the Bengals' defensive hackles all in the same flashpoint.
"Any discussion inside the building about bringing in competition for Andy Dalton? Why not bring someone in to compete?" came the question.
"What team in the NFL has had a quarterback competition and it's worked?" Lewis wondered.
"Well, how about the 49ers with Steve Young and Joe Montana?"
"There was no competition.  They let Steve play and moved Joe on."
 "Is Andy Dalton the best you can get at quarterback?"
"We feel Andy Dalton is our quarterback. Yes, we do. We do. It's a different era than when Steve and Joe there," Lewis jousted. "We signed Andy long term. We committed ourselves to Andy long term and now we feel really good about him and he will continue to get better with the pieces around Andy. Andy has done a lot of things not a lot of people have done. We have to keep playing better around him and that will be helpful to Andy. "
"Were you satisfied with his season last year?"
"No, we aren't satisfied with the season. "We didn't win the Super Bowl."
In fact, Lewis said they felt like Dalton played well in the Wild Card loss to the Colts, even though he has thrown just one touchdown pass in 16 post-season quarters.
"What's worried me is our poor performance on defense in the playoffs," Lewis said. "You look at how we've played on defense.  We haven't played good enough. Andy had a bad game against San Diego. A bad second half two years ago. The other games it's been split evenly. We do know, in order for us to be successful, which we can't even talk about the playoffs because we haven't gotten there, but the first thing we do, we have to take care of the ball and play better on defense. "
It always comes back to stability. Lewis takes pride in the fact there has never been a doubt who has been his starting quarterback in his 13 seasons on the job. He only has to look at Cleveland in his own division and several outside it like the Jets, Oakland, Tennessee, and Buffalo, teams the Bengals have passed in the AFC race during Lewis' run because of the instability of their quarterback situations.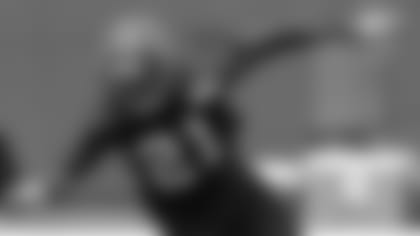 It sounds like Lewis wants Darqueze Dennard to start.
But Lewis knows he's walking a narrow line between complacency and stability.  Even with no major shakeups in coaching or the roster, he has been preaching this season won't be a return to the status quo.  
 "We've already went through this part of the offseason and it just wasn't get this guy healthy, got to get that guy healthy," Lewis said. "No, we have to find a way to get better. By adding Michael back and A.J. we've added two players that hit us in areas we needed to be better, where we felt like we weren't as good as we needed to be and I think we'll continue down that path as we go the next couple of weeks prior to the draft, as we go through the draft, and possibly after the draft to keep trying to find people to uplift us. And how we're doing offense, defense, special teams, how we approach the season in every way."
With Packers coach Mike McCarthy heading into his 10th season, the Green Bay media checked in at Lewis' table. No. 1 to talk about Hawk. No. 2 because Lewis and McCarthy are Pittsburgh guys who have coached together and talk often. They wanted to know how Lewis keeps it fresh despite so many years in one spot. McCarthy spiced it up after this season when he gave up the offensive play calling.
"You have to keep changing. You have to keep revamping, trying to do things differently, keeping it fresh for certain principles you feel good about," Lewis said. "You have to keep pushing to do things better. They went through a transition in Green Bay that was very positive. I've read a lot about it. Mike and I have talked a lot about it. (Packers CEO) Mark Murphy and I have talked about it. I've talked to A.J. about it. I think that's something we're all looking for; a way to coach the team, handle the team differently, train the team differently, how you practice, how you meet, and we've been through some transitions that way at our place. So it's been helpful and I think it's important that we re-start again this year. That's been our charge this whole offseason. Not to stay status quo."
Lewis is banking on the multi-million dollar renovation at Paul Brown Stadium to help with that. By the time the players show up for the April 20 start of the offseason, the new weight room that is 40 percent bigger than the old one is going to be on line, as is a 50-yard indoor turf field. They'll give rise to a new routine and new schedule.
(The new cafeteria and players' lounge are set to be ready for training camp.)
 "We've been a little bit squeezed for time because of the limitations we've had in some areas. I'm anxious to get back now that everything is taking shape," Lewis said. "The full-service dining room. All those things make it a better atmosphere for our players and it was always pretty good. Now we make it better, now we're 24-7.
"You can do different things training-wise that we were doing in thirds, now we can do in halves, we can better use our time to make us more efficient than what we've been… It will be way different that way. We'll begin the off-season program at 8 a.m. and we'll finish at noon.  Everybody. It's not been that way. We will be coming in and leaving as a team."
Another way to combat the status quo is infusing new blood and Lewis was vocal Tuesday about getting specific draft picks from the last three years more snaps on defense, starting with tackle Brandon Thompson and ends Will Clarke and Margus Hunt. He's also adamant that last year's first-round pick, cornerback Darqueze Dennard, gets on the field full-time, as well as safety Shawn Williams, a special teams staple that has played very little from scrimmage.
"We got a little glimpse of Brandon Thompson last year and I think he can give us more. Margus Hunt, we want to see him ascend. Will Clarke, we want him on the field," Lewis said. "Those are guys defensively, particularly Margus and Will that can really help us that way. In the secondary, Shawn Williams, we got to get a great look at Shawn. We have Dre (Kirkpatrick) out there; we have to get Darqueze on the field. We are looking to get Darqueze on the field full-time. We've got good competition back there…We got to get these young guys out here and playing. We drafted them for a reason."
"I think Shawn Williams now is going into his third season he's a little different than Darqueze, he's like where Dre was. He's done everything we have asked of him on special teams. He's a guy who in practice does a great job. I think he does the things in practice, he evidenced in practice that ought to transition well onto the playing field. This season he's got to challenge Reggie (Nelson) and George (Iloka) and give them everything he can to work to play."
Lewis believes Hunt is past the project stage.
"I think he's had two years of football where he's done good things, unfortunately, he had couple injuries last year he had to overcome and missed time," Lewis said. "Sometimes when you miss time you come out of that even better. You have a chance for him to step back and see and watch others play which I think was helpful to him."
Football. The breakfast, like the offseason, was football.
"We're not breaking news," Lewis said when he saw the four faces waiting for him. "That's good."