Tyler Boyd lines up Saturday at the Family Day practice.
Tyler Boyd is used to this.
Pulling a slippery double move. Floating ball in the air. High pointing a touchdown catch. The delight of the crowd and the backslaps of his teammates.
This is what he's been doing since he was seven years old as one of Pittsburgh's more revered hometown heroes. From the hardscrabble fields of Clairton to the hillside of the University of Pittsburgh, he has always scored touchdowns.
"It feels real awesome just to get into it with the fans and the players and all the cheering and roaring. It felt so good," he said after his 38-yard touchdown catch Saturday in a Paul Brown Stadium Family Day practice.
And he added a hopeful, "First of many," and the Bengals think they can get it from their second-round pick.
"He's been doing great," said Andy Dalton, the man that threw it. "He plays fast.  He's made a ton of plays. He's going to be a hell of a player … The potential is there."
The Bengals need him to be that player now, a daunting task for any rookie wide receiver. There is a sense in some nooks and crannies of PBS that Boyd has flashed enough potential that his ceiling could be higher than those of the recently departed Marvin Jones and Mohamed Sanu.
It certainly can be argued that Boyd is the Bengals' first rookie since the 2011 draft soulmates of A.J. Green and Andy Dalton that has been asked to produce so quickly and so well so early. Given the pressures of playing football in the crucible of Pittsburgh at all levels, no one in this draft may have been better equipped to deal with the expectations.
But as McCarron said, "Marv and Mo did it for a long time."
Saturday probably provided a glimpse of what lies ahead early in the season for this revamped crew of wide receivers. No one could cover perennial Pro Bowler A.J. Green while the others fought to convert their opportunities as the Bengals anxiously wait for consistency to emerge behind Green.
"Some are more consistent than others," said wide receivers coach James Urban. "We're one week in. We all want it be now. We have (35) days until we play the New York Jets. We have to get better every day and give ourselves a chance. If we get better every day, we can be in a good position."
Urban sees growth. Brandon LaFell, the seven-year veteran they signed to start opposite Green, has been up and down as he adjusts to a new team.
"I think in the last three or four days (LaFell) has really come on. He's made some nice plays for us," Urban said. "Some real tough, contested catches. Big body catches I knew he could make. He's getting to know Andy (Dalton) and we're moving in the right direction that way."
And the nice thing is that the 6-3, 210-pound Boyd has been as advertised. They may have no idea who they'll end up with in the final three roster spots at receiver, but with Boyd in the slot between Green and LaFell they've got some firepower. Flashing the down-field-play-making of Jones and the versatility of Sanu, Boyd has thrown it and run it as well as caught it this camp.
 "He's picked up things," Dalton said. "He's moving around. He's playing different spots.  I don't feel like he's thinking a whole lot. He's just playing. He's been real decisive. He's got really good hands and he's really smooth."
Smooth. Just ask Pro Bowl cornerback Adam Jones.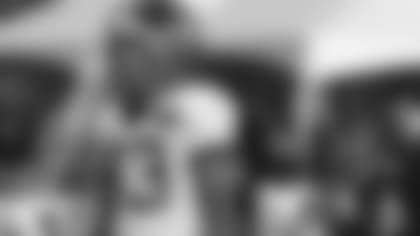 Boyd is used to the heat.
"He's smooth. Real smooth.  He may not be the fastest, but he's a football player and you know how that goes,' said Jones, the ultimate compliment from the ultimate football player.
The reason Boyd lasted until the 55th pick is because he doesn't have the blinding top-end speed reserved for the first round. But it sure looks like he's got everything else. Including football IQ.
"A stutter and go kind of a deal," he said of his touchdown route against rookie cornerback Corey Tindal.  "A double move. A little hitch and take off. Had to go get it."
He couldn't go and get an earlier one from Dalton. He couldn't shake rookie cornerback Darius Hillary on a go route when he had to stop and jump for a deep ball and Hillary made a nice play knocking it away. Boyd and Dalton then had a quick conference and Boyd came away encouraged.
"He told me he thinks I could have had it if he put it out a little more, but at the end of the day I have to make that play the best way possible," Boyd said. "He knows the corrections and he let me know so we're already on the same page. He said everything I do was fine, but he has to put it out there a little further for me. I felt good about that. I was where I was supposed to be at the right time."
That's what Boyd is trying to perfect as he gets ready for his Friday night NFL debut (7:30 p.m.-Cincinnati's Channel 12) against the Vikings at PBS. Urban has been on him about the little things. Such as hard counts.
"You can't flinch when we're doing a hard count," Urban said. "Things like that. His ability can flash. Attention to detail and getting the timing is where we are right now. He's got a million things on his mind. I get it, but we don't make excuses. Just go to the next rep."
The pre-draft word on Boyd was that he was supposed to drip with so much confidence that he bordered on cocky. But since he started catching balls here, he's said all the right humble things a rookie is supposed to say.
The physical play of Jones and Dre Kirkpatrick and Vontaze Burfict at linebacker have probably helped. It's been an eye opener for him.
"The guys are a lot tougher," Boyd said. "Defensively, (Jones), Kirkpatrick. Burfict.  They're not going in there and try to kill me, but they're trying to give me a good look. Jam my hands on me. Not underestimate anybody they come across."
Burfict let him know early.
"He hasn't said much. He just jams me going out on the route, but he told us to keep competing in practice," Boyd said.
Before training camp, Boyd psyched himself into thinking the NFL would be his toughest challenge yet. He was right.
"Everyone is so good. The corners are so much better than college corners," said Boyd, thinking about Jones. "You look at how smart he is. He can break on things so quickly. His sense of gravity is so good and sharp. He can get in and out of breaks quicker than some receivers. That will definitely help me tighten up my game. He's been here a long time and he reads hips real well."
Who knows where it all stands four years from now? But all they do know is they need Boyd to be better than Jones (18 catches for 201 yards) and Sanu (16 catches for 154 yards and four TDs) were as rookies. So far, it looks like he will.
"We're going to need him to keep doing that. He's going to be a big part of what we do," Dalton said.
Boyd has always had a lot riding on his shoulders. The hopes of a poor town in Clairton. Staying home to help rebuild a college power. So a pro team expecting a sixth straight play-off berth fits right in.
"I believe in myself. I'm confident in myself," Boyd said. "I'm here for a reason.  I think they believe in me and I believe in myself."
Cincinnati Bengals host Family Day at Paul Stadium 8/6/2016