---
Updated: 8-29-06, 12:45 a.m.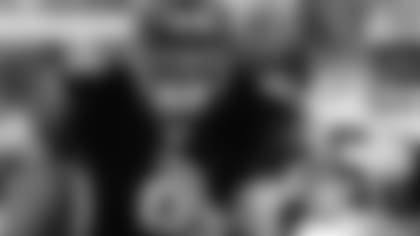 Palmer had a stellar first half with 140 yards passing and three TDs (Bengals photo)
Any questions?
Now that is solved, the Bengals can move on with their first 3-0 preseason start since 1976 and focus on Carson Palmer's Opening Day start in Kansas City 13 days from now.
In staking the Bengals to a 34-7 halftime lead with a staggering passer rating of 136.9 by completing nine of 14 passes for three touchdowns, Palmer has revived the Bengals and their fans for another playoff run.
Moments after a very un-preseason-like 48-17 win over the Packers at sold-out Paul Brown Stadium, head coach Marvin Lewis anointed him the starter for the Sept. 10 regular-season opener.
"Good night. A very good night. A very inspirational night for this team," said left tackle Levi Jones. "To see a guy overcome that, that's great business right there."
Palmer seemed to short-circuit even the fates as a lightning storm rolled through downtown Cincinnati and caused the first weather delay at home in the 39 years of the Bengals.
After a 39-minute pause that began at 10:50 p.m. with 9:09 left, the Bengals finished off their highest scoring preseason game in history when rookie wide receiver Reggie McNeal took a 28-yard touchdown pass on fourth down from quarterback Doug Johnson with 2:35 left.
McNeal made safety Tra Bolger miss with a juke to the inside and he outran the rest.
Palmer zapped any questions about his knee injury in a brilliant effort. "He didn't miss a beat; he hasn't lost a thing," said Pro Bowl right tackle Willie Anderson. "He's our leader and he's back. That's got to make any Bengals fan real happy."
What more could he have done in his first performance on his reconstructed left knee?
"Nothing. He was great. It's great for us. It's great for the city," said wide receiver T.J. Houshmandzadeh, who conspired with Palmer to catch five balls for 96 yards and a touchdown in that fast-break first half. "I mean, when he ran on to the field and the way the crowd was cheering. I couldn't hear. They appreciate what he's done."
On Palmer's first extended drive, he took a hit, scrambled and slid for 11 yards, and, yes, threw a six-yard rope to tight end Reggie Kelly for his first touchdown as the preseason record crowd of 65,614 erupted with joy at the return of its Pro Bowl quarterback.
"I can't say I felt real emotional. It just felt like a business day; a chance to get some work in," Palmer said. "I got a warm feeling hearing the cheers from the fans, but otherwise, it was just business."
He saved his best for next when he No Huddled the Bengals 90 yards to another score capped with his 33-yard touchdown pass to wide receiver T.J. Houshmandzadeh to give the Bengals a 24-0 lead in the middle of the second quarter.
And what about his touch pass down the sideline leading Houshmandzadeh for 28 more yards on his next drive as he sprinted from the pocket and two defenders grabbed at his legs while lofting a beauty to Houshmandzadeh beating cornerback Charles Woodson?
In front of an anxious crowd, teammates and coaches, Palmer finished off his night of healing by slicing the 8s on Tab Perry's jersey with a bolt on a 15-yard slant pattern past Woodson for a touchdown that gave the Bengals a 31-0 lead with 4:16 left in the first half.
"Obviously we're pleased with the play we saw from Carson," Lewis said. "We got to see him in most of the situations we wanted to see. He dropped back, he rolled out, he got hit a few times, he had a chance to run the ball. He looked very good, very sharp. It's still just preseason, but it's encouraging. I can't say I'm all that surprised. Maybe he was a little sharper than you'd expect, but we've seen him working every day for six months. We knew he'd been looking good in practice, and tonight he took that into the game."
Fittingly, two of Palmer's touchdown passes, the balls to Kelly and Perry, came on third-and-three as he converted four straight third-down tries after running back Kenny Watson dropped his first attempt on a check-down pass over the middle on third-and-seven.
"The best thing was our play on third down on both sides of the ball," said Lewis, whose defense stood on six of eight third downs in the first half.
Starting with 7:38 left in the first quarter and ending with four minutes left in the second quarter, Palmer used those 18 minutes to erase the painful seven and a half months of rehabilitation that began in the pall of the Jan. 8 Wild Card loss to the Steelers.
Palmer made it seem like years ago, following through smartly and accurately on the rehabbing front leg.
His most impressive throw? Probably the third-and-12 pass to Houshmandzadeh on the right side, which he unleashed as defensive tackle Cullen Jenkins blew him up, twisted his legs, and threw him to the ground. Palmer, who converted four of his five third downs, hung in there and looked for the result of his pass down field as Jenkins took him to the ground.
"I have to say it felt good. It felt good to get hit and to know my knee could withstand the contact," Palmer said. "They can talk all they want about you being ready to go, but until you get hit, until you get pressure on the knee from another player ... that's when you know you really feel confident about it."
Then Palmer went to Houshmandzadeh on the other side on a quick drop and hit a perimeter pass that Houshmandzadeh broke when he shook Woodson's tackle at about the 25. Then he used a block from wide receiver Chris Henry down the sideline to spice the comeback show for a 24-0 lead with still eight minutes left in the first half.
"It's just fun to get the ball into the hands of the playmakers we have and to watch them run," Palmer said.
Houshmandzadeh joined Palmer on the marquee, but both didn't finish the half. Houshmandzadeh left with a bruised heel and Lewis felt like Palmer had showed him enough and relieved him in the last minute of the half.
At halftime, former Redskins quarterback Joe Theismann emerged from the ESPN booth beaming Palmer's heroics across the nation and pronounced him ready for the Chiefs.
"He looks like he did last year," Theismann said. "He's following through on that leg, which means he's transferring his weight, and it was good he got right back up when Cullen Jenkins twisted the knee a little bit."
The defense tried to steal the first half of the first quarter by generating 10 points off two more turnovers, but Palmer got off the stationary bike on the sidelines and rode back into time.
Palmer, whose first pass attempt got dropped by Watson on that third down, took the team over at the Packers 38 for his first extended drive of the season with a 10-0 lead.
He threw a dart to Henry for a nine-yard out on first down and more importantly leaped up after defensive end Kabeer Gbaja-Biamila hit him in the pocket as he unloaded it.
Palmer seamlessly moved to the No Huddle offense, but his seven- yard low ball to Houshmandzadeh was negated by an illegal formation call on Henry.
But Palmer got the first down when the middle opened up and he scooted on his new brace and hook slid across the Packers 13-yard line for an 11-yard gain. Again Palmer popped up and this time he kept running to the end zone, pleading to the officials no one touched him.
That's OK because he got in moments later with Kelly working against former Bengals safety Marquand Manuel and Palmer reading Kelly's move off the "smash route" for the six-yard score with 3:23 left in the first quarter.
What kind of night was this? For the first time since Lewis instituted the nameless announcement of the starting lineups, the stadium announcer couldn't help it and announced the offensive unit by dropping Palmer's name as the quarterback.
The Bengals literally picked up where they left off with Packers legend Brett Favre. The last time he was here back on Oct. 30, a fan ran on the field with 23 seconds left and swiped the ball from him to secure the Bengals' 21-14 win.
In the first 1:31 Monday, Favre let a snap go through his hands as safety Dexter Jackson blitzed off the slot. It bounced into the backfield and like he did in the last game in Buffalo, Jackson converted an opening series turnover for touchdown. Jackson, who returned a pick 72 yards for a touchdown against the Bills, went 29 yards with the fumble for another score and the Bengals' third defensive touchdown of the preseason after he picked up his own fumble at the 29.
What is it with Favre at PBS? After getting intercepted five times here last year, he threw another on the second series. He drilled a liner off wide receiver Donald Driver's hands and free safety Madieu Williams corralled the rebound over the middle and veered to the sidelines for a 29-yard return that put the ball at the Green Bay 23 for Palmer's return.
It marked the Bengals' ninth turnover of the preseason and jacked their turnover differential to plus-8.
First-round pick Johnathan Joseph got his first NFL start in place of Pro Bowler Deltha O'Neal at left cornerback as the incumbent battles a sore knee.
The Packers scored their lone touchdown on Favre's 17-yard pass to Driver working on Joseph on third-and-six with 1:07 left in the half.
Also sitting out was middle linebacker Brian Simmons with back spasms and a sore knee, and third-year man Caleb Miller started in his place.
But the backer corps got jumbled even more virtually out of the gate. Starting right outside linebacker Landon Johnson went down with a jammed neck early and strong side linebacker David Pollack didn't play very much in his season debut in which his hamstring injury may have flared again.
CFL rookie Rashad Jeanty and supplemental third-rounder Ahmad Brooks checked in for a defense that allowed just 121 total yards in the first half. With three-time Pro Bowl defensive tackle Sam Adams making his Bengals debut, the Bengals held the Packers to 2.9 yards per 15 rushes in the first half, defensive end Robert Geathers logged a sack, and defensive tackle John Thornton was all over the place with three tackles, a forced fumble, and he almost picked off a screen pass for a touchdown.
Jeanty continued to be a factor in place of Pollack with three tackles in the first half.
The rain held off before the game, but Lewis looked to be sticking with his decision to start Palmer no matter what.
The Bengals hit 40 points for the second straight game when rookie wide receiver Bennie Brazell fled past Packers cornerback Mike Hawkins for a diving 25-yard touchdown catch in the back of the end zone from backup quarterback Anthony Wright with 57 seconds left in the third quarter. But Brazell, who missed one game with an injured hamstring, strained his left knee and left the game.
The score added to the Bengals' NFL-leading passel of 111 points and it was set up by another flashy performance by free-agent rookie running back DeDe Dorsey on a 19-yarder in which he broke three tackles up the middle.
Shayne Graham had another big night. He made his two field-goal attempts (from 38 and 34) and his first three kickoffs went into the end zone, two for touchbacks.
The offensive outburst came just 10 days after the Bengals scored their second most points in the preseason in a 44-31 win in Buffalo.
Also out for the Bengals Monday night were running back Chris Perry (ankle), linebacker Hannibal Navies (shoulder), offensive lineman Scott Kooistra (toe) and rookie defensive end Frostee Rucker.
Lewis sent out for his captains left tackle Levi Jones, Houshmandzadeh and Tab Perry, Madieu Williams, and defensive end Justin Smith.