Four current NFL head coaches worked under Marvin Lewis in Cincinnati.
Suddenly, Bengals head coach Marvin Lewis is getting ready to play a quarter of the upcoming schedule against teams run by his former assistants.
Vance Joseph became the fourth former Bengals assistant to currently serve as an NFL head coach earlier this week when he replaced Gary Kubiak in Denver. At 44, he's the same age when Lewis took the job in Cincinnati and, like Lewis, he's the first African-American head coach in franchise history.
But that's where all similarities end.
Before getting his gig, Lewis had to serve two teams and seven seasons as a defensive coordinator that included a two-year wait after coaching an NFL-record setting unit that won a Super Bowl. Joseph spent just one season as the Dolphins defensive coordinator near the bottom of the NFL rankings and got the job just days after Miami allowed 30 points in the Wild Card loss in Pittsburgh.
Still, Denver's announcement caught no one off guard.
"Everybody knew eventually he would become a coordinator and a head coach," says Bengals safety George Iloka of Joseph's stay in Cincinnati in 2014 and 2015. "Just by how he carried himself and conducted his meetings. Very thorough."
Yet Lewis isn't prepared to say he blazed a trail for Joseph's rapid rise.
"It really hasn't changed much. The number of minority coaches hasn't changed very often," Lewis says. "I think now when a coach is hired it's just a coach is hired, when it used to be a minority coach is hired. Although I did see the Denver newspaper called it a major step.
"It's more natural, but the numbers haven't changed very much. They've almost gone the other way.  We're seeing coaches hired for their accomplishments and their knowledge whatever background they come from or whatever ethnicity they are.  What you take pride in is making the best out of the opportunity you've been given."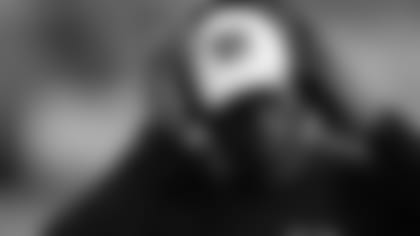 In three years Vance Joseph went from Bengals secondary coach to Dolphins defensive coordinator to Denver head coach.
Also on the Bengals' 2017 schedule besides a trip to Denver is a jaunt to Mike Zimmer's Vikings as well as the two AFC North jousts with Hue Jackson's Browns.
(Given the NFL's penchant for giving the Bengals an Opening Day assignment on the road, which is now at a ridiculous seven straight, they can only hope that the league office resists the temptation to match up Lewis with Joseph in his debut.)
"It's almost like we've got at least three of those games every year now," said Lewis after  coming off a season the Bengals swept the Browns in Jackson's first year and tied Jay Gruden's Washington club in the 27-27 War of Wembley. "(Joseph) is a hard worker. He's a good communicator and he's a good football coach."
Only Kanas City's Andy Reid has spawned more head coaches than Lewis on the NFL's current roster with five during his stints with the Eagles and Chiefs. But the move of Zimmer and Gruden to the Vikings and Washington, respectively, in 2014, followed by Jackson to Cleveland last year and now Joseph to Denver marks the most by one coach with one team where a former assistant has spent at least one season working under that head coach.
When the Bills hired Panthers defensive coordinator Sean McDermott to replace Rex Ryan, that gave Reid the lead because he's already got John Harbaugh in Baltimore, Ron Rivera in Carolina, Todd Bowles with the Jets, and Doug Pederson in Philadelphia.
Lewis is in rare company of current and former head coaches. The power of Bill Parcells is still being felt 10 years after he stopped coaching the Cowboys because he had his fifth connection signed Thursday when Anthony Lynn was hired to coach the Chargers.
That also spans two stops. Lynn is the last in a line that stretches back to Patriots head coach Bill Belichick, Parcells' defensive coordinator with the Giants in the 1980s. Zimmer, Bowles, and New Orleans head coach Sean Payton also worked for Parcells during his 2003-06 tenure with the Cowboys.
But Lewis even has a former head coach on his staff that has coached four current head men. When he was the head coach of the Saints at the beginning of the century, linebackers coach Jim Haslett hired Mike McCarthy (Packers) and Ben McAdoo (Giants). When Haslett coached the brief United Football League in 2009, he had Gruden on his staff as well as Sean McVay, just hired to run the Rams on Thursday.
"That says a lot about (Lewis)," Iloka says. "That says a lot about ownership being able to bring in that many guys in here. Just look at our defense. We have Paulie (Guenther) as an established coordinator and look who else.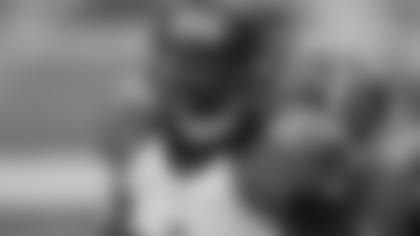 George Iloka has worked for two future head coaches in Cincinnati, Mike Zimmer and Vance Joseph.
"K.C. (secondary coach Kevin Coyle) is a former coordinator. Look at the brains we have in that room. You already know what Haslett has done in his career. That's a lot of guys with a lot of experience. We're definitely well- equipped in that department. It speaks well of Marvin and the organization about not only bringing in coaches like that but that they leave for better jobs."
As he puts the finishing touches on his 18th straight season in the postseason, Reid leads all current NFL head coaches with consecutive years on the job. Belichick is working on his 17th with the Patriots and this weekend has an AFC Divisional game against his only former assistant currently running a team in Houston's Bill O'Brien.
Belichick is going to the Hall of Fame. Tony Dungy was elected to the Hall of Fame last year, but he's got only two on the current roster with Mike Tomlin in Pittsburgh and Jim Caldwell in Detroit. Alabama head coach Nick Saban hasn't coached in the NFL for a decade, but at some point in 2005 and 2006 he had working for him in Miami Tennessee head coach Mike Mularkey, Dallas' Jason Garrett, and Atlanta's Dan Quinn.
The connections of the current NFL coaches go all the way back to another Hall-of-Fame coach. The Bears' John Fox worked under Chuck Noll during his last three seasons in Pittsburgh from 1989-91. Fox has two former assistants running teams with Jack Del Rio in Oakland and Adam Gase in Miami.
One of Gase's first hires last year was to nab Joseph and linebackers coach Matt Burke from the Bengals. On Thursday, Burke succeeded Joseph as the Dolphins defensive coordinator.
"I will say that I was surprised at how quickly it happened," Iloka says of the Joseph hire. "Defensive coordinator one year then, bang, head coach."
There is no How-To-Book on how to become an NFL head coach. McVay, the youngest head coach in history won't be 31 for two more weeks. Zimmer waited to coach his first game at 58, Lewis' age now.  
But the writing was on the wall for Joseph.
"In his short time here he helped me as a player and a person. Things I'll carry with me the rest of my career and life," Iloka says. "You could see some of his strengths right away when he started in the room as a DB coach.
"He knew how to handle the different personalities we had in our room. We all react differently. We need to be coached differently. I don't know much about coaching, but scheme aside I would say one of the jobs of a head coach is knowing how to handle everyone and in his time in our DB room he did a good job with that."