The Bengals and Broncos don't want to stop meeting like this. Every time they've rendezvoused in the past five years there have been steamy sub-plots (top five draft picks, injured QBs, home openers) and dramatic fourth quarters that have had wide-ranging implications in the balance of power in the AFC.
And Sunday's sold-out Paul Brown Stadium opener (1 p.m.-Cincinnati's Channel 12)  is no different with Denver's Super Bowl champions swaggering in to test the Bengals'  perfect September home record stretching back to 2012. With 60 and 53 wins respectively, the Broncos and Bengals are the second and third winningest AFC teams behind New England since 2011.
The Bengals.com Media Roundtable thinks the home team passes the test with the shoe on the other foot (or thumb on the other hand) with Andy Dalton healthy and the Broncos heading into the post Peyton era.
Katherine Terrell, ESPN.com's Bengals reporter, is the lone dissenter because the Cincinnati offense just isn't there yet against the NFL's best defense. It's a close call, but this is Von Miller's world and we're just passing through.
Yet Mike Klis, one of the many veteran newspaper scribes who has bolted for TV web sites, has been around the Broncos forever and as the 9News.com Broncos Insider he gives a close call to the law of averages. He goes with the Bengals, in part, because head coach Marvin Lewis has yet to beat Broncos head coach Gary Kubiak in six tries.
Peter King isn't Monday Morning Quarterbacking his call that both Cincinnati and Denver are going to make the postseason.  He goes with the team he once covered in the 1980s for The Cincinnati Enquirer because Broncos quarterback Trevor Siemian is such a blank canvas in Sunday's tough studio of 65,000-plus.
Jim Owczarski, one of The Enquirer's current beat scribes, also goes with the Bengals because he doesn't see how Denver scores enough points with a quarterback making his first NFL road start against a defense that pays so well at home.
Let's go around The Table, which is a little bit like the Titanic. Ladies and visitors first: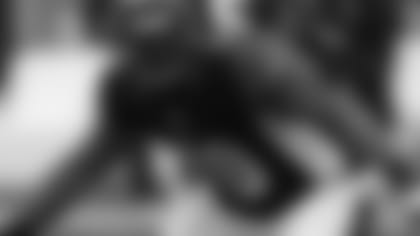 All eyes are on Cedric Ogbuehi and his fellow Aggie Von Miller.
Obviously Bengals right tackle Cedric Ogbuehi vs. Von Miller is the matchup of the game. If anyone watched that Colts game last week, Miller basically destroyed the right tackle. That's the key to keeping Dalton upright. The offensive line had seven sacks vs. the Jets and they were better against the Steelers, but they're going to have a long day if they can't figure out how to stop Miller.
I think they'll have to give Ogbuehi help on that side. They'll have to double team him, although that doesn't always work. They just can't leave him one-on-one. I don't think the Colts gave their right tackle much help, so I'm assuming the Bengals have watched the film and learned from that lesson.
It's very important for the Bengals to run the ball because they have to double team Miller and maybe put a tight end on that side. I don't know that they'll be able to use as many three wide receiver sets as they've been using. I think they're going to have to be more balanced. You saw what happened in the Steelers game. They were so focused on the pass they were getting into third-and-long situations because they couldn't run the ball on first and second down. It made them so predictable the Steelers were able to key on them.
Miler's a game-changer and you have to give the Broncos defense the edge against this offense. He's just playing out of this world. A lot of times these guys get big contracts and they kind of fade away, but Miller is playing even better. Four sacks through two games. I know he can't sustain that pace, but if he can keep it up for a little bit he'll give the Bengals some nightmares. 
It's almost the same thing on the other side. The Broncos have had to shuffle at right tackle because of injuries and what Bengals left end Carlos Dunlap does is key. If they can rattle a quarterback who is going into an unknown environment and doesn't have a lot of experience, that could even the playing field.
The Broncos have good receivers, but they don't have that dynamic receiver in Antonio Brown's league and you saw the Bengals did a good job shutting down Brown. I thought the Bengals defense, except for a couple of plays in Pittsburgh, played really well and I'd give them the edge against this offense, especially with an inexperience d quarterback.
THE EDGE: Broncos, 21-17. I've gone back and forth on this. I just think the Bengals have a couple of things they need to figure out. One is their ground game. Another is their offensive line, or at least their right side. They need to become a more balanced offense. They've been inconsistent. I think they will get it figured out, but the Broncos are the defending Super Bowl champions for a  reason and they are playing really well. I give them the edge, but it helps the Bengals are coming back home.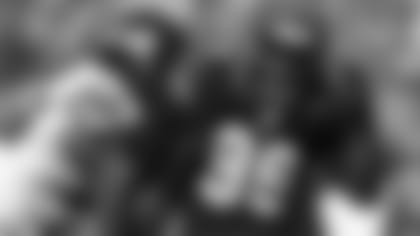 Bengals left end Carlos Dunlap is matched up against a new right tackle Sunday in his effort to make Trevor Siemian's first NFL road start miserable.
They'll both make the playoffs. When I see the AFC right now I kind of think of New England, Pittsburgh, Cincinnati, and Denver and everybody else. Maybe the Jets. After that, at least in my opinion, there's no other team that jumps out in the first two weeks. The Raiders have been disappointing. The Chiefs have been pretty disappointing. It's only two weeks, but there are only four teams that stand above the rest.
One the interesting things about this game is Trevor Siemian and his ability to play well on the road against a team that is going to pursue the quarterback some. Denver has a really good running game right now.  C.J. Anderson is one of the most underrated platers not just among running backs but in football
 They really try to be efficient with Siemian. Even though he's thrown three interceptions, he hasn't been a mistake-prone guy so far. To me he's been accurate, he's been pretty efficient, and I think they try to protect him. He's got a great defense and that's the smart way to go.
If you look at Cincinnati right now it's what does offensive line coach Paul Alexander do with his team. Every year there are some teams that you say can really can rush the passer. The Jets are really good at it. The Bengals saw that in week one. It's a little uncharacteristic to see Andy Dalton get sacked an average of four times the first two weeks. That's one of those things you continue at your own peril. Especially this week.  The Bengals have to dedicate whatever they can to make sure Von Miller doesn't wreck this game. He's the best there is right now
If I were the Bengals I'd be thinking about a game plan where they max protect more than usual for just the simple reason you're not going to be able to block the Broncos consistently with five guys. I also think it would help them to run the ball. Giovani Bernard and Jeremy Hill have been uncharacteristically un-impactful. That can't continue for their offense to be maximized. I always think, as boring as it sounds, eventually you're going to have to be able to run the ball to win and very seldom do you have a (winning) team that is absolutely one dimensional. I think the Bengals have an issue if they totally rely on throwing 40 times a game or whatever he's throwing now. The bigger factors that Hill and Bernard become the better.
THE EDGE: Bengals, 27-24. I'm interested to see if Trevor Siemian can go and win the kind of game that a young  quarterback staking a claim for a job needs to win and that's this kind of game. It's not that I don't think he can win, but I have to see him win it and in the last year or so Dalton has won these kinds of games, starting with the Jets this year. Its unchartered territory for a guy like Siemian. I think he's better than people think he is, I just haven't seen him do it yet. It's a tough environment to win a game that is really going to be hard to win.
I don't think I've ever seen Dalton play well against the Broncos. I don't know what his stats are, but I always see him putting up big numbers against everybody else, so I'll be interested to see if this is the game he finally has a good one against the Broncos.
 The big matchup is your right tackle vs. Von Miller. Two Texas A&M guys. Von has been unblockable, but maybe he'll miss his pass rush partner DeMarcus Ware. Shane Rey, the first-round pick from Missouri in 2015 is going to be in there some. He's played well in a lot of aspects of his game, but pass rush hasn't been quite there for him with four sacks last year. Shaq Barrett, the undrafted guy from Colorado State had 5.5 sacks, but Rey is the better all-around player. Bigger. Faster. More potential. They're expecting Rey and Barrett to pick up the slack. They were really good last year as the Nos. 3 and 4 guys but being a starter is a different jump.
 It is the best defense in the league. Their first two games were against Carolina, the No. 1 offense by leaps and bounds last year, and an Indy team that scored 35 points in its opener and they frustrated both quarterbacks. The big thing about them is they bring the heat and they  cover real well and defensive coordinator Wade Phillips has some kind of system where it looks like they have 13 guys on the field. It looks like they're seven rushing and six covering. I don't know how he does it. He alternates who he brings. I think that as much as players affects the quarterback.
On the other side Matt Paradis is rated the No. 1 center by profootballfocus.com. Right tackle Donald Stephenson is out and I think you'll see Tyler Sambrailo at right tackle and Michael Scofield is going to stay at right guard. It's a concern. Sambrailo hasn't played since ripping up his left shoulder in game three last year. He was supposed to be the starting right guard, but he hurt his right elbow and he's just getting back so there's a big question mark.
What they've done the first two weeks is pass to open up the run. C.J. has run well. In my opinion Siemian has played much better than the stats indicate. He's moved the team between the 30s at will. Running back Devontae Booker fumbled on his very first NFL carry and fumbled away one series.
He's had two crazy interceptions off safe throws down the line of scrimmage. One was a screen that got tipped up in the air. The other one he thought the corner cleared but he made a nice interception. It does look like teams are squatting on the line of scrimmage a little bit. He does throw a good ball 15 to 20 yards down field. The defenses have played back and he hasn't taken shots. He is a cautious guy. He wants to make sure he's got it before he throws it, so maybe that's why people are calling him conservative, but he's been pretty good. His interceptions have come at the opponents' 20, 25, and 30. If they've killed them, it's from scoring points, not giving them up.
THE EDGE: Bengals, 24-21. I think the Bengals need the game more even though it's early. They're playing at home. Marvin Lewis is due against Gary Kubiak. You can't win them all. I've got the Broncos at 10-6, 11-5 this year and this is one game I had for a loss. Cincinnati doesn't look like quite the same team it was last year. Maybe they just haven't got it together yet. I think the Bengals not having Vontaze Burfict is a big factor, so I'm going to give the Broncos 21. Dalton's won six straight in September at home, so something has to give, either Dalton's streak or Kubiak's streak against the Bengals.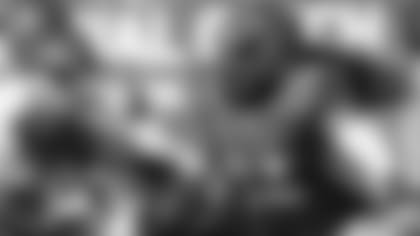 Nose tackle Domata Peko (94) had a good game vs. the Steelers' estimable center last week and he has to do it against Denver's highly-regarded Matt Paradis in the bid to stop Broncos running back C.J. Anderson.
It's an important one. 1-2 isn't crazy. But there are all the other elements. It's an AFC game, you've got a short week coming up, everybody starts out saying they want to go undefeated at home, coming off a close loss and you want to play better. And it's Denver, the third straight playoff-like team.
I thought Cedric Ogbuehi improved from week one to two. Granted, the Jets presented more talent than Pittsburgh. Von Miller is another whole category. I've never seen the Bengals coaching staff so effusive about a guy. Other beat writers have said that Ced gets praise from coaches (that others haven't). He's athletic, the long lever, they feel he's quick. I don't know. I'm interested to see what he can do against a guy that is one of the best in the league.
I'm curious to see if they help him. In today's NFL, teams don't like to help because it messes up timing and takes a guy out of a route, so we'll see what they do. Bengals offensive coordinator Ken Zampese doesn't like the imbalance of the pass and run and the offensive line said there are individual breakdowns they have to improve. That makes me think they'll try to run it. I don't know with Broncos cornerbacks Chris Harris and Aqib Talib if they can just say we're going to chuck it
There needs to be a little more emphasis on the  run game and getting more effectiveness. There's a part of me that thinks they can. Look at this offensive line. Look at their running backs. They've done it before. Last year in Denver I didn't think it was terrible with Andy Dalton starting that the offense wasn't moving on the ground. It doesn't need to be Jeremy Hill for 110 yards. There just needs to be 3.5 or four yards a carry and make it 20 carries. Those things will slow down Von Miller, Shane Rey, and Derek Wolfe.
Broncos quarterback Trevor Siemian hasn't done much of anything. He's near the bottom half of the league in yards per attempt. The tight end and running back have as many targets and catches as the two receivers. So what does that scream? Be safe. Dink and dunk. Hand it off. The Bengals have a decided edge there.
Bengals defensive coordinator Paul Guenther really buckled down on this run defense because I don't know if Trevor Siemian can get the ball to his wide receivers. Like Steelers quarterback Ben Roethlisberger could get it to Antonio Brown I don't know if safety Shawn Williams has to help. With Bengals cornerbacks Dre Kirkpatrick and Adam Jones and maybe a safety over the top, you can really focus on C.J. Anderson.
The Bengals' special teams are in transition. Alex Erickson won the punt return job and he hasn't really had an opportunity to show it. You can argue he's made some poor decisions on a fair catch or two, but even in coverage, teams have been hurting. Injured Cedric Peerman is a Pro Bowler for a reason. Special teams have been an advantage for the Bengals lately. It's not there yet.
THE EDGE: Bengals, 20-14.  The defensive edge over Trevor Siemian is enough. I don't think the Broncos can score. I think with the Bengals you're going to see the same stuff. Red zone issues.  Andy getting sacked. I think they'll try to run the ball more, but I'm not sure it's going to click all in one week against this defense where you're seeing 150 yards. But that said, they have averaged close to 20 points the last two weeks and I do think you see a similar thing but they come out on top.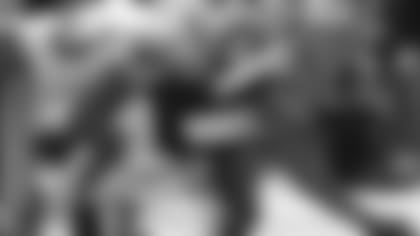 The CW is Jeremy Hill (above) and Giovani Bernard are in for their busiest days of the season.
It's not the elephant in the room. It has taken up a PBS concourse. The Bengals and their quarterback can't survive throwing 54 more passes than his two top running backs have carried it, which is where the ratio is right now.
Dalton is coming off a career-high 54 passes in Pittsburgh, which means the Bengals are now 4-13-1 in games he throws at least 40 passes. To their credit, it hasn't happened very often lately, just once in each 2014 and 2015 and both were in overtime. And it's the first 40-plus game they've lost in three seasons going back to the ill-advised 51 passes in the Wild Card Game home loss to San Diego.
So they get it, but they've made it tough on offensive coordinator Ken Zampese (2.8 yards per carry) to call it. What we do know is the only way to get good at running the ball is repetition and jacking it up hasn't meant wins in the last five years.
Of course, if Von Miller's 17 career forced fumbles and Denver's league-leading 11 defensive touchdowns since last season aren't incentive enough to run it well, what is?
Fullback Ryan Hewitt (just 16 snaps) and Giovani Bernard (just 10 carries) are both coming off handsome contract extensions in the offseason and it looks like on Sunday they'll begin to carry that load on the ground.
The Bengals can help Ogbuehi by supplementing the run with more formations heavy with tackles and Hewitt. That means fewer three-receiver looks, but you hope that doesn't take rookie wide receiver Tyler Boyd off the field that much.
Despite the Bengals' red-zone struggles on offense as they wait for the new injured pieces to gel, the defense gives them a huge edge in this game. PBS is just a tough place for a quarterback IF you make him throw. Philip Rivers beat them in a PBS playoff game throwing just 16 passes because the run hurt them, but that hasn't been the norm in the last 28 regular-season games in the building.
The streak began when Guenther was Mike Zimmer's third-down czar and the beat goes on with the crowd noise enhancing the puzzling Double A Gap blitzes. In that stretch they're 9-2 vs. Super Bowl quarterbacks and holding passers to a 68.8 passer rating and 35.8 percent on third down.
As long as C.J. Anderson doesn't turn into Super Bowl running back O.J. Anderson, the sledding should be very tough for a QB making his first NFL road start with a right tackle making his first appearance in a year.
The average stat line for a QB at PBS in the regular season since Nov. 12 2012 is 23-for-39, 236 yards, one TD, two picks and 2.5 sacks. The Bengals offense should be able to beat that even with no Tyler Eifert and plenty of help for Ogbuehi.