Jordan Willis (99) gives the Bengals relentless speed on the edge.
It seems Jordan Willis has yet to crack a smile in his bid to become that next versatile edge pass rusher the Bengals need to pick up the torch. His father, the detail man, has seen the same markings before. Just the other day he mentioned it to his wife.
"He's so much like me now," Calvin Willis says, "it's almost scary. He takes everything very seriously. He knows what he wants and he goes after it. He stays focused and just wants to get better every day."
The Bengals, who love what they see, are counting on him doing just that Saturday night when his hometown Chiefs come to Paul Brown Stadium for the preseason's second game.
Kansas City is already seeing double of the Bengals' relentless rookie who led all of their defensive linemen in last week's opener with 35 snaps at end as well as 12 on special teams that included covering the first seven kickoffs of his life. The 6-4, 260-pounder was active enough to be rated one of the Bengals' five best players that night by profootballfocus.com.
"There's a guy who's going to do something exactly the way you want him to do it," says head coach Marvin Lewis. "And then, when he got to go play live football, he stood out."
Whenever Calvin Willis stands outside his home these days in Raymore, Mo., 20 minutes from downtown Kansas City, he wears a football jersey with Jordan's name on it. Usually it's a Bengals 99. But earlier this week as he finishes up his shift as a detail manager for Hendrick Automotive Group, he's wearing a Kansas State T-Shirt with "Willis," spread across the back. When he leaves for Touch of Class Car Detail, the business he runs with his wife, he'll do it in a Tahoe plastered bumper to bumper with everything and anything orange and black and striped.
 "My job is to support him," Calvin Willis says as he finishes the last of seven vehicles that had come in for polishing this day. "I'm a Cincinnati Bengal. When we play on Saturday, I'm a Cincinnati Bengal. When I come to work, I'm a Cincinnati Bengal."
And Calvin Willis is usually working. If you want to know where Jordan Willis gets his expressionless and endless work ethic, look no further than Calvin Willis.  In the shop where he's worked for the last 21 years at 5 a.m. Out at 1 or 2. Then on to his own shop, which he opened 17 years ago, where he and wife Demecricia work "until I get tired."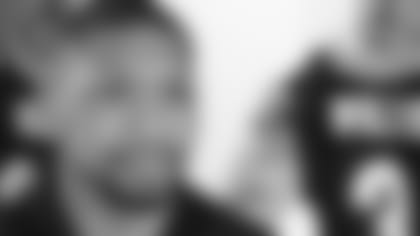 A third-round pick, Willis came highly recommended out of Kansas State.
Which isn't often since they are in the final turn of raising 11 children. The oldest is 34. The youngest is 13. The most well-known is the seventh. And the most serious.
"He just doesn't let anything outside of where he wants to go affect what he wants to do," Calvin Willis says. "I think sometimes people take it the wrong way, but that's just the way he is.
"What a treat to watch him. Cincinnati got a heck of a player. They'll find that out … I love everything about him. The way he goes about his business. You don't see that in this day and age in a young man of his age and stature. I saw that very early on in life."
It's already happened here. A week before a Baker's cyst put Lewis' knee in the national spotlight testing journalistic bounds, Willis quietly had one burst when someone ran into the back of his knee. He missed the next day at the shop, but that was it.
  "We are trying to get him to smile every once in a while," Lewis says. "He's so doggone serious. He just wants to work to get better. He has that standard answer. 'Yes sir, Coach.'"
They've put him at both end spots because they can. He rushed a few times from the left side last week, but feels more comfortable on the right even though his numbers are better on the left. Yes sir, Coach.
"Probably because I rushed the last two years on the left, that's probably why I get most of my pressures on that side," Jordan Willis says.
But they knew that's what they were getting in the third round. Linebackers coach Jim Haslett scouted the K-State pro day and when he saw the 4.53-second speed in the 40 that led all defensive linemen at the NFL scouting combine, he came back raving that they needed this kid. And when Kansas State coach Bill Snyder comes down from Mount Rushmore and says, "Jordan is the epitome of what our program, is all about," the boxes are already checked.
The big news isn't that Willis politely declined to be in the rookie show, but that they let him bow out.
"The guys gave me some flack about it, but I just (don't have) that much charisma to be doing something like that," Jordan Willis says. ""I just like doing what's in my character. I just like staying within my character."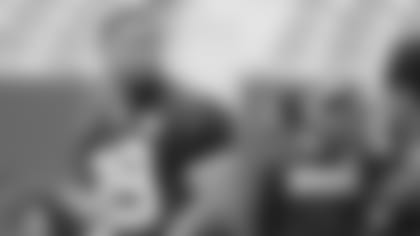 "When he's on the field he's all business."
"Doesn't surprise me at all," says Calvin Willis, who won't reveal what makes Jordan smile. "I don't think I'll let that out. He likes his family time. When he comes back home, everybody comes back and has a good time. He enjoys his family time."
 He won't be back Saturday night, but his brothers and sisters who aren't working plan to be at the house watching the game. So will all 11 of their own kids. Football, cars, and family are their rallying points. If Calvin isn't working or isn't at one of his kid's games, or watching Westerns, he's tinkering with one of his old cars in the back that he builds from the frame up.
"Jordan would kill me if I let that out," says Calvin of the number of old cars he's got. Jermaine, the oldest who is the only son that didn't play football, is a detail man like Calvin. The youngest daughter, 19-year-old Mercedes (named after her dad's favorite car) runs track at Avila University in Kansas City.Jajuan is a senior and Jaquan is sophomore at Peculiar High School. They're both 6-2 and Calvin says they're good enough to play in college and beyond. So, too, he thinks, is the youngest, Jaden,   already a 6-0 defensive end in eighth grade.
"They've got the role model," Calvin Willis says.
What they are modeling is a guy who runs fast but considers himself a three-down player and not just a rusher. A guy that is being groomed as a starter one day but whose speed is showing up on special teams. A guy who is already working it.
"I can do more stuff. I feel like I don't need to do everything right now," Jordan Willis says. "Obviously I'm going to be playing against some good guys in the season, and I don't want to put everything out there so that they can study me and be ready for me. So I can give that element of surprise a little bit. There's not too much more, but I can power rush, I can add a little bit more power into my game; I can spin a little bit. There's certain things I can do. It's just about getting that O-lineman in that position and being able to execute it during the game."
That doesn't surprise Calvin Willis, either.
"When he's on the field," says the detail man, "he's all business."