Two of Andy Dalton's 17 game-winning drives have come at Heinz Field.
Don't call this a heavyweight title rematch in the Bengals locker room. Don't refer to Sunday's game in Pittsburgh (1 p.m.-Cincinnati's Channel 12) as a UFC blockbuster.
They feel like the fallout of hype of what unfolded in the final 1:23 of the heart-breaking loss to the Steelers in last year's Wild Card Game obscured what had been a tough, tight game between two talented AFC North foes that may very well be the most physical teams in the NFL.
But they still go into Heinz Field as the pundits' underdogs and the Steelers sweep of the Bengals.com Media Roundtable shows why.
The two local beat reporters, Jay Morrison of The Dayton Daily News and Richard Skinner, the digital sports columnist for Channel 12, are in on the Steelers for a variety of reasons. Morrison thinks the Bengals might have a tough time shortening the game on the ground and Skinner goes with the home team on what he sees as a 50-50 ball in the air.
Gerry Dulac of The Pittsburgh Post-Gazette goes Steelers because of the ease with which they put up 38 points Monday night in Washington without three weapons in Le'Veon Bell, Markus Wheaton, and Ladarius Green, two of which they won't have Sunday.
John Clayton, The Professor from ESPN, think it's a pretty easy lesson. Both teams are going to make the playoffs, he says, but he gives the edge to the Steelers in this one because the Bengals offense might come up a score short.
Let's go around The Table:
Will the Bengals follow Antonio Brown? I know they haven't in the past. They've got a new slot receiver in Eli Rogers who was hurt last year. He caught six balls last week in the first half. Ben really likes him. Todd Haley, the offensive coordinator, really likes him.
It sounds like the Bengals are rotating a little bit there at slot corner. On a big fourth-and-one play (Rogers) ran a little drag route for 19 yards. If you're looking for a matchup other than Antonio Brown, I would say Rogers. And Sammie Coates is a big, strong guy that is supposed to make big plays and he had a 42-yarder.
On the line, the center, Maurkice Pouncey is back after missing last season and right guard David DeCastro is a Pro Bowler. That's a great matchup with the Bengals Pro Bowler, Geno Atkins.
Last week the Steelers didn't blitz much. Last year the Steelers had 48 sacks, the most in many years. They had their most interceptions in a few years, but they ranked 30th in the league vs. the pass and they were among the league leaders giving up 20- and 40-yard passes. They're trying to get more pressure with four men and drop more into coverage.
Last week they had no sacks against a quick passing team, but they had two picks and were three of 10 on third down. I think he'll bring more pressure this week, especially after he saw Dalton sacked seven times.
I'd be shocked if they follow A.J. Green because they don't have that kind of player back there yet. They have a first year safety in Robert Golden who played pretty well last week. And I'd look for safety Mike Mitchell on A.J. in the deep passing game. They paid Mitchell a decent buck and he's been just above average. A hard-hitter.
They're trying to find some corners. Their second-round pick from last year, Senquez Golson, is hurt again. Their first-round pick from last year, pass rusher Bud Dupree, is on IR. Their edge rushers, their linebackers, had very few sacks last year. They would like to get more pressure there, but their two ends have been very good in applying pressure in Stephon Tuitt and Cam Heyward. Right guard Kevin Zeitler is going to have to handle Tuitt. He's very good. Strong, fast, athletic. The two of them are very good.
The big off-season question for the Steelers was their secondary because it was so bad. They tried to address it last year in the draft. Three of their seven guys were secondary guys, two of them got cut and Golson was hurt. Then this year they addressed it again. Their first two picks were a corner and a safety and the safety, Sean Davis, is in the slot. Corner Artie Burns is the first-rounder and he comes in in the dime package and he'll play more and more.
They picked up corner Justin Gilbert from the Browns, who they wanted to take a couple of years ago at No. 15 and the Browns took him at No. 8. They traded a sixth-round pick for him. I don't know if he'll play this week, but they see the same guy. A guy with great speed. He'll play eventually. They have better players in the secondary and their front seven is pretty good. The backers are all No. 1 picks, although Arthur Moats is playing for Dupree and he looked good last week. Lawrence Timmons has lost a step and I would think the Bengals try to match him up.
THE EDGE: Steelers, 28-20. They played last week without five guys they were really counting on this year. Dupree. Golson. Bell. Bryant. Ladarius Green, the tight end they signed to replace Heath Miller. They're major contributors and yet they went into Washington with just four receivers and score 38 points. Bang. Bang. Bang. Bang. I think the Bengals will score some points. A.J. looks like A.J. I like Dalton. He'll complete passes. The Bengals have to outscore them. The Steelers haven't been saying much this week. They're not even biting.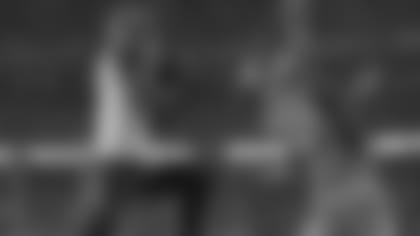 A.J. Green, here working against Denver, has six TDs vs. the Steelers.
The Bengals have to shorten the game and the big thing is if they can run the ball or not. Andy has proven with his development and what A.J. does that they can win games without running the ball. They did it last week in New York. But I don't think they can win in Pittsburgh without some semblance of a running game.  They have to run the ball to not only be effective on offense but to shorten the game. If it turns into a shootout it's hard to beat Pittsburgh.
The Bengals came out slow last week. You can chalk that up to rust. Andy hadn't played that much and he had the early pick and the Jets went right down the field to score. That could be trouble in Pittsburgh, but last year down there the Steelers scored on the first drive and didn't get a touchdown the rest of the game. But I don't think a slow start is something the Bengals want to play with in Pittsburgh.
Jets running back Matt Forte went for five yards per carry. That's another recipe for disaster, especially if they want to shorten the game.
It's the fifth time these two have played in 21 games. I don't know whose favor that works in. The week has been pretty quiet and the way it's been in the past you would say that is unexpected. But it's what I expected. The way the last game went. The way all three games went last year. You'd expect everyone to kind of tone it down. The big question is does that mean it won't carry on to the field or are we going to see the chippiness? Are we going to see the stuff that goes beyond just a division rivalry game? If it does happen, which is the first team to make the big after-the-whistle-mistake that really hurts the team?
I definitely think the Bengals learned from that game last year. They had the game won. They had no one to blame but themselves for the loss. No one has come out and said it, but I think there's a good segment of the roster that was disappointed in the players that melted down in the end. They're not these Baby Bengals anymore. There are young guys that have a ton of games in this league. I think they've matured. I don't know if the Steelers will try to bait them into anything. But if they do I don't think the Bengals will bite. I think they'll be more professional.
THE EDGE: Steelers, 27-17. Under Marvin they've played 28 games against the Steelers and there is something like six where they've scored more than 20. That's a pretty serious trend. I just don't think they can score enough points in Pittsburgh. I think they'll do a good job against them. But there's always that wild card element of the return game with Antonio Brown that gives them a short field. If they give Pittsburgh long fields, maybe they can keep them in the 17-20 range.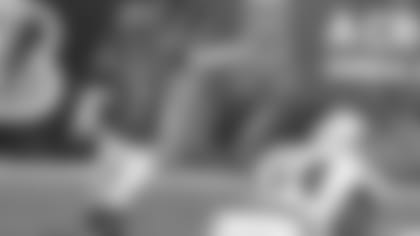 This is a special teams game. Mike Nugent is coming off a last-minute winning field goal in New York.
It's the same storylines, right? Can you keep Roethlisberger form extending plays? Can you slow Antonio Brown? Can DeAngelo Williams fill in for Le'Veon Bell? One thing that changes from the play-off game is you have Dalton instead of McCarron. Coming in off the game he had last week and that's kind of a security blanket.
Look back at last year and I know it was his first game back from injury, but Ben kind of helped the Bengals win with some picks, including the one to safety Shawn Williams that kind of tuned the game around. And he really didn't hurt them a ton in the Wild Card Game. The one touchdown drive was penalty aided.
Bengals defensive coordinator Paul Guenther seems to push the right button at the right time on who to rush and how many to drop. You can't let Antonio Brown make a big play and he usually finds a way against everybody. He's probably had more big plays in the punt return game against the Bengals than anything else.
I don't see them flopping to put specific guys on Brown. I would say they're sticking with what they've been teaching. And let's give some credit. The young guys, Josh Shaw, came in and played pretty well. Chris Lewis-Harris in a handful of snaps played well and with Darqueze Dennard coming back you've got another corner you believe in. and Markus Wheaton isn't Martavis Bryant. I think they match up pretty favorably.  The Bengals can't be stubborn like what the Jets did with Green and be stubborn with Antonio Brown and just say we can get him one one-on-one. He'll get you. Just like A.J. will get you.
This is a game where the Bengals missing tight end Tyler Eifert is a factor. You could see the Steelers try to take away A.J. Green and being able to match up with Brandon LaFell and Eifert goes nine for 102 and a TD. C.J. Uzomah is a nice kid and he's done good things, but he's not a nine-102 guy in this league by any stretch.
I think the big matchup is the Bengals offensive line against whatever the Steelers do from a blitz perspective. Do they block it up better than they did against the Jets? The Jets blitzed, but they were still bringing five. They weren't bringing seven, eight, nine guys. A lot of times they were just able to win matchups and confused the young guys and overmatched center Russell Bodine. You got away with giving up seven sacks because the quarterback was great and A.J. Green was great. You give up seven sacks up there; you're going to get blown out of Heinz Field.
The periphery stuff is going to be important. Paul Guenther talked about it in the training camp luncheon about using rookies to get them used to guys getting under their skin. I think they know that. It's another thing in the heat of the battle. Somebody pushes; somebody does something you don't like.  They just can't let it escalate. I think the Bengals know, but we don't know until it happens. How do you react? You just can't afford it in a game that is going to come down to one possession.
THE EDGE: Steelers, 27-24. Ben seems to keep getting better and better. It's their home opener. It's a 50-50 game and in those games I'll go with the home-field advantage. But if the Bengals won it, it wouldn't surprise me. They could really take a step in the division and in the conference.
Cincy and Pittsburgh are the two best teams in the division. If one doesn't win the division I think the other one makes the playoffs. It seems like that's that way every year. You know it's going to be a physical game. You know it's going to be a fourth-quarter game, Then it's just a matter of who makes the big play.
The big thing challenging Marvin is trying to keep Pittsburgh to 24 points. They're a 30-point offense based on what they plan to be and Ben has started out as strong as he's ever been. The Bengals offense is good enough they can get to 20 to 24 points.
That's the Steelers' plan and what is amazing is they were able to do that last week without wide receivers Markus Wheaton and Martavis Bryant, without Le'Veon Bell. They've got a new wide receiver, Eli Rogers, who has been a superstar since training camp. And running back DeAngelo Williams is good enough for the short stretch to get you the running game. They are on fire.
What can the Bengals take away? Obviously Antonio Brown is going to get his catches. They have to minimize the impact of those catches. Wheaton is going to play in this game, so that gives them something in the middle of the field in the slot.  Certainly the Bengals having linebacker Vontaze Burfict would have helped, but I think there are enough coverage guys.
What can the Steelers do to stop A.J. Green because very few people have stopped A.J. Green? They've had trouble coming up with consistent play at cornerback, which means they'll have to play a lot of zone. Obviously the safety is going to lean over to A.J. and that leaves it up to Andy to make the right reads to see how he attacks it. Unfortunately, this is a game not having Tyler Eifert really hurts because he could have got underneath the coverage. That takes away a little bit from the Bengals.
But the way Andy is developing, he's so much better the last two years with the leadership, the reads, how he works things. He's just good.
THE EDGE:  Steelers. Right now their offense is clicking. Their confidence is high. The Bengals have a very good offensive line, but I think one of the understated things about the Steelers is they have a very good offensive line that allows to maneuver up and down the field. They're really in sync now. I think it's going to be a tight game. That's why I'm glad I can go see it. It's now become one of the better rivalries in the league and one of the better games. I'm still stunned more Bengals games don't get the 4:25 starts, but it's good for me because I'm able to get there and see a lot of the Cincy-Pittsburgh, Cincy Baltimore games.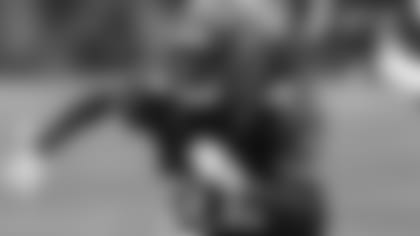 Cornerback Adam Jones has played brilliantly vs. the Steelers of late.
There are no absolutes in this thing if you're going to go off the two games last year in which the Bengals didn't lose their starting quarterback. There's too much talent, too much emotion, too much grinding and goading to fit into the logic of a stat sheet.
The Bengals must run the ball? They rushed for just 78 yards in Pittsburgh and won.
The Bengals have to stop the run? When they had the ball and the 16-15 lead with 1:23 left in the Wild Card Game, they had already allowed 167 yards.
And they're already coming off a game this season where they allowed seven sacks, 152 yards rushing, and a 65-yard kick return and won.
But it's fair to say you can't beat the Steelers giving up seven sacks. Bengals offensive line coach Paul Alexander says this week's matchup has nothing to do with last week's seven sacks and there is no panic in the air. But with the Steelers talented interior tandem of Tuitt (he of the Dalton broken thumb) and Heyward teeing it up, the Bengals have to pick up those twists that worked for the Jets.
Keep an eye on Bengals right guard Kevin Zeitler matched up with Tuitt. Coming off his first NFL start at right tackle, Cedric Ogbuehi said this week he and Zeitler would have their timing issues all locked up coming into Heinz. That was delayed by Ogbuehi's toe injury in the pre-season opener that took him out for a month. Plus, Ogbuehi sat out most of the spring with a strained muscle.
"We haven't had much time together, but we're working on it and we'll get there," Ogbuehi said.
Last year in the games they won and should have won, the defense, particularly the cornerbacks, were superb. Brown got his yards but didn't slay them while Bryant and Wheaton were quiet. So give them the rush yards if it keeps Brown from going nuts.
The big question? Since WILL backer Vontaze Burfict has been in the league, the Bengals have yet to beat the Steelers without him. He missed the two games in 2014, and in one of them without their best run stuffer, Bell went off for 185 yards. And the other game was decided by an Antonio Brown punt return early and an A.J. Green fumble late, which is about par for this series. See a trend that's going to tell you what's going to happen in this fourth quarter? Good luck.
This has always been a special teams game of field position, going back to the War of 18-12 in 2009 when the only TD was Bengals running back Bernard Scott's kick return. Brown has devastated them more at punt return than scrimmage when his three TD returns dominated the series.
He's caught four TD passes against the Bengals, but this one is so tight it's going to come down to hemming him in. Key players? Forget Big Ben and A.J. Try Bengals rookies like Alex Erickson, Clayton Fejedelem, Nick Vigil, and Tyler Boyd and how they return and cover.
When Bengals head coach Marvin Lewis wins at Heinz, he usually gets a specials team boost. It was a kick return in '05 (Tab Perry), a kick return in '09 (Scott), a next-to-last field goal in '12 (Josh Brown) and last year when they handed the Steelers just 34 yards on returns, none on punts.
Lewis has talked hardly at all around the local media on what he's done to make sure his team doesn't implode when the Steelers come baiting . But according to national sources, Lewis has done what a good head coach does and done due diligence with meetings and speakers.
Maybe one of the ways to avoid an implosion is to get a well officiated game that controls the physical play from the get-go. The NFL seems to have made those moves this week by assigning the crew of the highly-regarded Pete Morelli.
A trend? The special teams edge and turnovers. What else is new in Bengals-Steelers?