How good will the Bengals be in 2017? Start with left tackle Cedric Ogbuehi (left) and offensive line coach Paul Alexander.
The alarm bells have sounded all throughout the Bengals' offseason.
Their franchise quarterback, heading into his seventh season and the fat prime of a career that has made him one of the league's best, is coming off a season he was more battered than celebrated.
Heightening the angst is the offensive line is undergoing its biggest re-shuffling since he's been here. Gone is the only man that protected his blind-side during all those years at left tackle. The new right tackle has barely played. The right guard is seasoned but brand new. And ….
That sounds like the 2017 script, but it is actually not very far from what played out in the 2009 offseason and the Bengals can only hope it keeps going.
Behind a line fraught with question marks, it gave quarterback Carson Palmer enough time to reel off 10 victories, many of them carved out of fourth-quarter scoring drives, that gave them one of their more improbable Wild Card berths ever and began this current run of six post-season appearances in the last eight years that has been matched only by one other AFC team in New England.
 "He's what? Going on nine years," said left guard Clint Boling, a seven-year veteran himself, turning to right guard Andre Smith, his old-new locker mate as the Bengals settled back in Monday for their first day of voluntary off-season workouts.
And that's where the differences start to creep in. The '09 line didn't have two guys with that much NFL experience. When they lined up for that Ripley's Believe It or Not loss to Denver on Opening Day at Paul Brown Stadium, the Bengals offensive line had 172 NFL games with 139 starts.
That was their last home opener but the Bengals are confident when the NFL schedule is released Thursday they'll get one this year for another offensive line renovation that is a bit longer in the tooth. The line that is penciled in for this one has 261 NFL games and 218 starts led by the 77 starts of each Smith and Boling.
EXPERIENCE OF 2009 OPENING DAY OFFENSIVE LINE
LT Andrew Whitworth, 2nd rounder, 42 games, 38 starts
LG Nate Livings, college free agent, 6 games, 6 starts
C Kyle Cook, college free agent, 5 games, 0 starts
RG Bobbie Williams, 2nd rounder, 110 games, 89 starts
RT Anthony Collins, 4rth rounder, 9 games, 6 starts
EXPERIENCE OF TENTATIVE 2017 OPENING DAY OL
LT Cedric Ogbuehi, 1st rounder, 19 games, 12 starts
LG Clint Boling, 4rth rounder, 79 games, 77 starts
C Russell Bodine, 4rth rounder, 48 games, 48 starts
RG Andre Smith, 1st rounder, 86 games, 77 starts
RT Jake Fisher, 2nd rounder, 29 games, four starts
Now, the last time Smith played guard he was a freshman in high school in Birmingham, Ala., but there doesn't seem to be too much concern that he can figure it out. He certainly has the body (6-3, 335 pounds) and the mind-set that has made him one of the top run-blocking tackles in the NFL.
But he admits the landscape is a bit different since he left for his one-year hiatus in Minnesota. The only left tackle he knew, Andrew Whitworth, is starting for the Rams and the man he replaces, Kevin Zeitler, is the richest guard ever in Cleveland. Cedric Ogbuehi, with a dozen NFL starts and one at left tackle, replaces Whitworth. Jake Fisher, with four NFL starts and three of them in last year's final games, is in Smith's old spot.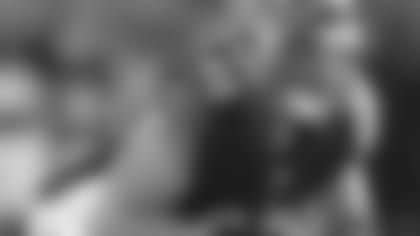 Left guard Clint Boling says his shoulder will be ready for training camp.
"Playing next to Kevin was great while I was here. We did some really good things," Smith said. "With me now playing the position he used to play. I was next to him for years and years so I understand the position a little bit. I believe that Ced and Fish are going to do a great job."
 It didn't take long for Smith to get his bearings. When he was asked about Fisher playing his positon he offered a quick correction as well as how he can help.
"Not my spot anymore," Smith said. "With Fish, it's all about confidence at tackle. Knowing you are that guy knowing whoever the defensive end is you are going to kick his ass. You just have to work hard every day when you come to work."
Smith, healthy after tearing up his shoulder in his fourth game with the Vikings, is working on a one-year, $3.5 million deal that is of high value since he can also play tackle. But right now his focus is on guard.
"Just learning something new. That's going to be the biggest change," Smith said. "It's a position that is fresh, this being my ninth year it's a fresh start at a new position so it's actually something I'm looking forward to."
So is Fisher, a second-round pick from 2015 who has played all over the lot until getting the nod after Ogbuehi got benched late last season.
"I think he's got a calming presence. He knows his stuff," Fisher said. "He's still playing at a high level. He's consistent in what he does. He's smart, he's instinctive. I think we'll have a good right side."
It will be recalled that Smith, a rookie in 2009 and the only first-rounder on that line, didn't play the first half of the season because of a broken foot. Sophomore Anthony Collins got the start after playing the last six games of his rookie year at left tackle when the estimable Levi Jones' knees finally gave out.
After that 2008 season the Bengals moved Whitworth from left guard to tackle, a move that had been in the making since he had already started a very competent 13 games in place of Jones during his previous three seasons. Eleven of Ogbuehi's starts have come at the right side in a move that ended in double-digit sacks and his benching.
The Bengals hope he'll be better on the left side because that's what he played at Texas A&M before they drafted him in the first round in 2015 and Ogbuehi says he's more comfortable there. And, on Monday he was able participate in off-season workouts for his first time as a pro after shelved by an ACL rehab and a sports hernia the past two seasons.
"This is the time where you get to slow the game down and work on technique. I never got to do that," Ogbuehi said. "So I'm excited to do it this year. Just start over again. Work on my craft."
And Ogbuehi has been doing that. He spent the first part of this offseason in Los Angeles pounding it out at Jay Glazer's MMA camp and that seemed to be the perfect spot for a guy that has had problems with the bull rush and his upper body strength. He couldn't start last year's finale because of a shoulder problem.
"I did a little boxing. Strengthening shoulders. A little wresting–type movements. It was good work," Ogbuehi said. "Leverage. Boxing for shoulder strength and just overall workouts are good for football."
The stint seems to have earned him some capital in his locker room.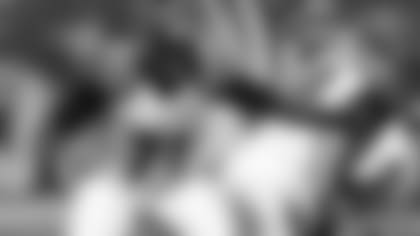 Andre Smith is trying guard, but has 86 games at tackle.
"He put in the time, he put in the work, and he's going to get this offseason," said quarterback Andy Dalton. "He didn't have an offseason last year, so he's going to have the time to work on filling that role, so I'm excited about it. Obviously Ced knows that he wished he could have played a little better at times but I think all you can do is put your head down and work and he's done that. I'm so happy for him and I have all the confidence in the world that he's going to play at a high level."
More '09 karma? Guess who was working out with Ogbuehi in his new hometown of  L.A.
"Whit was there and it was the same thing we talked about here," Ogbuehi said, "He believes in me, he's encouraging me. It was great. We were out there joking around and working."
And that leadership was just as valuable as his Pro Bowl pass protection. Boling knows. His good friend and golfing partner left a mark.
"To be able to learn from him is second to none. As good as it gets," Boling said. "Being around him, I feel like I have a good idea of what the leadership for this team and what this offensive line is about and try to pick up where we left off."
Boling likes the experience Smith brings and the consistency of play-calling set by fourth-year center Russell Bodine.
"And guys like Ced and Jake are talented guys," Boling said. "First- and second-round picks and they haven't had a chance to really prove themselves yet. This is going to be a big opportunity for them to do that.
"We're just going to have to evaluate what we need to do best," Boling said. "We'll have to continue to work on (communication) throughout the whole process. They'll be ups and downs through OTAs and training camp."
Dalton is as close to Whitworth as anybody. It was Whitworth who reached out on that 2011 Draft Day in the middle of Palmer purgatory and told him he was appearing at his foundation dinner the next week because that's what the Bengals starting quarterback did.
"When you see him moving on, it's one of those things, you aren't guaranteed to be in the same spot for the rest of your career," Dalton said.
This time Dalton is the seventh-year franchise quarterback coming off a jarring season in the pocket. In 2008 Palmer, already on a surgically-repaired knee, wasn't around long enough to get sacked 41 times because he injured his elbow on a hit and could play just four games.
This year's urgency is the same and Dalton can see the blueprint of this line renovation, starting with where you have to start. The tackles, Ogbuehi and Fisher.
"When we drafted both of them, this was kind of the plan. It was going to happen at some point, we just didn't know exactly when, especially with Whit," Dalton said. "You don't know if he's going to end his career here, if he's going to go somewhere else, so getting the deal done in LA and the same thing with Kevin. He was deserving of a big contract, and he was able to get it. And so I think when we drafted both those guys we kind of had the replacements in place and so now it's time for them to step up and play, and play at a high level, because those are two big shoes to fill".
Boling, who says his separated shoulder will be healed in time for training camp, believes the presence of Bodine is going to be a big help in shoring up communications with the new alignment. But it's a work in process, signified by Dalton reviewing all 41 sacks on tape.
"There are times where I could have done something different and there's times I don't feel that I could have," Dalton said. "I think the biggest thing is that I have to get that number down, however we can do it, whether it's me finding a way to get an incompletion or our guys executing a block better."
He knows he'll have to adjust to the new topography up front.
"It's one thing for me to push them to be the best they can be. Also for me, be on time with the ball, get the ball out of my hands quick, don't take unnecessary sacks," Dalton said. "You can throw incompletions and different things like that. There's different things I can do to help with what's going on upfront, but that's if you're getting pressure. I have full confidence that these guys are going to play well and I'm not going to have to worry about that. Obviously there's going to be times where things are going to happen, but we're not going in thinking, 'Oh, we're going to be getting pressure because these new guys are in.' We're going to go in saying they're going to block them and that's the expectation here."
It worked in '09. Why not turn to that last member of the line for some advice?
"Tell them to put a drop in the bucket a day and eventually the bucket will be full," Smith said. "Work hard."
Throwback gallery of the Bengals Draft Class of 2002 & 2003