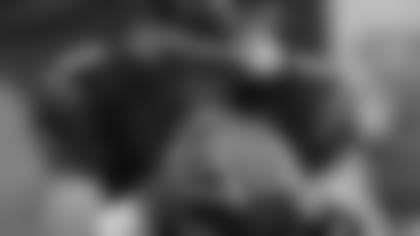 Carson Palmer threw for 276 yards and one score in the 16-10 victory. (Bengals photo)
While Bengals veteran center Rich Braham lingered at the MRI machine in the bowels of Paul Brown Stadium during the second quarter Sunday, he knew it wasn't good when his backup, Larry Moore, showed up, too.
While quarterback Carson Palmer didn't know left guard Eric Steinbach could play center until he began taking some hurried practice snaps from him as Moore lay crumpled on the turf, Bengals radio analyst Dave Lapham flashed back to the day against San Diego he had to move from guard to center without having taken nary a snap.
While Bengals offensive line coach Paul Alexander wondered if two centers on the same team had ever been hurt within 10 minutes of each other in the last 50 years, Pro Bowl right tackle Willie Anderson, himself working with a balky back, gathered his offensive line together and told them, "We all have to play center."
"I was a little worried, but then I looked at them and they didn't flinch," said Palmer of his line after another one of his unflinching no-pick, 276-yard efforts in Sunday's 16-10 win over the Texans. "There was no panic at all. Willie was talking to them and those guys helped each other out. I couldn't; I've got other stuff going on. Those guys needed to make the calls and they did. They did a great job."
One of the big reasons is because Alexander and his assistant, Bob Surace, make sure the offensive line has as many options as they can get during a game. It's why Alexander gives his linemen quizzes every week on what all the assignments are at every position. So Steinbach had to know, at least, the center's responsibilities.
"He must have done alright on the test this week," Surace said, "because Paul didn't have to go into a lot of corrections after he gave it."
Anderson, who missed much of last week's game in Chicago with back spasms, almost didn't play after missing all but one day of practice this week. He did something to his back about two hours before Sunday's game while loosening up in the weight room, and Alexander thought, if anything, backup right tackle Stacy Andrews would have to play his first NFL game at right tackle.
"Paul came up to me and said I had no choice. I had to play," Anderson said of the discussion after Moore's injury. "I'm not looking for any pity. Everybody is playing hurt."
No, talk about rookie center Eric Ghiaciuc (pronounced Guy-Check) because head coach Marvin Lewis said if Braham isn't ready, the fourth-round pick gets his first NFL start next Sunday night in prime time on ESPN (and Cincinnati's Channel 12) in Jacksonville. Ghiaciuc wasn't active Sunday because the Bengals needed Andrews in case Anderson faltered, as well as Scott Kooistra's guard-tackle versatility, which paid off.
Braham, the 12-year glue of the offensive line, said he'd have a better idea Wednesday if his left knee can go, but he also said, "I'm walking alright. There's a good chance."
This is the kind of game it was. A lot of blood, sweat, and tears, right up until Houston quarterback David Carr couldn't unleash a Hail Mary at the gun. Braham limped back on the sideline after Moore got hurt and was prepared to go back in case Halley's Comet appeared and something weird happened again.
"We needed a game like this, to test our conditioning in the fourth quarter and guys playing hurt," Anderson said. "We've been kind of lucky the first three weeks. Guys getting subbed out in the fourth quarter. But we knew coming in these guys were hungry and were off a bye and would be ready."
Wide receiver T.J. Houshmandzadeh was already giving out head coach Marvin Lewis's offensive game ball an hour after the game to Steinbach.
"Eric Steinbach was awesome," Houshmandzadeh said. "Richie went down, Larry went down. I'm thinking, 'What are we going to do?' Then I see Steiny unwrapping his arm. He came through for us."
Except for some team work in his rookie spring of '03, and a couple of snaps a day on the side during this past training camp, Steinbach hadn't touched a ball. Had never played center in a game. Ever. Until he began taking his gloves off as Moore was put on the cart with a significant right knee injury that may have ended his season.
"I figured I better try to snap the ball with my bare hands. The gloves get sweaty and there's more chance for the ball to slip," Steinbach said. "I was just trying to get the snap up and then do my footwork. The good centers snap and step. I was going to try and snap and then step because I didn't want any fumbles on the exchange. I'm glad we were good on the exchange."
Good? Try no fumbles. And on the drive Steinbach took over, the Bengals scored their only touchdown of the game to take a 10-3 halftime lead. With Kooistra moving into left guard, the Bengals line did commit two false starts, a hold, as well as being part of a delay of game penalty after the switch was made.
But the revamped line also didn't allow Palmer to get sacked, running back Rudi Johnson ran behind it 11 times for 48 of his 88 yards, and they produced drives of 7:34 and 2:04 that yielded Shayne Graham field goals that broke a 10-10 tie.
Remember, you're talking about a primo athlete in Steinbach who doesn't take extra reps because he takes them at left tackle backing up Levi Jones.
"This was a classic O-line game. This is one for Bengals history," said Lapham, who played all five line spots during his 10 seasons with the Bengals. "I knew exactly what was going through Steinbach's mind. When you get comfortable, you can snap and step at the same time. Until you get comfortable, you snap first. But he's so athletic, he was still getting to spots before they were, the way he moves laterally. He's just gifted."
Lapham still remembers quarterback Ken Anderson telling him he didn't care what he did as long as he got the snap to him: "I told him, 'Keep your hands in there and ride me and I'll make sure you get the ball.' That's what these guys did."
Except that Steinbach snaps it left-handed.
"That wasn't weird," Palmer said. "It felt good all these guys were ready."
To complicate matters, the Texans play a 3-4 defense that features multiple looks over the center and guards and, as Braham says, the main job is for the center to communicate the defense to the rest of the line.
"Sometimes I was a little confused and the other guard or tackle helped me out with the calls and the adjustments," he said.
The Bengals did prepare for a bunch of four-man fronts and got them. But Steinbach was surprised Houston didn't press the issue.
"I thought when they saw me at center, they were going to bring a lot more pressure and a lot more blitzes up the middle," Steinbach said. "And they really didn't. They stuck with their base defense and just gave us different looks up front, but they didn't bring as much pressure as I thought."
Anderson thinks one of the reasons the line held together is because Alexander puts so much on the guards.
"You get lazy with Richie out there because you know he just knows it right away," Anderson said of right guard Bobbie Williams. "But Bobbie knows this offense. It used to be that we'd tell the guards not to say anything, but Bobbie knows what he's talking about and he helped out with the calls. It was a different look for (Steinbach) because he was seeing the whole field instead of just his side. Steiny can play the position athletically, but he needs some help with the mental part if it."
As Williams said, Braham is as much a general for the line as Palmer is for the offense, but he believes Braham's presence was felt.
"What helped Steiny is Richie," Kooistra said. "He's been here three years and having that experience of having Richie next to you is big and Steiny stepped up."
Even Steinbach said, "I just pictured Richie in there making a call."
It was that kind of game. Alexander said it was like seeing something new every time he turned around. A week after playing right tackle extensively for the first time in an NFL game, Kooistra played left guard extensively for the first time in a game.
Anderson creaked back to his locker after the game and exhaled as he sat down.
"I've been on my feet for four hours. If I sat down, (my back) was going to tighten up," he said. "It was hot out there, too ... exhausted."
They used to call Lapham "The Tool," for his versatility long before the term became a 21st century putdown. Steinbach grimaced at the thought, but said, "Whatever the coaches want you to do."