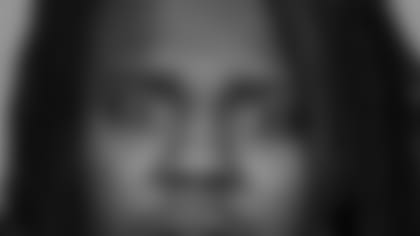 HendersonGEORGETOWN, Ky. - They call him "Prime Time," because John Thornton estimates that Eric Henderson takes about an hour to get dressed for practice with all his gloves, towels and socks.
"He's the prettiest one out here," said Thornton, who sometimes calls him "Fat Deion."
But by any other name Henderson is looking good as a two-spot defender instead of a two-sport player.
"The change of position is going to help him," said Thornton this week after watching Henderson return a leaping interception for a touchdown. "He hits like a D-lineman and he can run. He can help us."
This is Henderson's second shot at the roster and after serving all 16 games on the practice squad as a rookie last year he figures it's his best one. He's dropped about 15 pounds, is dropping into coverage, and he has dropped into the middle of a roster battle where his sudden versatility gives him an edge in the numbers game.
Seventh linebacker on the strong side and ninth defensive lineman as a rush end?
"He's going to have to give us a lot on special teams, too, if he's going to make it," said Paul Guenther, who has seen plenty of Henderson as an assistant to special teams coach Darrin Simmons and linebackers coach Ricky Hunley. "He's very coachable and is adjusting to finding his way in space and in coverage."
Guenther is working with three outside backers who may very well make this team all at the same time: the 6-2, 263-pound Henderson, the 6-2, 245-pound starting strong backer Rashad Jeanty and 6-5, 255-pound backup strong backer Andre Frazier. They're all tall, rangy, athletic and are nice counters to the AFC North foes who all play some type of 3-4 defense and flood the field with the same type of linebackers on special teams.
"They would match up nicely for us against Baltimore, Pittsburgh and Cleveland on teams because they can all run," Guenther said.
Henderson, who didn't get drafted in 2006 out of Georgia Tech despite logging a half sack fewer than No. 1 pick Mario Williams' career ACC total, made the switch from defensive end to backer over an offseason he re-made his body for the transition.
All indications are his athleticism has survived the trip intact. Earlier this week in a seven-on-seven drill, he made a Jordanesque leap on a floater over the middle, plucking it out of the air at the apex, regaining his balance, and going all the way.
"Ed Hartwell made a great play," Henderson said of the other outside backer. "Because of the design of the scheme, he picked up my man (tight end Reggie Kelly) and I was able to drop into the middle."
For Guenther, the key word there is "drop."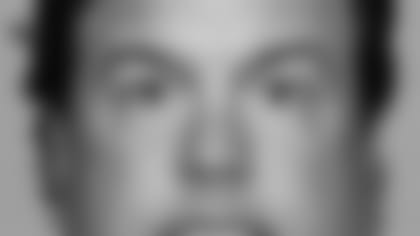 Guenther "He showed that he was able to drop into the right spot and then he was able to put his eyes in the right place," Guenther said. "That's what training camp is all about. All three of those guys have made the transition from end at some point and this is where we can get them to make the corrections."
For all those trivia buffs, it was Henderson's first interception since he played all over the field for Karr High School and the kid from Landry threw it right to him.
"Right in the flat and I took it to the crib," he said. "But this is only practice."
Henderson still heads down to join the D-line in pass rushing drills, where the coaches believe he still has a knack to get to the quarterback. He's come to rely on guys like Thornton and Bryan Robinson because they showed him around last year.
"He's a throwback," Robinson said. "He's the first one here and the last to leave. Cold tub. Hot tub. He gets here an hour early."
That comes from his days at Tech.
"That's because I played for Coach (George) O'Leary and everything was five or 10 minutes early," Henderson said. "I like doing that anyway. It gets you ready."
Henderson admits part of it is savoring it all.
He wasn't supposed to be here, coming from the hard streets of New Orleans. Not after his mother died at age 10 and he virtually raised himself and his two siblings. Not after he snuck his brother into his dorm room at Tech his senior year so he could send him to high school in Atlanta. Not after he suffered nagging injuries his final two seasons and missed the scouting combine and the scouts moved him off the board despite the four fumbles he caused on his six sacks his senior year.
Not only that, they glossed over the 2004 Wilma Rudolph Student-Athlete Achievement Award presented to four students in the nation who have overcome great personal odds to participate in sports while achieving academic success. Henderson pulled down a Tech management degree along with 25 career sacks.
"He's a smart guy, he's got his degree, and he wants to be good," Thornton said. "And it takes him an hour to get dressed."
Henderson laughs about it.
"I don't like 'Fat Deion,' but it takes me time taping. I tape my fingers and my hands and I want to make sure I do it right," he said.
He may make the team just on brains alone. His decision-making in last Sunday's Oklahoma Drill was impeccable. He was shocked that wide receiver Chad Johnson called him out in the one-on-one blocking drill.
"I know we need that guy, so I didn't unload on him like the way I wanted," Henderson said.
Of course, he was even more shocked when he read that Johnson felt he won because he knocked off Henderson's helmet.
"No, no. I gave him a pretty good pop," Henderson said. "But he was in there sticking. He's working on his blocking. We're just trying to make each other better. He likes to talk trash, I like to talk trash. He's my dog."
But Henderson knows the dog days are coming as the one-week mark of camp approaches dragging into August.
"Now is when you have to start absorbing the heat and staying focused," he said. "This is where guys break down. I don't want to be that guy."