The photo of Ali from that day in Georgetown on Kevin Coyle's bulletin board.
It turns out that Marvin Lewis and Hue Jackson, whose boyhoods on opposite coasts were mesmerized by the deeds and words of Muhammad Ali, both have signed Ali boxing gloves hanging in their homes.
"I guess we're going to put them on and lace them up," Jackson says with a laugh from Cleveland, where he now coaches the Browns and is preparing for one of those AFC North 15-round slugfests against Lewis' Bengals.
"I always tell people someone paved the way for you. Someone helped you get to where you are," says Jackson, who was nine when he listened as Ali won the heavyweight title a second time tying up George Foreman in the rope-a-dope during "The Rumble in the Jungle."
"Sometimes you really have to chase history and find out how it all started and obviously Ali was tremendous."
One day, Aug. 17, 2009 to be exact, the Bengals didn't have to chase history. They came face-to-face with it for about 15 precious minutes. And then The Greatest vanished like one of his card tricks, seemingly turning everyone in this story into nine years old again.
The 67-year-old Ali, racked by Parkinson's but fueled by his very own life force field of charismatic spirituality that helped transform America from Jim Crow to Jordan's Rules, suddenly rumbled across the Georgetown College practice field in a golf cart at the end of a Bengals practice. The event was so top-secret and quick that strength coach Chip Morton, working on a side field with a player, missed him.
"But my son shook his hand. He was down there working at camp," Morton says of 16-year-old Asher. "I don't know how he got that close. He was nine and we talked about that this weekend. Nine years old and he was able to cross it off The Bucket List. He met "The Greatest."'
 And suddenly a hardened team of professionals that would go on to sweep the AFC North that season melted into a teeming gaggle of nine-year-old kids, like Lewis' crowd in the foothills outside Pittsburgh and Jackson's buddies in South Central Los Angeles.
"My heart rate was going about 195 beats a minute. They probably should have put me in cardiac arrest," says Ray "Rock," Oliver, now an associate athletic director at the University of Kentucky and then the Bengals assistant strength coach. "I didn't feel too much different than you did. He made everyone feel the same."
It was the second time Oliver had seen Ali. The first had been when Ali was at the end of his three-and-a half-year suspension from boxing for refusing to be drafted into the Vietnam War, an act that not only violated his religious beliefs but flamed his curiosity. How could a country that wouldn't serve him a hamburger send him to die on Hamburger Hill?
In 1970 Oliver was nine years old and sitting in "the fourth  or fifth chair,"  of a row of six in his West End barbershop that sat hard by Cincinnati's inner city housing project Laurel Holmes when "The Greatest," appeared out of thin air.
"He was a funny guy. He picked up scissors and pretended to be cutting hair," Oliver says. "He was in there for two hours and it's just one of those things you never forget. The place was engulfed. The only way you could get out was if you moved out with him.
"As I got older I realized there was a reason he was in the barbershop in Cincinnati," Oliver says. "He wanted kids like me to see guys like him."
It's the same sense Oliver has why Ali went to Georgetown to see the Bengals.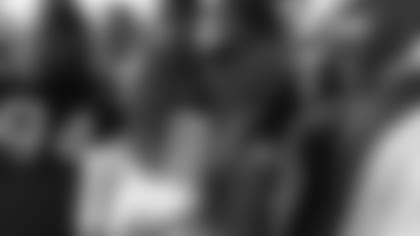 Domata Peko (94) found this shot in his video archives.
"There was Marvin in Cincinnati, Tony Dungy in Indianapolis, Mike Tomlin in Pittsburgh," says Oliver, ticking off the most recognizable African-American head coaches of the modern sports age that Ali helped create along with men like Jordan, Jackie Robinson, Bill Russell. "If you don't think (Ali) was a reason why they became what they became, you're wrong."
The man who reached out to Lewis to set up the Georgetown trip that day, Greg Roberts, president and CEO of the Ali Center, said as much on the field as the Bengals swarmed his boss.
"Muhammad is a big sports fan. Anybody close by, he wants to see," Roberts said. "He loves the Bengals. He loves Coach Lewis. He thinks a lot of Coach Lewis. We just came to honor the college and seeing Marvin was here, he wanted to make sure he could talk to Marvin and be a part of this. He loves Marvin as a coach."
But if Lewis and Jackson and Oliver were young African-Americans emboldened by Ali, then there were white men on the field that day, such as secondary coach Kevin Coyle of Staten Island and Pro Bowl left tackle Andrew Whitworth of the Bayou and LSU who were inspired by him. On Monday morning, Coyle began his meeting by taking down the photo of Ali snapped that day in Georgetown and made it a part of the tribute video that opened his meeting with the DBs.
The photo has been on his office bulletin board ever since, here and in Miami. But to tell you about the scrum that day, Coyle isn't even in the picture, blocked out by the crowd.
Chris Crocker finds that hard to believe. Crocker, the starting safety on that '09 team, is here this week as a Bill Walsh minority intern coach and immediately gave it to Coyle.
"He saw the picture and he said I was knocking people over trying to get close to him," says Coyle, who as an eight-year old was awed when Ali stunned Sonny Liston for his first heavyweight title.
"Literally, I think I was. The little kid in me came out. He was one of my boyhood idols. First as the boxer. Then to follow him as he became the person he was. Just to learn more about him. The strength and the character he had, the conviction of his beliefs . . . he helped open up a lot of doors. Not right away, but eventually."  
Whitworth was born the day after Ali's last fight in 1981, but he had seen the movies and the videos and he wished it hadn't been such a quick surprise.
"That was a real cool moment. I almost wish we knew ahead of time," Whitworth says. "That was an experience. That guy with the disease he had and didn't let it slow him down. He didn't say much. You just kind of felt his presence. I didn't get a chance to shake his hand, but a lot of us just touched him or patted him on the side.
"He's one of those unique guys. That rare, rare rare guy that comes along. One of these days Michael Jordan is going to be an old guy that can barely move and guys will have no clue and they'll watch the tapes and realize how amazing that guy was. It was a once in a lifetime-type chance to meet him."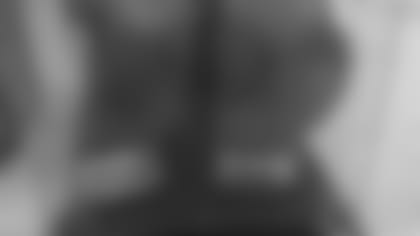 Hue Jackson's Ali Gloves.
Right end Michael Johnson was a rookie that summer and he was so overwhelmed by camp in general that he remembers virtually nothing about the visit. But he remembers plenty about what his father taught him about Ali while growing up in Mobile, Ala., at the turn of a much different century the champ negotiated 50 years before in his part of the south in Louisville, Ky.
If Ali transcends society's neat little boxes of sports and race, he also checks off war and peace. Michael Johnson's father came back from Vietnam wounded and it was Ali who gave voice to the growing anti-war movement with, "I ain't got a quarrel with them Viet Cong"
But Johnson said his father admired him.
"What black man didn't admire Muhammad Ali?" Johnson asks. "He's a little older than my dad. He was like somebody you wanted to be like. A black man coming up back in the day, he was saying stuff that everybody wanted to say."
Johnson has modeled himself after athletes like Ali who used their station to help the disadvantaged. "He was one of the first to use his platform," Johnson says, but it's the quotes he remembers his father telling him.
"If you're dreaming you can beat me, wake up and apologize," Johnson says, laughing. "I turn out the lights and I'm in bed before the room gets dark."
Defensive tackle Domata Peko loved the quotes. "He walked the walk and talked the talk," he says and over the weekend he found a video from that day, took a still picture with him in it, and tweeted it out.
"There was a buzz all through camp. The champ is here. It was a humbling experience. He sent the message to just keep working hard every day at practice. I just remember how excited we were to get that close to greatness."
Middle linebacker Rey Maualuga, Peko's fellow Samoan from California, could only shake his head. He's not in the picture, another victim of the scrum.
"Domata wouldn't let me in," he says and it's hard to tell if he's kidding or not.
When the call came from the Ali Center wondering if Lewis would like his team to get a pep talk from The Champ, who was kidding who?
"It was a no brainer," Lewis says. "I used his clips so many times with different sayings as inspiration for our team. The way he prepared for matches. The confidence and strategy and the things he employed. And once you were the champ, you had to defend. They want to be the champ; they have to beat the champ."
Ali was at the center of arguably Lewis' biggest win ever in his first season of 2003. The night before the surging 5-5 Bengals knocked off the 9-0 Chiefs, Lewis showed a clip from the movie "Ali," that depicted another shocking upset, his demolition of the ferocious Liston for that first title.
"Marvin told us this fight started off with speed, with Ali getting to him, but then Ali went blind for a whole round," said Pro Bowl right tackle Willie Anderson after that game. "But then he came back; he kept hammering away," Anderson said. "That's what (Lewis) said; just keep hammering away. Keep hitting them with speed. Keep playing fast, keep hammering away, they'll fall."
Lewis shakes his head. His Ali gloves are hanging over an Arnold Palmer autographed lithograph, two '60s icons for the Baby Boomer.
"He's been inspiring to so many people," Lewis says. "His conviction. What he stood for. Willing to go to jail for what he believed. Then becoming the World Champion again."
After his only meeting with The Champ, Lewis still had a scout's eye.
"I couldn't believe how big he was," he says.
Rock Oliver can. This week he has been thinking about Ali coming at him in a golf cart on a football field in Kentucky.
"I still think he's out there visiting all the other planets. God wants to share him with everyone," Oliver says. "Somewhere there are two guys looking like we did when they see him."
Cincinnati Bengals rookies visit Ronald McDonald House in Cincinnati, OH. 6/6/2016