The Bengals secondary, with help from cornerback Dre Kirkpatrick, played well Monday.
A few takeaways from the Bengals' first loss of the season and Sunday's upcoming game (8:30 p.m.-Cincinnati's Channel 5) in Arizona:
-It's hard to see the Bengals playing much better on defense. After holding foes to 10 points in each of the last three games, they are now leading the NFL in scoring defense and doesn't that make for a nice matchup against the Cardinals' No. 1 offense?
On Monday night the Bengals held the quarterbacks to 52 percent passing, held the running game to 3.3 yards per carry, and held one of the league's best receivers, DeAndre Hopkins, to just five catches for 57 yards.
It took Hopkins' highlight film TD catch to beat a secondary that was terrific, led by cornerback Dre Kirkpatrick's three passes defensed.
It's no coincidence the three-game run has coincided with the return of WILL backer Vontaze Burfict and with middle linebacker Rey Maualuga back on Monday, Burfict didn't have to play as much on his knee, although he still played 35 snaps compared to 40 on Nov. 5.
-ESPN analyst Jon Gruden had fun on his board with Bengals defensive coordinator Paul Guenther's rover defense, where he stands up right end Michael Johnson and roams him back and forth across the line until he rushes or drops into coverage. Usually if Johnson drops, Guenther blitzes another player.
Guenther showed another wrinkle Monday when he dropped both Johnson and left end Carlos Dunlap into coverage behind a blitz. On the first series of the second half, it worked on third-and-five when he blitzed linebacker Emmanuel Lamur  and Vincent Rey and quarterback Brian Hoyer had to get rid of it early and threw it too high for wide receiver Nate Washington working against Kirkpatrick.
So why not do it again on the biggest third down of the game, third-and-13 from the Bengals 37 with 14:56 left? Johnson and Dunlap both dropped and Lamur and safety Reggie Nelson came off the left side on a blitz. But they didn't fan out far enough and running back Jonathan Grimes was able to get a piece of both, giving backup quarterback T.J. Yates just enough time to jam it into tight end Ryan Griffin behind Dunlap in a zone for the first down. But, to Guenther's credit, most everything he tried Monday night worked for three sacks and two more hits on the quarterbacks.
And he's doing with a defensive line rotation that has yet to hit stride. Ends Will Clarke (four snaps) and Margus Hunt (two) played sparingly Monday. The Bengals defense is now on the cusp of the NFL's top ten at No. 11 and hopes to join its No. 7 offense soon. The only team in the top ten in both is Arizona, its No. 3 defense matched with that No. 1 offense. -Judging by the short post-game tempers in the wake of the 10-6 loss to the Texans, this short week in preparation for the 7-2 Cardinals is going to have some resolve.
As he stalked out of the locker room minutes after the game, offensive coordinator Hue Jackson asked a reporter, "How many drops did we have?" Told about five or six, everybody kept walking. With the working number five, quarterback Andy Dalton's adjusted numbers give him an extra 50 yards for 27 of 38 for 247 yards. Still not great and far below Dalton's  2015 standards, but  that is 70 percent passing, very probably would have been just enough, and an example of how the guys around you can make you and break you.
And here's something else different about Dalton. It's as animated anyone has seen him after a win or loss. He wasn't happy. Usually he's so impassive and quiet you can't tell if it's minicamp or his career game.
But you could tell Monday. J.J. Watt set him off with the Red Ryder B.B. Gun crack and since Dalton didn't have a bar of soap to wash out Ralphie's mouth, he ripped Watt for holding himself up as a role model while lowering the conversation.
And then when Dalton walked out of the interview room and went to his locker, he was still hot and had a few things to say, but he kept walking.
Oh yeah, this was a different guy.  We'll see what this week holds. He and Jackson should be loads of fun this week.
(Dalton, of course, got ripped for being too sensitive to the Watt line. Everybody is too sensitive these days, they say. Of course, until it's about them. It's nice to see some emotion. Everybody wants guys to be leaders and then when they fire back, they get ripped. You can't have it both ways.)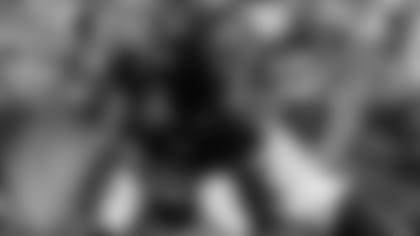 Running back Giovani Bernard was the offense's MVP Monday night.
-If anyone got a game ball on offense, it would be running back Giovani Bernard. He ran the ball at 4.5 yards per clip on his eight carries, was the second-leading receiver with five catches for 43 yards, set up the second field goal all by himself with two full-of-heart second-effort runs for first downs, and helped out on Watt as much as he could.
That first first-down run on a pitch on third-and-three was a thing of beauty. After Bernard made linebacker Brian Cushing miss at the line of scrimmage, he bulled through strong safety Eddie Pleasant and defensive end Jared Crick to get the first.
With the Bengals needing as many receivers as they could get. Bernard wasn't helping on Watt in that last series that started from their own 19 with the Bengals needing a TD to win with 3:54 left. Watt was singled up on backup right tackle Eric Winston on second down and beat him for a sack to make it third-and-18. And on the next play Winston barely staved off Watt again one-on-one and Dalton bravely unloaded his longest pass of the day at the last instant for a 26-yard completion to wide receiver A.J. Green.
It was a tough night up front. According to profootballfocus.com, a stunt over left tackle Andrew Whitworth and left guard Clint Boling ended Whitworth's streak of 30 straight regular-season games without allowing a sack.
-There are going to be days like this. Green not only fumbled on what amounted to the game's last play at the Houston 22, he lined up in the wrong spot on the illegal formation call that wiped out running back Jeremy Hill's 15-yard run to open the second half for the Bengals.
But look at how incredibly clutch Green has been this season. Don't forget the fourth-quarter TD catches in Baltimore and Pittsburgh. And that 26-yard catch Monday when they absolutely had to have it. He'll be back.
-There are a bevy of can't miss matchups, starting with Dalton vs. Cardinals QB Carson Palmer. Dalton (48) and Palmer (46) account for 94 of Bengals head coach Marvin Lewis' 108 victories. Jon Kitna (10) and Ryan Fitzpatrick (four) have the other 14. They are both MVP candidates and are stalking Tom Brady (111.1) for the NFL passing title with Dalton at a 106.2 passer rating and Palmer at 108.
 Green, the fourth pick in the 2011 NFL Draft, is matched against Cards cornerback Patrick Peterson, the next pick in that draft.  Bengals tight end Tyler Eifert, who had three TD catches on national TV two weeks ago, goes against the guy he backed up his first two seasons in Cincinnati, Jermaine Gresham. Gresham caught the winning TD pass in Arizona's win at Seattle on Sunday Night Football. Bengals safety Reggie Nelson is tied for second in the NFL with four interceptions and Cardinals safety Tyrann Mathieu is right behind with three. It's also a matchup of "Honey Badger," Mathieu and Bengals cornerback Adam "Pacman," Jones, two guys that no longer like to be called by their college nicknames.
Cincinnati Bengals host Houston Texans at Paul Brown Stadium in week 10 of the regular season.