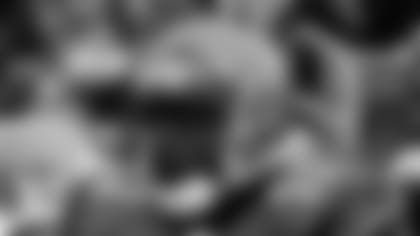 Rudi Johnson glides into the end zone after an eight-yard score. (AP Photo/Al Behrman)
Less than an hour after Shayne Graham's last-play 37-yard field goal lifted the Bengals to a 23-20 victory over the Browns to all but give Cincinnati the AFC North title Sunday, Bengals right tackle Willie Anderson smiled a 10-win smile.
"The ghosts were coming back up," said Anderson of Graham's third field goal of the game at frantic Paul Brown Stadium. "They were saying, 'We haven't been back in Cincinnati for a long time.' When (Graham) did that, he swung the bat and knocked them out."
It was good, bad, and ugly but the good was very good for the most relieved 65,788 in America. The magic number for the 10-3 Bengals' first division title in 15 seasons is one, and it can be had next week in Detroit no matter what the Steelers do because the Bengals control the divison games with a 5-1 final North record to Pittsburgh's 4-2. Overall, the Steelers are 8-5 and at the Bengals mercy.
"We're still working. We're going to prove whether we're a good team or not," said Marvin Lewis after joining Paul Brown, Tiger Johnson, Forrest Gregg and Sam Wyche as Bengals head coaches to record 10-win seasons. "We keep doing it every week. We have a chance now to go to Detroit with an opportunity to still control our destiny and win."
It was as close to a division-clinching as you can get without it happening. But it didn't. As wide receiver T.J. Houshmandzadeh said, "Where are our T-shirts?," and linebacker Brian Simmons observed, "We're just going to have to wait until we win again."
Running back Rudi Johnson made sure the division didn't fall into chaos when he delivered the consummate AFC North smash-mouth performance with season highs of 30 carries and 169 yards that offset Browns head coach Romeo Crennel's mastery that negated the Cincinnati passing game.
X-and-O Man of Genius, but the Bengals are now 11-0 when Johnson carries at least 25 times. In a Black-and-Blue division game, the AFC North is now streaked Orange and Black after the Bengals offensive line put another notch on its belt by rolling up 185 rushing yards on Johnson's 5.6 yards per carry.
"It was windy, too, and I wasn't sure they were going to stick with that scheme," Johnson said. "We knew it was going to be a good day to run. We knew that we could take it to them."
With Crennel blanketing the Bengals three wide receivers, Bengals quarterback Carson Palmer had the worst day of his 26-start career with just 93 yards on 13-of-27 passing, and Pro Bowl receiver Chad Johnson had just two catches for 22 yards. It was only his third two-catch game in the 57 games since he got blanked by Tampa Bay on Sept. 29, 2002.
But the scheme left the box open and, as Lewis said, "A day like this is a Rudi day. As the game goes on, he continues to get stronger.
But the Browns couldn't cover Chad Johnson in the last 1:56, and it killed them. With the Browns now trying to stop the run, Chad Johnson wriggled away for a huge play. On third-and-three from the Browns 42, Johnson broke free from cornerback Daylon McCutcheon for a seven-yard catch on the sideline.
Then officials overturned Johnson's 10-yard catch with 56 seconds left that would have given the Bengals a first down at the Cleveland 23. Instead, it was a third-and-eight, but the Bengals not only got a life when Browns cornerback Leigh Bodden was called for holding Johnson on the next snap, they got another one three snaps later when Bodden was called for illegan contact for throwing Johnson to the ground on third-and-10, giving them a first down at the Browns 23 with 32 seconds left.
The rest was a 37-yard field goal that went over 15 years, through the goal posts and a 15 mile-per-hour wind. It capped a grueling 12-play, 43-yard drive in the teeth of that wind, Simmons watched thinking, "I don't think any of us thought we wouldn't score. We just didn't know if it would be a touchdown or field goal."
"That's 'Money Graham,' Chad Johnson said. "Money Graham won't lert you die."
The Bengals gave the Browns more lives than Morris. The last one came with a little more then four minutes left in the game when usually sure-handed cornerback Deltha O'Neal dropped Browns quarterback Charlie Frye's third-and-10 pass in the end zone, allowing Phil Dawson to tie the game at 20 with 4:19 left on a 29-yard field goal.
With the Bengals trailing, 17-13, late in the third quarter, O'Neal tied Ken Riley's 29-year-old team record with his ninth interception of the season when he read Frye's third-and-eight pass over the middle, stepped in front of wide receiver Frisman Jackson and returned it nine yards to the Cleveland 37.
The Bengals then shook off their red-zone blues moments later. After being forced to kick two straight red-zone field goals in the second quarter, they muscled in a third-and-and-goal from the 4 when wide receiver T.J. Houshmandzadeh beat cornerback Ray Mickens with two seconds left in the third quarter that gave the Bengals their first lead of the day at 20-17.
The Bengals defense simply couldn't get the Browns off the field early in the game, and it cost them the first 8:49 of the second half. That's how long Cleveland hogged the ball to kick Dawson's 41-yard field goal for a 17-13 lead with 6:11 left in the quarter.
There were two killers on the drive, the first one coming way back on the third play of the third quarter when Bengals linebacker Brian Simmons barely missed sacking Frye and Frye hit wide receiver Antonio Bryant in front of O'Neal for a 12-yard gain on third-and-nine. Then on fourth-and-one from midfield when it looked like the Browns were just trying to get the Bengals to jump offsides before taking a delay-of-game penalty, Bengals defensive tackle John Thornton did go offsides to keep the Cleveland scoring drive alive.
Frye turned in a solid game in his second NFL start. He didn't make the historians forget Eric Zeier, but his mobile and crafty 16 of 24 effort for 138 yards was competent enough to bring his Browns close to dynamiting Bengaldom.
Like they did two years ago when they spoiled the Bengals' outside shot at the postseason, the lowly Browns had other ideas. Palmer uncorked an interception that gave Cleveland seven points, and a red-zone penalty cost the Bengals seven as the Browns flexed their muscles with a 14-13 halftime lead.
To make the karma even worse, Bengals third-down running back Chris Perry (ankle) and starting strong safety Ifeanyi Ohalete (ribs) were out for the game after going into the locker room for what were apparently bad X-rays.
Perry has a sprained ankle and said he's not sure he can play next week. Ohalete, with sore ribs, said he can.
The Bengals high-octane passing game was non-existent in the first half with Palmer hitting just seven of 13 passes for 60 yards, and wide receiver Chad Johnson catching only one ball for 15 yards.
The Bengals trailed despite the monster game from Rudi Johnson as he racked up 124 yards on 19 first-half carries, but their red-zone offense that had been so effective for the last five games stalled. After the Bengals' longest run of the year on Johnson's 32-yarder put the ball on the Cleveland 5 early in the second quarter, left guard Eric Steinbach was called for a false start. That blew up the drive and Graham kicked a 21-yarder with 7:38 left in the half that cut Cleveland's lead to 14-10.
Even though the Bengals suffered through their worst passing half of the season, Palmer steered them back into the red zone at the end of the half using the No Huddle. They took advantage of a Browns penalty on a punt that put the ball at the Browns 49, and Houshmandzadeh got loose for a 16-yarder that pull the ball on the Cleveland 21.
The Bengals came into this game with 14 touchdowns in their last 19 red-zone possessions that didn't include a kneel down, but they couldn't get in again. They tried runs on first and second down at the Cleveland 11, but Johnson got racked up for three yards, and Palmer got chased out of the pocket on third down and threw it away out of the back of the end zone to force Graham's 27-yarder with six seconds left that made it 14-13 at the half.
Tab Perry's drop on the opening kickoff and Houshmandzadeh's drop on the first third-down pass translated into Frye's first NFL touchdown on a three-yard bootleg that gave Cleveland a 7-0 lead 8:37 into the game. But both would rebound big, Houshmandzadeh with the go-ahead touchdown and Perry with a 37-yard return to set up the game's final drive.
The 18th straight sellout at PBS had to wonder what the Bengals were thinking at the beginning of such a big day. Rookie middle linebacker Odell Thurman didn't start because of an unspecified violation of a team rule (he later said he was late getting to the locker room Sunday morning because he was signing autographs), and Browns running back Reuben Droughns promptly ripped off a 17-yard run. Frye waffled a duck over the middle on third-and-6, but Bryant got inside cornerback Tory James for a 13-yard catch at the Bengals 6. After the Bengals were called for offsides, Frye scored, and the karma was not good.
It was even worse when on the first play after the Cleveland touchdown, Rudi Johnson was called for holding on a double reverse to wide receiver Chad Johnson. But it was the last thing Rudi did wrong all day after Houshmandzadeh saved the drive bulling for the final three yards through McCutcheon and Mickens after a 10-yard catch on third-and-13 to get the first down at the Bengals 45.
Then it was all Rudi, ripping off consecutive runs of 14, 16 and two yards out of the No Huddle and using both sides of the line to do it. After the 15-yard throw to Chad pushed the Bengals into the red zone, Palmer called off the No Huddle and got Rudi's eight-yard touchdown run with 4:18 left in the first quarter that tied it at seven, his eighth touchdown in the last fiive games.
Thurman checked in and ended the second series dropping running back Lee Suggs for a four-yard loss on his way to a game-high nine tackles, but then the karma got bad again. Chris Perry got carted off the field to get an X-ray on his ankle, and with Palmer staring at a second-and-15 on the first play of the second quarter because of a false start on tight end Reggie Kelly, he underthrew Chad Johnson over the middle. Browns middle linebacker Andra Davis picked it off and returned it to the Bengals 19.
Talk about the red zone. The Browns came in with the NFL's worst red-zone touchdown percentage, but converted a touchdown for the second straight time Sunday when Frye went play-action and hit tight end Steve Heiden for a two-yard touchdown pass that made it 14-7 less than three minutes into the quarter.
Who would have thought that the half would end with Frye's passer rating of 122.9 (on six of eight for 36 yards) would top Palmer's 34.1?
But the Bengals defense did what it has done all year when asked, keeping teams out of the end zone and coming up with a killing turnover. In a game that Droughns easily could have taken over, the Bengals held him to 74 yards on 21 carries.
PREGAME NOTES: Drawing within just a few hours, days, or weeks of a possible playoff berth, the Bengals opted for experience in favor of youth along the defensive front in Sunday's game.
Lewis decided to activate 10-year veteran Duane Clemons and sit rookie Jonathan Fanene in the rotation behind starting left end Justin Smith. Fanene played about four snaps in his NFL debut last Sunday during the 38-31 win in Pittsburgh, but the first two were spectacular.
Landon Johnson got his first start at middle linebacker since last season because of the disciplinary move on Thurman, then moved around after the first series and finished with four tackles..
Lewis said last week he thought Fanene, a seventh-rounder from Utah, gave the Bengals a better chance to win than Clemons. But Clemons had also been battling sore ribs and Lewis may have liked the experience this Sunday. Clemons, who has appeared in five playoff games, played his 139th regular-season game Sunday.
On his first NFL snap, Fanene knocked Steelers running back Willie Parker for a four-yard loss. On the next play, he chased Steelers quarterback Ben Roethlisberger out of the pocket and pushed him down on his injured throwing thumb.
The Bengals think Fanene can eventually pass rush from inside at tackle, but in Clemons they have a guy who has already done it. He's got two sacks this season and 14.5 in 36 games as a Bengal. Sunday's stat sheet had him for no tackles.
Getting to the quarterback figured to be a top priority. Frye made his second NFL start, coming off last week's first one against the Jaguars Frye had one of the top passing games by a quarterback in his first start in the last three decades with a rating of 136.7. But five second-half sacks sealed Jacksonville's 20-14 victory.
Shaun Smith made his third straight start at left defensive tackle in place of the injured Bryan Robinson (foot) and had three tackles. Also inactive for the Bengals were cornerback Greg Brooks, fullback Nick Luchey, middle linebacker Nate Webster, wide receiver Kelley Washington and defensive lineman Matthias Askew.
Lewis chose to introduce the offensive starters as a unit in their orange jerseys and black pants.