Bengals wide receiver T.J. Houshmandzadeh (right) and Steelers safety Troy Polamalu dished it out back in the day.
Bengals offensive coordinator Hue Jackson starts counting the Pro Football Hall of Famers on the field in that 2008 AFC title game between the Steelers and the Ravens and only then can you realize how good the AFC North was in the previous decade.
Jackson, then the quarterbacks coach for the Ravens, has been asked about that game Pittsburgh won during the past few days in the wake of Steelers safety Troy Polamalu's retirement.
He counts middle linebacker Ray Lewis and free safety Ed Reed as Baltimore's first-ballot Hall-of-Famers. The same with Polamalu and at some point Steelers quarterback Ben Roethlisberger figures to get into Canton. He also thinks Ravens sack ace Terrell Suggs gets a Hall call. 
But don't forget the former Bengal on the field that day for Baltimore in right tackle Willie Anderson. If Polamalu and Reed are going to be extolled as Hall-of-Famers, then why not Anderson as the premier right tackle of his generation?
The four tackles on the NFL's All-Decade team of the 2000s all played the left side and three of them, Walter Jones, Jonathan Ogden, and Willie Roaf, are in the Hall. The 6-7, 325-pound Orlando Pace was the first pick in the 1997 draft; the year after the Bengals took the 6-5, 340-pound Anderson with the 10th pick and started a trend.
 "We were talking about this the other day. Willie started the Big Man's club," Jackson says. "He was 'The Dancing Bear.' He set the tempo for the big men. He doesn't get the recognition he deserves, but he was as fine a tackle that's there's been.   It was not just how he played, but keeping guys healthy and ready, he was the catalyst of the offensive line. He did the same thing in Baltimore."
Anderson toiled for seven seasons before getting the call to the Pro Bowl, which coincided with Bengals head coach Marvin Lewis' first season in 2003, Anderson's second on a non-losing team, and then he went to four straight. If he had gone to at least eight Pro Bowls that should have been his, isn't that a Hall lock?
"As we know," Lewis said, "the key thing for a Hall-of- Fame type player is win championships. And unfortunately for Willie we didn't win a championship here and he didn't win one the year he spent in Baltimore," Lewis says. "As far as a player and what he did, he played to a very, very high level. In my estimation he's (Hall-of-Fame caliber), but I'm not the judge."
The judges have enshrined Ogden, Jones, and Roaf and Lewis observed, "I would think he would be held up there with those guys. The difference is they played on teams that won."
And winning defined Polamalu and Reed.  Polamalu played on two Super Bowl champions, Reed one. How good was the AFC North even then? You've got a guy in Bengals all-time leading receiver Chad Johnson who should be more than a footnote in any Hall discussion, given he's the only man in history to lead his conference in receiving yards four straight years.
The Bengals fended off Pittsburgh to win the '05 North before the Steelers beat them in the postseason without facing Bengals Pro Bowl quarterback Carson Palmer on the way to winning the Super Bowl. In '09, the Bengals swept the Steelers and Ravens the year after they met in that titanic AFC title game that led to another Steelers' Super Bowl championship.
In 2013 against the Reed-less Ravens, the Bengals knocked Baltimore out of the playoffs in the regular-season finale when they blew out the defending Super Bowl champs at Paul Brown Stadium, 34-17.
But Polamalu and Reed got the rings. And maybe no one knows Polamalu better than Jackson or has seen them both more than Lewis in his 13 seasons in the division in Cincinnati.
Jackson recruited Polamalu to Los Angeles when he was the offensive coordinator at USC and coached him for a day at running back before the defense took him away and made him a linebacker. He then faced him as the Bengals wide receivers coach, the Ravens quarterbacks coach, and the offensive coordinator for the Bengals and Raiders. He still keeps in touch.
"He's always been a lovable person, one of the nicest people you'd ever been around. He'd give you the shirt off his back. But in between the lines, he's trying to tear your head off," Jackson says. "I'd tease him and say, 'Don't let him fool you.' Something burns inside him. A quiet assassin."
Playing for Steelers defensive coordinator Dick LeBeau, Polamalu could seemingly do whatever he wanted while the other ten guys executed their assignments. But Jackson wants to make it clear Polamalu can't be characterized as a loose cannon.
"I think he did what Dick had him do in the system. He had flexibility to do things, but he had structure," Jackson says. "You would see on tape he would take chances and that's where his instincts took over. He was right more times than he was wrong. I'm sure there were teams that took advantage, but the good side is he made of a ton of plays in the National Football League."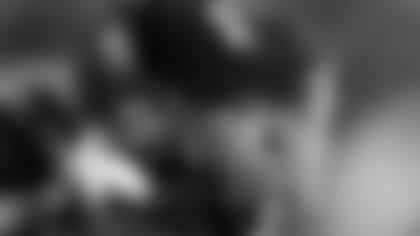 Bengals head coach Marvin Lewis believes Troy Polamalu and Ed Reed are Hall-of-Fame players. Willie Anderson didn't get a ring, but Lewis says he belongs.
The Polamalu play that Jackson always remembers is the one that kept him out of a Super Bowl. It's the closest he's come. That '08 AFC title game, when the Ravens trailed the Steelers by 16-14 and launched one final drive, facing a third-and-13 from their own 29 with 4:39 left.
"The way he studied the game. It's a simple game. Running. Catching. Tackling. I think he understood that," Jackson says. "So quick, so instinctive. A very smart player and you put that together with his God-given talent..."
That's why when Ravens rookie quarterback Joe Flacco dropped back on third-and-13 and Jackson saw Polamalu drop into centerfield when tight end Todd Heap stayed into block, Jackson muttered to himself, "Joe don't throw it."
"He knew what was coming," Jackson says. "He studied us. He knew what was coming. I saw Troy fall off (Heap), he dropped down and sat and he was reading (Flacco's) eyes. He knew he had to come back inside. He sat right there and picked it."
Flacco tried to hit wide receiver Derrick Mason down the seam, but it never got there because Polamalu leaped high to pluck it out of the air. But Jackson knew that was only the beginning. It was the 40-yard interception touchdown return that denied the Ravens the Super Bowl.
"I thought when he caught it, 'Oh my God,'" Jackson said. "I think he could have been a running back. I think he could have done anything he wanted. He ran a 4.3 coming out. Next to Ed Reed, running the ball after an interception, running through tackles, Ed Reed was the best at it, but there was a close second in Troy."
Polamalu made another huge play that day. Jackson remembers him jumping over the center on fourth-and-one and stuffing Flacco, proving "he could disrupt the run game and disrupt the pass game."
"What you tried to do, you tried to get Troy deep and Ed down," Lewis says. "But even when you got them out of their elements, they still excelled at what they did. Which tells you how good players they were."
Lewis lived and died with the returns. Reed book-ended his career against the Bengals with an interception return against Palmer and an interception return against Andy Dalton on his way to three career pick-sixes against Cincinnati. Polamalu pick-sixed his USC roommate in Palmer's first and last Bengals games against the Steelers, and ended up with three career interceptions against Cincinnati.
"Both guys were dangerous when they got the ball in their hands and they scored touchdowns," Lewis said. "We know differently, but it seems like (everyone one of their returns came against the Bengals)."
Lewis hears the debate how Reed and Polamalu may not even get into the Hall because of the backlog of great ones that have been ignored. He doubts it.
"Those two guys affected the game," Lewis said. "They were game-changers for their teams."
And now Polamalu has changed his last game. Much to Jackson's sadness and happiness.
"It's going to be strange to think of the Pittsburgh Steelers without Troy Polamalu," Jackson says. "But it's a relief we don't have to be looking for him anymore."